Visiting Nahanni National Park and the Cirque of the Unclimbables
Unclimbable isn't actually a word, but it is in the name of this incredible place nestled within the depths of Nahanni National Park! Nahanni is one of Canada's most remote national parks and home to some of the best rock climbing in the world. Roads cannot take you there - you either have to canoe or charter an aircraft. Alternatively you can bushwhack your way in, but very few people are capable of such a feat.
Nahanni and the Cirque of the Unclimbables was on my bucket list for years and in September I finally got to make the trip a reality. I am not a climber, but you don't have to be one to appreciate these places. The mountains are some of Canada's most stunning pieces of rock.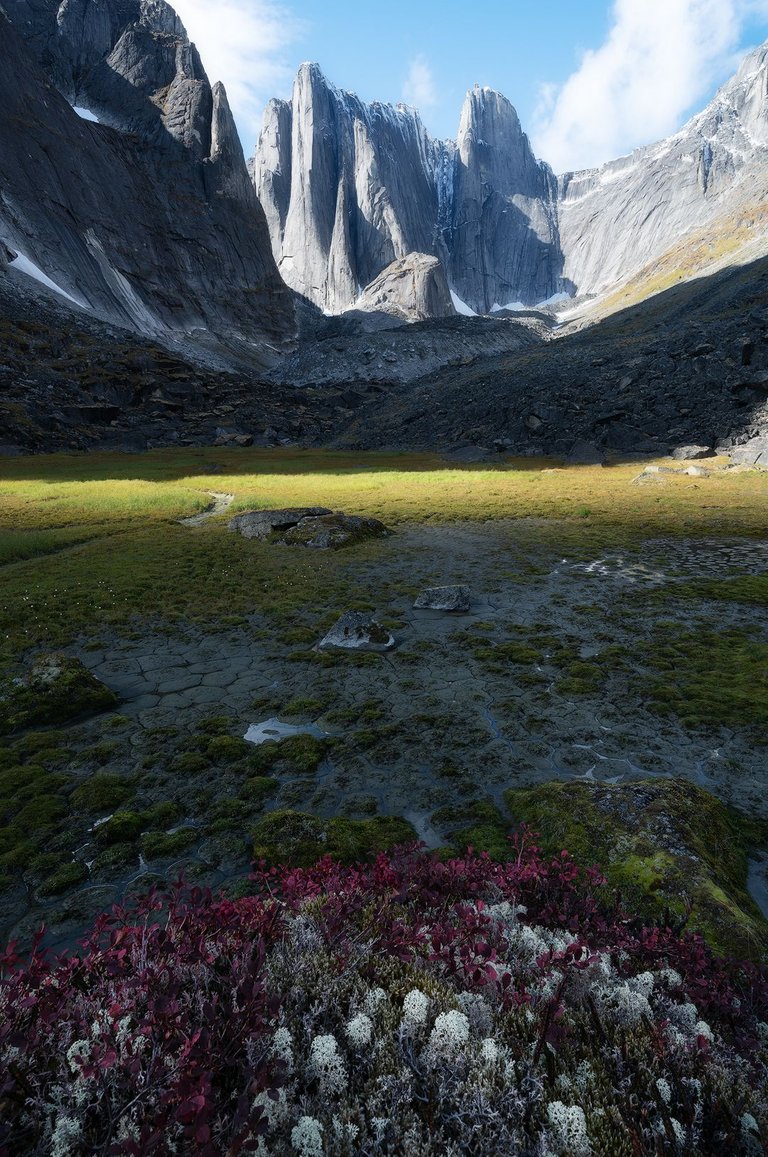 Lotus Flower Tower, the tallest peak in this image, is the most famous mountain in Nahanni
Just getting into the park is a journey itself, requiring a lot of time, money and planning. You cannot simply waltz on into Nahanni. Acquiring the permit for our group to camp required filling out a detailed, seven page form. We had to tell them every detail of our itinerary, provide next of kin information, satellite phone number and more. If you don't have satellite communication devices you will not be permitted to camp in the park. Also mandatory was a Zoom meeting with park staff to discuss safety procedures and ask any questions we might have. When entering the park and when leaving the park it's mandatory to inform them via satellite communication. If you fail to do this, park staff will assume an emergency occurred and will initiate a search and rescue response. Due to the sheer remoteness of the area, safety and visitor management are taken very seriously in Nahanni National Park!
Anyway, enough of the boring stuff! We flew from Vancouver to Whitehorse and met up with our pilot, who we had also hired to drive us to his float plane six hours away. He, along with his wife and son, operate a fly in lodge. It worked out conveniently for them, as they were able to combine their lodge supply run with picking us up. After an amazing drive alongside beautiful rivers, fall colors and mountains we arrived at the lake where his son was already waiting with the plane.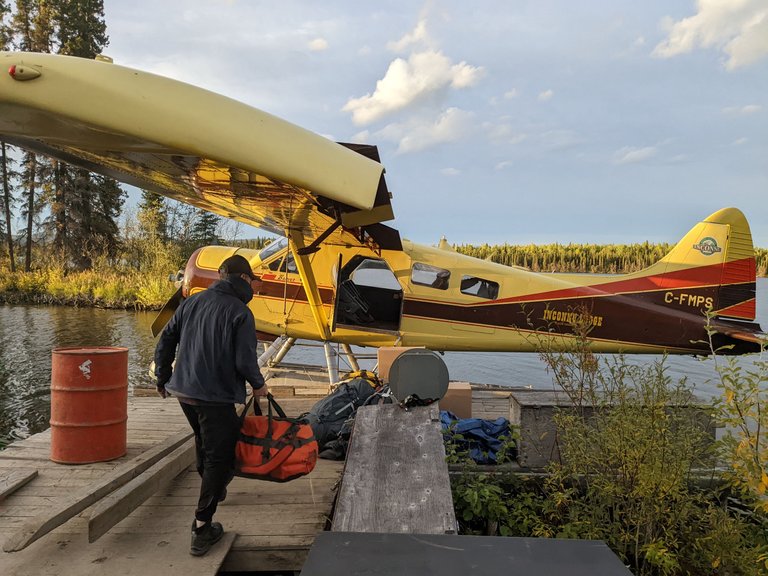 This was my first time in a float plane, and it was a stunner: a beautiful 1957 DHC-2 Beaver. If you're not familiar with planes you wouldn't be able to tell by looking at it that it's 65 years old!
We helped them load up the plane with their supplies and our luggage, doing our best not to accidentally drop anything in the water, however I may have dropped a towel... oops! There was a ton of stuff and 7 people total, so it required making two flights to the lodge. Thankfully the flights were only 12 minutes each way!
After unloading everything we ate some good food and settled in for the night.
The next morning we headed to the dock and prepared for our flight. It would take an hour of flying to reach our destination lake in Nahanni National Park!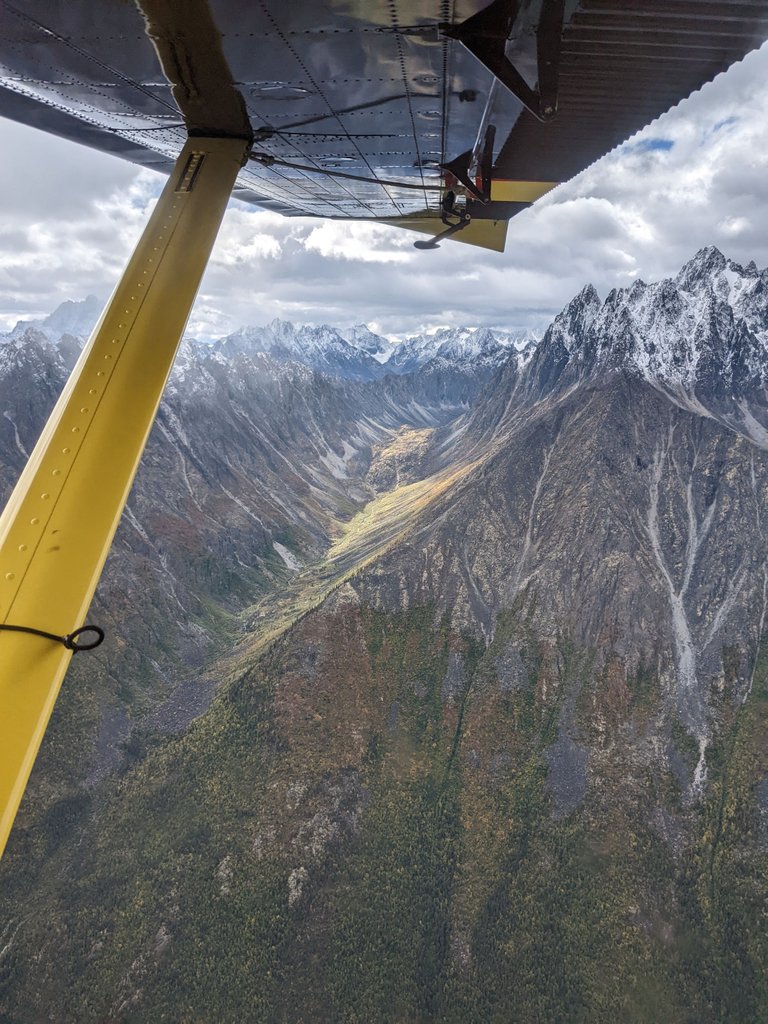 It was without a doubt the most beautiful flight I've ever been on. Glaciers, mountains, rivers and fall colors everywhere. The beautiful scenery made the flight feel a lot shorter than one hour.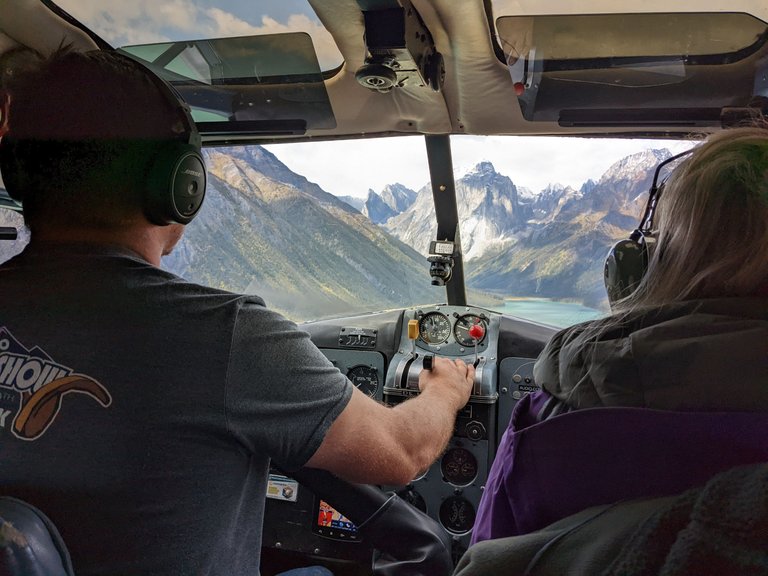 Destination in sight! Only from inside the plane was it obvious that it was built in the 50s.
Soon we were at Glacier Lake unloading our gear.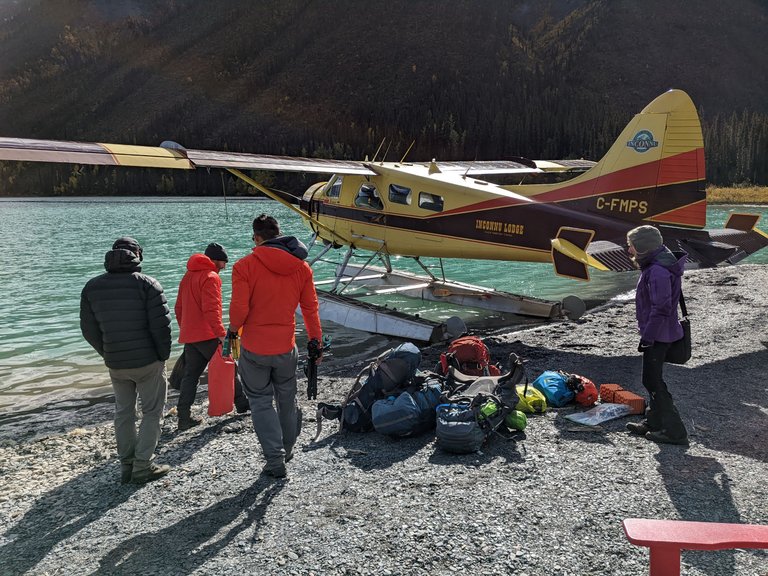 We were now ready for the last leg of our journey: the 5 hour hike into the Cirque of the Unclimbables.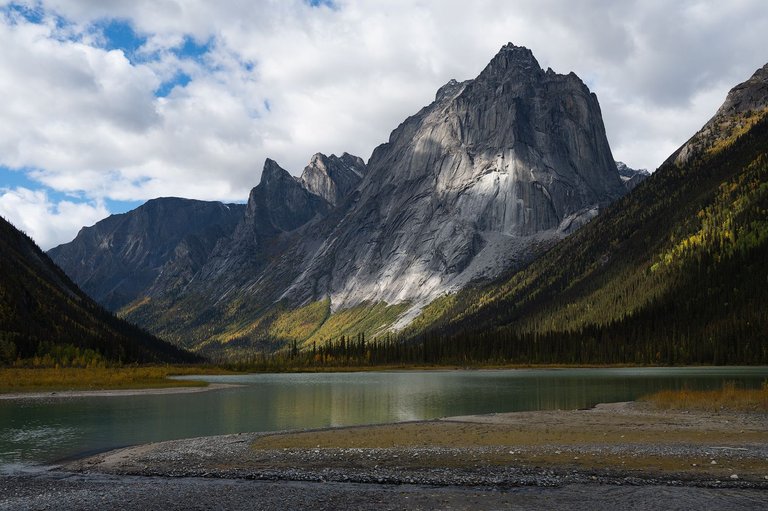 Mount Harrison Smith dominates the view from Glacier Lake. Our hike took us through the forest along the lake, and then straight up that chute beneath the mountain's face. It was very steep and quite the workout with packs weighing anywhere from 60lbs to 80lbs. My pack was the lightest of the group at 60lbs!
After what had felt like forever, we finally arrived.
It was far more beautiful than any of us had imagined. First order of business: make camp!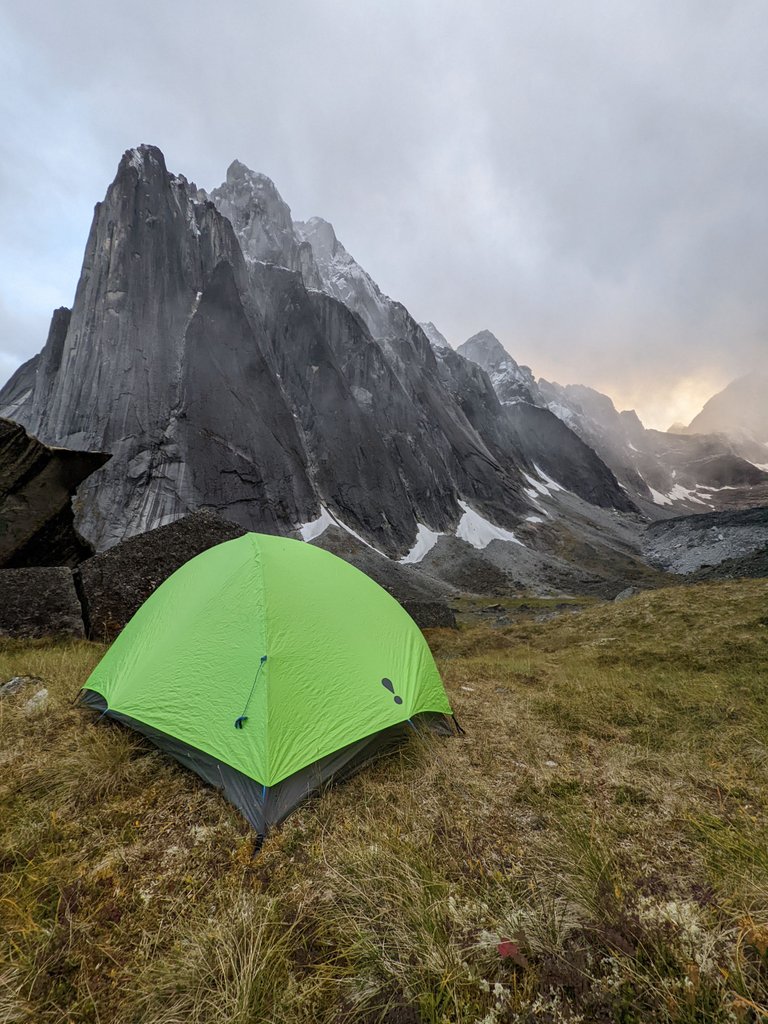 I picked my tent spot based on the view. Little did I know I would eventually regret that on two very windy days!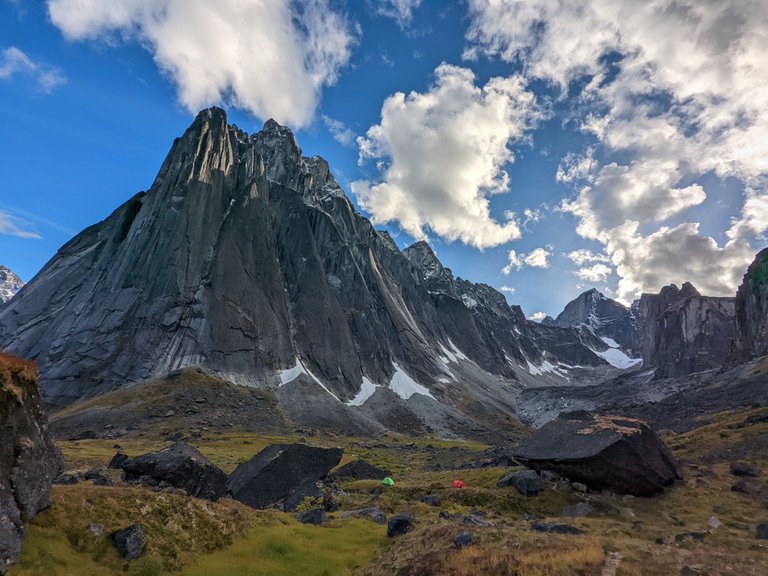 A wider view of our camp in the middle of the Cirque. Those boulders are house sized!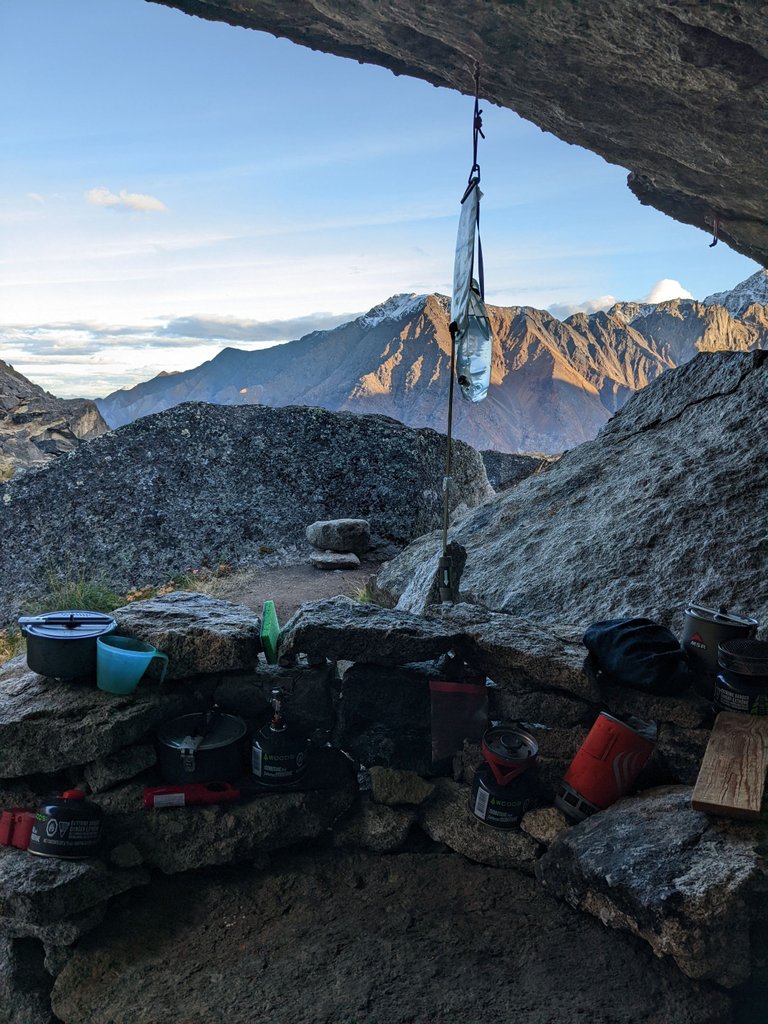 Our camp kitchen, located conveniently under the overhang of the giant boulder in the previous image. After getting settled in, the next 5 days were dedicated to enjoying the views and taking photographs.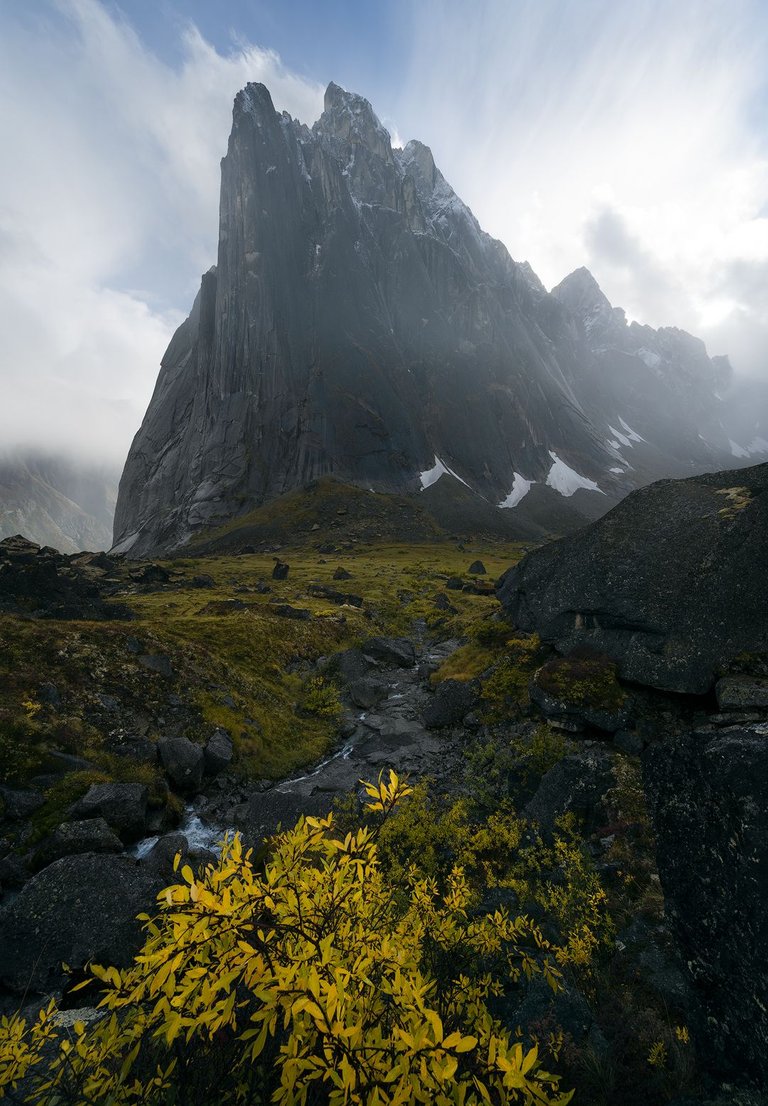 The weather was extremely volatile and squalls were common, making for incredible photographic opportunities. Here is Mount Harrison Smith and beautiful autumn colors, just as a squall was clearing.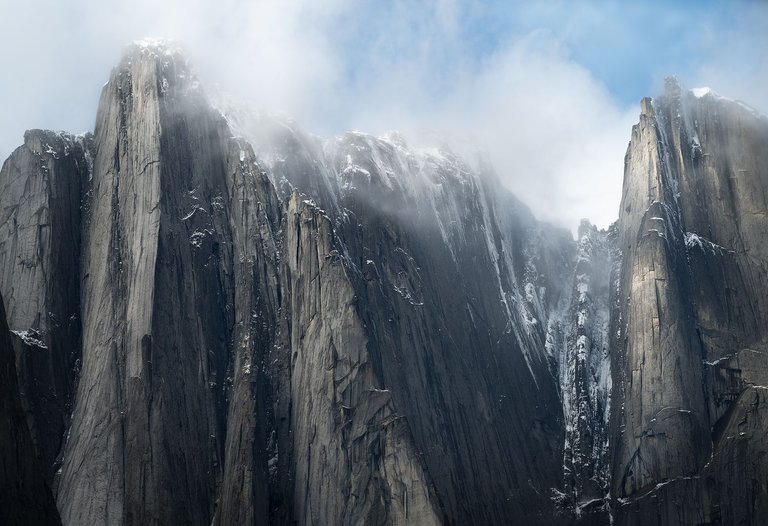 A closeup of Lotus Flower Tower and her sisters. Later on this day we witnessed a huge chunk of snow detach from the mountain, creating a sound like thunder.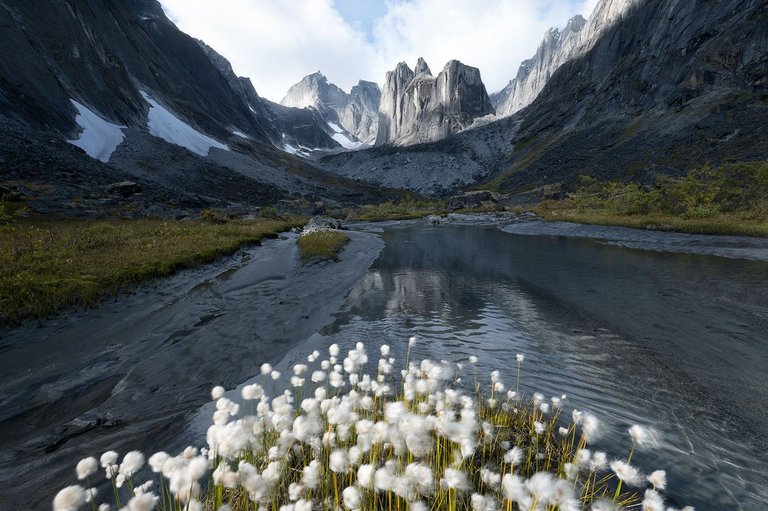 Mount Proboscis and cottongrass.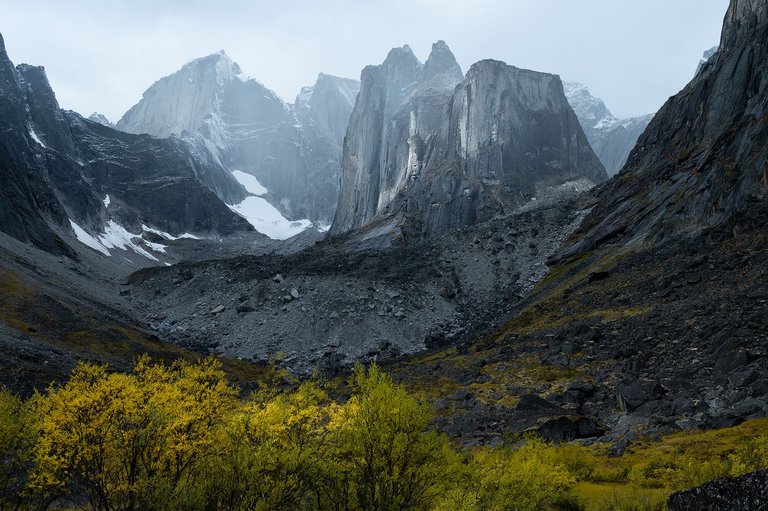 A closer look at Proboscis during a moody afternoon.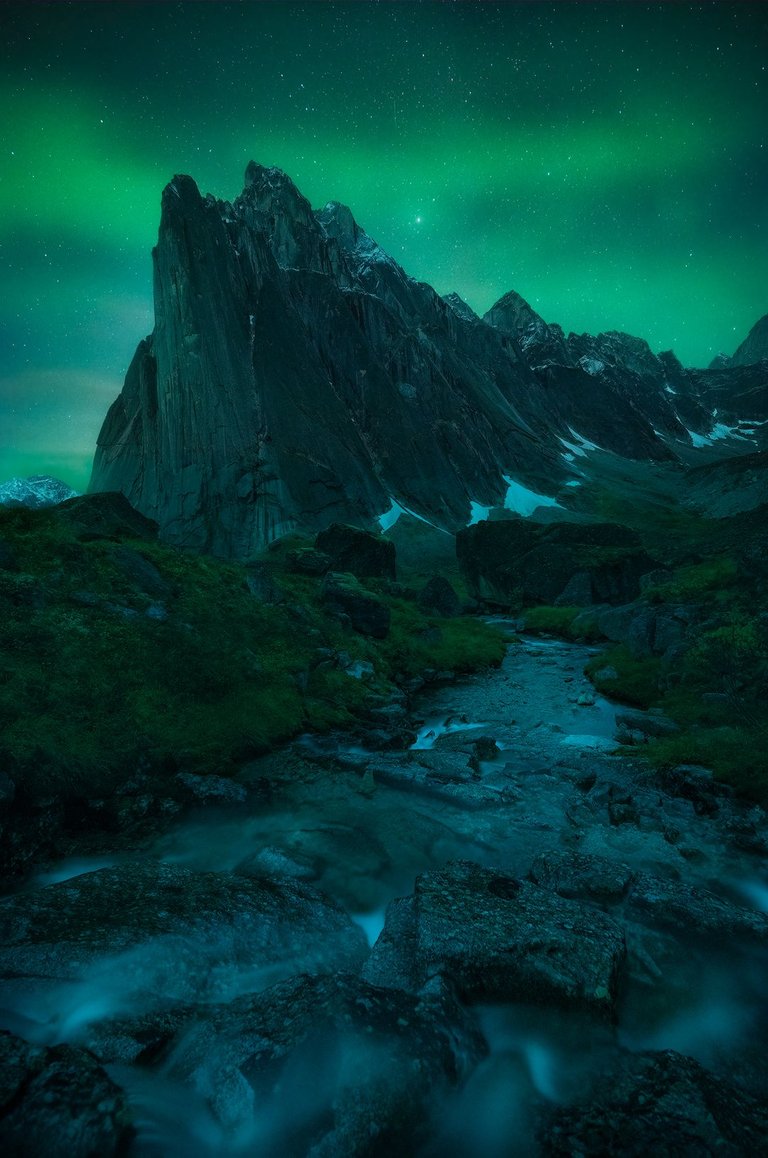 Aurora! I was just about to fall asleep when it suddenly became very bright in my tent. I poked my head outside and there was what I can only describe as a huge, bright glob of green Aurora straight above. Excitedly I yelled to wake everyone up and got dressed to head outside. Naturally it did die down a bit as soon as I went out, but it was still amazing.
Can you really call an autumn trip to the north complete if you don't get to see the Northern Lights? We felt very fortunate to have a couple clear nights.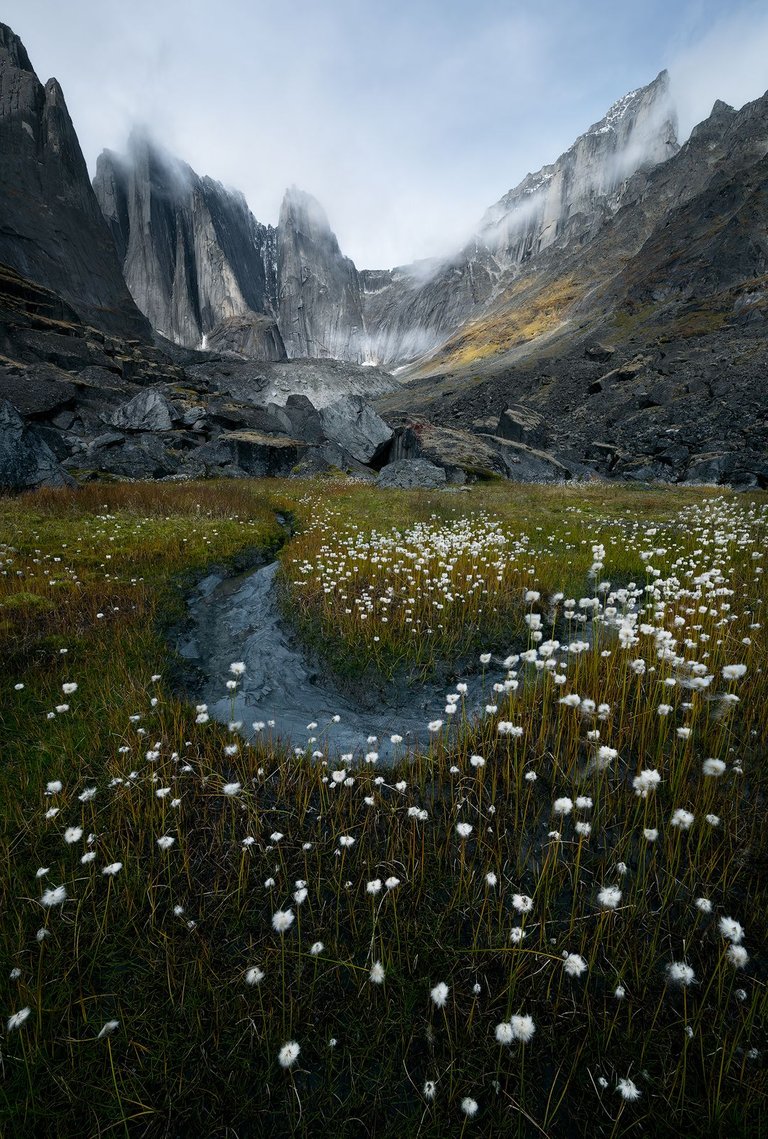 Another look at the meadow facing Lotus Flower Tower. With so many sheer vertical faces, it's very obvious why this place was named the Cirque of the Unclimbables.
Before we knew it, it was time to pack everything up and hike back down to the lake to meet our float plane. Going down proved to be much easier than going up, and although I was already missing the Cirque, it was comforting to hear the sound of the plane arriving.
This is one trip I get a lot of questions about, so if there's anything you'd like to know don't hesitate to ask!
---
---