Oat cookies, gluten and lactose free. Small budget friendly [ENG/ESP]
Galletas de avena
---
Oatmeal cookies are delicious, but the recipes usually include things that we don't always have at home, like raisins or nuts, muscovado sugar, etc. So we will make some with things that we usually have, especially in Venezuela.
Las galletas de avena son deliciosas, pero las recetas suelen incluir cosas que realmente no siempre tenemos en casa, que si pasas o nueces, azúcar muscabado, etc. Así que haremos unas con cosas que realmente solemos tener, especialmente en Venezuela.
---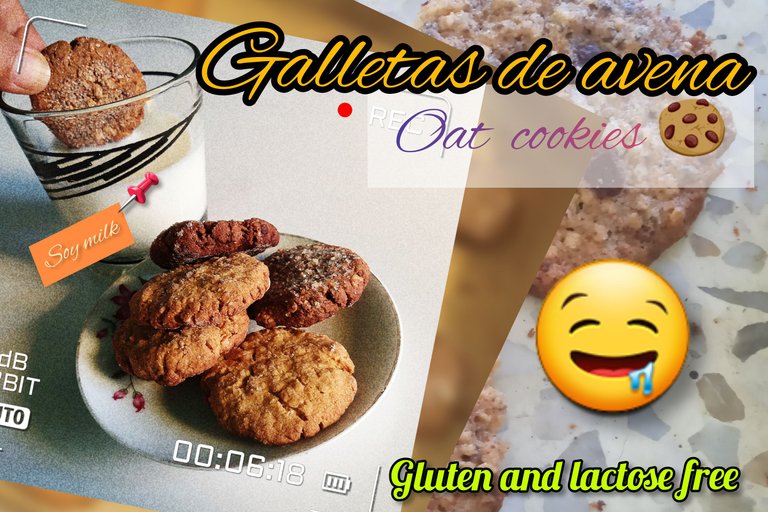 ---

---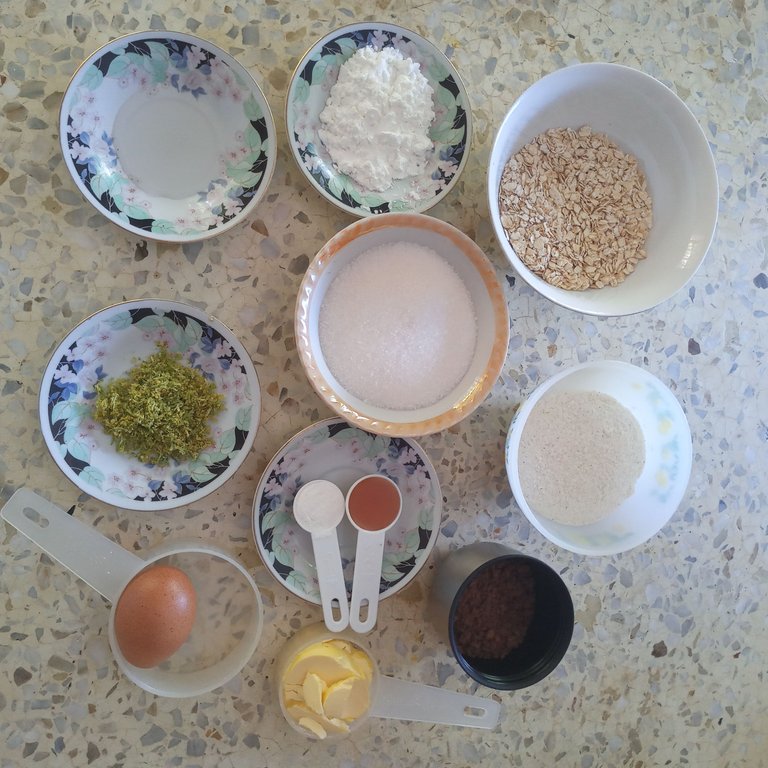 (The measures in the photo are equivalences, reference only)
70gr corn flour
55gr oats
80gr sugar
45gr margarine
20gr cornstarch
1 egg
1 tablespoon (or more) orange and/or lemon zest
1 tablespoon vanilla essence
Optional: 1 tablespoon of honey, 20 gr of bitter chocolate
---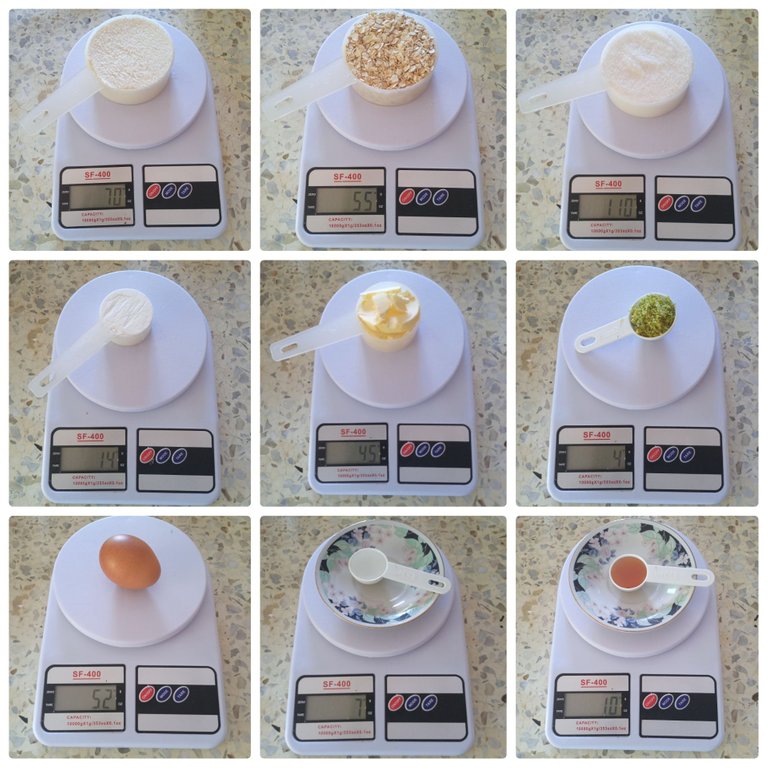 (Las medidas en la foto son equivalencias, referencias solamente)
70gr harina de maíz
55gr avena
80gr azúcar
45gr margarina
20gr maizena
1 huevo
1 cucharada (o más) de ralladura de naranja y/o limón
1 cucharada de esencia de vainilla o mantecado
Opcional: 1 cucharada de miel, 20 gr chocolate amargo
---

---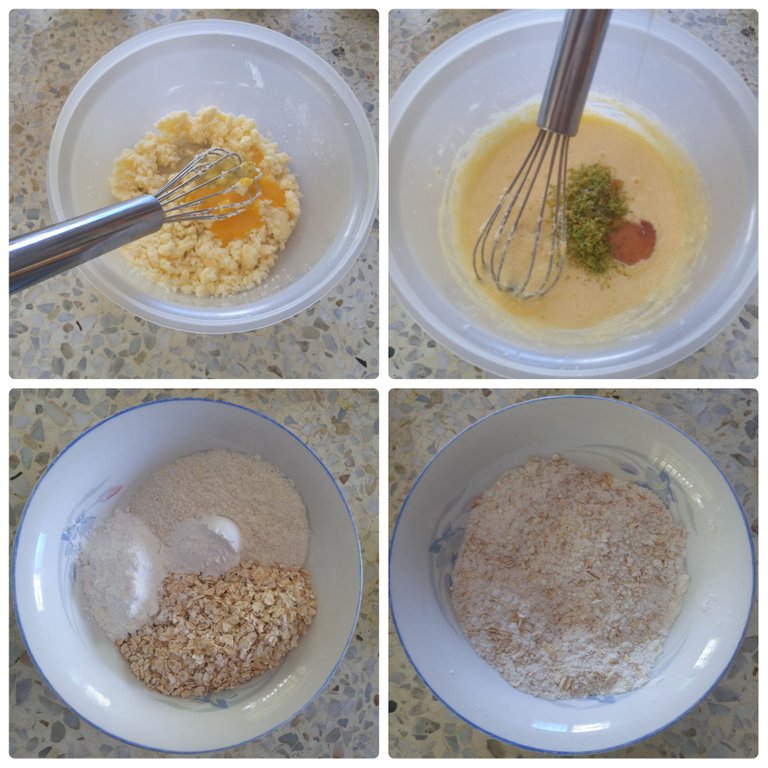 Beat to combine the margarine and sugar, then add the egg. Beat well and add the vanilla, orange zest and optional honey. We mix the flour, oats and cornstarch separately and then add them in parts, stirring little by little.
For variety, I divided the dough in half and to one part I added 20 grams of the chocolate I made myself, and to the other half I added 10 grams more of oats, just to even out the consistency.
Put resulting doughs in plastic wrap and take them to the fridge for an hour to cool down.
---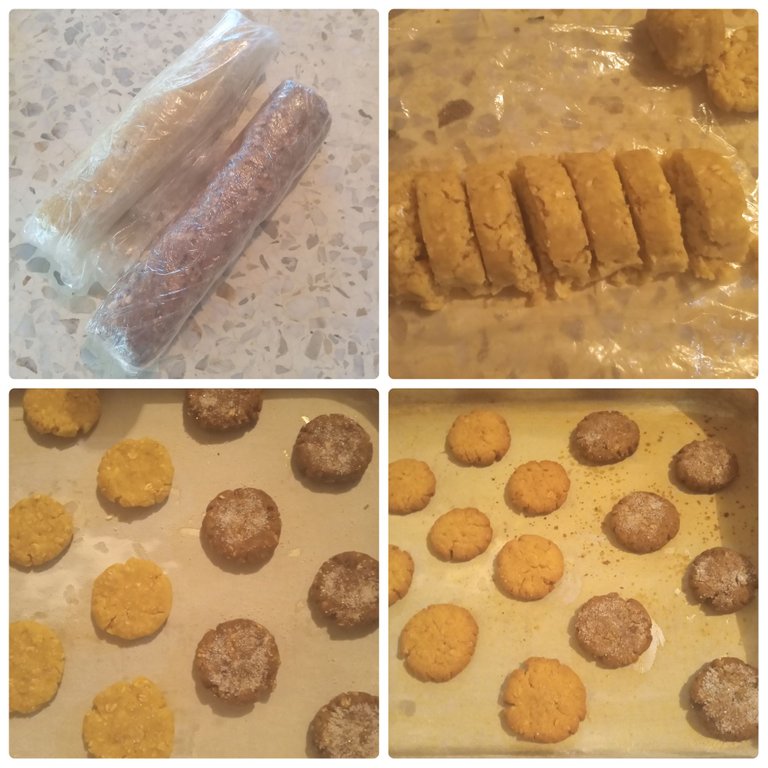 Batiremos para unir la margarina y el azúcar, luego añadiremos el huevo. Se bate bien y se añaden la vainilla, ralladura y la miel opcional. La harina, avena y maizena las mezclamos aparte y luego añadimos por partes, removiendo poco a poco.
Para tener variedad, dividí la masa a la mitad y a una parte coloqué 20gr del chocolate que yo misma hice, y a la otra mitad le coloqué 10gr más de avena, solo para igualar la consistencia.
Estas masas resultantes las colocaremos en plástico y las llevaremos a la nevera una hora para que se enfríen.
---

---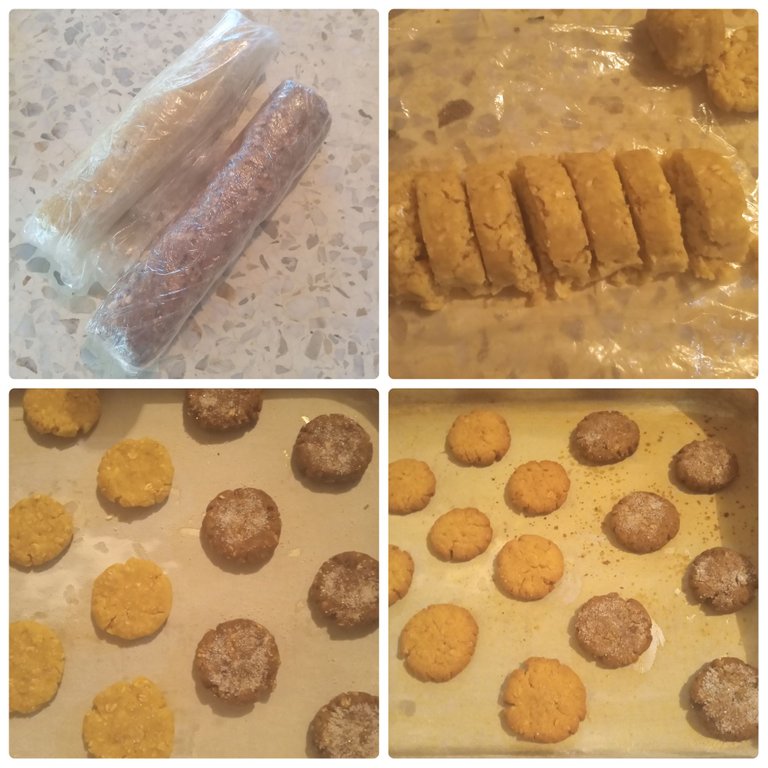 ---
Once the dough is chilled, we will make the cookies, I made 24, small and plump. Place them with enough space on a floured tray. If you have a tray that does not stick, you can skip this step but I always do it. Bake them in the oven while the dough is still quite firm. This way they will not change their shape and size too much. Bake for 20 minutes at 300°C. Once ready, remove them immediately from the tray to stop baking.
Una vez fría la masa, haremos las galletitas yo hice 24, pequeñas y gorditas. Las colocamos con suficiente espacio en una bandeja enharinada. Si tiene bandeja que no pegue, puede saltar ese paso pero yo siempre lo hago. Llevar al horno mientras aún está bastante firme la masa. De este modo no modificarán mucho su forma y tamaño. Horneamos por 20 minutos a 300°C. Una vez listas las retiramos inmediatamente de la bandeja para detener la cocción.
---

---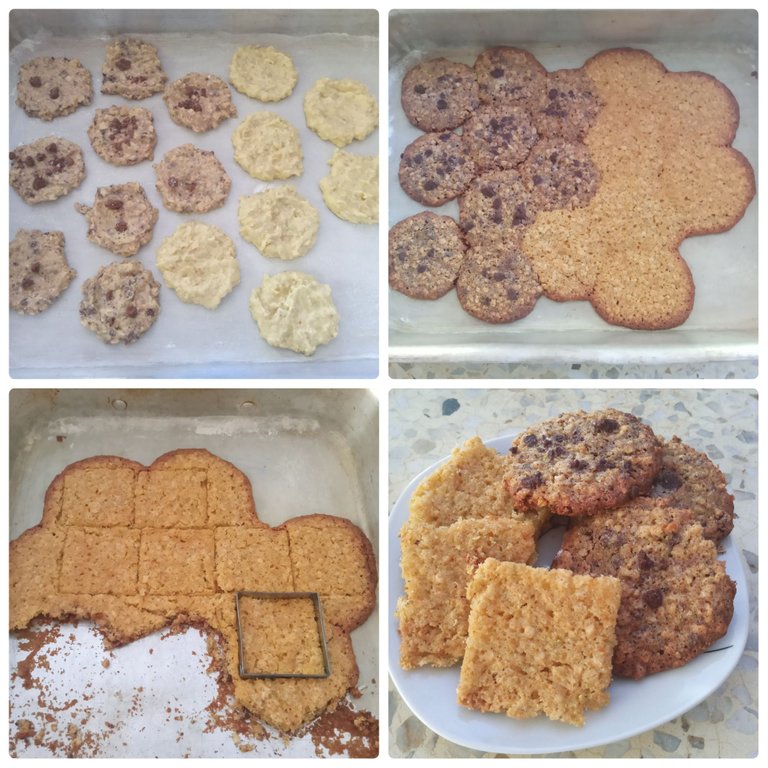 Now for the fun part. I did two tests to get good results from this recipe and, although the second one gives tasty, crunchy and nice cookies, I loved my melted cookies in the tray of the first attempt, ugly but delicious.
If this happens to you don't panic, let them bake and take them out after 18 minutes and while they are still hot, cut the shapes with a cookie cutter or knife. if you don't say anything, no one will know about the mistake.
Enjoy!
---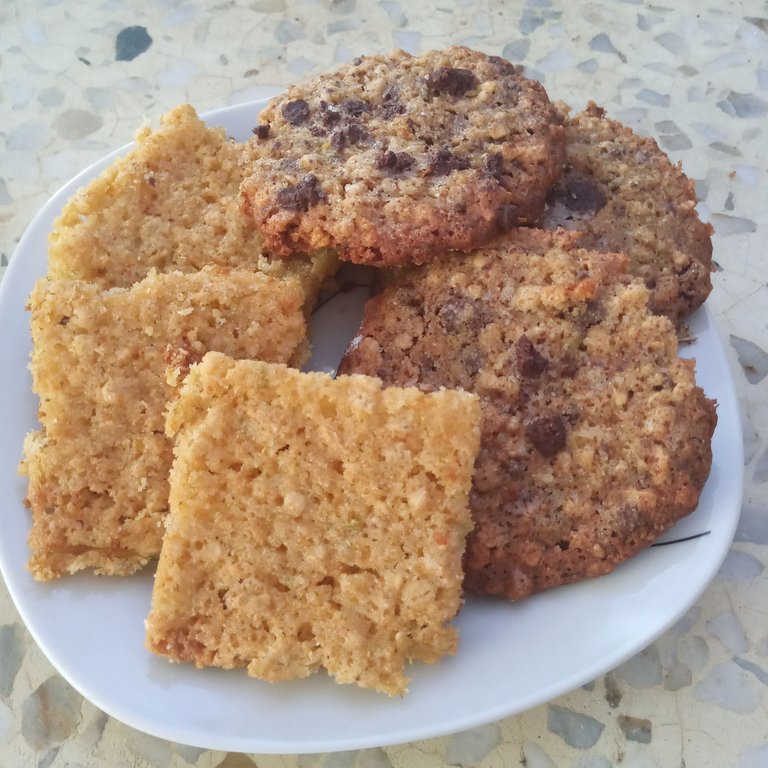 Ahora lo divertido. Yo hice dos pruebas para obtener buenos resultado de esta receta y, aunque la segunda da unas galletas ricas, crocantes y lindas, a mi me encantaron mis galletas derretidas en la bandeja del primer intento, feas pero deliciosas.
Si esto les pasa no entren en pánico, déjenlas cocer y saquenlas a los 18 minutos y mientras aún están calientes, corten las formas con un cortador de galletas o con cuchillo. si no dicen nada, nadie sabrá del error.
¡A disfrutar!
---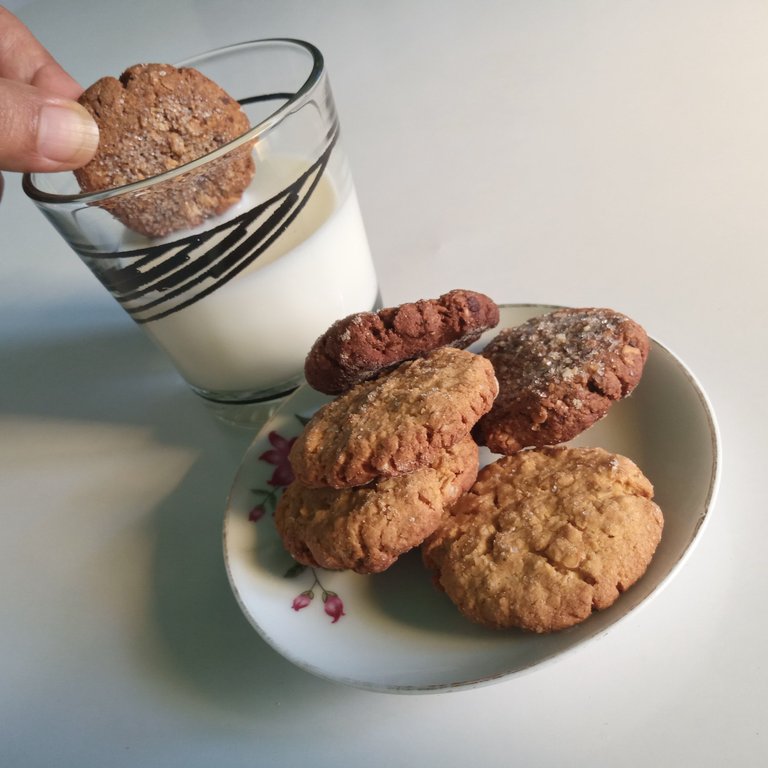 LESSONS LEARNED
The first ones melted because of 3 mistakes: too much sugar, the sugar should always be around half the weight of the powders, not equal or exceed them or it will melt, the cookie will get chewy.
Very soft dough: it dissolves easily because it doesn'thave any resistance.
Finally, poorly preheated oven, to save gas I put them in very early and the margarine melted before they could solidify by cooking, the second time I tried, I made my recipe for stuffed bun before and so the oven was already hot for the cookies.
EXPERIENCIAS APRENDIDAS
Se me derritieron las primeras por 3 errores: mucha azúcar, que el azúcar siempre ronde la mitad del peso de los secos, no que los iguale o supere, se derretirá y la masa quedará gomosa.
Masa muy blanda: se disuelve fácilmente por no tener resistencia.
Por último, horno mal precalentado, por ahorrar gas las metí muy pronto y la margarina se derritió antes de que pudieran solidificarse por la cocción, la segunda vez hice mi receta de los pancitos rellenos antes y así ya estaba el horno listo para las galletas.
---

---
Espero les haya gustado, hasta la próxima publicación
Muchas gracias por leer
Hope you liked it, until the next time
Thanks for reading
---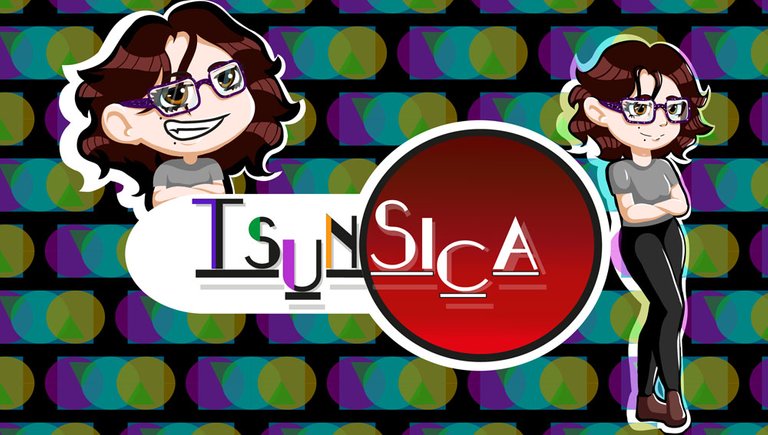 Designed by @jes.seth
---
---
---