Reasons Why Many Business Startup Fail And Things To Do To Get Over It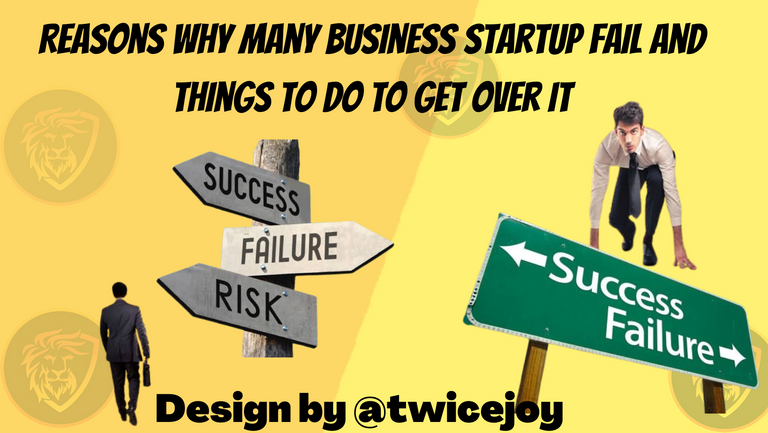 Whether you're going to start a big scale business or small scale business, you understand that starting a business is a great challenges more than what most people think. Hardly ever is a business so in accordance with its recess that it can sail along with slightest endeavor.
The reasons why many business startup fail could be unfathomable, but below 👇 are what you need to understand prior to starting your own business.
Reasons Why Business Startup Fail
Run Out Of Cash: Cash flow is very important towards managing a business and there is a situation where the cash flow dry up then it means something is wrong somewhere. It may be due to bad management of cost or maybe due to having a low sales or maybe people are not paying on time. Cash running out is also associated with unable to acquire financing to maintain a business, most especially during the early days until you can start accumulating profits from the business.
Bad Market: Several people start up a business earmarking everybody as their poll or statistics which doesn't go in accordance. Next thing they do is try to earmark everybody in their area. The more meticulously characterize your place is, the simpler it could be to advertise to the crowd or onlookers.
Inadequate Research: lack of research is another reason why startup business fail. You have do your research and know what really your customers want or need. You can't just go in to the business in particular area thinking you have a great product to give out, whereas nobody really want your products. But when you do your due diligence, you will understand what people's want and how you can meet up with the expectations of your customers.
Wrong Associate: Sometimes, you may need a partner when starting a business, but you have to look for a partner who you both shared the same goals and ideas. Many people go in to the business and failed even before they started due to choosing wrong partner. When you choose a partner that have different ideas from your own, then your goals for the company will be clashed because both of you are not thinking in the same direction.
Not an Adept: Several people or an entrepreneurs startup their business due to the fact that they need a job when most of them don't know the real clue of what they are doing. Sometimes, they think they are better than people of their age so they should be able to do better and make a living with it. But the fact is that, without basic knowledge required, many entrepreneurs finds it tough to get the business going and later end up in failure.
What To Do To Prevent Failure
Under most circumstances, some businesses are more likely to fail, but there are things to do to make sure that your business doesn't end before it's even started.
Set Up Goals: How will you get to where you're going when you're groundless about it. You have to know exactly where you're going and the direction you're going to take. Without a goal, you will just be roaming around groundless.
Do Your Own Research: Understand what the customers wants. Know which products or services is good for a certain environment and know their desires. The more you know about your customers then the more you get to them.
Love What You Do: Loves really matter in everything we do. You have to love what you do, be passionate about it and let people see that in you and many people can fall for you when they realized your passion for your job.
Stay Focus And Never Quit: Every business has its own challenges and you will sometimes witnessed hard time towards your business. But don't lose focus and never thought of quiting. You have to put more effort, and do whatever it takes to make things go your way.
Thanks for visiting my blog and have a wonderful day
I really appreciate your upvote and support
@twicejoy cares ♥️♥️♥️
Posted Using LeoFinance Beta
---
---