A visit from the dead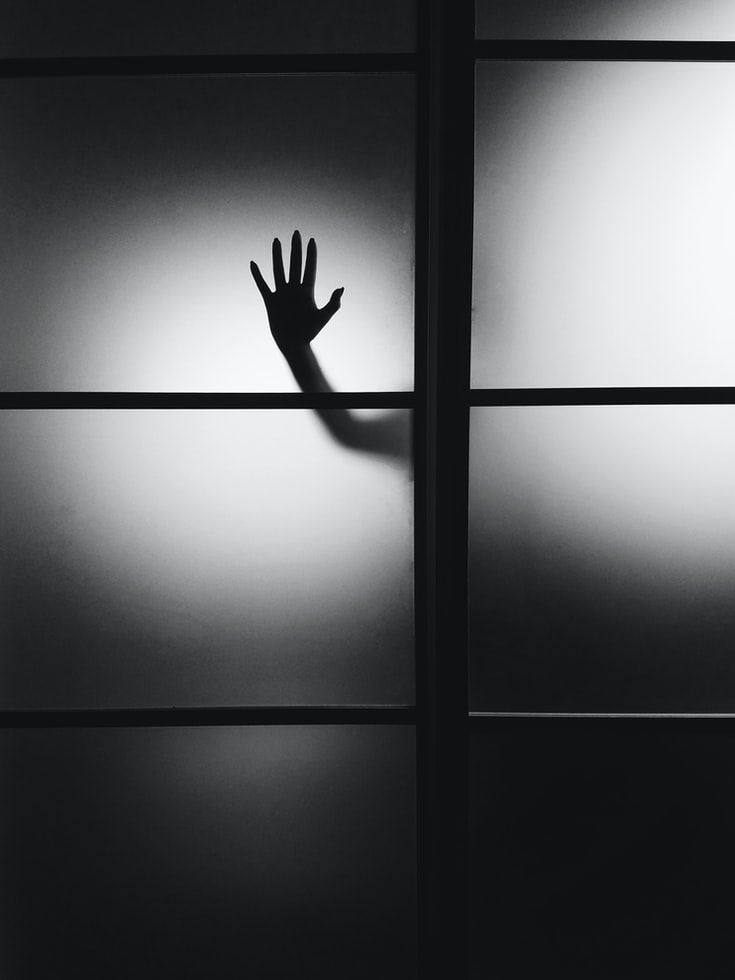 source
Jamie woke to the thrilling sound of her phone.
The sun already flooded her bedroom with its intense bright light that made her head throb in the rhythm of her heartbeat. She felt a heavy arm lay across her waist, drawing and pinning her to the bed like a clamp. She touched and knew whose arm it was. Then she took the arm and saw a dragon tattoo on the wrist. Immediately, she remembered last night, she was invited to a night party by Davis, her boyfriend at his house. He threw a party to celebrate his birthday.
Jamie doesn't like being in a relationship or having to be owned by any man. But Davis made her feel like a queen in his arms. In his world, she felt whole, like she's in control, cared for, and loved by him.
The phone continued to ring, threatening the peace of the morning, as it caused much more headache to her. Struggling, she moved Davis's heavy arm off her and reluctantly slid from the bed. She staggered out of the bed, like someone on the influence of alcohol, then she walked down the hallway, passing the bathroom, as she felt like running a shower but needed to answer the phone call.
In the living room, the thrilling sound was so loud, so she shouted, "Come on! I'm coming. Jeez." She stepped over a couple, snoring on the floor. It was Davis's little brother, Fred, and his girlfriend.
They rolled themselves together like a hot sausage roll, naked on the frying pan.
She grabbed the phone and disconnected it from the charger, Jamie punched the green button and spoke into the phone.
"Hello!"
The poor connection made it difficult for her to get a clear response from the other end. It sounded as if someone was trying to call from space. A voice hidden in the cell circuit phone, crackling, low answered, but she was unable to understand anything that came out of the phone speaker.
"Hello!" She said loudly. "I can't hear you. Please speak up or call back later, maybe then the connection will be better." She took the charger to plug the phone back, then the connection became clear.
An old lady's voice intoned as clear as if she was in the room with Jamie.
"You are going astray, Jamie Mami Walker. You need to be washed and cleansed. Come back home. Young lady."
Immediately, the line went dead, and slowly dropped the phone as she was confused about what she heard. The voice was so familiar and only one person called her "Mami" and that was Granny.
Davis walked up behind her, slid his muscled arms around her waist, and cupped her left breast giving it a soft squeeze.
"Mmmm, Morning my love." He kissed her neck. "Who was that on the phone? And why does your face look pale?" He then ran his hands down her stomach, but she didn't respond. "What's wrong Babe?" He asked.
"My grandmother just called." She stared at the phone as if it might grow teeth to bite her flesh off. She shivered and then crossed her arms over her midsection.
"Granny?" He asked, as he laughed and kept moving his hands around her stomach. "That shouldn't make you worried. She is fine, maybe she misses you. That's all Babe." He kissed her neck again just below her earlobe.
"Davis, she's dead. She died three weeks ago."
"Dead? What?" His hands dropped away from her and he took a step away from her like she has a highly contagious and deadly disease on her. "How did she die?"
"Yeah! Dead. She died in the hospital, she had cancer of the lungs." Jamie then walked past the sleeping couple and headed to the kitchen.
In the kitchen, a half-full bottle of whiskey sat on the table, she drank all of it, then she lit a cigarette and waited patiently for the alcohol influence to convince her that it wasn't her dead grandmother's call. It had been a hallucination or a prank.
The stories of the afterlife were never believed to her. Although she wasn't a Christian. But her parents were believers and tried to make her understand. As a child, she has never accepted the existence of a spirit or afterlife. She failed to accept the proof. She believed that those stories and tales of the afterlife were made up by people who tried to scare kids into behaving, or by demented people who have nothing to do other than sit and cook up devising tales to make themselves feel unique and mysterious.
She walked towards the bathroom, letting the stunning silence trail behind her like a bride walking to the altar. The alcohol and smoking had set in, allowing a slightly numb feeling to wash over her body and her brain. Now it was easier to determine if the phone call was a hallucination or a bad dream that kept playing over and over in her head. "What was Davis thinking about her now? Am I scaring him? Although he is quite a tough guy and possessive. That's why I am drawn to him" she thought. As she stepped into the shower. The warm water ran down on her body, washing off the thoughts and weakness from her body. She took her time showering, pleased with the worldliness of the steam, as the water made her clean again.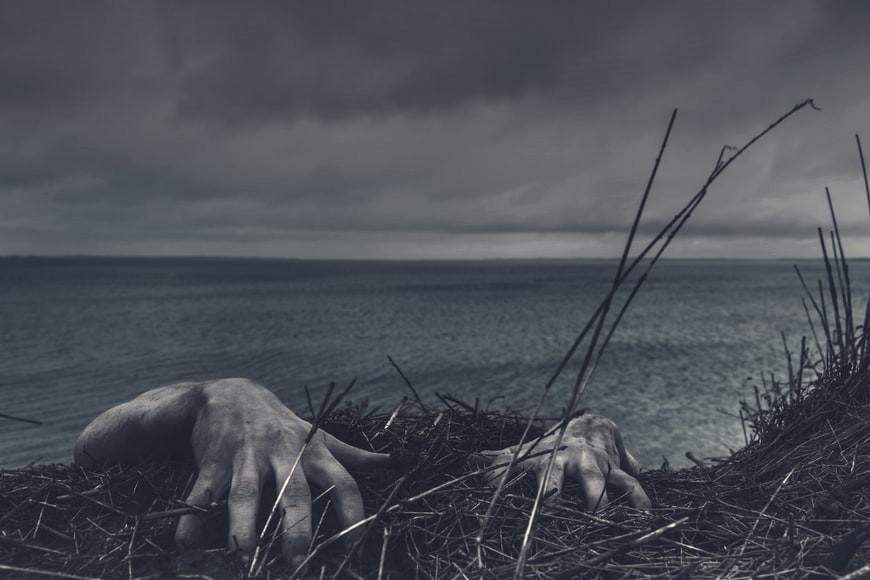 source
She turned it off, opened the curtain. The room was densely filled with fog. As she sat on the chair, drying her hair with the brown towel. The vinyl shower curtain moved, making a soft crackling sound and her body stiffened. Soon the smell of lavender filled the humid air, flooding her senses. She could taste that scent. Purple scent.
Suddenly, the shower curtain opened, and Granny stood there in her ragged burial shroud. Jamie tried to suck in enough breath to scream but it seems she was suffocating. Granny's burial shroud hung limp and wet against her body like she was brought out from Lazarus pit. Dirt turned to mud in the dampness of the bathroom air, as she slowly crept down the front and back of the once white material. Her broken arms sagged against her sides, free of the winding shroud.
As Granny stepped out of the shower, her bare feet slapped the tile floor, making a sickening sound, like water droplets from a closed tap dropping on a floor. Jamie ran to the door, but it was locked, unable to scream, unable to think her way out.
Granny raised her shriveled hand pointing dirt, decaying finger at Jamie. "Go home. Jamie Mami Walker, you need help to set you on the right path. This is not how we raised you."
Jamie tried to talk, but it stuck in her throat.
Granny moved further to Jamie, her skinny, dead feet sliding along, leaving a muddy trail. Jamie couldn't run. She dared not move.
Granny moved closer, she was a foot from Jamie. The smell of lavender was so strong it made her choke. Her empty eye sockets seemed to see more clearly than eyes could ever see. And the withered skin of her sickly pale color stinks, as she leaned forward, nearly touching Jamie's hands with hers. "Go home, I said go home!"
Now, a wild wind blew in her room, and she screamed. Pressing both hands hard over her face so she wouldn't have to see Granny anymore. She kept screaming until she heard a knock at her door. She dropped her hands, scanned the room. The only proof of Granny was her muddy grave dirty feet. Apart from that, no trace of Granny, as she disappeared.
The End.
Thanks for reading my story.
---
---