Billy Korg & Winkandwoo - Tsunami (Tracks that I bought in Rising Star Game Record Store)
Hello dear friends.
This, for me the last hive blog post of 2022, will be continuation of series of posts dedicated to artists that have released their Music NFT's within the game Rising Star (@risingstargame), that I have bought so far and will buy in the future.
Today is good day for Tsunami :). Name of this collaborative track made by Billy Korg & Winkandwoo.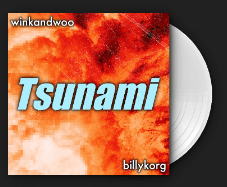 Lovely synth wave track that reminds me a bit on Moloko.
This is second track that I bought from the awesome indie artist based in Madrid, Spain. Billy Korg (William Korgan) @nupulse. And it is first one from Winkandwoo @winkandwoo , singer songwriter , music producer , collaborator and truth seeker from the UK.
During years both artists have become good friends too, and I hope that the future will bring us even more together.
Happy New Year. Wishing you all and only the best.!!
Billy Korg on Audius.!
https://audius.co/nupulse
Billy Korg on Twitter.!
https://twitter.com/nupulse
Winkandwoo on Audius
https://audius.co/winkandw00
Winkandwoo on Twitter
https://twitter.com/WINKANDW00
........
Rising Star Game is one of those truly awesome, ground breaking projects. Appealing to both and gamers and artists. It is my honor and joy to be personally involved from the beginning and as a supporter, player and content provider.
If you like gaming, music, crypto I'm pretty sure you would be enjoying this game just as we do.
You are more than welcome
"Start as a lowly busker and work your way up to global mega star! Earn STARBITS playing Rising Star, the Hive Engine NFT music career game!"
https://www.risingstargame.com?referrer=ugochill
........

---
---