NuPulse - Crypto Warriors feat. Billy Korg, The Turtle Project and Juxta (Tracks that I bought in Rising Star Game Record Store)
Hello everyone.
Continuing with series of posts dedicated to artists that have released their Music NFT's within the game Rising Star (@risingstargame), that I have bought so far and will buy in the future.
NuPulse - Crypto Warriors feat. Billy Korg, The Turtle Project and Juxta (@nupulse , @juxtamusic , @theturtleproject)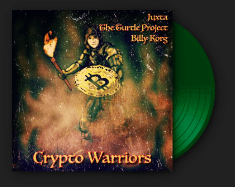 NuPulse is music project by Billy Korg, fine indie artist based in Madrid Spain.
This is one fun loving, easy going, quite fitting electronic music track, with guest appearances from Juxta and The Turtle Project.
Yeah, here we are all some kind of crypto warriors. I simply had to have this track in my collection. :)
Unfortunately, I could not find this track on Soundcloud, and I'm not aware if it is possible to preview it anywhere outside the game.
Instead, here is the link to the NuPulse Audius page, where one can hear many other tracks instead.
and NuPulse Twitter profile for contact and more info.
""""""
Rising Star Game is one of those truly awesome, ground breaking projects. Appealing to both and gamers and artists. It is my honor and joy to be personally involved from the beginning and as a supporter, player and content provider.
If you like gaming, music, crypto I'm pretty sure you would be enjoying this game just as we do.
You are more than welcome
"Start as a lowly busker and work your way up to global mega star! Earn STARBITS playing Rising Star, the Hive Engine NFT music career game!"
https://www.risingstargame.com?referrer=ugochill

---
---