Stick Up Boys x TDC Tunes - Traveller's Path - (Tracks that I bought in the Rising Star Game Record Store)
Hello everyone.
Continuing with series of posts dedicated to artists that have released their Music NFT's within the game Rising Star (@risingstargame), that I have bought so far and will buy in the future.
Today is the day for this amazing track, collaboration between TDC Tunes (@tdctunes) and Stick Up Boys (@stickupboys) , (@stickupmedia) from London/Brighton UK, called Traveller's Path.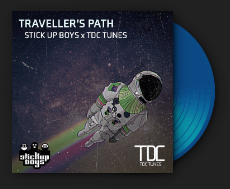 '''
Who are the Stick Up Boys?
A deep mystery surrounds the Stick Up Boys and they have worked and produced music for artists globally as well as for film and TV, often unknown in the background.....
The Stick Up Boys off kilter approach to electronic pop music is orchestrated by an anonymous collective from Brighton, UK. Borrowing influences from modern EDM and electronica as well as the most notorious of the 80's pop scene, the Stick Up Boys have been heralded as the "new sound of urban pop music". Their unique and fresh sound is generated from their much beloved analogue synths, their extensive experience in a wide range of musical styles, as well as their collective talents as writers, performers, producers, vocalists and multi-instrumentalists.
https://www.stickupboys.co.uk/who-are-we
......
...
Who is TDC Tunes?
TDC Tunes is a Modular Artist and Producer. He plays every Monday night on Brixton Radio and gigs around London.
On his Brixton Radio show, TDC Tunes creates all the music live and from scratch! All centred around a modular synthesizer - a crazy machine of knobs, wires and flashing lights.
For gigging, TDC Tunes' live modular case is is a slimmed down version of his full 'modular wall' and is set up with starting points for sets for anything from ambient to experimental through to electronic dance music depending on the occasion. He also does special themed sets with custom samples for events.
https://www.tdctunes.com/about
....
More about this track in their own words
"
Stick Up Boys, the "Bad Boys from Brighton" vs TDC Tunes "Master of Modular".
The Stick Up Boys bring their layered vocals and production against TDC Tunes love and skill with modular synths to take this classic electronica track to a different place.
Its quirky synths, cool beats and catchy melodies will take you on a path through space and time, created by a long forgotten traveller.
https://www.tdctunes.com/listen/travellers-path-sub
...
I will add TDC made notable contribution on this year hivefest 2022 in Amsterdam, and I was fortunate and delighted to meet and Stick Up Boys and TDC in person this year.
They say music often resembles and represents personalities of artists and in this case I could not agree more.
Cool, witty, versatile, creative, talented.
Take a minute and enjoy this track and check these artists bit more. It is worthy your time. Trust me.
""""""
Rising Star Game is one of those truly awesome, ground breaking projects. Appealing to both and gamers and artists. It is my honor and joy to be personally involved from the beginning and as a supporter, player and content provider.
If you like gaming, music, crypto I'm pretty sure you would be enjoying this game just as we do.
You are more than welcome
"Start as a lowly busker and work your way up to global mega star! Earn STARBITS playing Rising Star, the Hive Engine NFT music career game!"
https://www.risingstargame.com?referrer=ugochill

---
---