AGGRESSIVE STRATEGY - SPLINTERLANDS PT/EN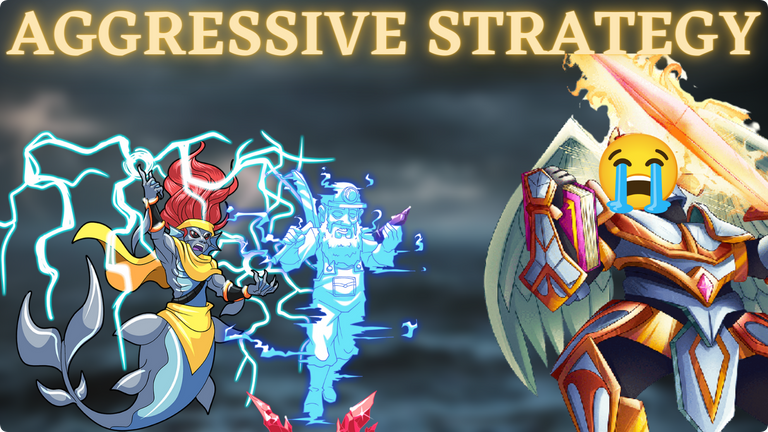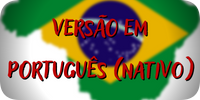 Oi, meu nome é Anny e hoje quero falar sobre estratégias agressivas e em quais casos eu acho mais útil utilizá-las nas partidas em Splinterlands.
Quero testar uma modalidade de post minimizado e objetivo para passar o máximo de conteúdo de maneira prática e fácil de entender, então se tiverem alguma opinião para acrescentar sobre essa estrutura, basta deixar nos comentários!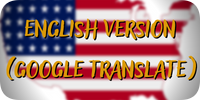 Hi, my name is Anny and today I want to talk about aggressive strategies and in which cases I find it most useful to use them in games in Splinterlands.
I want to test a minimized and objective post modality to pass on the most content in a practical and easy to understand way, so if you have any opinion to add about this structure, just leave it in the comments!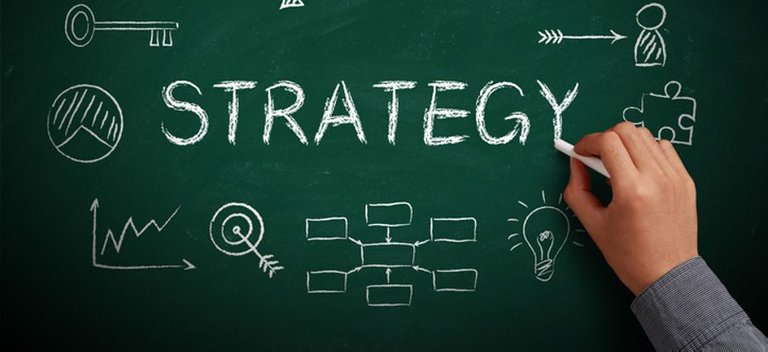 O que é uma estratégia agressiva?
O foco dessa estratégia é eliminar o time inimigo o mais rápido possível, ignorando os fatores de sobrevivência para maximizar sua ofensividade (dano e velocidade).
---
Como fazê-la funcionar?
O principal ponto que definirá se a sua estratégia funcionará é o tipo de dano das suas cartas.
Sua escolha PRECISA ser assertiva para que o seu time seja funcional, pois caso você monte um time de Dano Mágico

e o seu oponente esteja preparado utilizando cartas com Void

e Magic Reflect

sua estratégia falhará pois suas cartas morrerão facilmente por você ter abdicado da sobrevivência.
Entretanto se o oponente estiver se protegido contra dano mágico e a sua composição for focada em Sneaks

que também possuem Double Strike

e estejam sendo buffados por Inspire

, você facilmente conseguirá eliminar o time adversário.
What is an aggressive strategy?
The focus of this strategy is to eliminate the enemy team as quickly as possible, ignoring survivability factors to maximize your offensive (damage and speed).
---
How to make it work?
The main point that will define whether your strategy will work is the damage type of your cards.
Your choice MUST be assertive for your team to be functional, because if you build a Magic Damage

team and your opponent is prepared using cards with Void

and Magic Reflect

your strategy will fail because your cards will die easily because you have given up on survival.
However if the opponent is protected against magic damage and your composition is focused on Sneaks

that also have Double Strike

and are being buffed by Inspire

, you will easily be able to eliminate the opposing team.
---



Quando devo utilizá-la?
Para tomar essa decisão você deve estar confiante na escolha do tipo de dano do seu time. Para conseguir essa confiança você poderá utilizar as regras de combate ao seu favor pois elas eliminarão muitas possibilidades e trarão maior previsibilidade das possíveis composições do oponente.
Algumas são mais óbvias como Up Close and Personal

ou Lost Magic

mas existem muitas que podem facilitar sua escolha, como por exemplo a Unprotected

que facilita o uso de dano físico.
Os melhores momentos para utilizar um time muito agressivo é quando a partida indicar que o ideal sejam composições mais defensivas, eu sei que é contraditório mas há uma estratégia envolvendo isso.
Quando a partida parece ser focada em sobreviver como nos casos em que as regras Earthquake

ou Noxious Fumes

estão em jogo, os jogadores tendem à se proteger essas regras adequando seus times e utilizando cartas que sejam eficientes nessas regras.
O problema disso é que muitas vezes esses times são muito focados na sobrevivência e não possuem tanto dano, e caso o seu time seja muito agressivo e você tenha acertado a escolha do tipo de dano, o time inimigo poderá ser eliminado antes mesmo dos efeitos dessas regras se tornarem impactantes.
When should I use it?
To make this decision you must be confident in choosing your team's damage type. To achieve this confidence, you can use the combat rules to your advantage, as they will eliminate many possibilities and bring greater predictability of the opponent's possible compositions.
Some are more obvious like Up Close and Personal

or Lost Magic

but there are many that can make your choice easier, such as Unprotected

that makes it easier to use physical damage.
The best times to use a very aggressive team is when the game indicates that the ideal are more defensive compositions, I know it's contradictory but there is a strategy involved in this.
When the game seems to be focused on surviving as in cases where Earthquake

or Noxious Fumes

rules are in game, players tend to protect themselves from these rules by adapting their teams and using cards that are efficient in these rules.
The problem with this is that often these teams are very focused on survival and do not have much damage, and if your team is very aggressive and you have chosen the right type of damage, the enemy team can be eliminated even before the effects of these rules become impactful.
---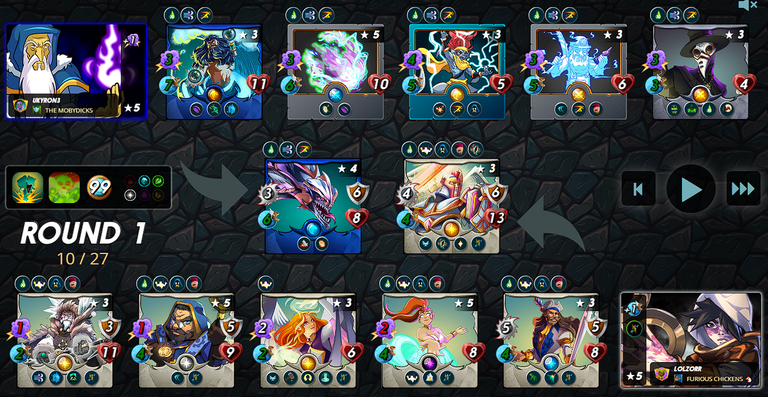 Vamos observar esta partida para entender na prática o que eu estou dizendo.
Em uma disputa com 99 de mana disponível e a regra Noxious Fumes

o jogador tende a escolher suas cartas de maior custo pois elas geralmente possuem as melhores estatísticas, mas nesse caso principalmente o jogador optará pelas cartas com as maiores estatísticas de sobrevivência (principalmente vida, cura e outras habilidades que ajudem contra o Poison

).
Foi exatamente o que ele fez escolhendo cartas como Uriel the Purifier, Adelade Brightwing e etc. Elas são realmente boas cartas nessa partida, entretanto ao invés de me importar com a sobrevivência eu optei por montar uma estratégia agressiva para eliminar o time inimigo o mais rápido possível antes dos efeitos do Poison

afetar minhas cartas.
Para isso escolhi o tipo de dano mais forte do jogo (dano mágico é muito roubado 🤣) e muitos buffs de velocidade para garantir que as cartas do oponente seriam eliminadas antes dele conseguir atacar.
Let's watch this match to understand in practice what I'm saying.
In a contest with 99 mana available and the Noxious Fumes

rule the player tends to choose his highest cost cards as they usually have the best stats, but in this case mainly the player will opt for the cards with the highest survival stats (mainly health, healing and other abilities that help against Poison

).
That's exactly what he did by choosing cards like Uriel the Purifier, Adelade Brightwing and so on. They are really good cards in this match, however instead of worrying about survival I chose to set up an aggressive strategy to eliminate the enemy team as quickly as possible before the effects of Poison

affect my cards.
For that I chose the strongest damage type in the game (magical damage is broken 🤣) and lots of speed buffs to ensure that the opponent's cards would be eliminated before he could attack.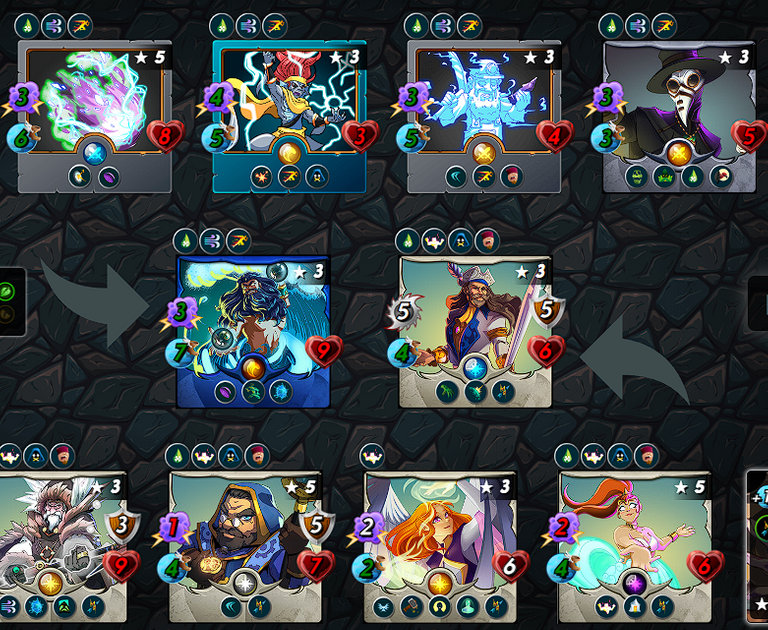 No primeiro turno já foi possível eliminar o principal tank do oponente e ainda matá-lo mais uma vez após receber Ressurect

. Se o meu time não fosse tão ofensivo provavelmente o Uriel ficaria o jogo inteiro utilizando Heal

e recebendo Repair

da Adelade e seria muito difícil eliminá-lo.
Essa é a beleza da estratégia agressiva. Quebrar toda a composição inimiga e consequentemente desestruturando a estratégia dele. Veja o que aconteceu depois dele perder o seu tank:
In the first turn, it was already possible to eliminate the main tank of the opponent and still kill him once more after receiving Resurect

. If my team wasn't so aggressive, Uriel would probably spend the entire game using Heal

and receiving Repair

from Adelade and would be very difficult to kill.
That's the beauty of the aggressive strategy. Breaking the entire enemy composition and consequently disrupting his strategy. See what happened after he lost his tank:
---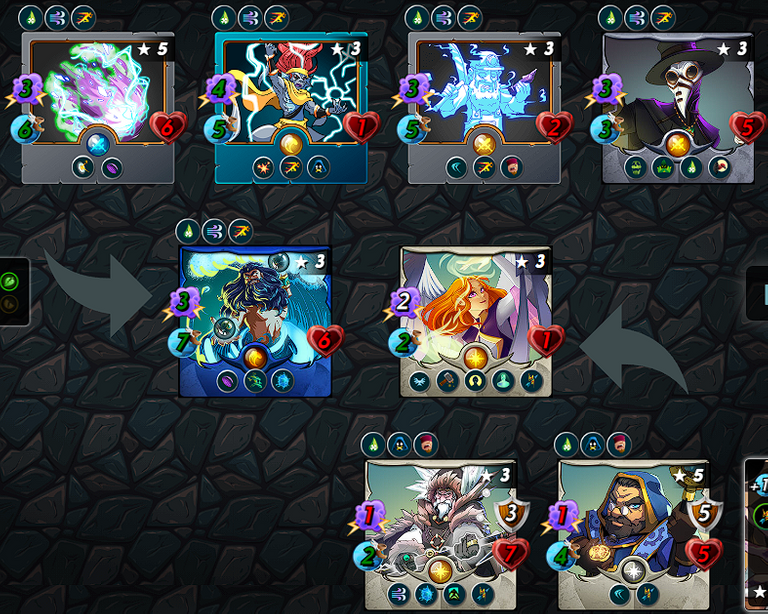 No início do segundo turno quase todo o seu time já havia sido eliminado e quase todas as minhas cartas irão atacar primeiro, então independente das minhas duas cartas estarem com pouca vida (por causa do Poison

) a velocidade garantirá que eles sejam úteis com seu dano.
A quarta rodada serviu apenas para o Oshannus dar o golpe de misericórdia e acabar com a última carta do oponente.
Essa foi uma demonstração de que nas partidas em que parece que devemos montar composições defensivas, podem ser as maiores oportunidades para escolhermos estratégias agressivas e pegar o oponente de surpresa com tanto dano!
At the beginning of the second round, almost all of your team had already been eliminated and almost all of my cards will attack first, so regardless of my two cards being low on health (because of Poison

) speed will ensure they are useful with their damage.
The fourth round was just for Oshannus to deliver the coup de grace and finish off the opponent's last card.
This was a demonstration that in games where it seems like we should be building defensive compositions, they can be the greatest opportunities for us to choose aggressive strategies and take the opponent by surprise with so much damage!
---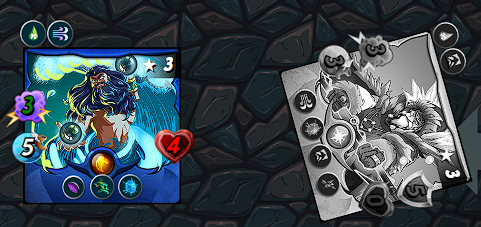 Este é apenas uma das maneiras de se jogar e particularmente é a minha favorita, é muito mais fácil escolher seus montros mais fortes e esperá-los eliminar o time inimigo 🤣
Mas lembre-se que você sempre estará sujeito ao erro montando essa estratégia (utilizando Dano físico

por exemplo) e se deparando com um time totalmente resistente ao seu tipo de dano (com Shield

e Thorns

) então sempre leve essa possibilidade em consideração ao decidir utilizar uma estratégia agressiva!
Se você gostou, peço que deixe o seu "like" nessa postagem e me siga para ver outros conteúdos sobre Splinterlands. Beijos e até a próxima!
This is just one of the ways to play and it's my personal favorite, it's much easier to choose your strongest monsters and wait for them to eliminate the enemy team 🤣
But remember that you will always be subject to error by setting up this strategy (using Physical damage

for example) and facing a totally resistant team to your damage type (with Shield

and Thorns

) so always take this possibility into account when deciding to use an aggressive strategy!
If you liked it, please send a "like" on this post and follow me to see other content about Splinterlands. Kisses and until next time!
---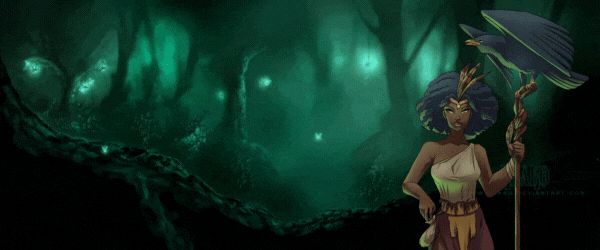 ---
---