ARCHERS PROBLEMS - SPLINTERLANDS PT/EN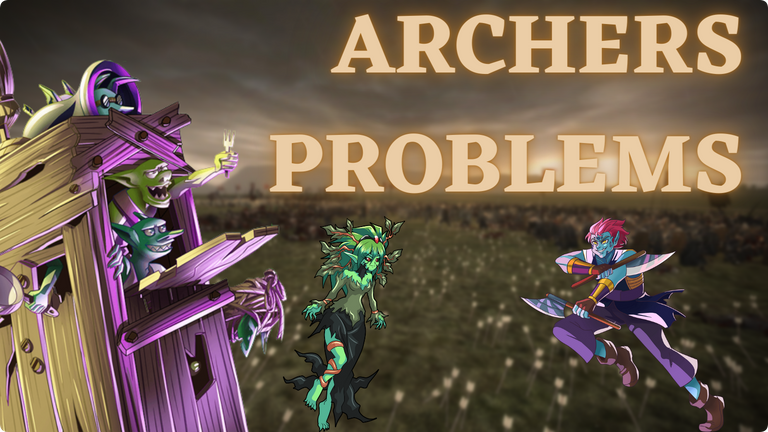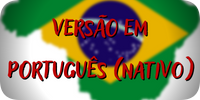 Os arqueiros em Splinterlands são unidades difíceis de lidar pois costumam ter alto dano e pouquíssimas pessoas utilizam unidades com a habilidade Headwinds

para diminuir esse poder ofensivo.
Entretanto da mesma forma como podem ser devastadoras, as unidades arqueiras podem possuir algumas fraquezas que diminuem drasticamente o dano e é sobre isso que abordarei hoje, os problemas dos arqueiros!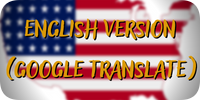 Archers in Splinterlands are difficult units to deal with as they tend to have high damage and very few people use units with the skill Headwinds

to lessen this offensive power.
However, just as they can be devastating, archer units can have some weaknesses that drastically decrease damage and that's what I'm going to address today, archers problems!

É importante sabermos que existem arqueiros que exercem diferentes funções. Alguns atuam como suporte enquanto outros são focados no dano bruto. De modo geral o dano bruto dos arqueiros é avassalador e pode render muitas vitórias contra oponentes despreparados. A seguir vou destacar algumas undidades arqueiras que exemplificam perfeitamente o tipo mais agressivo.
It is important to know that there are archers who perform different functions. Some act as support while others are focused on raw damage. Overall the raw damage of archers is overwhelming and can yield many victories against unprepared opponents. Below I will highlight some archer units that perfectly exemplify the more aggressive type.
---
Elas são perfeitas para bater na linha de frente com toda sua força e atropelar qualquer inimigo que estiver em seu caminho. E por mais simples que pareçam são as mais difíceis de lidar.
Agora apresentarei uma partida onde estão presentes três unidades arqueiras e falarei sobre elas, os acertos e os erros ao selecionar essas unidades e como resolver as falhas dos arqueiros.
They are perfect for slamming into the front lines with all their might and trampling any enemy that gets in their way. And as simple as they seem, they are the most difficult to deal with.
Now I will present a game where three archer units are present and I will talk about them, the successes and errors when selecting these units and how to solve the archer failures.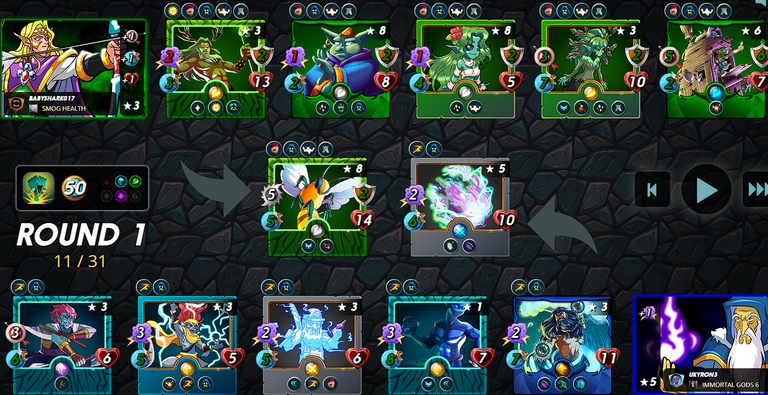 Observe que minha composição possui um arqueiro focado totalmente em dano (6 de dano por round), enquanto meu oponente escolheu um arqueiro suporte com a capacidade de Tank Heal

e Protect

e outra unidade de dano massivo com o Blast

.
Ambas as composições possuem muitas unidades de level alto e a disputa ficou bastante equilibrada para ambos os lados, poréms foram os detalhes envolvendo os arqueiros que decidiram o vencedor desse confronto.
O primeiro detalhe importante é a presença da habilidade Snipe

na carta Spirit of the Forest. Esta habilidade pode exercer papel estratégico bastante importante, mas no caso de partidas com alta mana onde todas as suas unidades estão focando em atacar o tanque inimigo, uma única carta atacar a backline é quase um desperdício de ataque pois o dano será divido sem necessidade.
Essa habilidade fez com que os ataques da Spirit não contribuissem para derrubar o tanque inimigo mais rápido e ainda sujeitou ela a ter que atacar um inimigo com alta taxa de esquiva que resultou em alguns miss.
Note that my composition has an archer focused entirely on damage (6 damage per round), while my opponent chose a support archer with the ability to Tank Heal

and Protect

and another massive damage unit with the Blast

.
Both compositions have many high level units and the dispute was very balanced for both sides, but it was the details involving the archers that decided the winner of this confrontation.
The first important detail is the presence of the skill Snipe

in the card Spirit of the Forest. This ability can play a very important strategic role, but in the case of high mana matches where all your units are focusing on attacking the enemy tank, a single card attacking the backline is almost a waste of attack as the damage will be split unnecessarily.
This ability made Spirit's attacks not contribute to taking down the enemy tank faster and still subjected her to having to attack an enemy with a high dodge rate which resulted in some misses.
---
Ao todo foram quatro Miss (uma taxa de erro muito alta mesmo com ela possuindo 7 de velocidade e Fly). A soma das habilidades Dodge

e Blind

prejudicaram bastante os ataques desta carta e ao longo da partida ela deixou de causar 12 de dano!
1º PROBLEMA DOS ARQUEIROS: A HABILIDADE SNIPE

PODE PREJUDICAR A COMPOSIÇÃO SE FOR MAL UTILIZADA.
2º PROBLEMA DOS ARQUEIROS: ESTÃO SUJEITOS A ERRAR SEUS ATAQUES E NÃO CAUSAR NENHUM DANO.
Este segundo problema é muito mais impactante quando olhamos para a segunda unidade arqueira do oponente. Se a Spirit que possuía 7 de velocidade conseguiu errar 4 ataques, tente imaginar quantos ataques o pobre Goblin Tower errou. Ao longo da partida ele realizou 6 ataques mas acertou apenas 2 deles.
Mesmo que essa unidade conseguisse causar 5+3 de dano, o fato de ter grandes chances de errar tornou-a uma péssima causadora de dano. Ainda há o problema do seu dano ser reduzido a 1 contra tanques com a habilidade Forcefield

, porém isso é extremamente situacional e não deve ser tão considerado na hora de montar o seu time.
In all, there were four Miss (a very high error rate even with her having 7 speed and Fly). The sum of Dodge

and Blind

abilities greatly harmed attacks of this card and throughout the game it no longer does 12 damage!
ARCHERS PROBLEM 1: THE SNIPE ABILITY

CAN HARM COMPOSITION IF MISSED.
2nd PROBLEM OF ARCHERS: THEY ARE SUBJECT TO MISSING THEIR ATTACKS AND DOING NO DAMAGE.
This second issue is much more impactful when looking at the opponent's second archer unit. If the Spirit who had 7 speed managed to miss 4 attacks, try to imagine how many attacks the poor Goblin Tower missed. During the match he made 6 attacks but only hit 2 of them.
Even though this unit could do 5+3 damage, the fact that it had a high chance of missing made it a poor damage dealer. There is still the problem of its damage being reduced to 1 against tanks with the Forcefield skill

, but this is extremely situational and should not be considered so much when mounting your team.
---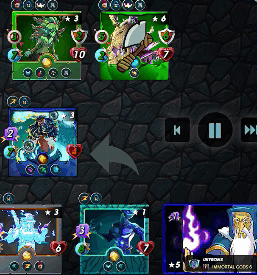 Enquanto os arqueiros do meu adversário possuíam esses problemas que os fez praticamente não causar dano, o Axemaster que eu escolhi foi muito mais consistente e efetivo. Ao dar dois ataques com a habilidade Double Strike

ele está mais exposto ao sistema de esquiva, porém isso também o ajuda a não ter todo o seu ataque perdido durante o round, além de garantir que ele não será parado pela habilidade Forcefield

.
Ao ser colocado junto com um time focado em atacar apenas o tanque inimigo o Axemaster consegue exercer muitíssimo dano para derrubar as linhas de frente do oponente uma a uma.
While my opponent's archers had these issues that made them virtually do no damage, the Axemaster I chose was much more consistent and effective. By making two attacks with the skill Double Strike

he is more exposed to the dodge system, but this also helps him not to have all his attack lost during the round, as well as ensuring he won't be stopped by the Forcefield skill

.
When placed together with a team focused on attacking only the enemy tank, the Axemaster can do a lot of damage to take down the opponent's front lines one by one.
---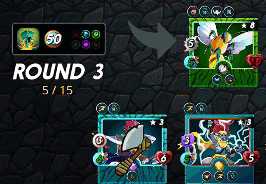 Essa batalha serviu para mostrar bem como os arqueiros são poderosos mas que pequenos detalhes podem torná-los quase inúteis, então é importante aprendermos a considerar esses detalhes na hora de montar o nosso time.
Se você gostou, peço que deixe o seu "like" nessa postagem e me siga para ver outros conteúdos sobre Splinterlands. Beijos e até a próxima!
This battle served to show how powerful archers are but that small details can make them almost useless, so it's important that we learn to consider these details when building our team.
If you liked it, please send a "like" on this post and follow me to see other content about Splinterlands. Kisses and until next time!
---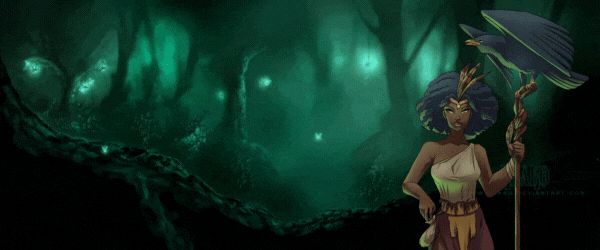 ---
---