FORCEFIELD AND BLAST - SPLINTERLANDS [PT-BR/ENG]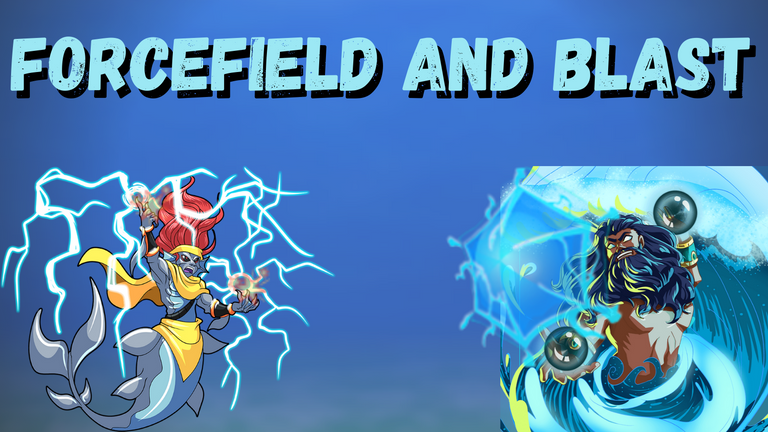 VERSÃO EM PORTUGUÊS

(nativo)

Vão existir muitas partidas em Splinterlands onde uma determinada habilidade será a chave para lhe dar a vitória e você ficará muito feliz quando acertar nesta previsão (ou bem triste quando o seu oponente acertar).
Hoje eu quero compartilhar uma partida onde ambos os jogadores acertaram na escolha de suas habilidades chaves, mas uma delas se saiu melhor e conseguiu trazer a vitória para um dos jogadores. Vamos discutir um pouco sobre essas habilidades e o quão acertiva elas foram nesse confronto, então espero que gostem!

FORCEFIELD & BLAST
Essas foram as duas habilidades que definiram completamente o rumo dessa partida e eu irei mostrar agora o porquê. Para os que não conhecem essas habilidades (talvez o Forcefield já que o Blast é extremamente conhecido), deixarei uma pequena explicação sobre cada uma.
| FORCEFIELD | BLAST |
| --- | --- |
| Este Monstro recebe apenas 1 dano de ataques com poder 5+. | Causa dano adicional a Monstros adjacentes ao Monstro alvo. O dano adicional é equivalente ao dano principal dividido por 2, arredondado para cima. |
Com esse entendimento básico vamos olhar o campo de batalha e analisar alguns pontos importantes.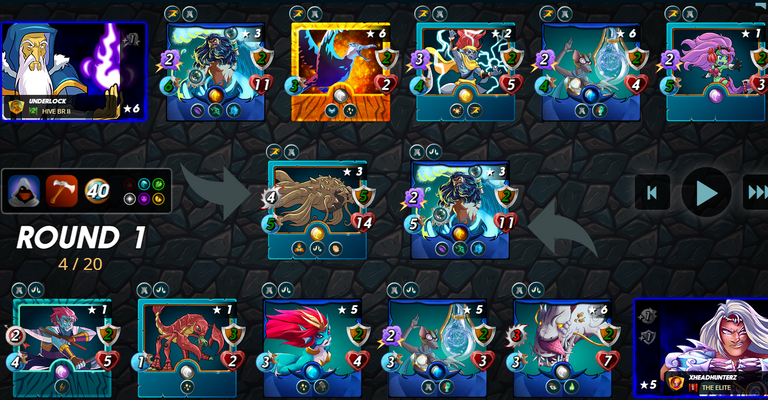 Duas composições de água com seus invocadores silenciados. Eu fui mais para o lado do dano mágico enquanto meu adversário mesclou bem suas opções de dano e utilizou mais unidades de cura.
As principais unidades desse confronto são:
O Djinn Oshannus do meu adversário por conta do seu conjunto de habilidades;
Minha unidade que fez a diferença foi o Ruler of the Seas com seu dano adjacente do Blast.
Vamos ver agora como essas habilidades funcionaram ao longo da partida.
---
O PROBLEMA DO ENRAGE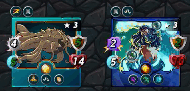 O round começou com o Oshannus inimigo golpeando e isso gerou o problema principal da minha composição: meu tank é level muito alto!!!
Sim, por mais bizarro que possa parecer, o fato do The Kraken estar no level 3 e ganhar a habilidade Enrage

foi um enorme problema pois seu ataque aumentou de 4 para 6, fazendo com que a habilidade Forcefield

transformasse esse dano em apenas 1. Com isso ao somar o dano de todas as minhas unidades no Round, o Oshannus inimigo recebe (na ordem das posições): 1+1+2+1+1 = 6 de dano por turno.
---
A DUPLA CURA
O problema é que o time inimigo possuia duas unidades de suporte que curavam exatamente isso, fazendo com que eu simplesmente NÃO CAUSASSE DANO NENHUM!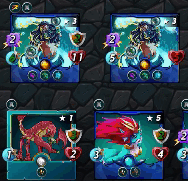 Com isso a minha derrota já estaria decretada se não fosse um pequeno detalhe... Eu conseguia causar dano nas unidades da backline com o Blast

!
---
O DANO EXPLOSIVO ADJACENTE
Felizmente o Ruler of the Seas era capaz de aos poucos mitigar a vida das unidades da linha traseira e ao passar dos rounds ele conseguiu ir os eliminando um a um até finalmente chegar naqueles que importavam, a dupla curandeira Merdaali Guardian e Crustacean King.
E aos poucos com muita persistência as curas do inimigo foram eliminadas, permitindo que o Oshannus finalmente caísse e me desse a vitória deste confronto.
Para assistir a partida completa e ver o quanto essas duas habilidades brigaram para definir o resultado da partida é só CLICAR AQUI.

CONSIDERAÇÕES FINAIS
São nos detalhes que você conseguirá definir o vencedor de um confronto e isso se torna ainda mais verdade conforme você vai subindo de liga pois a competitividade só aumenta. Ter boas cartas é extremamente importante nesse momento pois são elas que te possibilitam a criar novas estratégias ou abordagens diferenciadas.
Deste confronto algumas cartas que eu posso citar que valem a pena serem adquiridas (seja alugando ou comprando) é a própria Merdaali Guardian em seu level 5 pois o combo de Tank Heal

+ Repair

pode lhe garantir muitos jogos, principalmente se combinada com o The Kraken na sua linha de frente.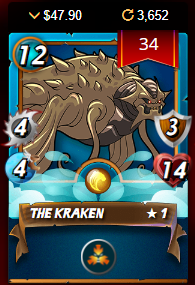 Juntas elas saem no valor médio de $63,02, lembrando que para utilizar a Merdaali com eficiência é preciso possuir um invocador de no mínimo level 5 que já requer um investimento maior.
Se você não desejar comprar, considere alugar essas unidades durante sua Focus Water e experimente o poderoso controle de campo que essas unidades juntas podem te oferecer.
Muito obrigado a todos que leram até aqui, espero que tenham gostado. Se vocês curtirem meus conteúdos, peço que deixem o seu voto na postagem e sigam o meu perfil para poderem acompanhar as futuras postagens.

---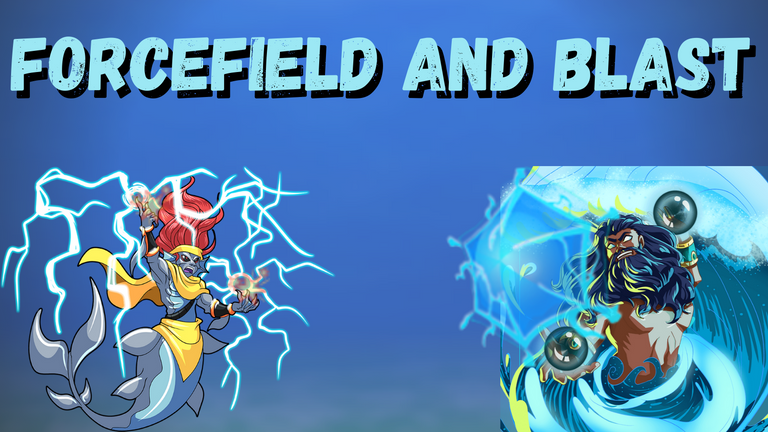 ENGLISH VERSION

(translate google)

There will be many matches in Splinterlands where a certain skill will be the key to giving you victory and you will be very happy when you get this prediction right (or well sad when your opponent hits).
Today I want to share a match where both players were right in choosing their key skills, but one of them did better and managed to bring the victory to one of the players. Let's discuss a little about these skills and how accurate they were in this confrontation, so I hope you like it!

FORCEFIELD & BLAST
Those were the two skills that completely defined the course of this match and I will now show you why. For those who don't know these skills (maybe Forcefield since Blast is extremely well known), I'll leave a little explanation about each one.
| FORCEFIELD | BLAST |
| --- | --- |
| This Monster only takes 1 damage from attacks with power 5+. | Deals additional damage to Monsters adjacent to the target Monster. The bonus damage is equal to the main damage divided by 2, rounded up. |
With this basic understanding, let's look at the battlefield and analyze some important points.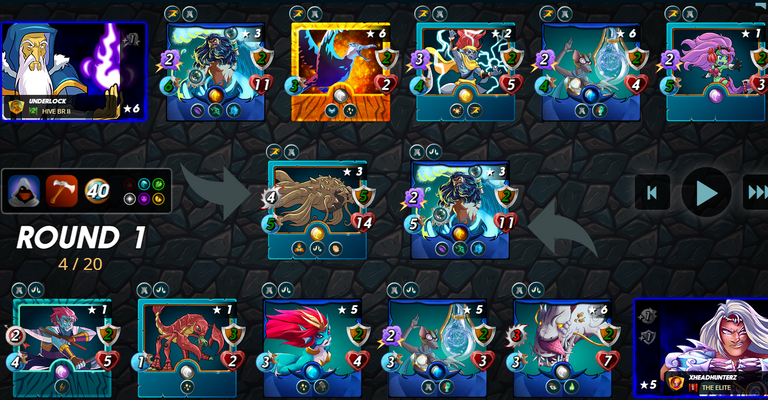 Two water compositions with their summoners silenced. I went more towards the magic damage side as my opponent mixed his damage options well and used more healing units.
The main units of this confrontation are:
Now let's see how these abilities worked throughout the game.
---
THE ENRAGE PROBLEM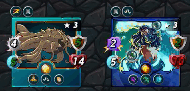 The round started with the enemy Oshannus hitting and that generated the main problem with my composition: my tank is too high level!!!
Yes, as bizarre as it may seem, the fact that The Kraken is level 3 and gains the ability Enrage

was a huge problem as his attack increased from 4 to 6, making the skill Forcefield

to turn this damage into just 1. With this, when adding the damage of all my units in the Round, the enemy Oshannus receives (in order of positions): 1+1+2+1 +1 = 6 damage per turn.
---
THE DOUBLE CURE
The problem is that the enemy team had two support units that healed just that, causing me to just DON'T DO ANY DAMAGE!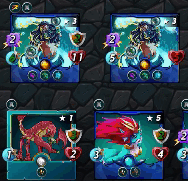 With that, my defeat would already be decreed if it wasn't for a small detail... I could damage backline units with Blast

!
---
THE EXPLOSIVE ADJACENT DAMAGE
Fortunately the Ruler of the Seas was able to gradually mitigate the health of the rear row drives and as the rounds went by he managed to eliminate them one by one until finally reaching those that mattered, the healer duo Merdaali Guardian and Crustacean King.
And little by little with a lot of persistence the enemy's cures were eliminated, allowing Oshannus to finally fall and give me the victory of this confrontation.
To watch the full match and see how much these two skills fought to define the result of the match, just CLICK HERE.

FINAL CONSIDERATIONS
It's in the details that you'll be able to define the winner of a match and this becomes even more true as you go up in the league as the competitiveness only increases. Having good cards is extremely important at this point because they are what allow you to create new strategies or differentiated approaches.
From this confrontation, some cards that I can mention that are worth acquiring (either renting or buying) are Merdaali Guardian at its level 5 because the Tank Heal combo

+ Repair

can guarantee you a lot of games, especially if combined with The Kraken in your frontline.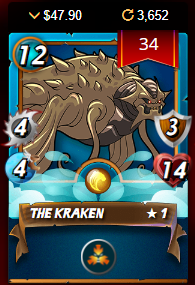 Together they come out at an average value of $63.02, remembering that to use Merdaali efficiently it is necessary to have a summoner of at least level 5 that already requires a greater investment.
If you don't want to buy, consider renting these units during your Focus Water and experience the powerful field control these units together can offer you.
Thank you so much to everyone who read this far, I hope you enjoyed it. If you like my content, I ask you to send your vote on the post and follow my profile so you can read future posts.

---
---