ORELLA ABADON - SPLINTERLANDS [PT-BR/ENG]


Eu gosto bastante das cartas Sneak

no Splinterlands e quando jogamos Brawls existem algumas cartas Gladius que são ótimas para assumir o papel de assassino. A habilidade Bloodlust

é ótima para este tipo de carta pois ela pode ser posicionada no meio do time e passar muito tempo viva enquanto elimina os inimigos e aumenta o seu poder com essa habilidade, tornando-as um perigo muito grande caso não sejam impedidas.
Uma dessas cartas que eu mais gosto de utilizar é a Orella Abadon pois ela possui estatísticas incríveis desde o level 1, sendo uma ótima escolha ofensiva e que combina perfeitamente com o Splinter de Fogo

. Seu maior problema é a vida que é baixa, tornando-a alvo fácil das cartas com Opportunity

mas há algumas maneiras de protegê-la até que seu Bloodlust

seja ativado.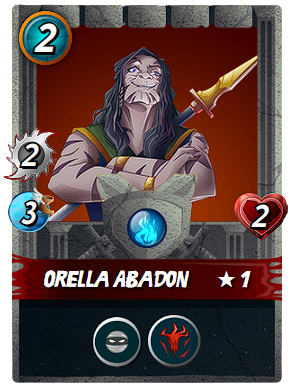 Apesar da vida baixa o fato da Orella Abadon possuir 2 de Dano

desde o level 1 e uma velocidade mediana por apenas 2 de custo já a torna uma ótima opção que se encaixa praticamente em todas as composições de Fogo


quando houver pouca mana disponível. Fazendo um comparativo com uma carta normal, o Kobold Miner que também custa 2 de mana possui 1 de dano e 1 de velocidade a menos e não possui a Bloodlust

. Eu sei que toda essa diferença é pelo fato da Abadon ser uma carta Gladius mas são muitos benefícios agregados que a tornam muito melhor quando comparada com as outras cartas normais disponíveis.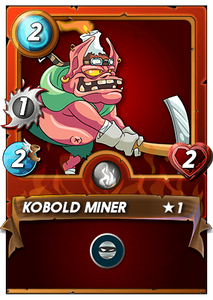 Se você quiser otimizar o seu uso e garantir que ela vá ficar viva por muito tempo é interessante que você escolha esta carta junto com alguma das seguintes habilidades ou regras de combate:

Equalizer


Taunt

Nos dois casos você garantirá que a Orella Abadon ficará viva tempo suficiente para conseguir atacar os inimigos e possivelmente ativar seu Bloodlust

, entretanto se você estiver preocupado apenas contra cartas com Opportunity

basta posicionar outra carta com menor vida em uma das primeiras posições. A quarta ou quinta posição são perfeitas para a Abadon pois assim ela ficará segura por mais tempo e terá mais chances de eliminar inimigos e ativar seus buffs. Vamos acompanhá-la em uma batalha para enxergar o quão forte esta carta é (desde o level 1!).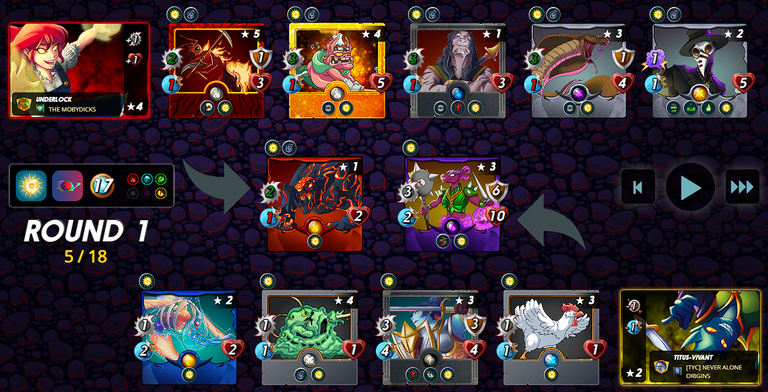 Nesta partida eu coloquei a Orella Abadon na quarta posição, sendo que a Ant Miners serviria como uma protetora contra Opportunity

caso meus Sneaks

não conseguissem eliminar nenhuma carta no início da rodada. Também podemos observar que meu oponente não se atentou à regra Reverse Speed

e escolheu duas cartas com debuff de velocidade (que acabaram favorecendo bastante o meu time).
Minhas cartas começaram atacando, o Kobold Miner retirou o Divine Shield

do inimigo e a Orella Abadon atacou logo em seguida pegando seu primeiro abate e ativando seu buff.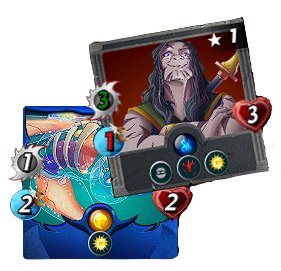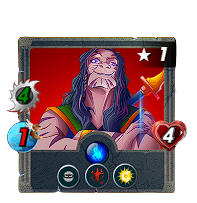 A partir do primeiro abate a Orella já havia se tornado um perigo extremo para o oponente, afinal estava com a maior velocidade possível, 4 de vida e 4 de dano (e tudo isso por um custo de apenas 2 de mana). Como minha linha de frente morreu e a Ant Miners aumentou sua vida com Scavenger

a Orella acabou se tornando o foco da Isgald Vorst mas por ainda estar protegida com Divine Shield

sua vida permaneceu intacta. Na rodada seguinte as minhas cartas continuaram a atacar para quebrar as armaduras dos oponentes e novamente a Isgald tentou eliminar a Abadon mas sem sucesso pois ela conseguiu sobreviver com 1 de vida.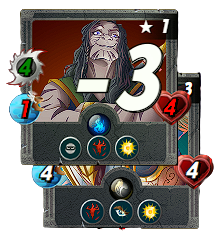 Na terceira rodada chegou a vez da Orella Abadon se vingar dos ataques recebidos e atacar com toda a sua força a Vorst, eliminando-a e ativando pela segunda vez seu buff. Com tanta força acumulada e restando apenas a Djinn Chwala no time do oponente já era impossível para ele vencer essa partida. Apesar do Thorns

conseguir ferir minhas cartas isso não seria o suficiente para eliminar todas, e mesmo tendo se sacrificado no processo a Orella Abadon deu seu último ataque e causou 5 de Dano na Chwala em um único golpe!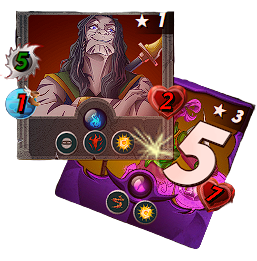 Assistindo essa partida fica fácil entender o quão poderosa esta carta é o impacto que ela consegue causar em uma partida possuindo um custo absurdamente baixo de mana.


É fato que as cartas Gladius são superiores às demais, mas existem algumas que se sobressaem bastante e a Orella Abadon é uma destas cartas que você deve experimentar. O que eu acho mais incrível é que ela é uma carta comum e que já é ótima desde o level 1, sendo extremamente útil em Brawls de qualquer liga. Esta carta está totalmente aprovada!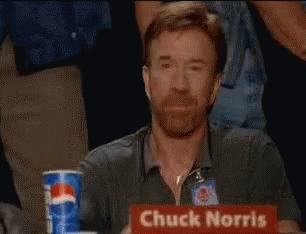 Muito obrigado a todos que leram até aqui, espero que tenham gostado. Se vocês curtirem meus conteúdos, peço que deixem o seu voto na postagem e sigam o meu perfil para poderem acompanhar as futuras postagens.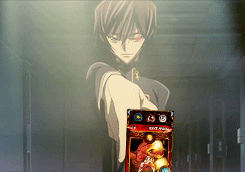 I really like the Sneak cards

in Splinterlands and when we play Brawls there are some Gladius cards that are great for taking on the assassin role. The Bloodlust

ability is great for this type of card as it can be placed in the middle of the team and spend a lot of time alive while eliminating enemies and increasing its power with this ability, making them a very big danger if not stopped.
One of those cards that I like to use the most is Orella Abadon because it has incredible stats from level 1, being a great offensive choice and that combines perfectly with Splinter from Fire

. Her biggest problem is her low health, making her an easy target for cards with Opportunity

but there are some ways to protect her until her Bloodlust

be enabled.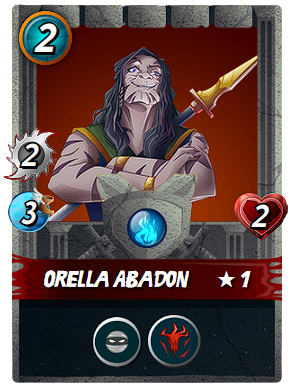 Despite the low life, the fact that Orella Abadon has 2 Damage

since level 1 and a medium speed for only 2 mana cost already makes it a great choice that fits into virtually all Fire

comps when low mana available. Making a comparison with a normal card, the Kobold Miner which also costs 2 mana has 1 damage and 1 speed less and does not have Bloodlust

. I know that all this difference is because Abadon is a Gladius card but there are many added benefits that make it much better when compared to the other normal cards available.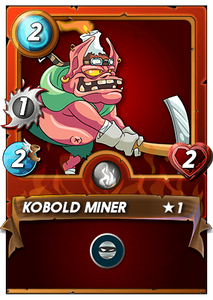 If you want to optimize its use and guarantee that it will stay alive for a long time, it is interesting that you choose this card along with one of the following abilities or combat rules:

Equalizer


Taunt

In both cases you will ensure that Orella Abadon stays alive long enough to be able to attack enemies and possibly activate its Bloodlust

, however if you are worried only against cards with Opportunity

just place another card with lower life in one of the first positions. The fourth or fifth position is perfect for Abadon as it will stay safe longer and have more chances to eliminate enemies and activate their buffs. Let's join her in a battle to see how strong this card is (since level 1!).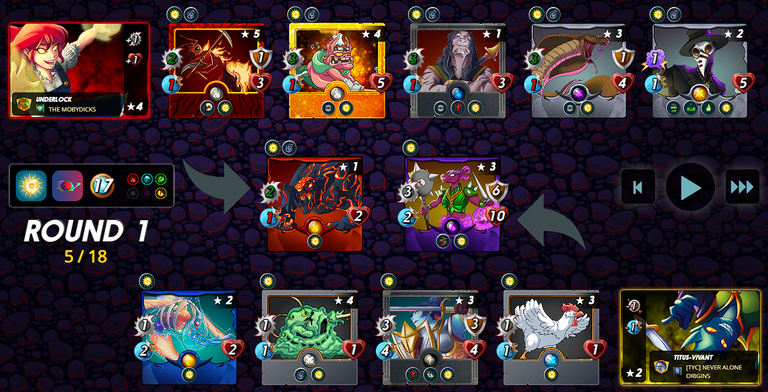 In this game I put Orella Abadon in fourth position and Ant Miners would serve as a protector against Opportunity

if mine Sneaks

were unable to eliminate any cards at the start of the round. We can also see that my opponent did not heed the Reverse Speed

rule and chose two cards with a speed debuff (which ended up favoring my team a lot).
My cards started attacking, Kobold Miner removed the Divine Shield

from the enemy and Orella Abadon attacked right after taking his first slaughter and activating his buff.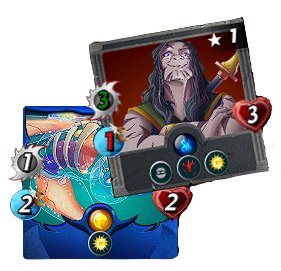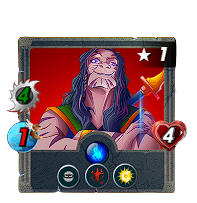 From the first kill Orella had already become an extreme danger to the opponent, after all he had the highest possible speed, 4 life and 4 damage (and all this for a cost of only 2 mana). As my frontline died and Ant Miners increased its health with Scavenger

Orella ended up becoming the focus of Isgald Vorst but because she was still protected with Divine Shield

her life remained intact. In the next round my cards continued to attack to break the opponents' armor and again Isgald tried to eliminate Abadon but without success because it managed to survive with 1 life.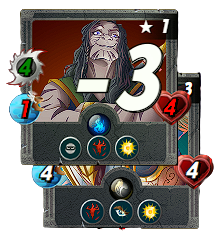 In the third round it was Orella Abadon's turn to take revenge on the incoming attacks and hit Vorst with all her strength, eliminating and activating her buff for the second time. With so much strength accumulated and only Djinn Chwala left on the opponent's team, it was already impossible for him to win this match. Although Thorns

managed to hurt my cards it wouldn't be enough to eliminate them all, and even though he sacrificed himself in the process to Orella Abadon landed his last attack and dealt 5 Damage to Chwala in a single hit!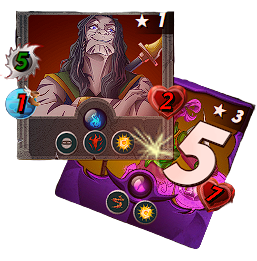 Watching this match it is easy to understand how powerful this card is and the impact it can cause in a match having an absurdly low cost of mana.


It is a fact that Gladius cards are superior to the rest, but there are some that stand out a lot and Orella Abadon is one of these cards that you should try. What I think is most amazing is that it is a common card and it's already great since level 1, being extremely useful in Brawls of any league. This card is fully approved!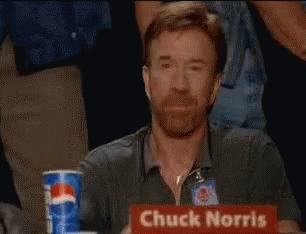 Thank you so much to everyone who read this far, I hope you enjoyed it. If you like my content, I ask you to send your vote on the post and follow my profile so you can read future posts.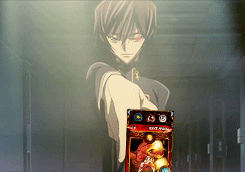 ---
---