PROTECT YOURSELF TO WIN - SPLINTERLANDS [PT-BR/ENG]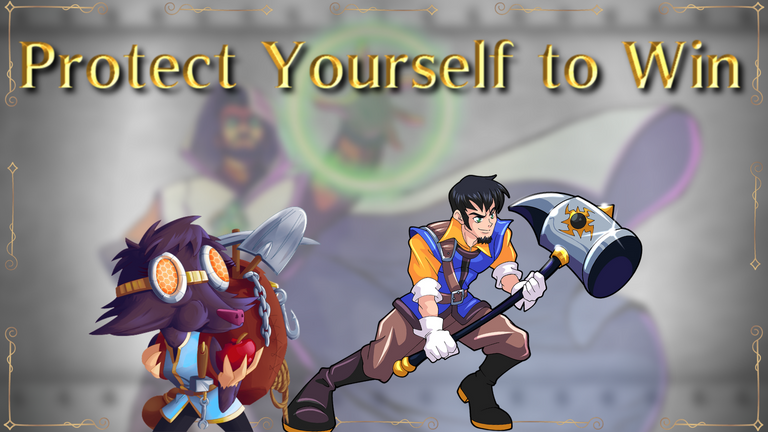 Existem algumas estratégias em Splinterlands que são totalmente focadas na defesa e o objetivo delas é não perder a partida. Particularmente eu não gosto tanto de utilizá-las pois requer uma estratégia bem pensada para que funcione corretamente, entretanto existem ocasiões em que a partida vem com regras que favorecem bastante esse estilo de composição.
Hoje eu quero compartilhar com vocês duas batalhas em que eu mostro exatamente isso, composições focadas em se defender e que funcionaram perfeitamente em seus contextos.


Para tomar a decisão de escolher composições defensivas é importante que a partida apresente alguns sinais que colaborem com esse tipo de estratégia. Se o contexto limitar as possibilidades de dano do oponente e aumentar suas chances de prever como as cartas do oponente atacarão, então você estará capacitado à montar uma estratégia defensiva. Vamos observar este primeiro exemplo: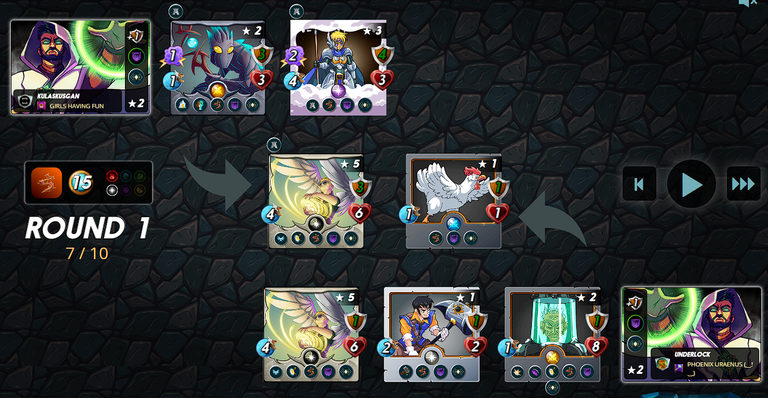 As regras de combate dessa partida vieram foram bem restritivas pois além de limitar a escolha de apenas 2 Splinters, a mana disponível era baixa e as cartas de dano físico iriam sofrer contra o Thorns

.
Tanto o Splinter de Fogo

quanto o de Vida
possuem muitas cartas de dano físico, algumas de dano mágico e outras de dano ranged, então seria sim possível mesclar entre os tipos de dano utilizando qualquer um dos dois.
Pensando nisso eu optei por uma composição defensiva utilizando o Grandmaster Rathe para garantir que a armadura seria útil contra todos os tipos de dano. Após escolhê-lo eu montei uma composição que pudesse refletir danos físicos e mágicos com as habilidades Magic Reflect

e Thorns

e para lidar contra ataques rangeds eu selecionei o Armorsmith.
Como não dá para montar um time apenas com cartas de dano ranged e havia pouca mana disponível o oponente provavelmente não poderia escolhar mais do que 1 arqueiro, então o Repair

já seria suficiente para segurar seu dano e enrolar a partida até as rodadas de fagida.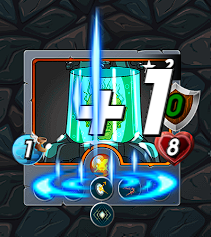 Entretanto minha vida foi muito facilitada e o oponente escolheu apenas cartas com dano mágico. Isso fez com que suas unidades fossem totalmente incapazes de causar dano ao Lord Arianthus. Mas mesmo sem conseguir causar dano e recebendo dano do Magic Reflect

o Spirit Hoarder conseguiu permanecer vivo até as rodadas de fadiga por causa da habilidade Triage

.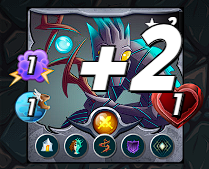 A vitória foi garantida por causa do dano de fadiga e a estratégia funcionou perfeitamente. Existia um grande ponto de falha e que eu considerei ao montar essa estratégia. Caso o oponente optasse por utilizar um arqueiro com a habilidade Snipe

a derrota seria garantida. Aqui estão alguns exemplos de cartas que poderiam ter sido utilizadas para quebrar minha estratégia: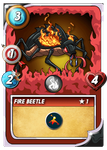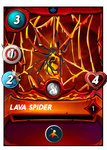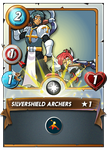 Felizmente o adversário não escolheu nenhuma delas e isso possibilitou que a estratégia de proteção funcionasse adequadamente.
---
Agora vamos observar um outro exemplo que eu achei muito engraçado por ter dado tão certo sem que tenha sido planejado.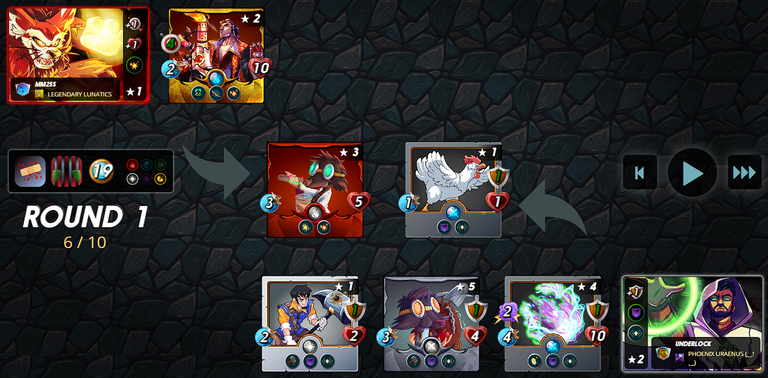 Novamente uma partida em que as regras de combate eram muito limitantes. Haviam poucos Splinters disponíveis, baixa mana e as regras Keep Your Distance

e Healed Out

diminuiam ainda mais as possibilidades de escolha dos jogadores.
Já que não seria possível montar uma composição com a Gelatinous Cube eu optei por uma estratégia focada em refletir dano mágico e garantir que a armadura seria útil contra todos os tipos de dano. Para isso novamente eu optei pelo invocador Grandmaster Rathe por causa da habilidade Void Armor

e escolhi duas cartas com Repair

para dar toda a proteção necessaria ao tank.
Surpreendentemente as duas cartas com Repair

foram o fator decisivo para que eu conseguisse vencer essa partida pois o oponente optou por utilizar o Yodin Zaku e buffar bastante o Tinderlock com seu Last Stand

para sozinho matar todo o meu time.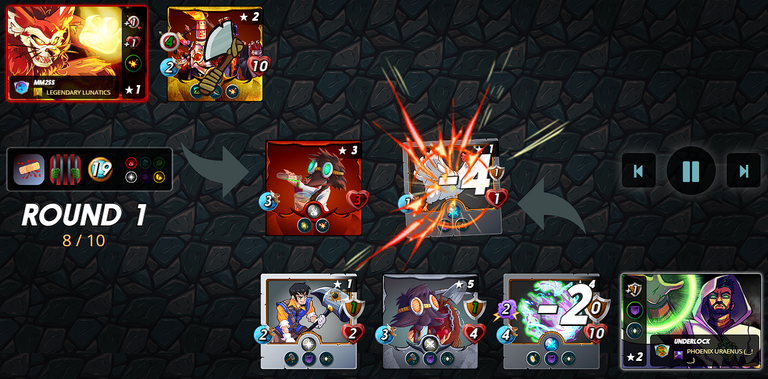 Com um único ataque o Tinderlock era capaz de quebrar a armadura das minhas duas cartas (conforme você pode ver nessa imagem totalmente editada mas que ficou muito original lol) entretanto os dois Repair

conseguiu recuperar ambas as armaduras, resultando em 0 de dano causado pelo oponente.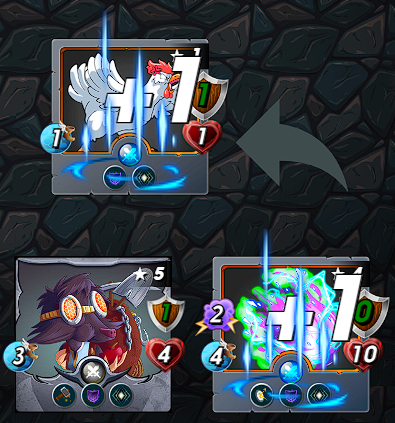 Tendo criado um ciclo perfeito onde o oponente não conseguia causar dano, aos poucos o Prismatic Energy foi ferindo o oponente com seus ataques até conquistar essa linda vitória.


Em ambas as batalhas foi possível perceber a ideia principal de uma estratégia defensiva e quais são os fatores importantes para que elas funcionem adequadamente. Em praticamente todas as composições que utilizarem dessa estratégia o principal inimigo serão aqueles com habilidades de atacarem as linhas de trás como a Opportunity

ou a Snipe

então você deve levar isso em consideração antes de optar por essa estratégia.
Apesar de ser difícil de se utilizar e não ser minha favorita, vencer batalhas dessa forma é hilário e muito divertido, então eu recomendo que você experimente!
Muito obrigado a todos que leram até aqui, espero que tenham gostado. Se vocês curtirem meus conteúdos, peço que deixem o seu voto na postagem e sigam o meu perfil para poderem acompanhar as futuras postagens.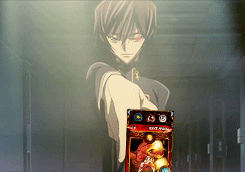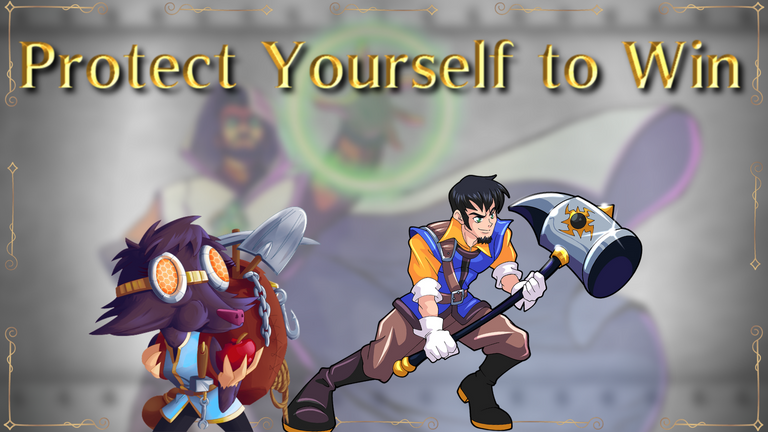 There are some strategies in Splinterlands that are totally focused on defense and their objective is not lose the match. Particularly I don't like using them so much because it requires a well thought out strategy for it to work correctly, however there are occasions when the game comes with rules that favor this style of composition.
Today I want to share with you two battles in which I show exactly that, compositions focused on defending and that worked perfectly in their contexts.


To make the decision to choose defensive compositions, it is important that the game presents some signs that collaborate with this type of strategy. If the context limits your opponent's damage possibilities and increases your chances of predicting how your opponent's cards will attack, then you will be able to put together a defensive strategy. Let's look at this first example: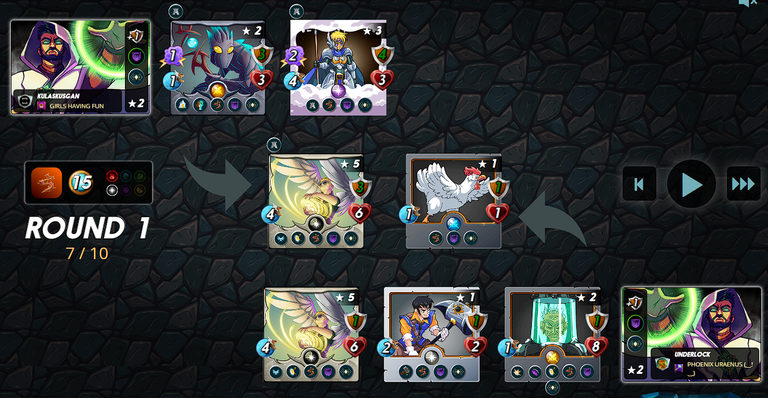 The combat rules of this match were very restrictive because in addition to limiting the choice of only 2 Splinters, the available mana was low and the physical damage cards would suffer against Thorns

.
Both Splinter Fire

and Life
have many physical damage cards, some magic damage and some ranged damage, so it would be possible to mix between the damage types using either one.
With that in mind I opted for a defensive composition utilizing Grandmaster Rathe to ensure the armor would be useful against all types of damage. After choosing it I put together a composition that could reflect physical and magical damage with the skills Magic Reflect

and Thorns

and to deal with ranged attacks I selected Armorsmith.
As it is not possible to assemble a team with only ranged damage cards and there was little mana available, the opponent probably could not choose more than 1 archer, so Repair

it would be enough to hold his damage and stall the game until the fatigue rounds.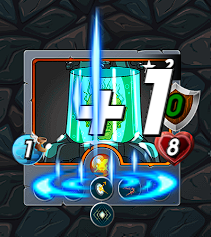 However my life was made much easier and the opponent chose only cards with magic damage. This made his units totally unable to deal damage to Lord Arianthus. But even without being able to deal damage and receiving damage from Magic Reflect

Spirit Hoarder managed to stay alive until the rounds of fatigue with Triage

ability.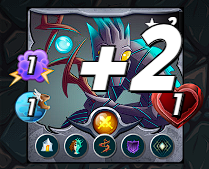 Victory was assured with the fatigue damage and the strategy worked perfectly. There was one big point of failure that I considered when putting together this strategy. If the opponent chose to use an archer with the Snipe

ability the defeat would be guaranteed. Here are some examples of cards that could have been used to break my strategy: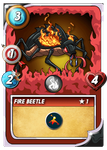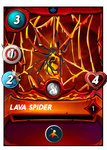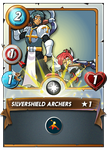 Fortunately, the opponent didn't choose any of them and that allowed the protection strategy to work properly.
---
Now let's look at another example that I found really funny because it went so well without it being planned.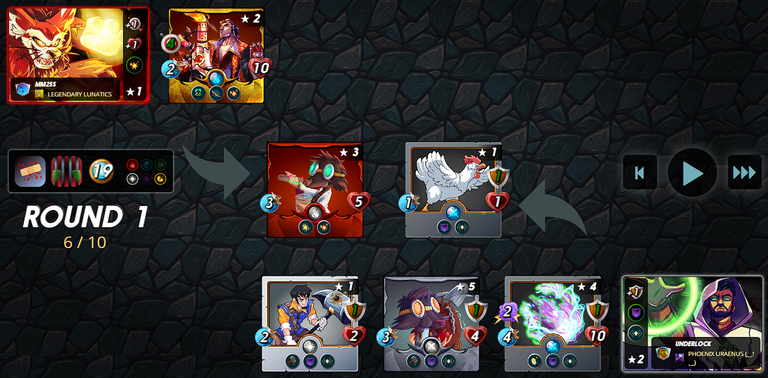 Again a game where the combat rules were very limiting. There were few Splinters available, low mana and Keep Your Distance

and Healed Out

rules further narrowed the choice for players.
Since it wouldn't be possible to build a composition with the Gelatinous Cube I opted for a strategy focused on reflecting magic damage and ensuring that the armor would be useful against all types of damage. For that again I opted for the summoner Grandmaster Rathe because of the ability Void Armor

and chose two cards with Repair

to give the tank all the necessary protection.
Surprisingly, the two cards with Repair

were the decisive factor for me to win this match because the opponent chose to use Yodin Zaku and buff a lot Tinderlock with his Last Stand

to single-handedly kill my entire team.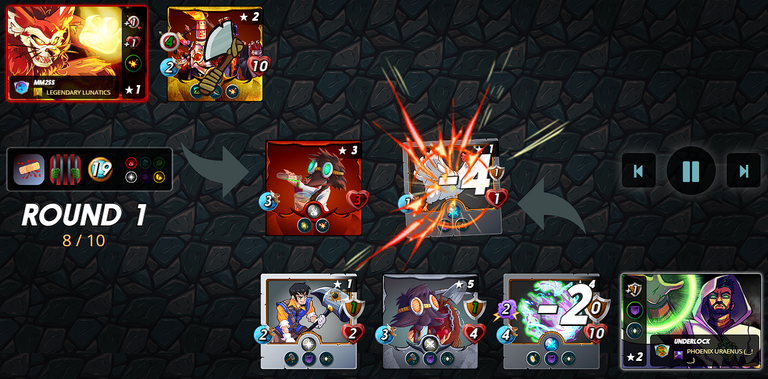 With a single attack Tinderlock was able to break the armor of my two cards (as you can see in this fully edited but very original image lol) however both Repair

managed to recover both armors, resulting in 0 damage dealt to the opponent.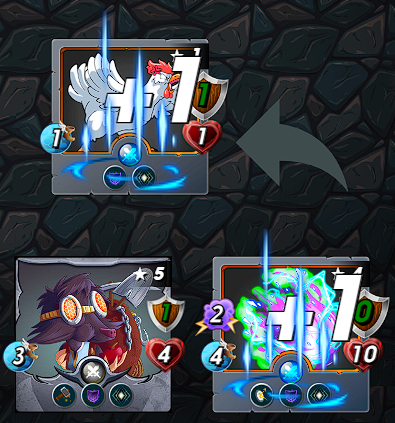 Having created a perfect cycle where the opponent couldn't deal damage, the Prismatic Energy slowly hurt the opponent with its attacks until achieving this beautiful victory.


In both battles it was possible to perceive the main idea of a defensive strategy and what are the important factors for them to work properly. In virtually all compositions that use this strategy, the main enemy will be those with abilities to attack the back lines like Opportunity

or Snipe

so you should take that into before opting for this strategy.
Although it's difficult to use and not my favorite, winning battles this way is hilarious and a lot of fun, so I recommend you give it a try!
Thank you so much to everyone who read this far, I hope you enjoyed it. If you like my content, I ask you to send your vote on the post and follow my profile so you can read future posts.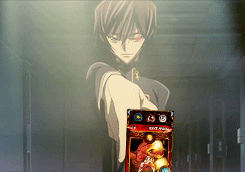 ---
---