Time to Buy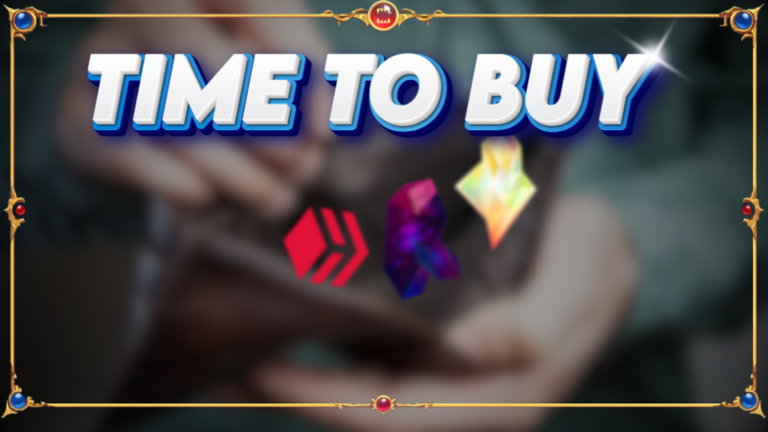 Após anunciarem o processo da SEC contra a Binance o preço de quase todas as criptos despencou por causa do FUD que foi causado. Muitos acreditam que esse poderá ser um grande cisne negro para o mercado cripto mas eu enxergo como uma oportunidade, é hora de comprar!
Com as quedas variando entre 5% à 10% nas principais criptomoedas, temos um grande desconto em relação ao preço que estava lateralizando por bastante tempo. Alguns poderão ficar pessimistas e pensar em vender ou aguardar os preços cairem mais, mas estamos na fase de acumulação e durante cada uma dessas quedas devemos aproveitar para melhorar nosso preço médio mas sempre lembrando de manter dinheiro em caixa para caso ocorram mais quedas. Se você assim como eu também enxerga esse momento como uma boa oportunidade de comprar cripto, então vamos avaliar algumas coisas interessantes.
No Town Hall de hoje os desenvolvedores do Splinterlands renovaram o Roadmap e uma das próximas grandes mudanças será a alteração nos requisitos de CP para SPS em Stake, portanto será muito mais necessário possuir SPS se você quiser receber a maior quantidade de recompensas possíveis. Pensando nisso e considerando os baixos preços de hoje talvez essa seja a oportunidade perfeita de acumular SPS para alcançar o nível de recompensas que você deseja.

Além da possibilidade de comprar SPS mais barato, há algo importante que devemos observar em um contexto de queda como esse. Quando o cenário negativo acontece todas as criptos tendem à cair (seguindo suas próprias proporções) mas o mercado interno do Splinterlands não segue esse comportamento. Os preços das cartas não são afetados por movimentos generalizados e tudo depende das atualizações, nível de adoção do jogo e etc, isso significa que você não precisa ficar com tanto medo do cenário macro, basta conhecer o próprio mercado do Splinterlands para criar sua própria estratégia de investimento.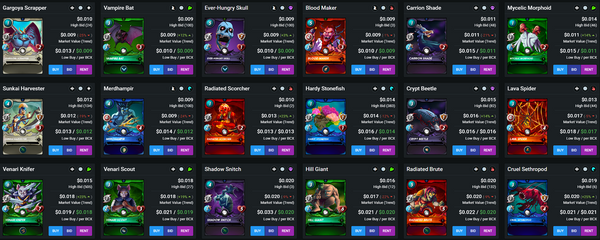 O mesmo pode ser observado na Hive-Engine que é a Layer 2 da Hive. Como existe pouca liquidez nesse mercado os grandes movimentos acabam não afetando tanto os preços dos tokens de segunda camada, por isso você perceberá que a maioria deles não se movimentou negativamente (a maioria está subindo na verdade) nessas últimas horas.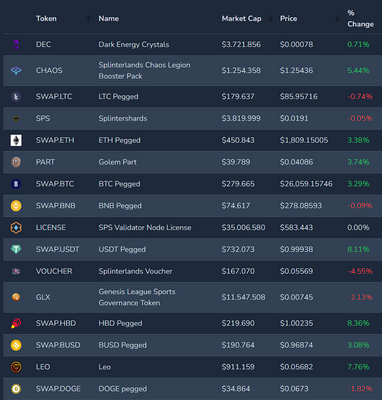 Infelizmente eu fiz algumas besteiras ai criar Pools de liquidez utilizando o capital que deveria estar reservado para comprar na baixa então infelizmente não poderei aproveitar esses preços descontados, mas caso você esteja com dinheiro pronto para investir, talvez essa seja a hora de comprar!
Muito obrigado a todos que leram até aqui, espero que tenham gostado. Se vocês curtirem meus conteúdos, peço que deixem o seu voto na postagem e sigam o meu perfil para poderem acompanhar as futuras postagens.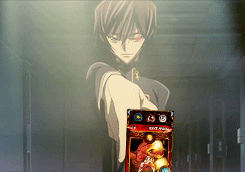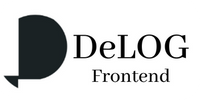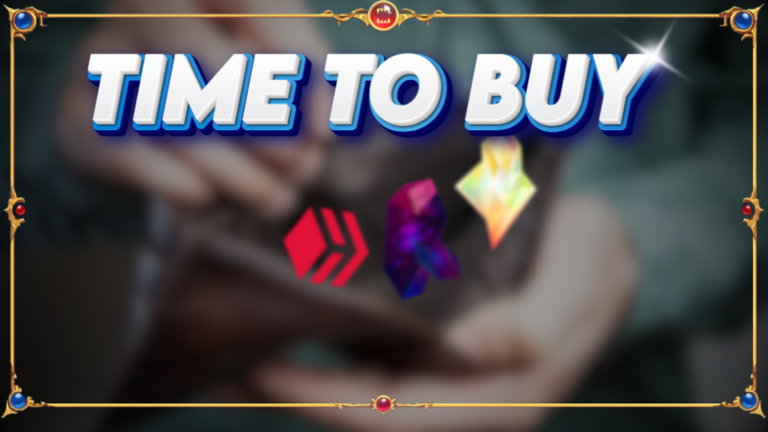 After announcing the SEC lawsuit against Binance the price of almost all cryptos plummeted because of the FUD that was caused. Many believe this could be a major black swan for the crypto market but I see it as an opportunity, time to buy!
With declines ranging from 5% to 10% in the major cryptocurrencies, we have a big discount from the price that has been sideways for quite some time. Some may be pessimistic and think of selling or waiting for prices to fall further, but we are in the accumulation phase and during each of these falls we should take the opportunity to improve our average price but always remembering to keep cash in case more falls occur. If you like me also see this as a good opportunity to buy crypto, then let's take a look at some interesting things.
In today's Town Hall the Splinterlands developers have revamped the Roadmap and one of the next big changes will be Replacing CP for SPS staking, so it will be much more necessary to have SPS if you want to receive the most rewards possible. With that in mind and considering today's low prices perhaps this is the perfect opportunity to accumulate SPS to reach the level of rewards you desire.

Besides the possibility to buy SPS cheaper, there is something important to note in a downside scenario like this. When the negative scenario happens all cryptos tend to fall (following their own proportions) but the Splinterlands internal market does not follow this behavior. Card prices are not affected by generalized movements and everything depends on the updates, level of adoption of the game and etc, this means that you don't need to be so afraid of the macro scenario, just know the Splinterlands market itself to create your own investment strategy.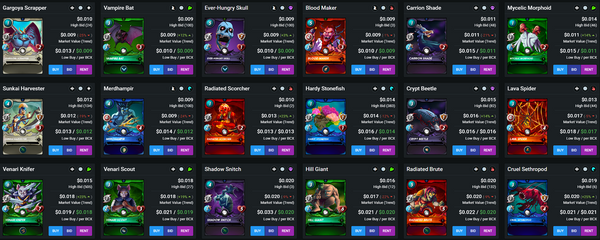 The same can be observed in Hive-Engine which is the Hive Layer 2. Since there is low liquidity in this market the big moves don't affect the prices of the tokens second layer as much, so you will notice that most of them have not moved negatively (most are actually going up) these last few hours.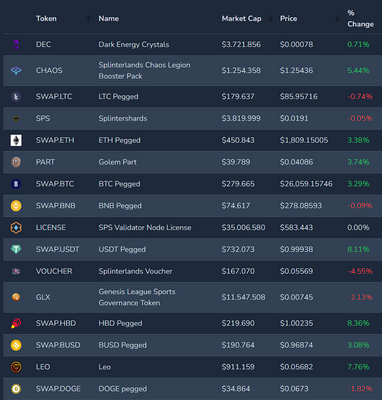 Unfortunately I made some mistakes there creating Liquidity Pools using the capital that should have been set aside to buy down so unfortunately I won't be able to take advantage of these discounted prices, but if you have money ready to invest, maybe now is the time to buy!
Thank you so much to everyone who read this far, I hope you enjoyed it. If you like my content, I ask you to send your vote on the post and follow my profile so you can read future posts.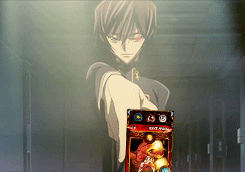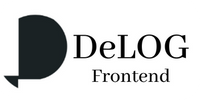 ---
---