[ENG-ESP] MANDY (2018): A psychedelic cocktail that will blow your mind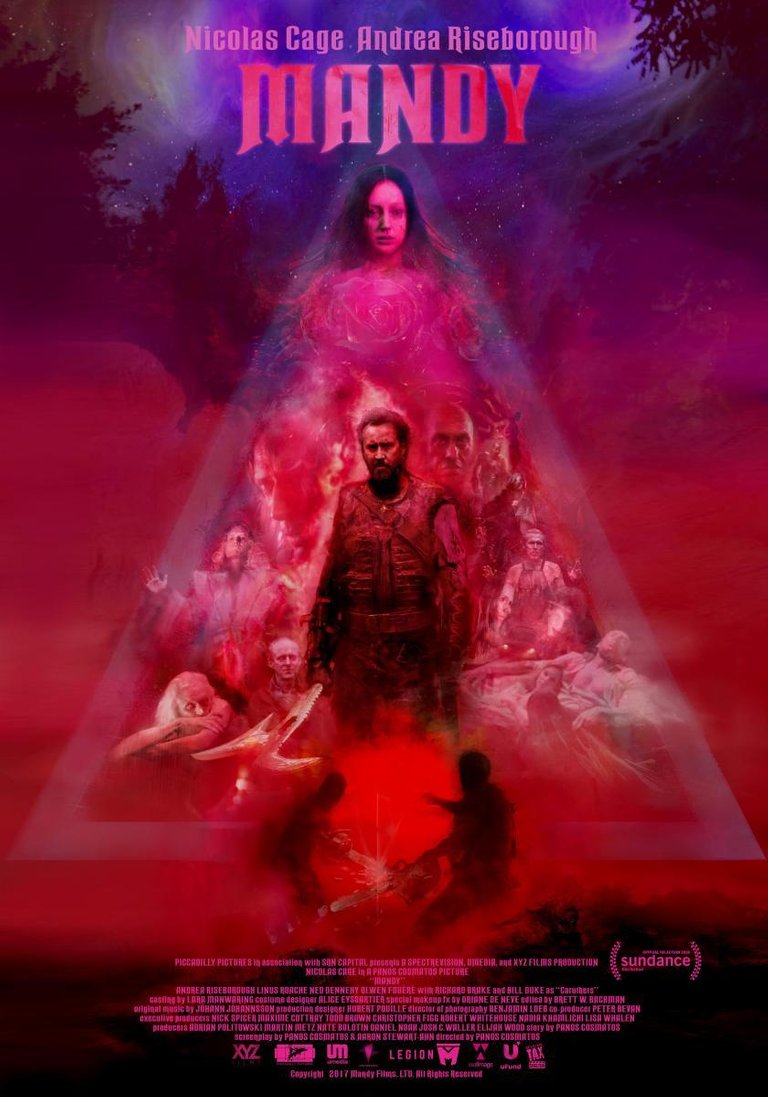 Poster



E N G L I S H
How many cocktails of drugs do you need to be able to see mind-blowing, dreamlike colors? Actually, you don't need that as one movie will give it all to you. Mandy, according to the reviews, seemed like a project that was headed for failure, but Cosmatos (son of the director of Rambo), showed everyone that with surreal dreamlike ideas, heavy metal music at its peak, drugs used disproportionately, some touches of depravity and unconscionable perversion, some touches of depravity and over-the-top perversion, delusional fantasy starring a psychopathic, vengeful and bloodthirsty Nicolas Cage, you can create a work of dark art where you can either become uncomfortable or gaze in awe. I present to you, my friends, my review of this fantastic fiction that can leave several holes in your head.
E S P A Ñ O L
¿Cuántos cocteles de drogas se necesitan para poder ver colores alucinantes y oníricos? En realidad, no necesitas eso pues una película te lo dará todo. Mandy, según las críticas, parecía un proyecto que iba directo al fracaso, pero Cosmatos (hijo del director de Rambo), le demostró a todos que con ideas oníricas surrealistas, música heavy metal en su mayor apogeo, drogas usada desproporcionalmente, algunos toques de depravación y perversión desmedida, fantasía ilusoria protagonizada por un Nicolas Cage psicópata, vengativo y sanguinario, se puede crear una obra de arte de lo oscuro en donde puedes llegar a incomodarte o contemplar con admiración. Les presento, amigos míos, mi reseña de esta ficción fantástica que puede dejarte varios agujeros en la cabeza.


Technical Data
Mandy, is an American fantasy/horror/action film released in 2018. It was directed and written by Panos Cosmatos with screenwriting assistance from Aaron Stewart-Ahn. The production was shaped by Elijah Wood through the production companies Piccadilly Pictures, Son Capital, SpectreVision, Umedia, XYZ Films and Legion M. The cast included Nicolas Cage as Red Miller, Andrea Riseborough as Mandy Bloom, Linus Roache as Jeremiah Sand, Bill Duke as Caruthers, Richard Brake as The Chemist, Ned Dennehy as Brother Swan, Olwen Fouéré as Mother Marlene, Line Pillet as Sister Lucy, Clément Baronnet as Brother Klopek, Alexis Julemont as Brother Hanker, Stephan Fraser as Brother Lewis, among others. The music was scored by Jóhann Jóhannsson and the cinematography by Benjamin Loeb. The film was distributed by XYZ Films with a running time of 121 minutes.
Ficha Técnica
Mandy, es una película de fantasía, terror y acción estadounidense estrenada en el año 2018. Fue dirigida y escrita por Panos Cosmatos con la ayuda en el guion de Aaron Stewart-Ahn. La producción estuvo conformada por Elijah Wood a través de las empresas productoras Piccadilly Pictures, Son Capital, SpectreVision, Umedia, XYZ Films y Legion M. El reparto actoral estuvo compuesto por Nicolas Cage como Red Miller, Andrea Riseborough como Mandy Bloom, Linus Roache como Jeremiah Sand, Bill Duke como Caruthers, Richard Brake como El Químico, Ned Dennehy como Hermano Swan, Olwen Fouéré como Madre Marlene, Line Pillet como Hermana Lucy, Clément Baronnet como Hermano Klopek, Alexis Julemont como Hermano Hanker, Stephan Fraser como Hermano Lewis, entre otros. La música fue realizada por Jóhann Jóhannsson y la fotografía por Benjamin Loeb. La película fue distribuida por la XYZ Films con una duración de 121 minutos.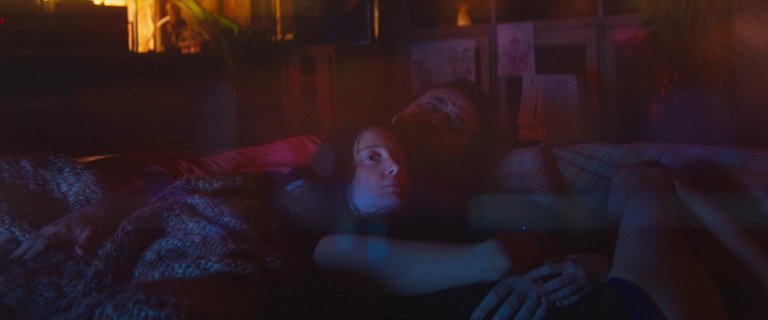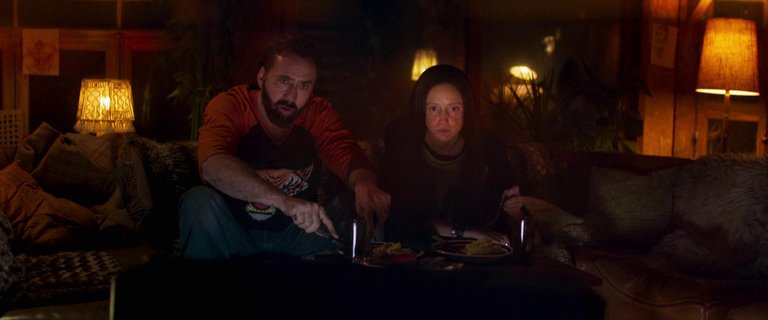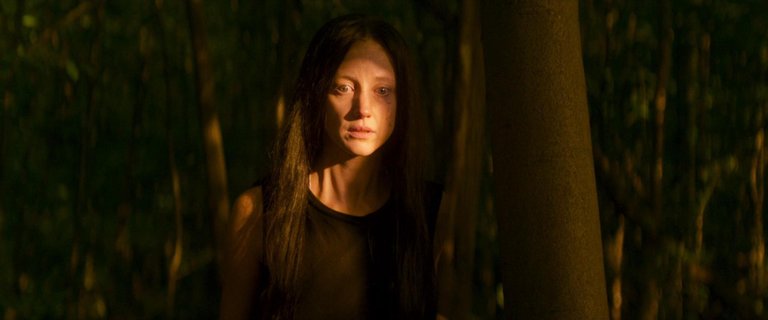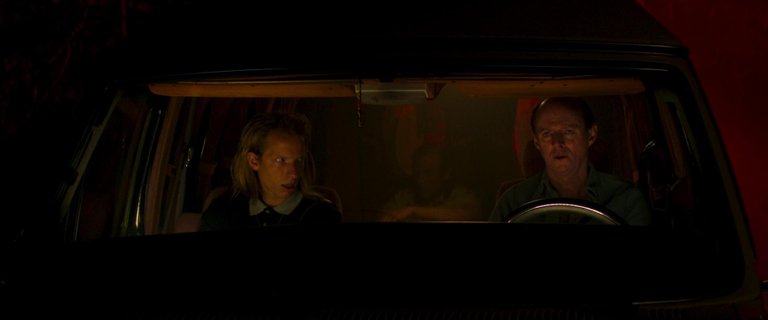 ---
Source

Synopsis
Red Miller and Mandy Bloom are a couple who live isolated in the middle of a forest in the Shadow Mountains in 1983. Red is a former alcoholic who works as a logger and keeps his demons at bay fluently, while Mandy is a fantasy artist who works by day as a cashier at a gas station at the foot of the forest. Both lead a quiet life, away from the traumas of their pasts. One day, their peace is interrupted by the arrival of the "Children of the New Dawn"; a hippie sect led by Jeremiah Sand, who has felt a strong attraction for Mandy. Now with a kidnapped Mandy and a furious Red, we will witness a parade of bloodthirsty horror, drugs and depravity.
Sinopsis
Red Miller y Mandy Bloom, son una pareja que viven aislados en medio de un bosque en Las Montañas Sombrías, en el año 1983. Red, es un ex alcohólico que trabaja como maderero y mantiene a raya con fluidez a sus demonios, mientras que Mandy, es una artista de fantasía que trabaja de día como cajera en una gasolinera al pie del bosque. Ambos llevan una vida tranquila, alejados de los traumas de sus pasados. Un día, su paz se verá interrumpida por la llegada de "Los hijos del Nuevo Amanecer"; una secta hippie dirigida por Jeremiah Sand, quien ha sentido una fuerte atracción por Mandy. Ahora con una Mandy secuestrada y con un Red furioso, seremos testigos de un desfile de horror sanguinario, drogas y depravación.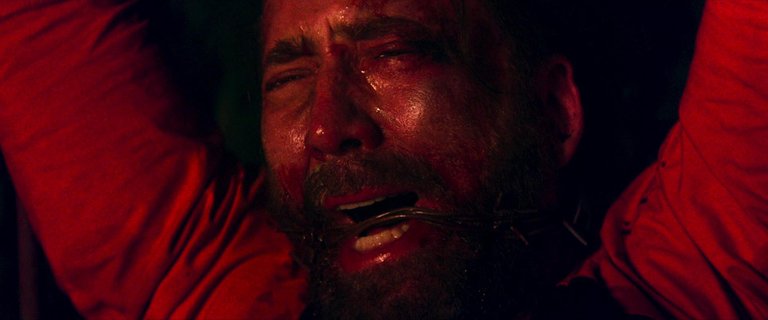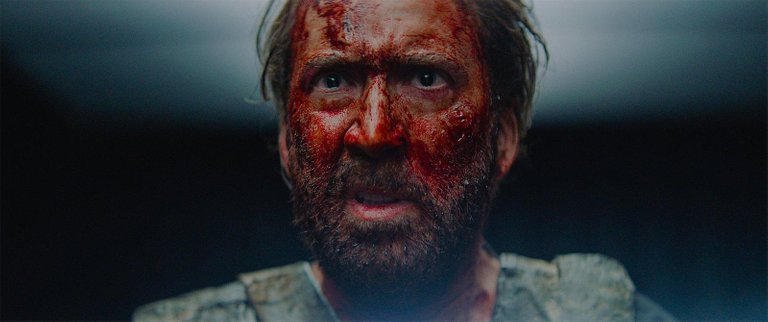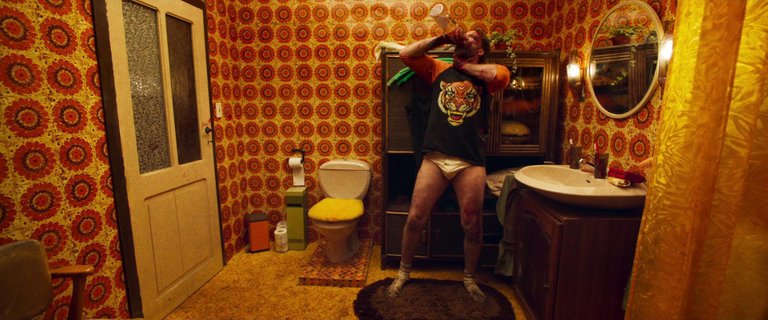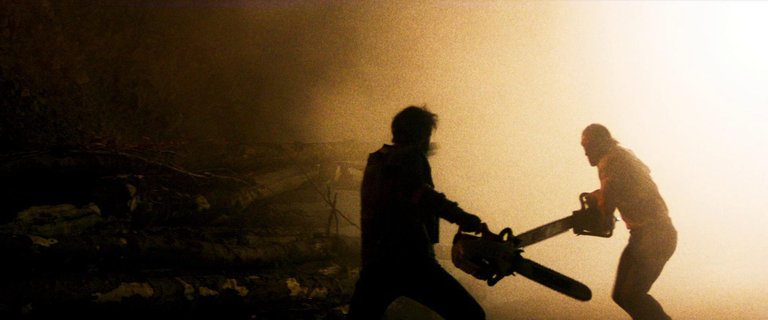 ---
Source

Personal opinion
I don't know how to describe Mandy, it is a whole pool full of cosmic colors and music fused in a dreamlike panorama, which goes hand in hand with a bloody story of revenge, where we see on screen a completely unhinged Nicolas Cage, will it be the role of his life, like many, I think so, and we are not facing an eighties rock 'n' roll work just full of art of the time, but a hypnotic screen seasoned by a complete and abrupt fantasy suggestion to our mind.
I didn't know the director until I saw this film, but now I will keep him very much in mind, as he has managed to hook me and put me in a trance for two hours and one minute. It is amazing what can be produced with such a powerful feeling as sadness, since the son of the director of Rambo, confessed that he wrote Mandy thinking about the death of his parents; feelings of rage and pain released, perfectly reflected in the strongest scenes of emotion.
In Mandy, we will not only find a gore-like horror that will provoke repulsion, we will also find some humor, convenient perhaps to lessen the powerful impact that this film can cause us. The pacing sequence is slow, but adequate; used to keep us in suspense while Cosmatos keeps us hypnotized with psychedelic colors and interesting and disturbing stories of our two lovers.
The music is another thing I liked the most, as it makes you feel like you are live at a power metal concert with synthesizers emitting a darkwave style sound, with thunderous guitars that go slow even in the moments of action, while we see the blood and fury of an uncontrollable man flowing. Jóhann Jóhannsson did a great job even though he sadly passed away the month after the release of Mandy, the film will go down as one of his best musical works.
Action and madness are two aspects that also stand out in this endless dance manipulated by LSD. The pace seems endless as we get into it, and I feel I quite enjoyed the scenes of both humor and intense gore. There are many emotions floating around both sad and explosive, the director himself made mention of this film being like a "volcanic eruption", and certainly with those words, I could visualize the power that was released before me immeasurably.
Opinión personal
No sé como describir a Mandy, es toda una piscina llena de colores cósmicos y música fusionada en un panorama onírico, que va de la mano con una sanguinaria historia de venganza, donde vemos en pantalla a un Nicolas Cage completamente desquiciado, ¿será el papel de su vida?, como muchos, opino que sí, y es que no estamos ante una obra rocanrolera ochentera solo plagada de arte de la época, sino ante una pantalla hipnótica aderezada por una completa y abrupta sugestión fantasiosa a nuestra mente.
No conocía al director hasta que vi esta película, pero ahora lo tendré muy en cuenta, ya que ha logrado engancharme y colocarme en trance por dos horas y un minuto. Es increíble lo que se puede producir con un sentimiento tan poderoso como la tristeza, puesto que el hijo del director de Rambo, confesó que escribió Mandy pensando en la muerte de sus padres; sentimientos de rabia y dolor liberados, reflejados perfectamente en las escenas más fuertes de emoción.
En Mandy, no solo encontraremos un terror tipo gore que nos provocará repulsión, también encontraremos algo de humor, conveniente quizás para aminorar el potente impacto que este filme puede llegar a causarnos. La secuencia del ritmo es lenta, pero adecuada; usada idóneamente para mantenernos en suspenso mientras Cosmatos nos mantiene hipnotizados con psicodélicos colores e historias interesantes y perturbadoras de nuestros dos enamorados protagonistas.
La música es otra de las cosas que más me ha gustado, pues te hace sentir que estás en vivo de un concierto de power metal con sintetizadores emitiendo un sonido al estilo darkwave, con estruendosas guitarras que van despacio incluso en los momentos de acción, mientras vemos correr la sangre y la furia de un hombre incontrolable. Jóhann Jóhannsson hizo un gran trabajo aunque lamentablemente falleciera al mes siguiente del estreno de Mandy, la película quedará anotada como uno de sus mejores trabajos musicales.
La acción y la locura, son dos aspectos que también resaltan en esta danza interminable manipulada por el LSD. El ritmo parece interminable cuando nos adentramos en él, y siento que gocé bastante las escenas tanto de humor como de intenso gore. Hay muchas emociones que flotan tanto tristes como explosivas, el propio director hizo mención de que esta película que era como una "erupción volcánica", y ciertamente con esas palabras, pude visualizar la potencia que se desprendía ante mí inconmensurablemente.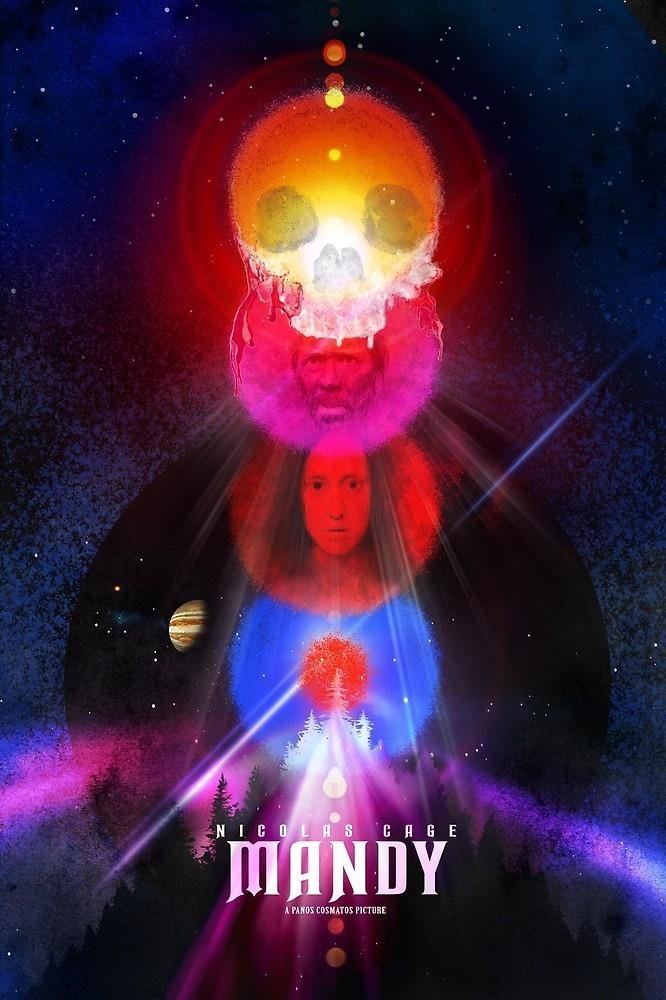 Poster 2

Conclusions
Mandy for me is a work of art full of artistic and mind-blowing rhythms. It has a high dose of fantasy, a dark but soft horror and a magnificent eighties photography that make it even more admirable. The action moments are iconic, even if we are shocked by the cosmic space we are facing, we are resolved with a brutal story full of revenge, mysticism, gore, fantasy and some strong hits of sarcasm. If you like this kind of art, where the dreamlike blends perfectly with reality and science fiction, I recommend this movie that will really blow your mind.
Conclusiones
Mandy para mí es una obra de arte llena de ritmos artísticos y alucinantes. Posee una dosis alta de fantasía, un terror oscuro pero suave y una magnifica fotografía ochentera que la vuelven más admirable. Los momentos de acción son icónicos, aunque quedemos impactados con ese espacio cósmico que estamos enfrentando, nos resolvemos con una brutal historia llena de venganza, misticismo, gore, fantasía y algunos golpes fuertes de sarcasmo. Si te gusta este tipo de arte, donde lo onírico se mezcla perfectamente con la realidad y la ciencia ficción, te recomiendo esta película que en verdad te hará volar la cabeza.




Other publications of my authorship | Otras publicaciones de mi autoría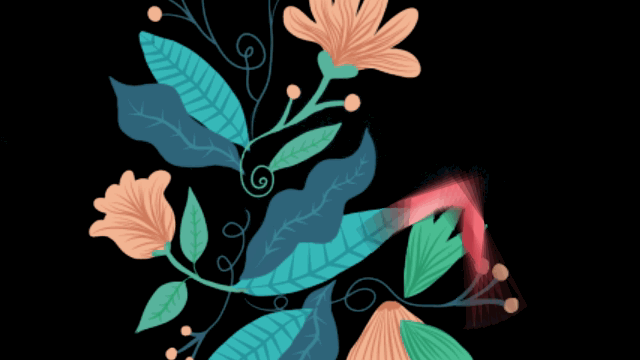 ¿Eres escritor? ¿No encuentras un lugar adecuado para colocar tus trabajos literarios? Unete a Literatos, una comunidad en Hive donde puedes publicar tus cuentos, poemas, ensayos literarios y novelas inéditos de tu propia autoría.

GIF elaborated by @equipodelta
---
---