[ESP-ENG] CAMPO DE CALABAZAS | Final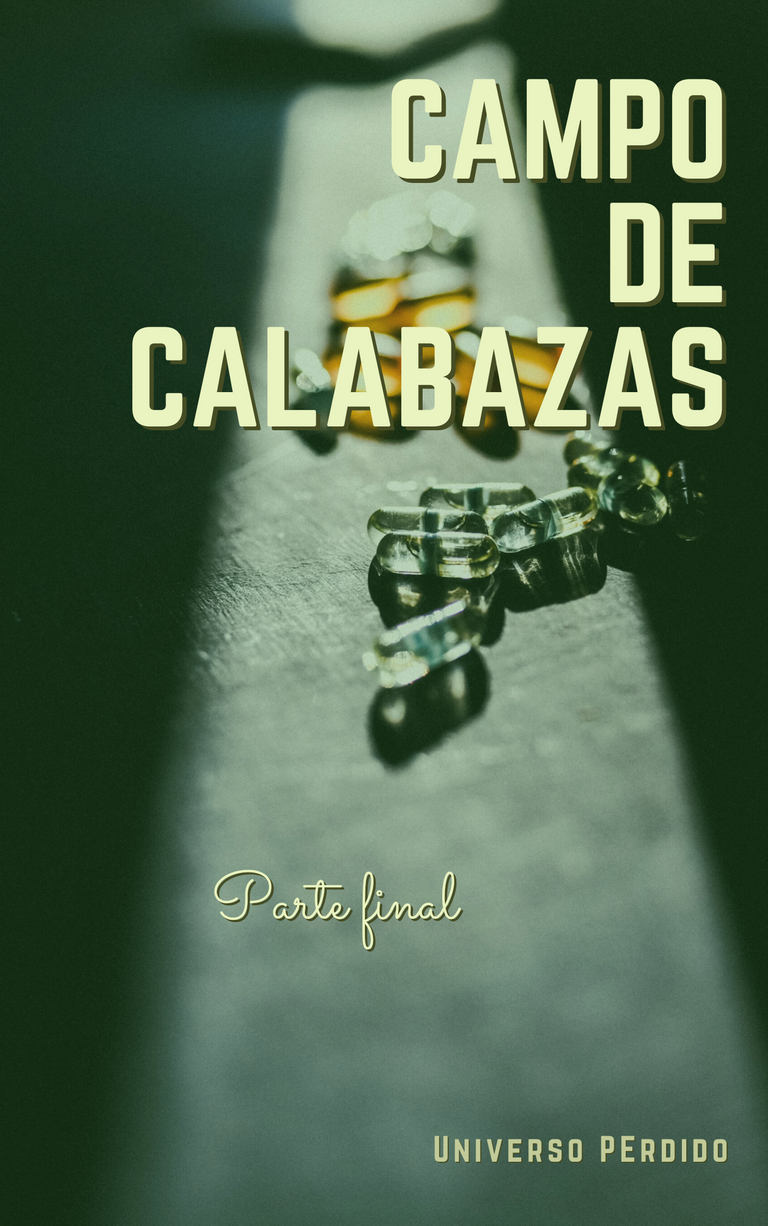 Foto de Anshu A en Unsplash
---
¿Has cumplido con tu deber? Confía en el Cielo que no te abandonará.
Have you done your duty? Trust in Heaven that it will not abandon you.
---
— Félix María de Samaniego
---

E S P A Ñ O L
PARTE FINAL
Experimento terminado
Comenzaron a sonar alarmas de sirenas y campanas de hierro. Sonaban en todas partes desde puntos lejanos de donde nos encontrábamos. Automóviles de asalto arribaban con rapidez hacia nuestro encuentro, bajando de ellos hombres uniformados con ropa especial de combate.
—¡Hacia atrás, rápido! Ahora nosotros nos encargaremos de esto—. Vociferó Frank sujetando su rifle con fuerza. Papá y yo hicimos caso y llevamos a nuestra madre a un lugar seguro. Nos aseguramos junto a los autos de asalto y vislumbramos la gran batalla que estaba a punto de librarse.
Frank hacia señas a los soldados mientras el monstruo de calabaza se reincorporaba. Su cabeza se recuperaba rápidamente de la detonación que había recibido, mientras a lo lejos, el anciano loco del Gran Vigía chillaba oraciones corriendo hacia la criatura.
—Mi señor, Hombre Calabaza, ¡acabe con ellos! ¡Perdona a Brasazul de las ignominias de estos extranjeros! —. El anciano se arrodilla frente a los pies de madera podrida del monstruo y se queda inerte. La criatura lo observa por un segundo y, con uno de sus horrendos brazos de liana, toma al anciano y lo eleva.
El Gran Vigía gritaba despavorido mientras era tragado por el Hombre Calabaza. Todos quedamos en suspenso al escuchar los horrendos sonidos que hacía aquella abominación al comer. Al terminar su alimento, el monstruo se irguió llenándose de energía y quiso ir por más.
Caminó hacia los soldados. Frank ya estaba en alerta. Todos apuntaron hacia el monstruo y, con solo un movimiento de las manos de Frank, abrieron fuego sin parar. Balas, misiles, proyectiles de ondas expansivas, todos detonaron sobre el cuerpo pútrido de la criatura. El monstruo retrocedía y rápidamente era reducido al suelo. Mientras estaba sometido, Frank hizo otra seña con sus manos.
—¡Dense prisa! —Ordenó y todos inmediatamente sacaron máscaras de gas y se las colocaron. El monstruo emitió una gran cantidad de vapor verde que se fue expandiendo rápidamente hacia donde nosotros estábamos. Mis padres y yo quedamos sofocados hasta que perdimos la consciencia.
Recobré el conocimiento lentamente, una máscara de oxígeno cubría mi rostro mientras un paramédico estaba a mi lado tomando mi presión. Quise levantarme lentamente, pero los músculos me dolían mucho.
—Tranquilo, muchacho, hazlo despacio—. Advirtió el paramédico que me atendía. Era un hombre amable, joven, alto y de piel morena. Me sujetó del cuello y me ayudó a sentarme en la camilla. Me despojó despacio de la máscara de oxígeno, lo miré a los ojos y le pregunté por mis padres.
—No te preocupes, te llevaré con ellos. Hace rato que despertaron, solo debo asegurarme de que puedes caminar—. Aclaró.
Me sujetó del brazo y comencé a mover los pies uno delante del otro. Sentía las piernas acalambradas al principio, pero rápidamente comencé a recuperar la movilidad.
—Muy bien, amigo, vamos con tus padres—. Salimos de la cabina y los vislumbré a ambos, sanos y salvos.
—¡Esteban! —Gritó mi madre de la emoción y se abalanzó a mí dándome un fuerte abrazo—. Oh, hijo, perdóname por no haberte dicho nada. Esto era lo que quería evitar, sin embargo, todo fue peor, pero me alegro que saliéramos ilesos de esta.
Junto a mi padre se hallaba Frank, el agente del gobierno que nos salvó la vida.
—Bien, creo que ya no tendremos que preocuparnos por este asunto—. Aseveró Frank—. Vamos a tener que reubicarlos, y ya saben, ni una palabra a nadie sobre esto.
—Lo sabemos perfectamente, Frank—. Apuntó mi padre. Después, Frank se retiró hacia el fondo del pasillo.
—¿Qué pasará con Brasazul? ¿Y qué pasó con el monstruo?
—La gente de Brasazul finalmente será desintoxicada y en supervisión—. Explicó mi madre—. El monstruo será reubicado en las instalaciones secretas del gobierno.
—No lo entiendo… ¿El gobierno siempre supo de Brasazul y el monstruo que habitaba allí?
—Esteban, el gobierno creó a ese monstruo—. Aclaró mi padre—. Era un experimento que necesitaban madurar por mucho tiempo, sin embargo, para que esa criatura sobreviviera, requería de un ambiente extenso, natural y fértil en el cual subsistir.
—Con el pasar de los años, —prosiguió mi madre— se fue convirtiendo en la criatura monstruosa que viste. Lamentablemente, la gente de Brasazul pagó las consecuencias, ya que la criatura los manipulaba con una sustancia que segregaba sobre los cultivos. Tu padre y yo no éramos controlados ya que fuimos elegidos por el gobierno para evitar que las cosas se extendieran más allá. Sin embargo, todo se salió de control, pero supongo que esa parte ya la sabes.
—Lo sé… pero, ¿si la gente se estaba volviendo loca por culpa del monstruo, por qué el gobierno no hizo nada para evitarlo?
—Porque les interesaba más terminar el experimento que la vida de esas personas, no obstante, la sustancia ingerida por los lugareños, no solo los dejaba a merced del monstruo, sino que también les proporcionaba una excelente salud. Ese era el objetivo del gobierno, crear un nuevo fármaco que nos hiciera inmunes a enfermedades incontrolables y letales.
Lo que explicaban mis padres era una locura. No conocí a mi padre por diecisiete años porque era un agente del gobierno que supervisaba una zona escondida, donde además yacía un monstruo que era un experimento. ¿Acaso las cosas podrían sonar más enredadas?
—Si el monstruo controlaba a la gente de Brasazul con esa sustancia, ¿no tienen miedo de que usen ese fármaco para hacer lo mismo con las personas que lo ingieran?
—Los efectos no son duraderos, hijo—. Respondió mi madre—. Las personas tendrían que tomar el fármaco diariamente para ser manipuladas. Esto es algo que nadie sabe, y si se llega a descubrir podría ser catastrófico.
Catastrófico…, sería más que eso, significaría el fin del mundo. Todo lo que he descubierto hasta ahora aún me deja boquiabierto, sin embargo, estaba feliz de haberme reunido con mis dos padres.
—Vayamos por algo de comer mientras esperamos para salir de aquí—. Propuso mi papá.
—Sí, estoy muy hambrienta. Ven, Esteban.
Un fármaco con la capacidad de controlar a las personas. Definitivamente, si mucha gente lo descubriera, el mundo se convertiría en un caos.
FIN
E N G L I S H
FINAL PART
Experiment completed
Siren alarms and iron bells began to sound. They sounded everywhere from points far away from where we were. Assault cars were speeding towards us, and men in special combat clothing were getting out of them.
-Get back, quickly! We'll take care of this now. Frank shouted, gripping his rifle tightly. Dad and I listened and took our mother to safety. We secured ourselves next to the assault cars and caught a glimpse of the great battle that was about to be fought.
Frank was signaling to the soldiers as the pumpkin monster rejoined. Its head was recovering quickly from the detonation it had received, while in the distance, the crazed old man of the Great Watch shrieked prayers running towards the creature.
-My lord, Pumpkin Man, finish them off! Forgive Brasazul for the ignominies of these foreigners! -. The old man kneels down in front of the monster's rotten wooden feet and remains inert. The creature watches him for a second and, with one of its hideous liana arms, grabs the old man and lifts him up.
The Great Watch screamed in terror as he was swallowed by the Pumpkin Man. We all stood in suspense as we listened to the horrendous sounds the abomination made as it ate. When it finished its meal, the monster stood up, filled with energy and wanted to go for more.
It walked towards the soldiers. Frank was already on alert. They all took aim at the monster and, with just a wave of Frank's hands, they opened fire without stopping. Bullets, missiles, shockwave projectiles, all detonated on the putrid body of the creature. The monster recoiled and was quickly reduced to the ground. As it was subdued, Frank made another sign with his hands.
-Hurry up! -He ordered and everyone immediately pulled out gas masks and put them on. The monster emitted a large amount of green vapor that rapidly expanded towards us. My parents and I were suffocated until we lost consciousness.
I slowly regained consciousness, an oxygen mask covering my face while a paramedic stood beside me taking my blood pressure. I wanted to get up slowly, but my muscles ached so badly.
-Easy, boy, do it slowly. The paramedic who was taking care of me warned. He was a kind, young, tall, dark-skinned man. He held me by the neck and helped me sit on the stretcher. He slowly removed my oxygen mask, I looked him in the eye and asked him about my parents.
-Don't worry, I'll take you to them. They have been awake for a while, I just need to make sure you can walk. He clarified.
He grabbed my arm and I started to move my feet in front of each other. My legs felt cramped at first, but I quickly began to regain mobility.
-All right, buddy, let's go to your parents. We got out of the cabin and I caught a glimpse of them both, safe and sound.
-Esteban! -My mother shouted with emotion and rushed to me, giving me a big hug. Oh, son, forgive me for not telling you anything. This was what I wanted to avoid, however, everything was worse, but I'm glad we got out of it unscathed.
Next to my father was Frank, the government agent who saved our lives.
-Well, I guess we won't have to worry about this anymore. Frank said. We're going to have to relocate them, and you know, not a word to anyone about it.
-We know perfectly well, Frank. My father pointed out. Frank then retreated down the hall.
-What about Brasazul? And what about the monster?
-The people of Brasazul will finally be detoxified and put under supervision. My mother explained. The monster will be relocated to the secret government facility.
-I don't understand... Did the government always know about Brasazul and the monster that lived there?
-Esteban, the government created that monster. My father clarified. It was an experiment that needed to mature for a long time, however, for that creature to survive, it required an extensive, natural and fertile environment in which to subsist.
-Over the years," my mother continued, "it grew into the monstrous creature you saw. Unfortunately, the people of Brasazul paid the consequences, as the creature manipulated them with a substance it secreted on the crops. Your father and I were not controlled as we were chosen by the government to prevent things from spreading further. However, it all got out of control, but I guess you know that part already.
-I know... but, if people were going crazy because of the monster, why didn't the government do anything to prevent it?
-Because they were more interested in finishing the experiment than the lives of those people, however, the substance ingested by the locals, not only left them at the mercy of the monster, but also gave them excellent health. That was the government's goal, to create a new drug that would make us immune to uncontrollable and lethal diseases.
What my parents were explaining was crazy. I didn't know my father for seventeen years because he was a government agent overseeing a hidden area, where also lay a monster that was an experiment. Could things sound any more convoluted?
-If the monster controlled the people of Brasazul with that substance, aren't they afraid that they will use that drug to do the same to the people who ingest it?
-The effects are not long lasting, son. My mother answered. People would have to take the drug daily to be manipulated. This is something that no one knows, and if it is discovered it could be catastrophic.
Catastrophic..., it would be more than that, it would mean the end of the world. Everything I have discovered so far still leaves me dumbfounded, however, I was happy to be reunited with my two parents.
-Let's get something to eat while we wait to get out of here. My dad proposed.
-Yes, I'm very hungry. Come, Esteban.
A drug with the ability to control people. Definitely, if many people discovered it, the world would be in chaos.
THE END


Other stories of my authorship | Otros relatos de mi autoría

---
---