[ESP-ENG] EL SACRIFICIO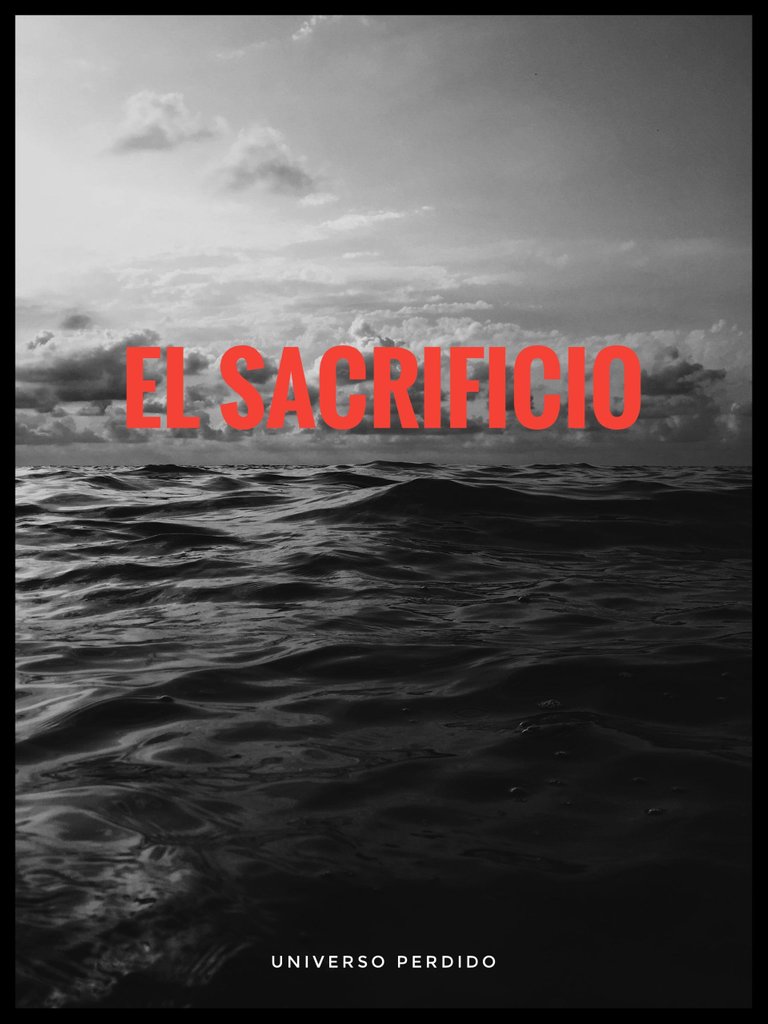 Fuente
---
«No es posible la felicidad en la ignorancia, solo la certeza aporta tranquilidad a la vida».
«Happiness is not possible in ignorance, only certainty brings tranquility to life».
---
— Émile Zola
---

E S P A Ñ O L
EL SACRIFICIO
Por sobrevivir hacemos cualquier cosa, los mecanismos pueden hasta parecer irrelevantes. No hay nada peor que ver a la muerte de frente en su territorio, sobre todo cuando sabes que vas a caer a las profundidades de su hondo corazón. Mi esposa y yo navegábamos sobre el mar, hacia tierras perecederas gobernadas por la libertad. Ella estaba embarazada, pero su condición para el viaje era demasiado frágil, por lo que allí; en medio de la triste nada, nuestras suplicas intentaron invocar una salvación.
La abracé temblando, tenía más miedo que ella pues pensé que la perdería en medio de aquella tempestad, y mientras las tinieblas venían para abrazarnos, una entidad extraña, de la que no supimos su origen, se presentó ante nosotros opacando toda nuestra vista. Mi esposa por la impresión y sus bajas fuerzas se desmayó, pero yo me quedé despierto; más activo que una chispa.
La criatura tenía la apariencia de un hombre, con los labios fofos y las orejas palmeadas. Sus ojos eran rojos y enormes como los de un pez, no tenía parpados y estaba desprovisto de nariz. Por la exigua luz que se presentaba, noté que su piel era escamosa con un color azul esmeralda. Sus manos palmeadas como las de un ser del océano, me hizo pensar en un humanoide de las profundidades, ¿con qué objetivo vino a mí?, estaba a punto de averiguarlo.
No movió su boca, pues, de manera telepática me otorgó todo lo que necesitaba saber en mi mente. Me dijo que quería salvarnos del cruel destino que nos esperaba, yo no confíe a él asi que lo confronté diciéndole palabras duras: «¡Déjanos en paz, por favor!, sé de donde provienes y las promesas que ofreces a los habitantes de la superficie. No quieres ayudarnos, quieres un beneficio». No dijo palabra alguna mientras yo tocaba a mi esposa y me di cuenta de la fuerte fiebre que presentaba. Lo miré de nuevo y esta vez me asusté mucho.
La tempestad no callaba. El mar estaba ansioso por arroparnos con su furia pero por alguna razón no lo había hecho todavía, comencé a creer que fue por influencia de aquella criatura. Me extendió su brazo esta vez, sin decir nada. Algo dentro de mí decía que el tiempo se agotaba y que ni mi esposa ni yo sobreviviríamos. Aunque me iba a arrepentir de lo que estaba a punto de hacer, me decidí por salvar la vida de ambos; sin contar a mi hijo que aún permanecía en el vientre de mi amada.
«¡Sálvanos, te lo imploro!», grité despavorido, y con esas palabras cerré el trato con la criatura. Una cortina de neblinas comenzó a cubrirnos por completo, hasta que mi vista se perdió para siempre y plácidamente me quedé dormido. Tuve un sueño muy tranquilo, estaba flotando sumergido en el mar, con un silencio abrigador que hacía hermoso mi momento. A poca distancia estaba mi esposa, nadando hacia mí eufórica y viva, y al tocarnos finalmente las manos, ambos despertamos.
Ya era de día, nos encontrábamos en la orilla de una isla. Me levanté rápido para atender a mi amada, pero lo que vi, me dejó con el rostro petrificado por el horror. Ella sangró mucho de su entrepierna, su vestido estaba repleto de sangre. Había perdido a nuestro hijo. Ella, al verse a sí misma, exclamó un alarido de dolor: este era el precio por salvar nuestras vidas.
En medio de aquel terrible momento, un poco más allá de la orilla, pude visualizar a aquella criatura, sosteniendo con sus grotescos brazos el cuerpo desnudo de nuestro hijo. Luego se echó al mar perdiéndose así para siempre. Cuentan las leyendas, que los seres de estas aguas mágicas aprovechan para arrebatarle a los humanos la dicha que ellos no pueden gozar: la de ser padres.
FIN
E N G L I S H
THE SACRIFICE
To survive we do anything, the mechanisms may even seem irrelevant. There is nothing worse than seeing death head-on in its territory, especially when you know you are going to fall into the depths of its deep heart. My wife and I were sailing over the sea, towards perishable lands ruled by freedom. She was pregnant, but her condition for the voyage was too fragile, so there; in the midst of the sad nothingness, our pleas tried to invoke salvation.
I embraced her trembling, I was more afraid than she was because I thought I would lose her in the middle of that storm, and while the darkness came to embrace us, a strange entity, of which we did not know its origin, appeared before us, obscuring all our sight. My wife from the shock and her low strength fainted, but I remained awake; more active than a spark.
The creature had the appearance of a man, with flabby lips and webbed ears. Its eyes were red and huge like a fish's, it had no eyelids and was devoid of a nose. By the meager light that presented itself, I noticed that his skin was scaly with an emerald blue color. Its webbed hands like those of an ocean being, made me think of a humanoid from the deep, for what purpose it came to me, I was about to find out.
He did not move his mouth, for, telepathically he bestowed all I needed to know in my mind. He told me that he wanted to save us from the cruel fate that awaited us, I did not trust him so I confronted him with harsh words: "Please leave us alone, I know where you come from and the promises you offer to the surface dwellers. You don't want to help us, you want a profit". He didn't say a word as I touched my wife and noticed her high fever. I looked at him again and this time I was very frightened.
The storm was not quiet. The sea was anxious to tuck us in with its fury but for some reason it had not done so yet, I began to believe it was under the influence of that creature. He extended his arm to me this time, without saying anything. Something inside me said that time was running out and that neither my wife nor I would survive. Although I was going to regret what I was about to do, I decided to save the lives of both of us; not counting my son who still remained in the womb of my beloved.
"Save us, I implore you!", I cried out in terror, and with those words I closed the deal with the creature. A curtain of mist began to cover us completely, until my sight was lost forever and placidly I fell asleep. I had a very peaceful dream, I was floating submerged in the sea, with a warm silence that made my moment beautiful. A short distance away was my wife, swimming towards me euphoric and alive, and as our hands finally touched, we both woke up.
It was already daylight, we were on the shore of an island. I got up quickly to attend to my beloved, but what I saw, left me with my face petrified with horror. She was bleeding heavily from her crotch, her dress was full of blood. She had lost our son. She, seeing herself, exclaimed a shriek of pain: this was the price for saving our lives.
In the midst of that terrible moment, just beyond the shore, I could visualize that creature, holding with her grotesque arms the naked body of our son. Then it threw itself into the sea and was lost forever. Legends say that the beings of these magical waters take advantage of the sea to snatch from humans the joy that they cannot enjoy: that of being parents.
THE END


Other publications of my authorship | Otras publicaciones de mi autoría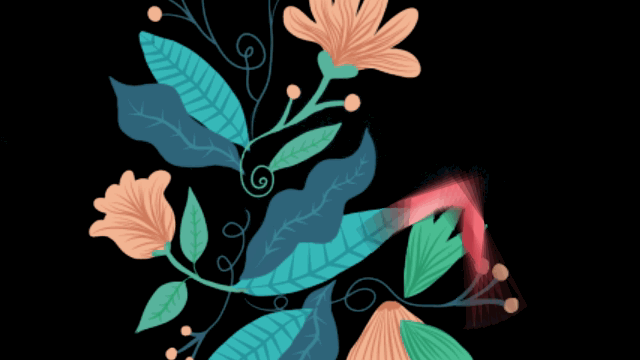 ¿Eres escritor? ¿No encuentras un lugar adecuado para colocar tus trabajos literarios? Unete a Literatos, una comunidad en Hive donde puedes publicar tus cuentos, poemas, ensayos literarios y novelas inéditos de tu propia autoría.

GIF elaborated by @equipodelta
---
---