[ESP-ENG] Mary never loved me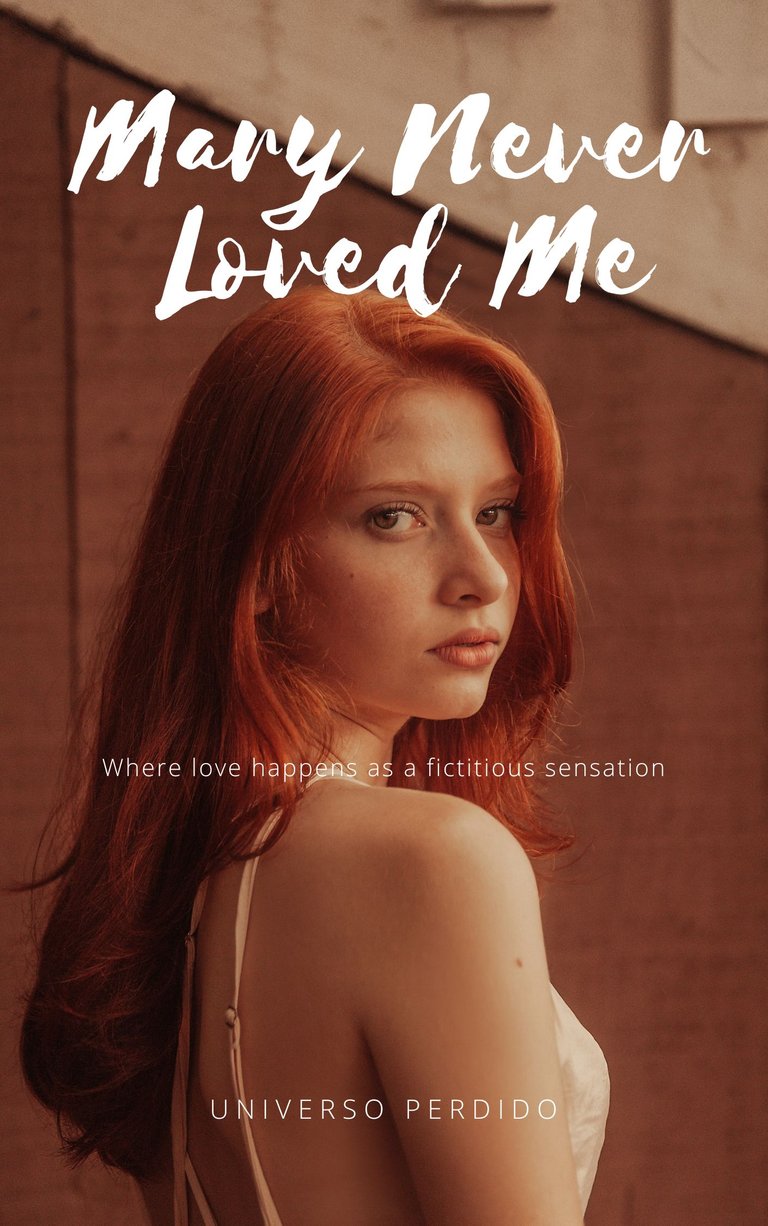 Photo by Gabriel Silvério on Unsplash
---
La fatalidad posee una cierta elasticidad que se suele llamar libertad humana.
Fatality possesses a certain elasticity that is usually called human freedom.
---
— Charles Baudelaire
---

E S P A Ñ O L
MARÍA NUNCA ME AMÓ
Es una prosa para las bestias. Es la danza de la luz y la oscuridad. Piensan que el amor es una forma básica y obtusa, que transciende como las larvas en su proceso de metamorfosis. Piensan que los sentimientos son instintivos y maleables, que son incompatibles con las reacciones externas a las que nos sometemos.
Nadie puede descifrar lo que verdaderamente sentimos, en este terreno inmenso y abismal compuesto por coronas químicas, traspasan nuestros sentidos y susurran; susurran palabras inefables de fantasmas. Crueles representaciones del pasado que nos suspenden, quieren ahuyentarnos y destruirnos.
Yo nunca tuve el inconveniente de ser manipulado por esos factores, al contrario, los eludía, pues había algo más que extasiaba mis sentidos y su nombre era Mary. Sé que ella nunca me amará, pues solo busca saciar el instinto salvaje calmado por la sangre. Quizás ella me tiene algún afecto, es evidente, pues nunca ha hecho algo para lastimarme.
Conocí a Mary hace una década, recuerdo la primera vez que divisé su cabello largo y rizado. Brillaba como el sol en un atardecer temprano, alimentando con destellos que distribuían su finura. Sus ojos de color cobrizo me observaron un instante; solo fue un momento, un ínfimo y casi imperceptible instante, suficiente para atraparme en un hechizo.
Ella logró encontrarme la noche de ese día, no sabía cómo, pero ahora lo sé. Me acorraló bajo los pies de un gran árbol. Estaba asustado, creí que no sobreviviría.
—No tengas miedo— Me dijo con una dulce voz—. Contempla el momento mágico que el destino nos ha otorgado.
La vislumbré atónito y noté rasgos distintos en su aspecto. Su cabello rubio ahora era rojizo oscuro. Sus ojos poseían un azul tan deslumbrante como el zafiro. Su piel era muy pálida y tersa como la porcelana. No tenía si quiera una línea de expresión; su nariz, su mentón, su cuello, cada rasgo de ella era perfecto, incluso su cuerpo y la finura de la cintura que llevaba.
—¿Quién es usted, señorita? —Me atreví a hablarle a pesar de que mi garganta estaba helada, pero fue el calor de la impresión lo que me motivó a preguntarle. Ella sonrió, dejando relucir un par de colmillos perfectos y blancos de puro y fino esmalte.
—¿Qué quién soy? Nada más que una bailarina de la noche, que se balancea entre los vientos gélidos de una pasión desenfrenada. Mi alma nunca tiene descanso ni mi cuerpo tampoco, así que busco a las tinieblas para sentir lo mismo que los que dormitan.
Estaba intrigado por ella, pero asustado, pues sus palabras parecían ser una serie de códigos que no entendía.
—¿Qué busca de mí? Solo soy un simple columnista que quiere volver a casa a descansar.
Hubo un destello en sus ojos que me dejó mucho más interesado por ella.
—Aunque soy avara, no me gusta desposeer a los demás de sus bienes, sin embargo, eso puede contradecirse, pues hay algo que siempre tomo de alguien cuando se topa conmigo en una fría y silenciosa noche como esta. ¿Quieres saber qué es? Es mejor que no lo sepas. No quiero espantarte, amigo mío.
Y todo el misterio se redujo a algo perturbador, algo que ya imaginaba, pero no quería reconocer. Al examinar su sonrisa, escondida tras esos labios carmesís, supe que esa mujer no era humana. Sus palabras y naturaleza provenían de lo sobrenatural, y en un desencanto exhortado por el miedo, quise intentar huir.
—¡Por favor, perdóneme la vida! Hay personas que me extrañarán si desaparezco de repente.
—No me importan esas personas, pero cálmate, apuesto joven, no pienso hacerte daño.
En ese instante mi corazón empezó a desacelerar.
—¿Cómo dice?
—Como lo oyes, pienso darte trabajo. Reconozco tu talento, he leído tu columna en el periódico. Quiero que seas mi escritor personal. Te pagaré mucho más de lo que te pagan en tu trabajo, y no solo eso, sino que recibirás mi entera protección.
Después de escuchar aquella aclaración, me calmé lo suficiente como para entrar en confianza.
—Disculpe, ¿cuál era su nombre?
—Me llamo Mary —susurró—. Mi apellido de pila no es importante, pues no tengo uno con el que me identifique. Si sabes lo que soy, lo entenderás.
—Tampoco me parece significativo—. Comenté. Ella volvió a sonreír y, en ese instante, un haz de luz de luna se posó por un segundo en su rostro, dejando ver con más detalles su belleza.
—Ven conmigo, necesito que escribas algo para mí esta noche.
Yo acepté, sin emitir palabras, solo asintiendo con mi cabeza. Su presencia me deslumbraba. Me tomó de la mano y alzó un par de alas negras; tan enormes que me cubrían como una nube de sombras. Con un azote al viento nos elevamos por los aires, hasta que llegamos a su domicilio en el centro de la ciudad. Paramos en su habitación; tan lujosa y reluciente como ella.
—Ahí hay un escritorio, con papeles y una pluma con tinta. Creo que te sentirás muy cómodo—. Y antes de que pudiera hacerle una pregunta, ella se despojaba de su ropa. Quedé petrificado, pero después de unos segundos, volteé la mirada avergonzado.
—¿Qué te pasa? ¿No has visto a una mujer desnuda jamás? —Dijo con sarcasmo.
—No…, digo, sí, claro. Solo que… No pensé que se quitaría la ropa frente a mí.
Ella se acercó, con el cuerpo completamente desnudo. No pude evitar mirarlo. Sus pechos, su abdomen, incluso su parte íntima y alrededores; era como una perfecta obra de arte de porcelana.
—Deberás acostumbrarte. Si trabajaremos juntos, quiero que de una vez sepas como soy—. Aclaró. Y mientras se apartaba, exhalé un suspiro y me dispuse a sentarme en el escritorio y prepararme.
Escribí muchas cosas para ella. Cosas de amor, cosas sobre la pasión, pareciera que sus pensamientos solo fluctuaban alrededor de esos temas. Entre más la conocía sentía que más me atraía. Pasaron semanas, meses, incluso años y yo seguía a su lado cumpliendo sus caprichos.
He sido testigo de los horrores de su naturaleza, sin embargo, eso no cambió la gran estima que tenía hacia ella; un sentimiento que se transformó en un fuerte afecto, después me di cuenta que era amor.
¿Amar? Deliraba en cordura de solo pensar si quiera que ella podía amarme. En la naturaleza de Mary no existía el amor, solo satisfacción de sus instintos. Por eso me pedía que escribiera sobre cosas que no podía experimentar, porque para ella los sentimientos son hechos ocurridos en un mundo ficticio.
Después de tantos años, mi amor por Mary no ha desaparecido, incluso sabiendo que ella nunca me amará.
FIN
E N G L I S H
MARY NEVER LOVED ME
It is a prose for the beasts. It is the dance of light and darkness. They think that love is a basic and obtuse form, that it transcends like larvae in their process of metamorphosis. They think that feelings are instinctive and malleable, that they are incompatible with the external reactions to which we submit.
No one can decipher what we truly feel, in this immense and abysmal terrain composed of chemical crowns, they pierce our senses and whisper; they whisper ineffable words of ghosts. Cruel representations of the past that suspend us, want to drive us away and destroy us.
I never had the inconvenience of being manipulated by these factors, on the contrary, I avoided them, because there was something else that enraptured my senses and her name was Mary. I know that she will never love me, for she only seeks to satiate the wild instinct calmed by blood. Perhaps she has some affection for me, it is evident, for she has never done anything to hurt me.
I met Mary a decade ago, I remember the first time I caught sight of her long, curly hair. It shone like the sun on an early evening, nourishing with sparkles that distributed its finesse. Her copper-colored eyes watched me for an instant; it was only a moment, a tiny, almost imperceptible instant, enough to catch me in a spell.
She managed to find me the night of that day, I didn't know how, but now I do. She cornered me under the foot of a large tree. I was scared, I didn't think I would survive.
-Don't be afraid, -she said to me in a sweet voice-. Behold the magical moment that fate has bestowed upon us.
I caught a glimpse of her and noticed different features in her appearance. Her blonde hair was now dark reddish. Her eyes were as dazzlingly blue as sapphire. Her skin was very pale and smooth as porcelain. She didn't even have a frown line; her nose, her chin, her neck, every feature of her was perfect, even her body and the slenderness of the waist she wore.
-Who are you, Miss? -I dared to speak to her even though my throat was frozen, but it was the heat of the impression that motivated me to ask her. She smiled, revealing a pair of perfect white fangs of pure, fine enamel.
-I am nothing more than a dancer of the night, swaying in the icy winds of unbridled passion. My soul never has rest and neither does my body, so I seek the darkness to feel the same as those who doze.
I was intrigued by her, but frightened, for her words seemed to be a series of codes I did not understand.
-What are you looking for from me? I am just a simple columnist who wants to go home to rest.
There was a flash in her eyes that left me much more interested in her.
-Although I am miserly, I don't like to dispossess others of their possessions, however, that may contradict itself, for there is something I always take from someone when they run into me on a cold, silent night like this. Do you want to know what it is? It's best you don't know. I don't want to scare you away, my friend.
And all the mystery was reduced to something disturbing, something I already imagined, but didn't want to acknowledge. As I examined her smile, hidden behind those crimson lips, I knew that this woman was not human. Her words and nature came from the supernatural, and in a disenchantment exhorted by fear, I wanted to try to flee.
-Please spare my life! There are people who will miss me if I suddenly disappear.
-I don't care about those people, but calm down, handsome young man, I don't intend to hurt you.
At that instant my heart began to slow down.
-I beg your pardon?
-As you can hear, I'm going to give you a job. I recognize your talent, I've read your column in the newspaper. I want you to be my personal writer. I will pay you much more than what you get paid in your job, and not only that, but you will receive my full protection.
After hearing that clarification, I calmed down enough to become confident.
-Excuse me, what was your name?
-My first name is not important, since I don't have one to identify myself with. If you know what I am, you will understand.
-I don't think it's significant either. I commented. She smiled again, and at that moment, a beam of moonlight fell on her face for a second, revealing her beauty in more detail.
-Come with me, I need you to write something for me tonight.
I accepted, without uttering words, just nodding my head. Her presence dazzled me. She took my hand and raised a pair of black wings; so huge that they covered me like a cloud of shadows. With a whip in the wind we soared through the air, until we reached his domicile in the center of the city. We stopped at her room; as luxurious and glittering as she was.
-There's a desk there, with papers and a pen with ink. I think you'll feel very comfortable. And before I could ask her a question, she was stripping off her clothes. I was petrified, but after a few seconds, I looked away embarrassed.
-What's the matter, haven't you ever seen a naked woman before? -he said sarcastically.
-No..., I mean, yes, of course. I just... I didn't think she would take her clothes off in front of me.
She came closer, her body completely naked. I couldn't help but stare at it. Her breasts, her abdomen, even her intimate part and surroundings; it was like a perfect porcelain work of art.
-You'll have to get used to it. If we're going to work together, I want you to know what I look like for once. He clarified. And as she turned away, I exhaled a sigh and went to sit down at the desk and get ready.
I wrote a lot of things for her. Things about love, things about passion, it seemed that her thoughts only fluctuated around those topics. The more I got to know her I felt more attracted to her. Weeks, months, even years went by and I was still by her side fulfilling her whims.
I have witnessed the horrors of her nature, however, that did not change the high esteem I had for her; a feeling that turned into a strong affection, later I realized it was love.
Love? I was delirious with sanity to even think that she could love me. In Mary's nature there was no love, only satisfaction of her instincts. That's why she asked me to write about things she couldn't experience, because for her feelings are events in a fictitious world.
After so many years, my love for Mary has not disappeared, even knowing that she will never love me.
THE END


Other stories of my authorship | Otros relatos de mi autoría

---
---