Software Engineer Became a Veterinary Doctor
Hello everyone! I hope you will be well and good and will be enjoying the nature which attracts everyone.
Today I am going to share a story of Dr Jacky 😅 a veterinary doctor. And in the beginning I want to tell you I became Dr Jacky and it's reality 😂 a student of Software Engineering became a veterinary doctor in the last few days.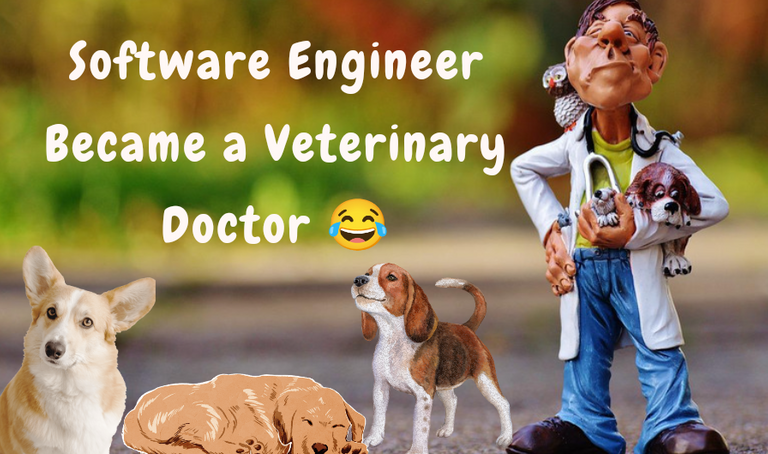 Image Design By
Canva
Cover Image By
Pixabay
By
Alexas_Fotos
Who is Dr Jacky
Dr Jacky is a real person as I have mentioned earlier that it is not an imaginary story. He is a veterinary doctor. He is a specialist doctor of the dogs and famous in his area. And people firstly contact him to take appointments and then they visit and get the cure of their dogs.
Me as Dr Jacky
So now let me tell you how a software engineering student became a veterinary doctor, Dr Jacky. So let me tell you that I have a WhatsApp at a fake number of Canada 😂🤭🤫 as I use it to tease my friends.
And a lady Lin Lin from Canada contacted me at my that WhatsApp and called me as a Dr Jacky. Let me share with you her statement 😜.
Doctor Jacky? My puppy is very slow and does not eat dog food. Can you make an appointment for me?

hahaha 😂 believe me when I got this message I was luahing madly that I just made this WhatsApp to tease my fellows and who is here? who has made me a veterinary doctor 😱 the doctor of dogs to whom I am fearful.
My Reaction
I was surprised but i didn't tease her 😂 because it is ethically wrong nor I told her any venue for the appointment or anything else.

I could tease her telling that I am Dr Jacky 🤣 and you are at right place and I will treat your ill puppy 😅. But I simply told her that I am not your Dr Jacky.
Wrong Number
So let me tell you why I was called as Dr Jacky 🤔. Basically Lin Lin didn't have the number of Dr Jacky and she contacted her friend to get the number. She sent her number but it was mistakenly my number which was sent to Lin Lin and in this way I became a veterinary doctor 😂.

oh sorry~ I already asked my friend Lucy and she sent me the wrong number. I've found the person I'm looking for, I'm really sorry if it bothers you...🙏
So in this way Lucy made me Dr Jacky, a veterinary doctor of dogs.
---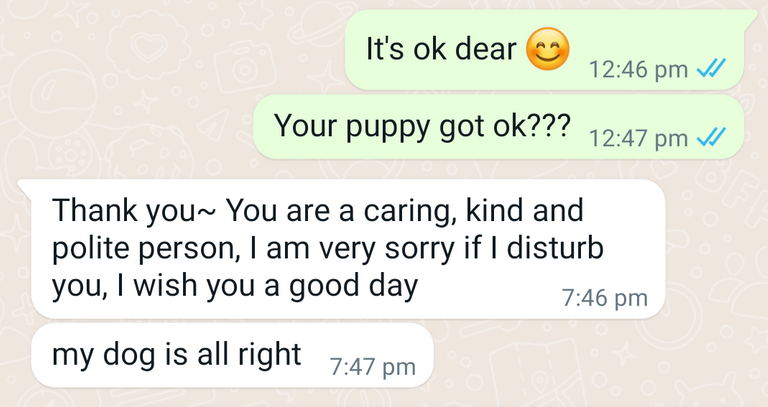 Then I said it's ok I didn't make any argument and then I asked about the health of the puppy.
But on the other hand she praised me 🤣 that I am a caring person, this and that and after that she told about the puppy. But on the other hand I was feeling proud 😅 that I am a caring, polite person.
Then you can see she was taking some interest in this fake Dr Jacky and wishing me a good day. I also wished her and then blocked her 😂🤣 because I didn't want anything disturbance and texts from her.
So it is a real story which has just happened to me. And I hope you will enjoy it.
---
And let me know if any such things have happened to you in the comment section.
---
Disclaimer: All the pictures used are screenshots of my WhatsApp otherwise stated.
---
Yours: @uop
---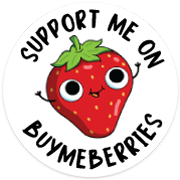 ---
---