Writing Earned Me Girlfriend
Hello everyone I hope you will be well and good.
Every person has a unique ability and power by nature and this is known as the God gifted abilities. We see many people who are experts in things by nature and they don't find any problem in that. Many people are good writers, many have beautiful calligraphy skills, many have drawing skills, many have amazing singing skills, many are leaders, and many are speakers. So it is obvious that you have also seen people like this.
My Uniqueness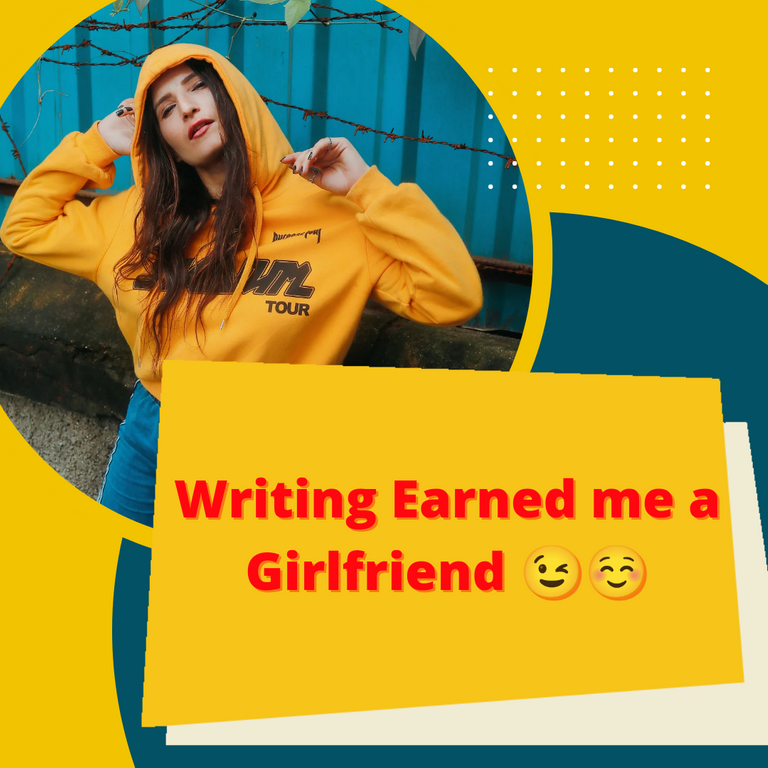 Designed by Canva and the template is also from canva
I am happy that I also have god gifted things such as a good speaker, a motivator, a leader and a writer. But I am going to tell and explain my writing ability. Yes writing is my ability by nature. I haven't learnt writing from any medium or source. I just started writing and I found myself good at this. And now I am a content writer, blogger and a freelancer. And it is all due to my writing skills, which compel others to give me a chance to write for them.
Being Writer
Every work gives us different soothing effects and the work which is your ability by nature pleases us more. Similarly writing has given me a lot of things. It has become my identity. People know me and understand me as a writer. It gives me respect, confidence and much more.
I want to tell you an amazing thing 😉 that writing has earned me a girlfriend, a loving, caring, possessive person in my life and it has changed my whole life.
Another major thing is that money is needed by everyone and people do different jobs in order to earn money. And I am happy that my natural ability is giving me money. I have become able to meet my expenditures. And it is a really pleasing thing. Let me tell you if I was not a writer then I didn't have any way to earn money and even I was unable to support my education. And nowadays I will be working anywhere by leaving my education. But I am happy that writing has given me money and I got confidence and now I am doing software engineering, which I desired when I was in middle school.
And another major and most important thing which everyone desires and want to have that is respect. People do good deeds in order to be called as a noble person on order to earn respect. And I have found this respect in writing. When others appreciate you then we become more happy. Especially when our family members as well as other persons out of our family praises our skills then we feel happiness and an internal peace. And writing has given me these things.
Then writing on different topics has increased my knowledge about those things. There are many things which I didn't know but after writing about them I did research and my knowledge enhanced.
Conclusion
Everyone has unique and by nature abilities. But there is need to recognize it. There is need to polish it. As I have recognized that writing is my ability by nature. And I don't find any difficulty while writing. So if you also want to recognize your speciality then give a try to different things you will be able to find yours.
---
---