5 Reliable Ways to Earn Profitably from Hive-Engine Tokens (Liquidity Provision & Miner tokens)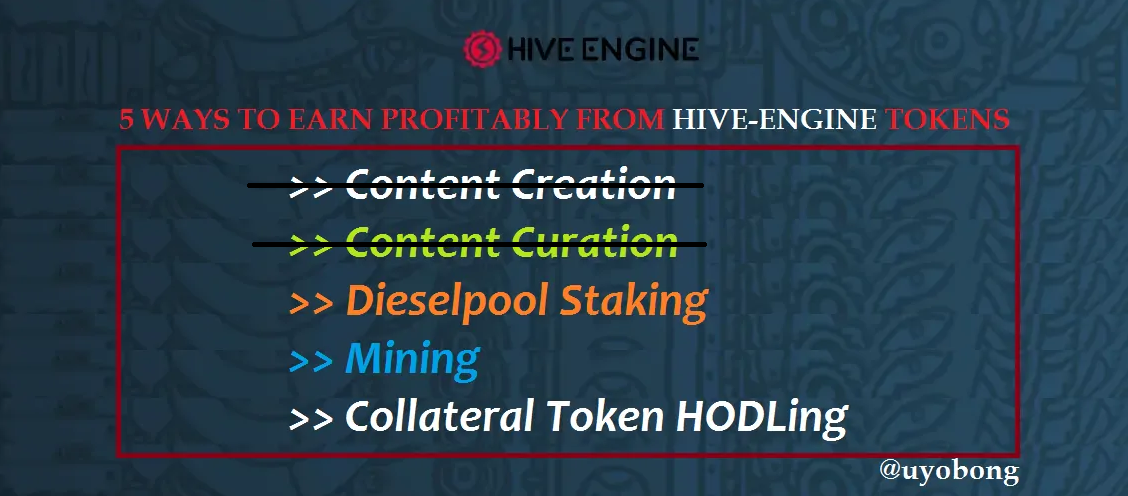 As Hive get's listed in stakingrewards, we trust that we're nearing mass adoption and as many out there that seek to earn passive income from cryptocurrency, would get to find out that Hive offers as high as 9% from staking and curation. Being a part of this blockchain for close to Four years, we can say that there are much more options to earning from Hive than just staking and curating and we have the privilege of earning as much as 300% APY. Thus, informative posts like this which seeks to enlighten new and prospective users of the many earning options that we have here on Hive blockchain.
Last week, I had shared the first part of this post which discussed two out of the Five ways I intend to explain in this series. However, let's outline all the five options to passive earning as covered:
Content creation - Read here
Content curation - Read here
Dieselpool staking (Rewards from Liquidity Provision)
Mining
Collateral Token HODLing
No. 3: Dieselpool staking (Rewards from Liquidity Provision)
This is the latest earning option on Hive blockchain, specifically through the hive-engine tokens. It is a dimension of Decentralized Finance (DeFi) which creates a space for lending, borrowing, trading, saving, and earning interest that doesn't require all of the usual bureaucracy and paperwork, however, a prospective earner is expected to provide liquidity to a pair of trade-able tokens known as pool. Nearly all of Hive's second layer tokens have this feature.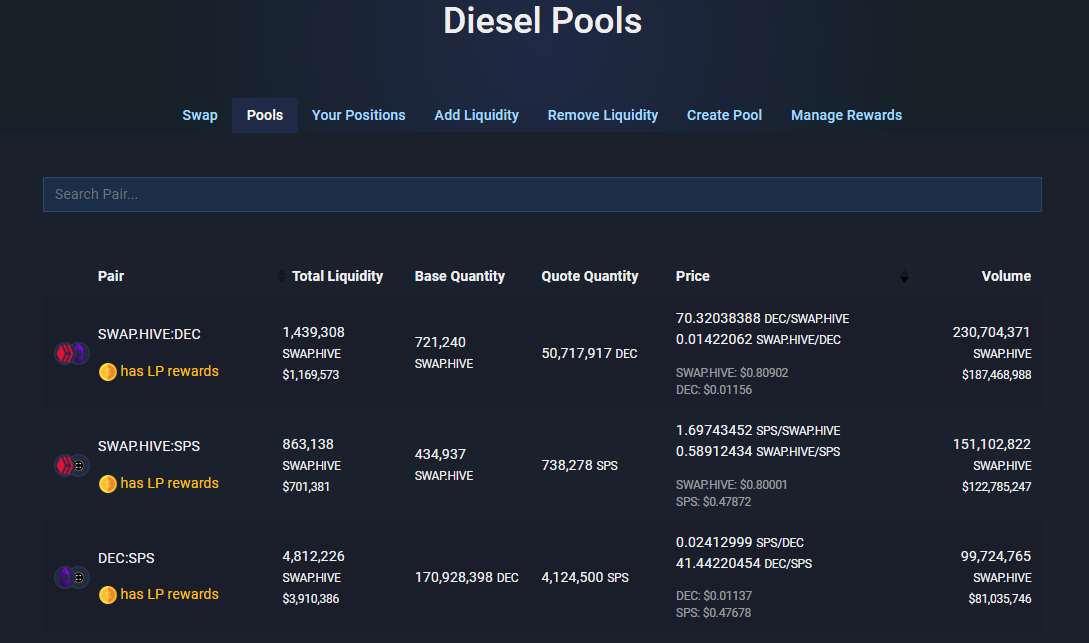 https://tribaldex.com/dieselpools/
It all started with LEO when the CubFinance was brought into the scene and LEO stakeholders were airdropped CUB which were pooled against BNB and other crypto which allowed for liquidity for traders, thus, the users who staked the pair of tokens would receive bonus tokens for keeping their tokens untouched for days and weeks to allow for ease of trading.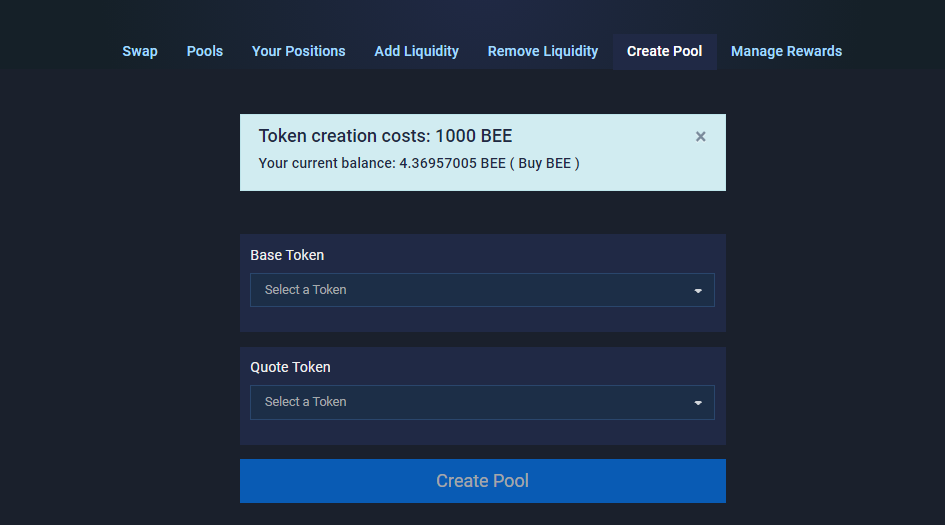 More endearing is the dieselpool design on Tribaldex which has opened up many Hive-engine tokens to be pooled with ease. Creating a pool takes just 1,000 BEE. Already, I have had a taste of liquidity provision and the "yummy" rewards it yields on daily basis.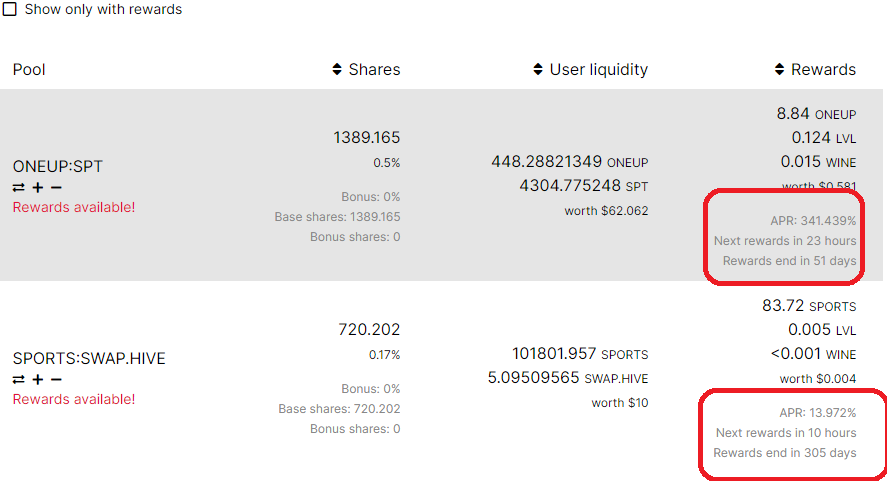 Interesting to see that my passive reward for providing liquidity for ONEUP: SPT pool is as high as 341%. I earn about 8.84 ONEUP ($0.58) daily. This earning is just amazing and is build to make many access wealth.
No. 4: Mining
This is just another option to earn passive rewards on the Hive blockchain through the hive-engine tokens. Miner tokens are those tokens staked and they have the power to produce smaller units of the main tokens at a specified time and shared to miner stakeholders by lottery. Miner tokens serve as a means of fundraising for the community/project since the first portion of miner tokens sold are from the issuing account.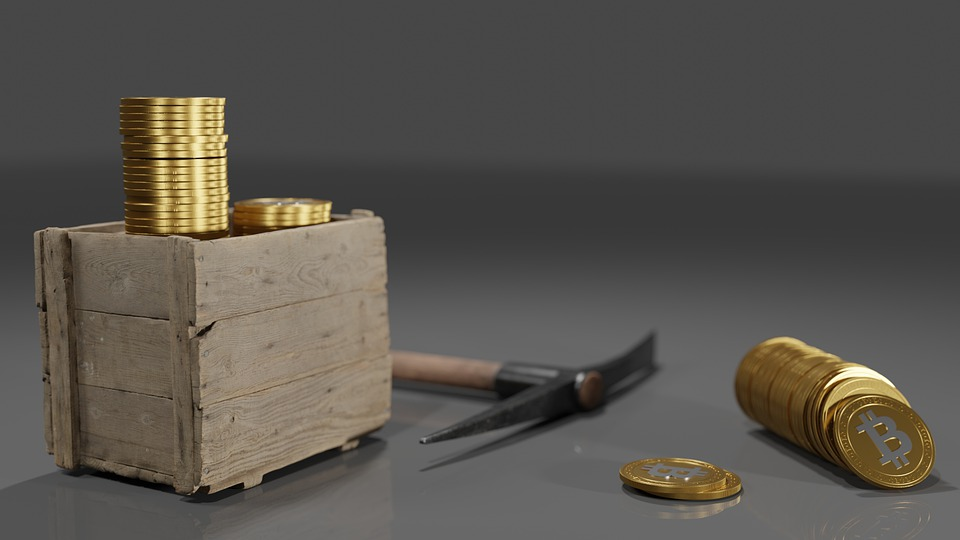 source
I have been a beneficiary of earning $$$$ from miner tokens. LEOM, LEOMM, HUSTLERM, CTPM, LENM, and more. Buying into a miner token early is advantageous as it affords the user the privilege of earning more base tokens since the number of users slated for the lottery is less. With increased number of users staking more miners, the amount of the base tokens received by an account reduces. Thus, the more miner a user stakes the greater the amount of base tokens received per time.
Moreso, the demand for miner tokens depending on performance may grow thereby providing an opportunity to early stakeholders to sell off or perhaps take profits. I've made over $2,000 from this aspect of miner tokens in the last 8 months. I bought LEOM at 2 HIVE and sold them at 10 HIVE each. It was a 5x profit.
I hope you learnt form this post how to earn profitably form Hive-engine tokens. Leave your comments below and share to others.
What is Hive?
Hive is an innovative and forward-looking decentralized blockchain and ecosystem, designed to scale with widespread adoption of the currency and platforms in mind. By combining the lightning-fast processing times and fee-less transactions, Hive is positioned to become one of the leading Web3 blockchains used by people around the world. source
What is Hive-engine?
Hive Engine is a smart contracts side-chain platform for the Hive blockchain. This means that it can execute custom smart contracts based on data published to the Hive blockchain. This allows us to do things that are not currently supported by the Hive blockchain, such as creating custom tokens, or literally anything else achievable with a smart contract. source
Posted Using LeoFinance Beta
---
---