Highly Profitable Curation: 1033 ONEUP ($80) Earned over 35 Days

Hurray, today marks 35 days since I started curation on the 1UP - game community on Hive blockchain. It all started with a stake of 1,000 ONEUP and I have been constantly adding to the ONEUP stake on daily basis from my curation earnings, Liquidity pool rewards, author rewards and direct hive-engine market buys. From 1,000 ONEUP Power, I've consistently grown to holding 7,000 ONEUP Power in my games curation account.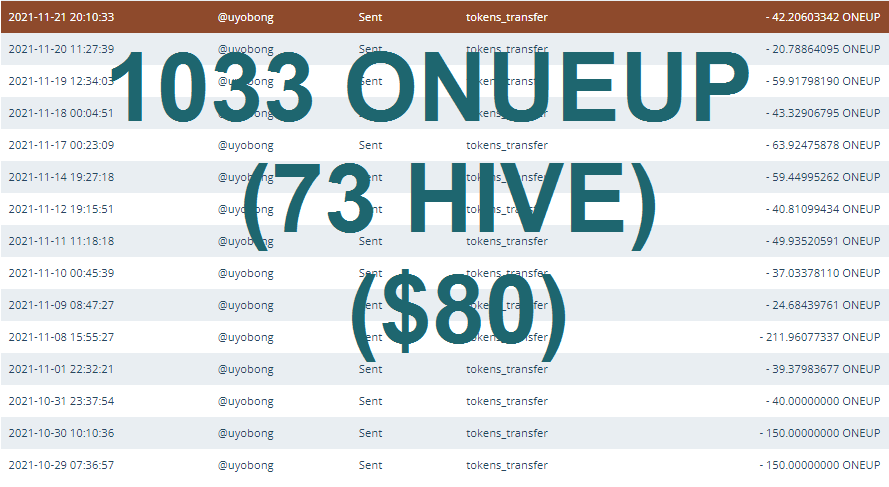 Looking up the transaction history in my hive-engine wallet this evening, I discovered that I have earned 1,033 ONUEP over the last 35 days. That is equivalent to 73 HIVE and $80 at the present exchange rates. When computing the returns on investment with the 1033 ONEUP earned, it shows that I earned over 14.7% over 35 days. Note that a the lowest case scenario since the stakes are gradually added and I didn't start with 7k ONEUP Power.

It is decent to see as things turn out with the games community on Hive - 1UP and the ONEUP token. While Liquidity Pool rewards rounds about 300% APY at present, curation is also doing so well. The community is still very fresh with great potentials ahead. With plans to partner other gaming blockchain as well as build a new game on Hive, ONEUP would certainly be more valuable than we think it should.
With about $2 daily curation earnings from ONEUP curation, I think that's just the beginning of the big days coming. I'm still adding to my stake and trusting that someday, $20 daily curation rewards would be possible. Being a part of this project at this very beginning is a great decision any hiver should take.
With blockchain play2earn gaming becoming the new way to earn crypto, it is an indication that the 1UP community would grow large. Covering the #play2earn niche is just like LeoFinance covering everything crypto and finances. It's a big niche and soon would become a home for all gamers on all other blockchains. We win double sharing our gaming contents on 1UP and earning fromm the content in addition to the actual gaming earnings.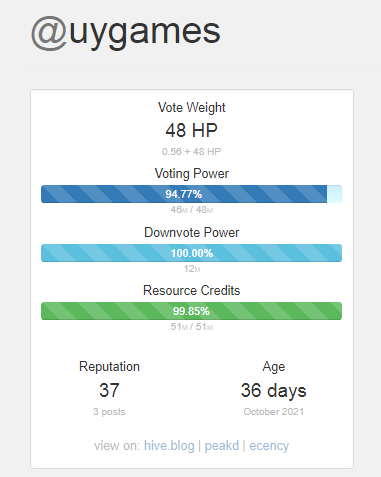 Read my recent 1UP posts that'll inspire you: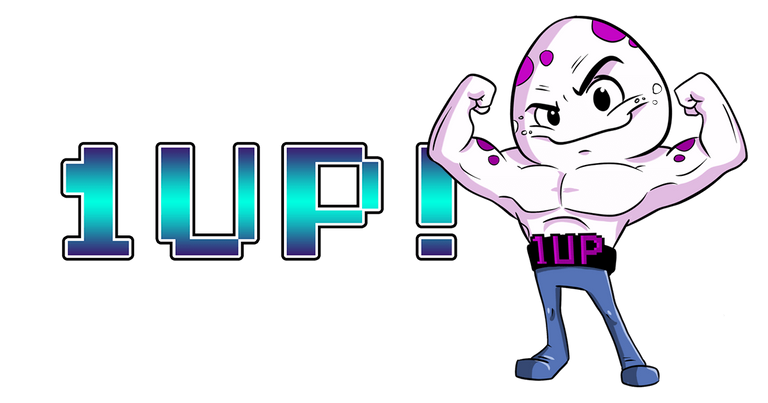 What is Hive?
Hive is an innovative and forward-looking decentralized blockchain and ecosystem, designed to scale with widespread adoption of the currency and platforms in mind. By combining the lightning-fast processing times and fee-less transactions, Hive is positioned to become one of the leading Web3 blockchains used by people around the world. source
Contact The 1UP Team
The 1UP team are so open for discussions, ideas and contribution regarding to the growth of the blockchain gaming community on Hive blockchain. Utilize these handles to reach them.
Posted Using LeoFinance Beta
---
---