Sales of Sports Memorabilia constitute 74% of my Rabona Earnings per Season
Before I go into the body of this post, I want to quickly tell you that in the just concluded Rabona season 49, I earned a net reward of 21,853,070 RBN tokens worth 1.748 HIVE with an additional 0.711 HIVE from the Rabona team for finishing Third on the league ranking with 62 points. The rewards totaling 2.459 HIVE is worth $2 at the present exchange rate. That means that I earned $2 over the last 7 days for spending 10 minutes daily to set formation, train players and see my score line after each match auto-played on Rabona game.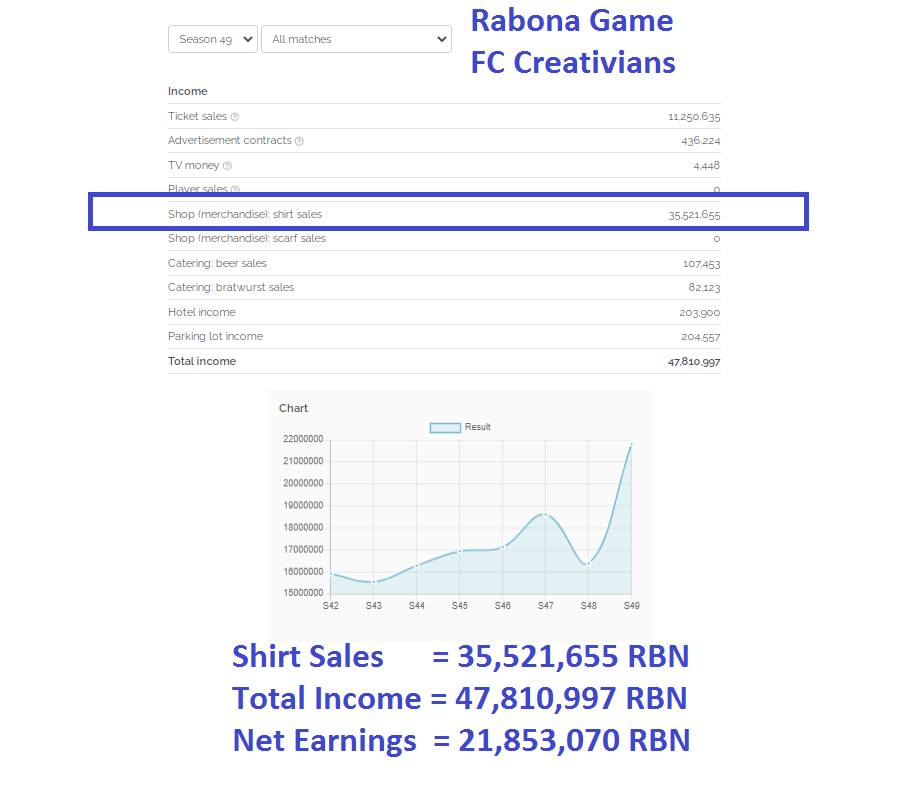 Rabona is a soccer manager built on the Hive blockchain and I wrote extensively in this post why we all need to engage Hive games. As at today, the 50th season from its inception just started and each season takes like 1 week. It thus interests you to see that a game that us just barely 1 year old is giving out such tonnes of rewards to its players. I have been a constant league 2 player for several seasons now and earning as much as $2 per season is just about a quarter of what a player in Season 1 or League of champions earn. Top players there should have a net reward worth $10 and more.


Transaction link
Trying to analyse my rewards for this season, I noticed that sales of sports memorabilia constituted as much as 74% of my total income for the season. Specifically, my team has not been making sales of scarfs for many reasons now, only shirt sales to fans is what we earn from. It rounded up to over 35 million RBN token over the 30 matches my team played. It's interesting to see as things are rounding up as my team gets to grow in this game. Earlier in the game, my major source of income was from ticket sales until when I increased my ticket price some seasons ago and it led to a drastic fall in my fanbase and stadium utilization down to bout 30%. My net earnings then reduced far below 20 million RBN that was a minimum in the last 20 seasons.
Glad to have seen that the over 50 million virtual fans are pooling as much as as 35 million RBN into my wallet through the purchase of my team's shirts and that's making me richer by the day. At the present exchange rate, there's no plans to sell the RBN token as we are still in the shadow of things to unveil within the Rabona game ecosystem. With the anticipation for the roll out of Rabona tournaments heightening, we can say that Rabona Bank would become a reality within the first Two quarters of year 2022.

Since after the first 10 seasons, my team has been running on a profit. With over 500 million RBN tokens earned, I would say that things are getting more exciting by each day passing. It was not really a tough season for my team as we are daily growing in player capacity by each season passing. FC Creativians finished on the top Third spot on the league table with 62 points. We can build on that to scale for the top spot in the next season so we can have another bite of league 1 which means more earnings.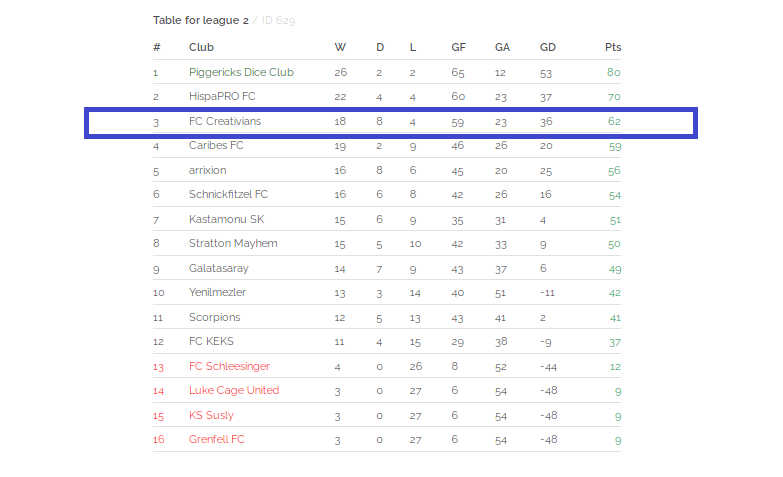 To wrap it up, we can see that we're not just creating contents on Hive, we sell virtual products and are earning big. With Rabona game, we sell players, Sports Memorabilia, food and even parking spaces for match attendants. Looking forward to when my fans would reach 100 million and my stadium capacity doubles from its present. Cashing 50million RBN per season would definitely be sweet.
Sincerely, there are no regrets sticking with Hive, it gets better everyday.
Posted Using LeoFinance Beta
---
---