Tipping Rewards: An amazing option for Rewarding Engagement (A Case of ALIVE & PIZZA Tokens)

The Hive blockchain is a full embodiment of the entire cryptoverse. Simply put, every blockchain out there and what it's functionality has a representation on the Hive blockchain. Here, we have a pool of the the creativity that's available in the entire cryptoverse. I call Hive the blockchain of blockchains. Soon after I saw tip bots on Telegram where I received TLOS tips and on twitter, we started seeing tip bots operating on Hive blockchain.
Crypto tipping has to do with leaving a command under a post to be rewarded with the crypto tipped. The user giving the tip must have held some tangible amount of the crypto so tipped. At first, when I started receiving tips of PIZZA and ALIVE tokens, they seemed to my like spams until I started receiving them more often by some users I so admire. @ph1102 is one os those users who made made me look-up abpout this tipping tokens. Thanks too to @Achim03 through whose comment I learnt about @flaxz's ALIVE project.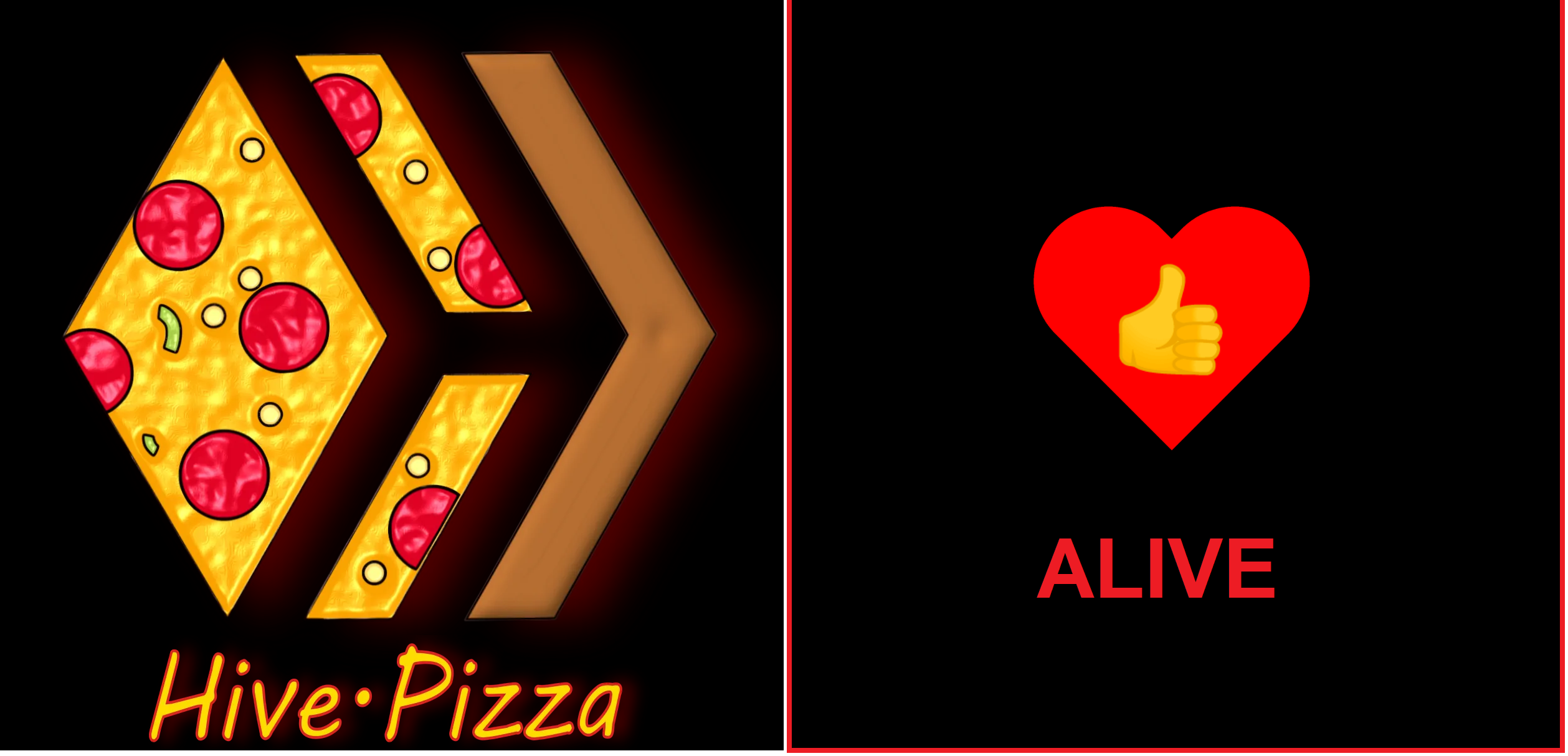 Today, I started my journey into acumulating some tipping tokens - ALIVE and PIZZA and I successfully have 164 and 20 tokens respectively. Soon, I'll beginning to tip ALIVE and PIZZA tokens to users who engage my posts and some awesome posts in addition to my curation. Starting with about $9 worth of tipping tokens is just the beginning as I'm sure to get more of them in the coming days.

The beautiful thing about these tokens is that they can be used to reward an awesome post/comment after the 7 days reward window, thereby making it possible to appreciate content creators at any time not minding the age of their contents. While I'm yet to learn some more facts about these tokens, I decided to buy some quantities and would start rewarding as many users who comment on this post.
Truly, there's more that Hive gives to us than we can exhaust. The creativity that abounds here is just so incredible. It will surprise you that the communities issuing these tokens are already doing big and great on Hive blockchain.
ALIVE Token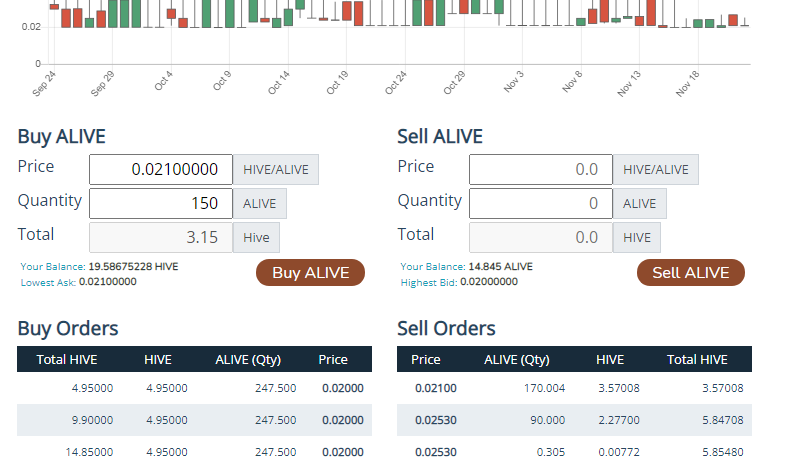 Purchasing 150 ALIVE tokens
The ALIVE COmmunity created by @flaxz to remind Hive users that they are humans and they are ALIVE first to be able to make their presence felt on the blockchain.
There are 4 levels of tipping ALIVE tokens, and the first level is as before while the higher levels are new.
Level 1: 1k AP = 10 tips per day
Level 2: 5k AP = 20 tips per day
Level 3: 20k AP = 30 tips per day
Level 4: 100k AP = 40 tips per day
With my 164 ALIVE tokens, I am yet to be able to tip ALIVE tokens. I'll have to get some more and power them up to at least 1k ALIVE Power.
Read more about the ALIVE Community and Projects here.
PIZZA Token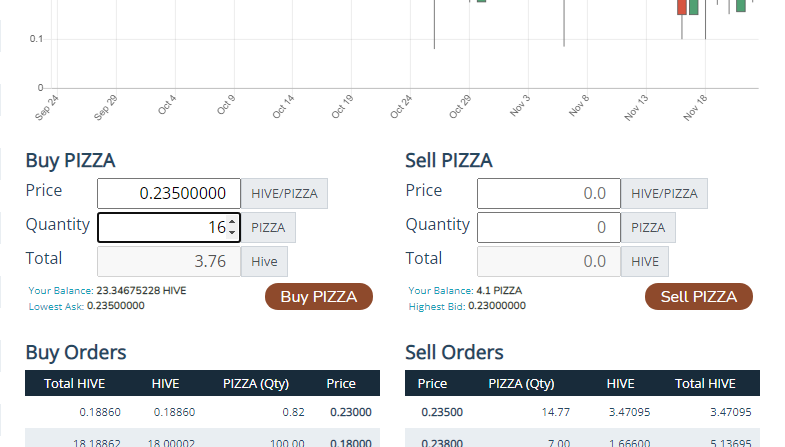 Purchasing 16 PIZZA tokens
Hive.pizza created by @thebeardflex is a community focused on Games, Music, and more to reward users that understand engagement while bringing additional value to HIVE and $PIZZA holders. There is the possibility of Spending $PIZZA on Steam Video Games in the $PIZZA Game Store.
We are building an engaging rewards token focused on 'fun-ctionality' and bringing additional value to HIVE and $PIZZA holders. Keeping in mind the success of the likes of LEO, we feel that we can not only build stronger engagement across the blockchain, but also create a sustainable rewards token that can also be used in real ways. We do not intend to reinvent the wheel here at HIVE, but we do intend to become a 'household name' known, integrated with, and coexisting across the ecosystem. We are just getting started.
Within the short time of the community's existence, much has been achieved including the creation of three diesel pools for PIZZA token and all three pools have LP rewards.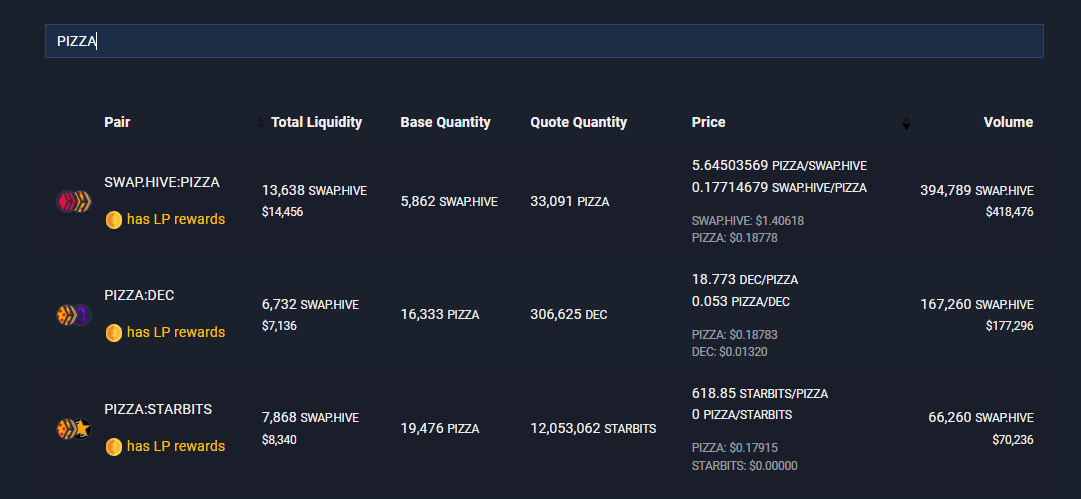 It might interest you to know that so far all three PIZZA pools run with APY above 100%. That's really interesting. Here's a few details you would want to learn about the pools:
SWAP.HIVE:PIZZA Diesel pool
Average APR: 111.583%
Next rewards in 7 hours
Rewards end in 26 days
PIZZA:DEC Diesel pool
Average APR: 138.745%
Next rewards in 4 hours
Rewards end in 20 days
PIZZA:STARBITS Diesel pool
Average APR: 165.165%
Next rewards in 7 hours
Rewards end in 31 days
Daily bonus: 1%
Read more about the PIZZA Project here and here
On daily basis, the Hive blockchain is expanding especially on the second layer level and we keep seeing diversities of application and usecases for the Hive tokes. Tipping tokens are one of such tokens you don't have to miss holding if you understand the value of rewarding users' engagement.
---
What is Hive?
Hive is an innovative and forward-looking decentralized blockchain and ecosystem, designed to scale with widespread adoption of the currency and platforms in mind. By combining the lightning-fast processing times and fee-less transactions, Hive is positioned to become one of the leading Web3 blockchains used by people around the world. source
Posted Using LeoFinance Beta
---
---