Win 10 Splinterlands' Chaos Legion pack, 20 GLS Card packs and more for Completing Social Tasks
This offer is only valid for the next 18 Days; Contest closes August 31st at 11:59:59 EST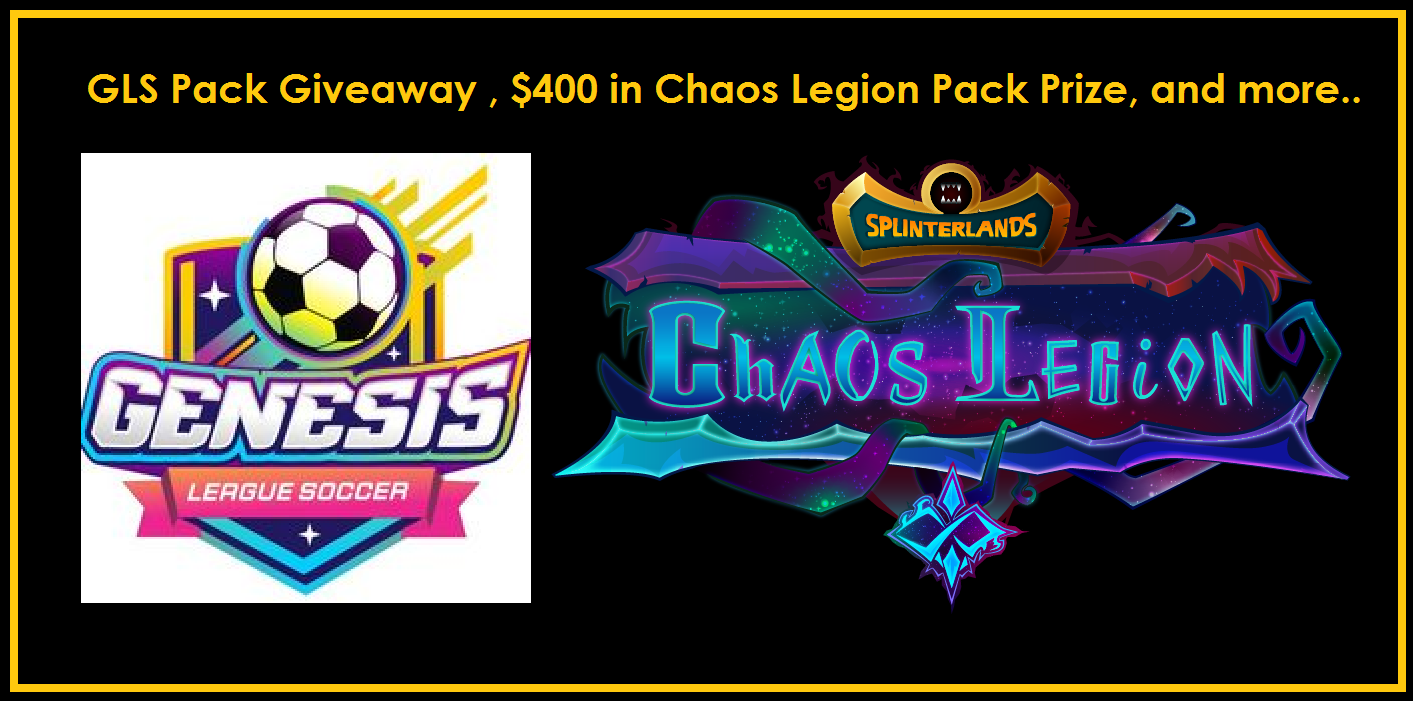 By now, you should have been aware that @Splinterlands have partnered with Major League Soccer Players Association (MLSPA) to create a soccer-based Play-to-earn game. The game, known as Genesis League Soccer (GLS) will be modeled after the Splinterlands platform and will run on the HIVE blockchain. Really a great deal as we'll have more new users onboarding Hive by October when the presale foe Genesis League Soccer packs would begin.
The Splinterlands game team is at the fore of the development of GLS and will deploy models of Splinterlands economy and game growth to the soccer-based play-to-earn game. As contained in the report of the last Splinterlands Town Hall meeting and AMA, the launch of GLS would sure expand the Splinterlands ecosystem and would help broker bigger partnerships in the future.
This is an exciting opportunity for the team to continue to expand the ecosystem and bring in new investors. Rather than let another company take this opportunity, the team wanted to take advantage of the exposure as it will lead to even more opportunities
Since the SPL team is creating the platform, the SPL team will have a say in how the economy is designed and how they can create value for SPL asset holders.
$400 worth Splinterlands' Chaos Legion pack, 20 GLS Card packs and more
Starting GLS design with a Giveaway is already signaling that the Splinterlands team is ready to create another buzz of wealth to its fans, supporters and investors. Everyone that has been a part of Splinterlands in the first Three years can tell how they earned a viable amount of freebies, airdrops and giveaways. Over the next 18 days, Splinterlands would is giving away about $400 each to 20 users, 20 GLS card packs and MLSPA giving signed jerseys to play-to-earn enthusiasts who are willing to help build the social profile for GLS.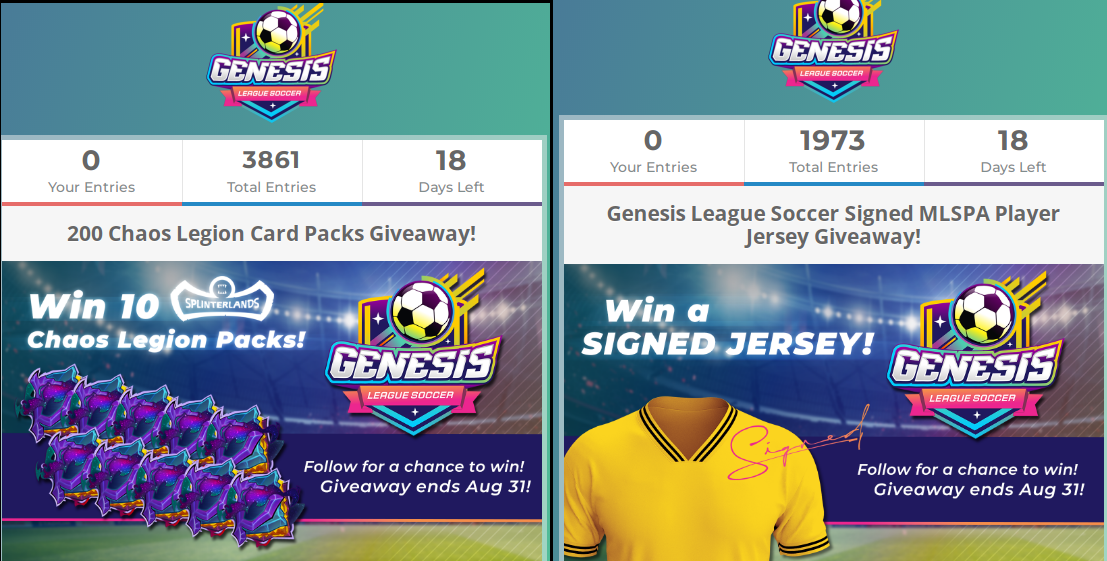 Securing a spot to win either or all of the above prices is open for anyone who visits and engages the social profile of the Genesis League Soccer handles. This can be done is simple steps.
Open these two links for details and to view your entry counts
Undertake simple social tasks:
Join the GLS Server!
Follow @genesislsoccer on Twitter
Follow GenesisLeagueSoccer on Twitch
Visit @genesislsoccer on Instagram
Follow Genesis League Soccer on LinkedIn
Visit Genesis League Soccer on Facebook
Each task completed give a participant 1 point in the total entry count for the final raffle draw. Below are screenshots showing how your Gleam dashboard would look before and after completing the tasks.

This giveaway is one of the ways to celebrate the launch of Genesis League Soccer. The value to be given is far weightier than the required social activities: like, subscribe, follow, and share, etc.
Remember! this offer is only valid for the next 18 Days; Contest closes August 31st at 11:59:59 EST

Genesis League Sports would be a Play-to-earn blockchain soccer-based gaming platform, which will augment a new paradigm for sports fans, blockchain enthusiasts, and gamers around the world. The collaboration of Splinterlands and MLSPA would help to to incorporate MLSPA players into a new Web 3.0 opportunity. The MLSPA and Splinterlands teams will work together to create a gaming platform that allows MLSPA players to connect with their fans in new ways across both desktop and mobile devices.

Splinterlands game is termed the "next generation of collectible card games" in which allows players to collect, trade, and battle with provably scarce digital collectibles with real-world value. Battles on Splinterlands Unlike most trading card games, are fast and furious, and are usually completed within few minutes. The Splinterlands gameplay is simple and easy to learn viz: reviewing combat rules, making and submitting of the team and watching the battle unfold.
---
Posted Using LeoFinance Beta
---
---