Eng/Tr // Ottoman Paste / Osmanlı Macunu
Hello everyone 🙋‍♀️
Today I will take you to my childhood. The great advantage for us is that there are many children from the same and similar age groups in our neighborhood, we used to play various games in our street with pleasure and in crowds. During these games, peddlers would pass our street selling various foods that would appeal to the stomach and eyes of us children. Ice cream, lahmacun and honey with honey 😋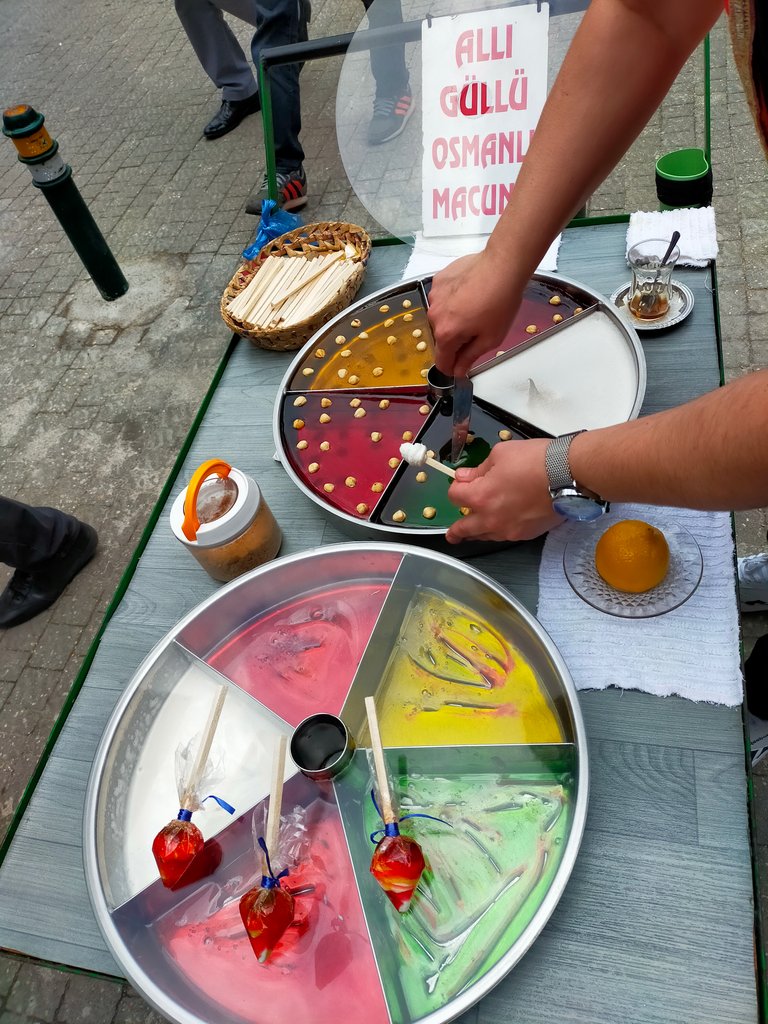 I came across one of these childhood tastes that have made a place in my memory after shopping in the bazaar. Paste made with sugar, lemon and various flavors is the indispensable street flavor of our childhood. Its name is Ottoman paste but we don't know why, as far as I remember, we always call this match Honey with Honey as the name of the seller passing by our street shouted Honey with Honey.😋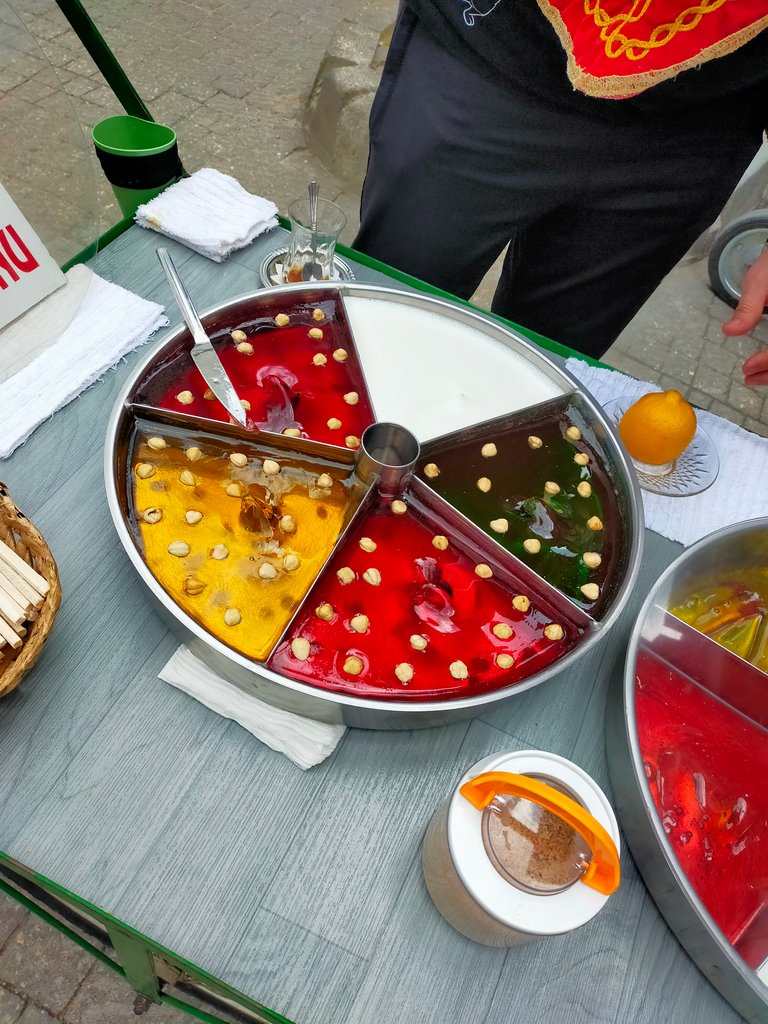 In my childhood, those who sold Ottoman paste were not selling in period clothes that tell of the past. Now, to draw a little more attention, I think as a sales strategy, they sell clothes reminiscent of this Ottoman period. Are you paying attention? I think yes, a strategy that has achieved its purpose ☺️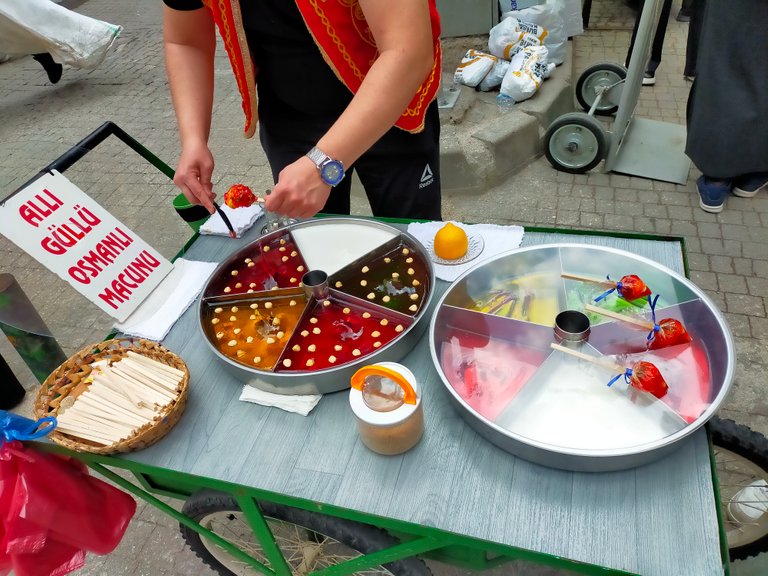 When we saw the seller, we started to talk about it from our childhood. My nephew wanted to taste it right away and we didn't break it, he was excited because he was going to eat the Ottoman paste honey with honey for the first time.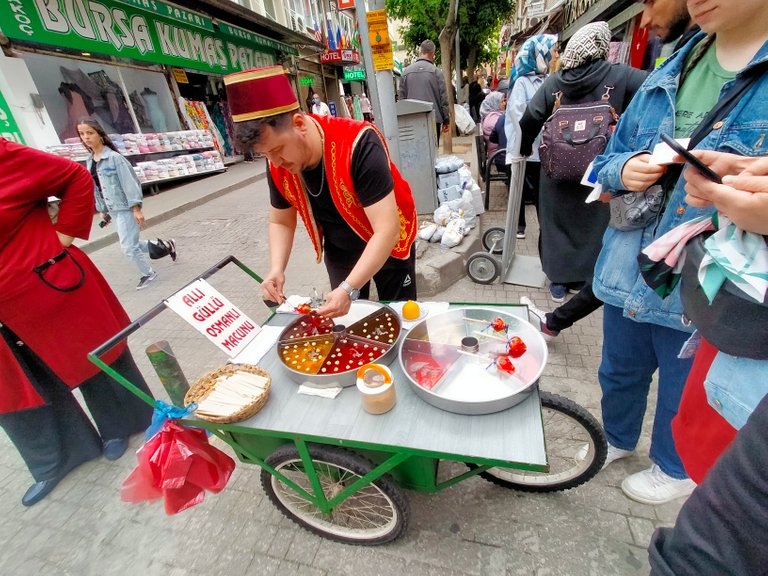 Putty put the rose, mint and lemon pastes decorated with hazelnuts on the stick, and gave them to my nephew, who was waiting impatiently and watching their movements carefully, and applied lemon on the paste.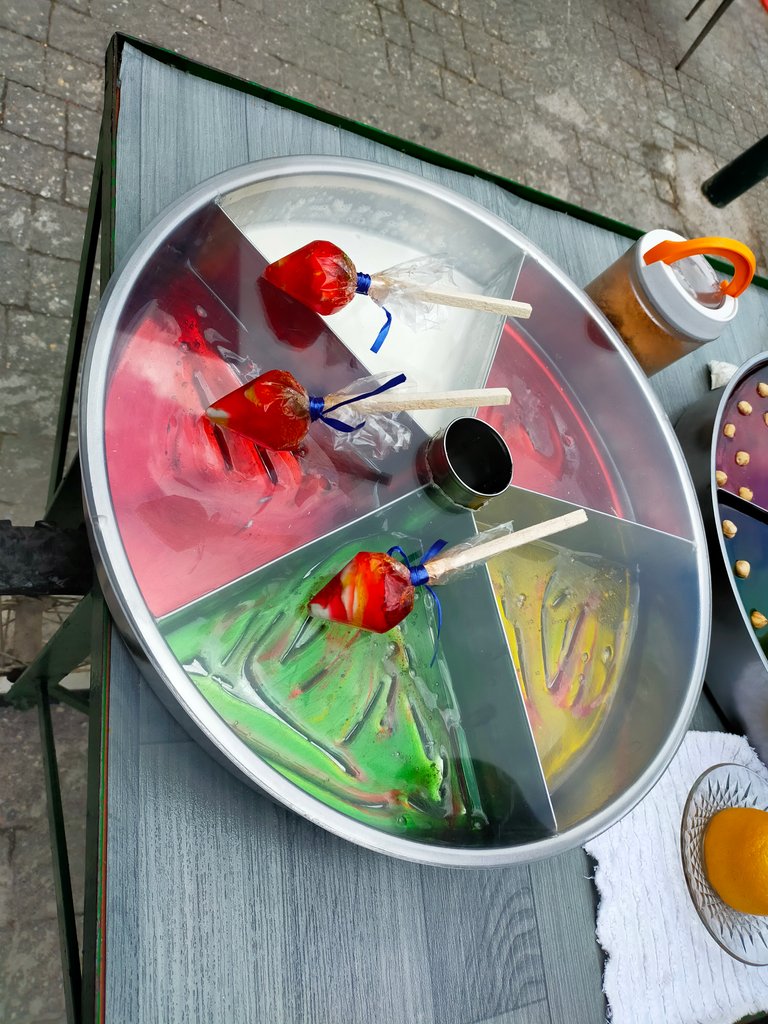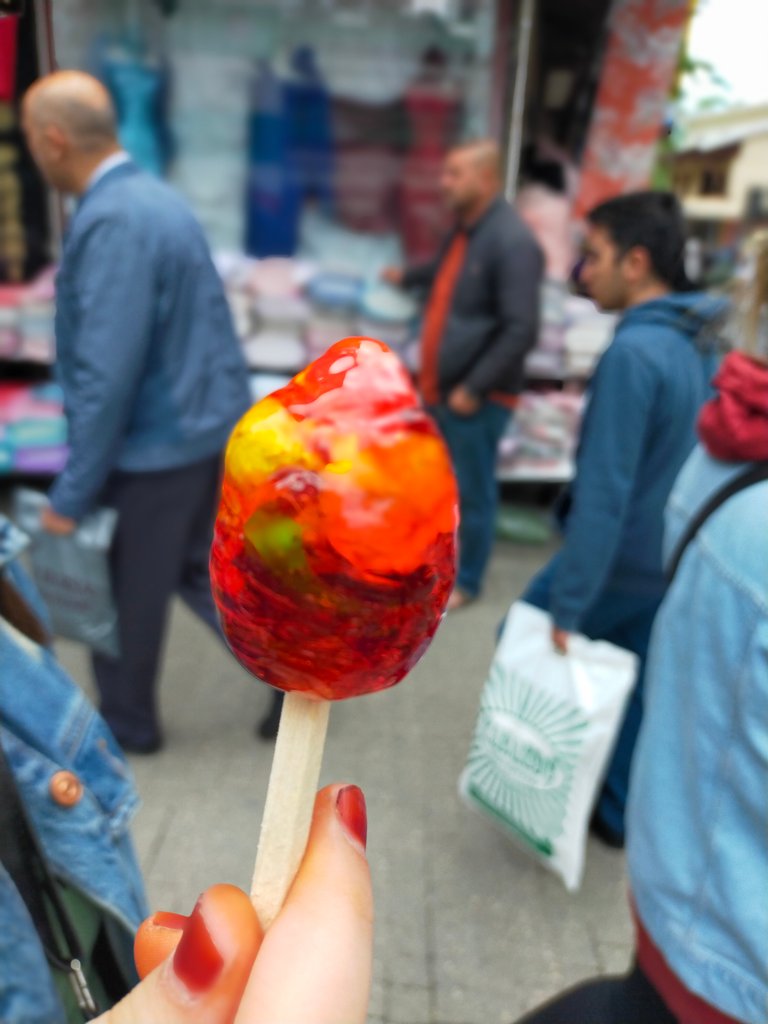 My nephew liked it but he didn't find it as good as we described, maybe because it was a taste from our childhood, it tasted good to us because it was remembered with those good days. I like your taste too
☺️
After buying the coincidence paste, we saw another seller at another point, dressed like this, selling Ottoman paste.
Thanks to my nephew's curiosity, we returned to our childhood. I enjoyed seeing these forgotten flavors.
UzerCanan☘️
---
---
TR
Herkese merhaba 🙋‍♀️
Bugün biraz çocukluğuma götüreceğim sizi. Mahallemizde ayni ve yakın yaş grubundan bircok çocuğun bulunması bizler için büyük avantajı, sokagimizda çeşitli oyunları keyifle ve kalabalık şekilde oynardık. Bu oyunlarımız esnasında sokagimizdan biz çocukların mide ve gözlerine hitap edecek çeşitli yiyecekler satan seyyar satıcılar geçerdi. Dondurma, lahmacun ve ballı ballı 😋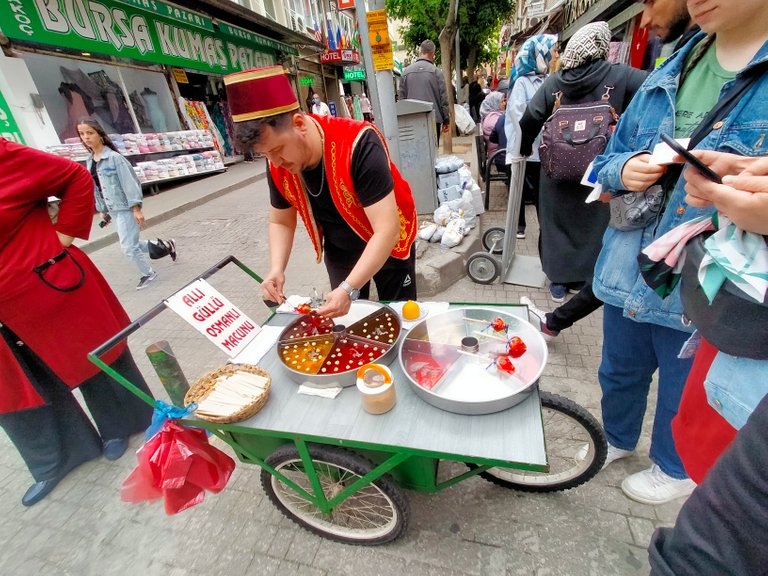 Bu hafızamda yer edinmiş çocukluğuma ait tadlardan biriyle çarşıda alışveriş yaptıktan sonra karşılaştım. Şeker, limon ve çesitli aromalar ile yapılan macun çocukluğumuzun vazgeçilmez sokak lezzetidir. Adı Osmanlı macunu ama biz neden olduğunu bilmiyorum hatırladığım kadarıyla sokagimizdan geçen satıcı Ballı Ballı diye bağırdığı için isim olarak hep bu maçına ballı ballı diyoruz.😋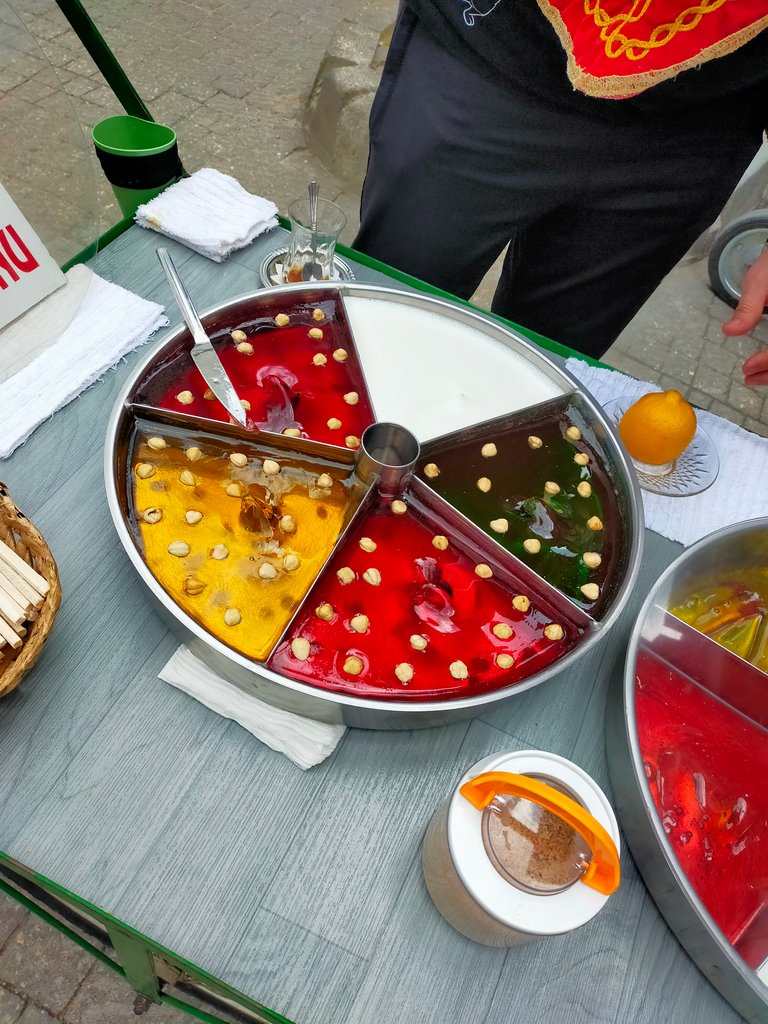 Benim çocukluğumda Osmanlı macunu satan kişiler geçmişin anlatan dönemsel kıyafetler içersinde satış yapmıyorlardı. Şimdi biraz daha dikkat çekmesi için, sanırım satış stratejisi olarak bu Osmanlı dönemini anımsatan giysiler içinde satış yapıyorlar. Dikkat çekiyormu? bence evet, amacına ulaşmış bir strateji ☺️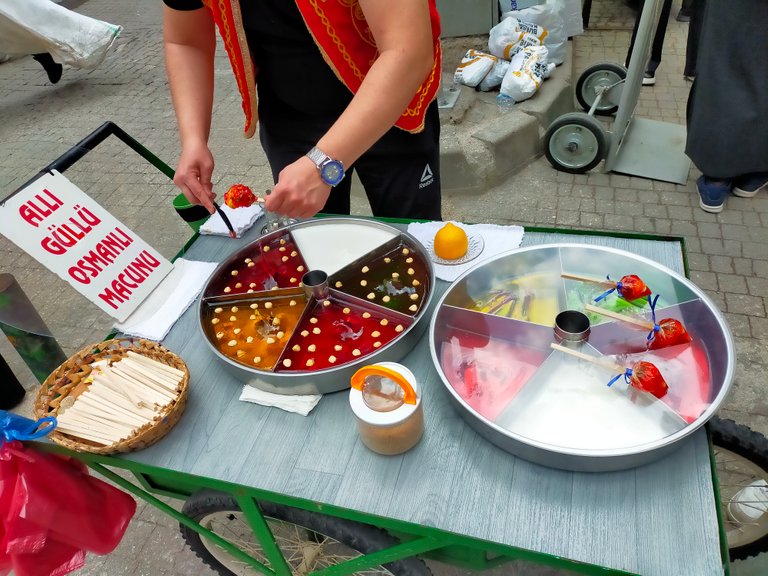 Biz satıcıyı görünce çocukluğumuzdan ileri anlatmaya başladık yeğenim hemen tadına bakmak istedi ve bizde onu kırmadık, Osmanlı macunu ballı ballı' yı ilk defa yiyeceği için heyecanlıydı.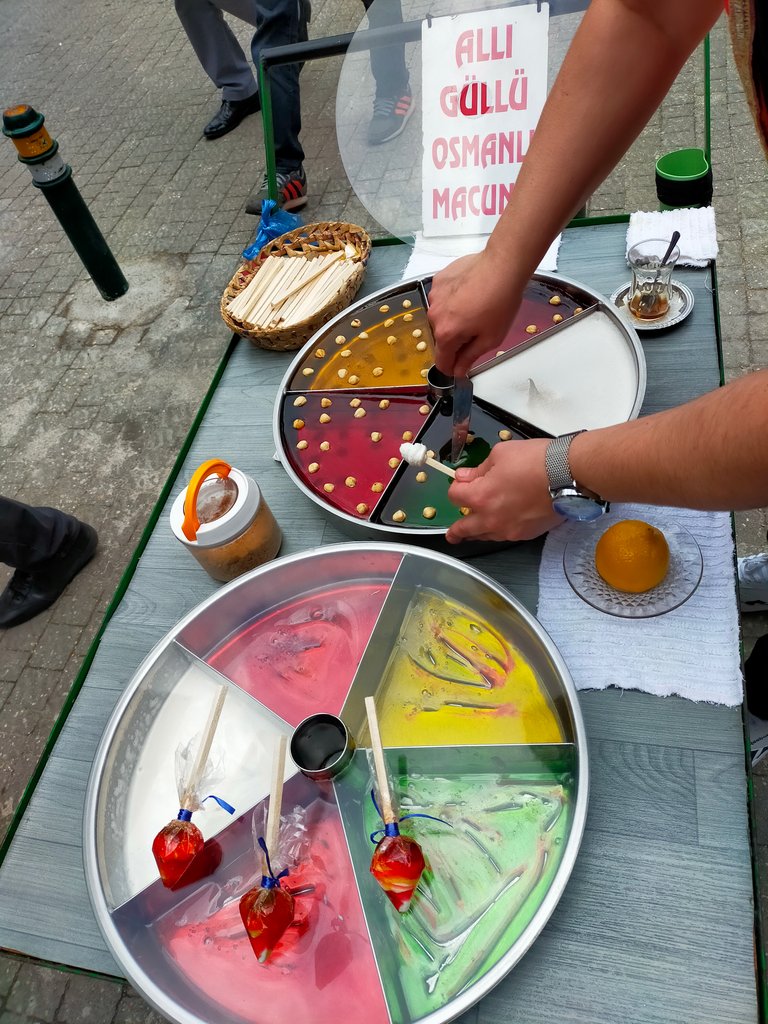 Macuncu üzeri fındıkla süslenmiş güllü, naneli, limonlu olan macunları sırasıyla çubuğa dolayıp sabırsızlıkla bekleyen ve hareketlerini dikkatle izleyen yeğenime macunun üzerine en son limon sürüp verdi.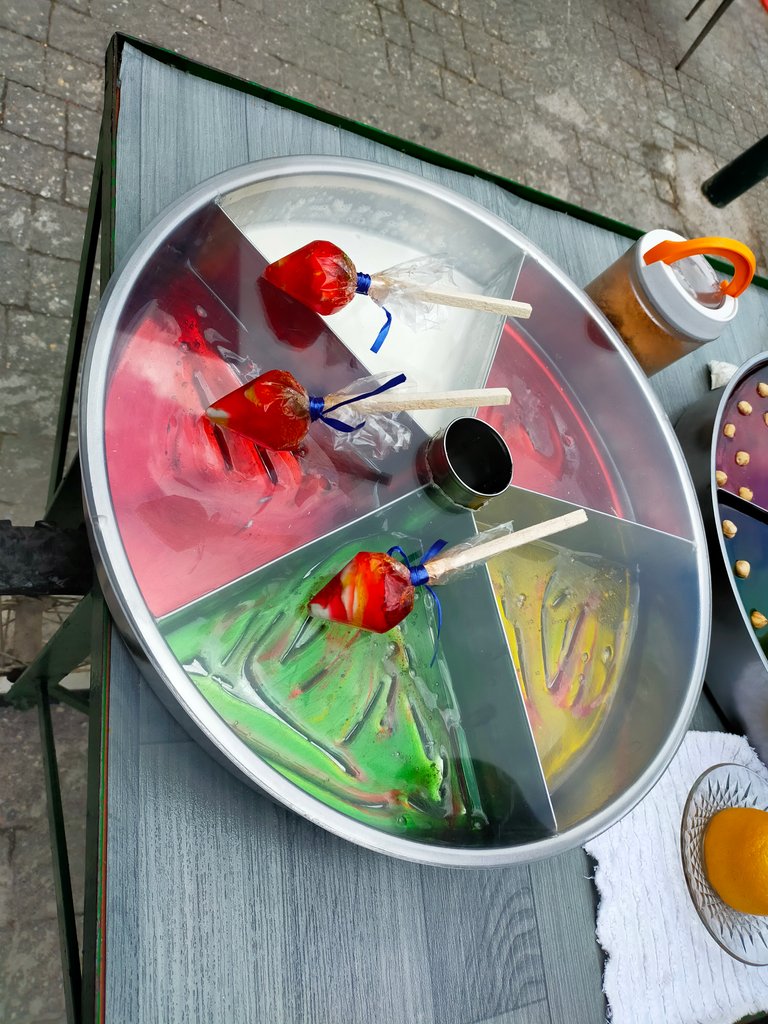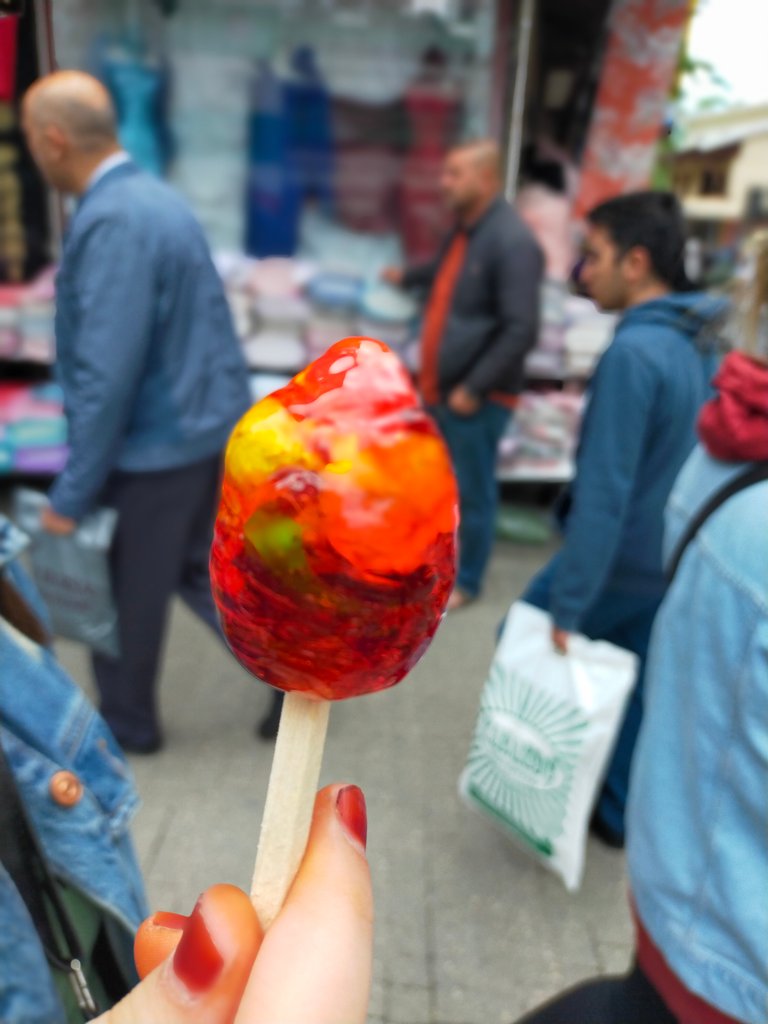 Yeğenim beğendi ama bizim anlattığımız kadar güzel bulmadı, belkide çocukluğumuzdan kalan bir tad olduğu için o güzel günlerle anıldığı için bizde tadı güzel geliyordu. Tadını bende begendim
☺️
Tesadüf macunu aldıktan sonra başka bir noktada daha böyle giyinmiş Osmanlı macunu satan başka bir satıcıyı daha gördük.
Yeğenimin merağı sayesinde bizde çocukluğumuza döndük. Unutulmaya yüz tutmuş bu tatların karşıma çıkması hoşuma gitti.
UzerCanan☘️
---
---