Earn Gods Daily While Battling On Godunchained | The Wait Is Over
Good news to all Godunchained player since yesterday when it was finally made official on Godunchained twitter account and also on the blog that the long wait is now over. Implementing the daily play to earn is one thing I long for since I start playing this game for years now, apart from the pack goodies we do earn from event battles,Gods token will start raining each time you complete your daily battles. I first saw copperpitch video which talked about the daily play to earn, I knew it will be here really soon.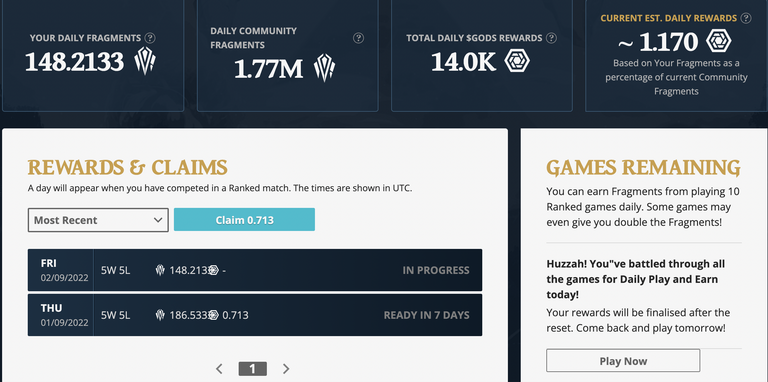 I had to update the app, and check out the game play layout and find some strange things which I didn't understand at first, I was thinking we can play as many battle as we want and we will be earning some certain amount of gods token just like Splinterlands but I was totally wrong, or should I say, it is not what I was expecting. Limiting p2e battle to just 10 daily look somehow but looking at the reward, I think it is ok. Just to know, each battle you won will give you some amount of fragments which serve as points and this will determine the amount of Gods token you will eventually earn at the end of the day. To earn more fragments you need to increase your rank and also make use of shiny cards (meteorite upward). Currently am trying to forge most of the cards i use in my deck while making use of my gods reward because I need to earn more fragment for more rewards.
My View On This Update?
On my part here, Am really happy with this because I will actually make me play the game more because the first 10 game is really important to earn and I no this is what most players will wish to do. I even saw some of my friends who haven't play the game in a while, re-download and start playing so as to earn. Also in a couple of weeks, there will be some activities going on in the market section, many players will be there to sell and purchase lot of cards and there might be some spike in card prices. Looking forwards to that
---
---