Video Games, Blockchain and the Future of Interactive Entertainment.
⛩️ What i keep recommending represent always what i really like.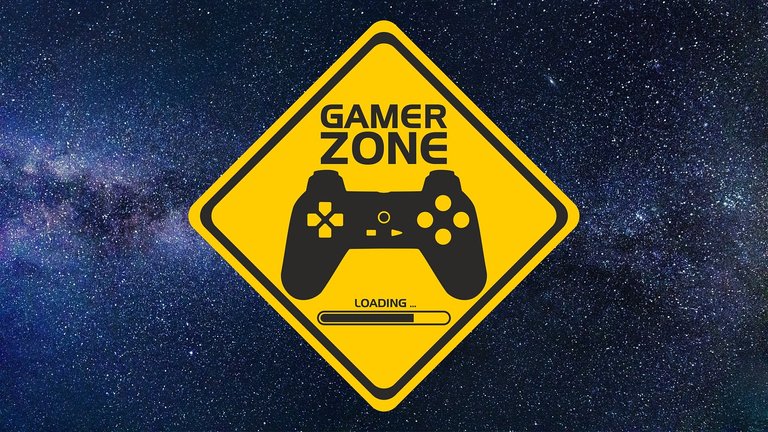 We can say that up to the present time video games really offer us a varied range of interesting experiences, captivating stories with a diversity of warriors, each with their own distinct skill and fighting style. Whether you like to feel like a fearless Viking, a disciplined Spartan, a noble Samurai (perhaps😁 a Ronin), or a shrouded and a mysterious Ninja, there are plenty of options to suit your preferences. Yep just out of curiosity what would be your favorite type of warrior!? what is your preference in terms of video games!?
I personally prefer samurai and ninja fighters. I don't know, just like it, i'm drawn to those types of characters. Samurai and ninja fighters are two fascinating types of warriors in the world of video games, films ...yep and of course in the history.
Samurai, in Japanese culture, are the symbol of honor, discipline and that master worth following in the martial arts. These noble warriors are known for their superior skills in fighting with the katana sword and for their strict samurai code ( Bushido - that intriguing code of honor ). In general, when you choose to play as a samurai in games like, Ghost of Tsushima, Nioh, or the Samurai Warriors series, you simply immerse yourself in a world full of Japanese mythology and history, experiencing epic battles and adventures full of drama and elegance....yep, lot of drama with some baddas 🤣elegance.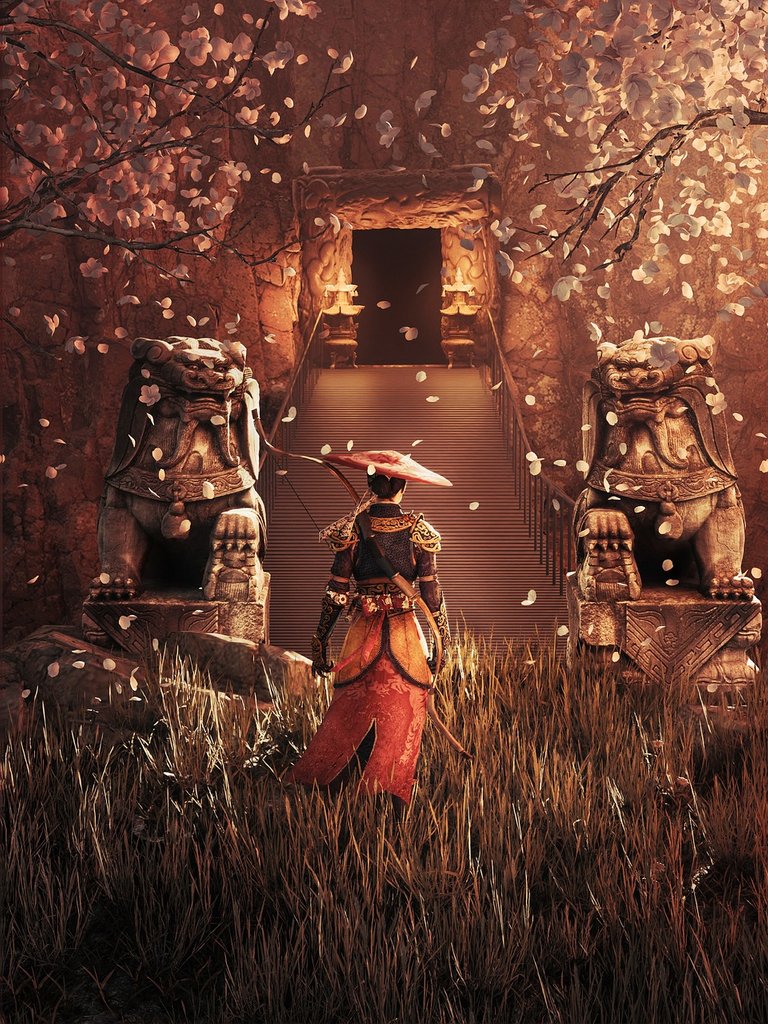 On the other hand, ninja fighters appeal to me even more because of their mystery and unparalleled skills in the art of assassination and theft. These shadow warriors are masters of infiltration, evasion and the use of hand weapons such as swords and shurikens. Games like Tenchu, the Ninja Gaiden series or Sekiro: Shadows Die Twice introduce you to the mysterious world of ninjas, where you will explore their deadly art and participate in missions full of adrenaline and suspense.
If you like these types of fighters and want to experience in a super pacifist fantasy way the amazing skills, i confidently recommend the above titles. P.S ~ Ghost of Tsushima is the best ( combines many fantastic elements, specific to this two types of misterious fighters ).

Finally, let's try to move on and leave those games that have gained quite a huge reputation over time.
⛩️ The Blockchain Revolution in the Video Game Industry: Opportunities and Challenges.
Every day we continue to explore the fascinating world of Blockchain technology and cryptocurrencies. We see, hear and of course discover new types of games. Yes, it's true that new game titles based on this revolutionary technology are emerging day by day, and each of them brings with it a unique attraction. It's all because of the remarkable freedom it offers and the rewards it brings to everyone during their time in this huge virtual world. A world in continuous innovative expansion.
Only if we stop a little and try to make a small inventory of the types of games present in this decentralized ecosystem called Hive Blockchain - we will notice that we have a lot to choose from. A varied range of games where each user has that precious freedom to explore and take advantage of Blockchain technology in a way that we could easily say is quite useful and evolutionary.
#Splinterlands #Rabona #dcity #Hashkings #RisingStar #Exode Wrestling Organization Online ( #WOO ) #Terracore #dCrops - just a few examples of game titles available in the #Hive #Blockchain ecosystem.
Blockchain technology transforms the way we play and win in video games ~ we earn tokens or cryptocurrencies, collect NFTs and continue to invest in video games based on Blockchain technology.
There are a lot of game titles, maybe too many titles, that are more cosmetic and attractive because of those tokenized rewards, but still i would like to experience something completely different in such an environment. Who knows!! maybe i have too many expectation. I'm not and will not be looking for another medium to experience such a more evolved game. The preferred environment still remains the Hive Blockchain ecosystem.
What impact would it have on this decentralized platform, with the release of an action video game like those titles that i have exposed since the beginning of this generalist post!!?...certainly one, quite a positive one!! I'm stiil optimist about this aspect.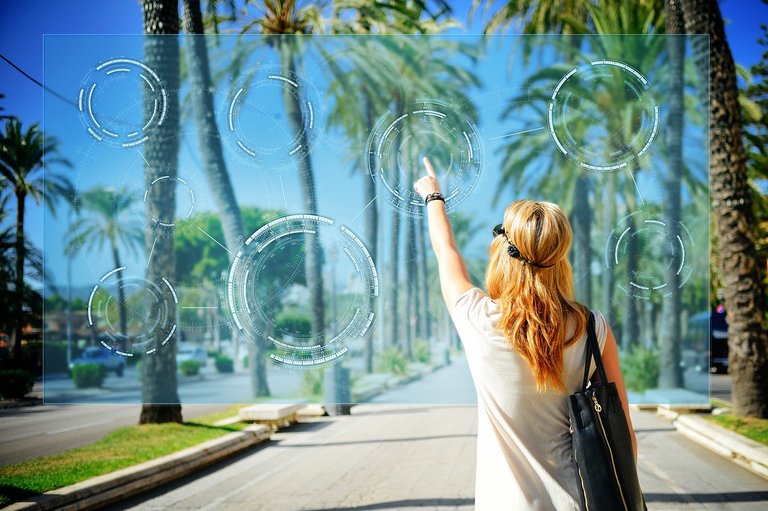 In general, tastes are not discussed in terms of entertainment (games, movies, music...etc.) - in a sense, we all escape from the monotony of everyday life, or at least we try to do so. It is interesting that for a certain category of people, the digital world represents a huge place full of illusions and delusions with a lot of negativity, but for another category, the digital world represents potential, knowledge, beauty and of course fun....yep, a lot fun - simply huge chances of development, in a rather relaxing style.
I guess we are all aware in some way that games can also have a negative impact on people - it's well known that if you spend too many hours in front of the screen, you can experience health problems and more. In addition to the fact that the current bill can increase considerably, the emergence of games in the Blockchain environment has brought some balance in this regard. Games in the virtual world, until the development of this innovative technology, were limited in a certain way.
⛩️ Games based on Blockchain technology ~ Win, Play and Invest.
With the integration of Blockchain technology into video games, a new perspective has opened up for the gaming experience. Through this decentralized environment, players can benefit from transparency, security and authenticity in purchasing and trading in-game items.
Blockchain platforms provide virtual asset ownership and management solutions, allowing players to truly own and control the items they have obtained in games. For example, a player can own a legendary sword or a unique suit and sell or trade them with other players in a safe and transparent way.
In addition to the economic aspect, Blockchain technology also brings innovations in game mechanics. Smart contracts and NFTs (Non-Fungible Tokens) allow developers to create unique experiences and complex interactions within games. Thus, players can participate in special events, customize their characters or obtain valuable rewards in innovative and exciting ways.
The use of Blockchain technology in video games can also benefit content creators. They can be transparently and directly rewarded for their contributions within the community through tokens and reward systems implemented on the Blockchain platform.
⛩️ Blockchain technology continues to add value, ownership and innovation to the video game industry.
If you like action games in general and RPGs, and you're into samurai or Japanese history, then you'll definitely be excited about the game i'm going to present next. This game brings Blockchain technology to the fore, which means that you will have an outstanding experience, and in addition, you will be rewarded for the time and effort invested in this ambitious upcoming project.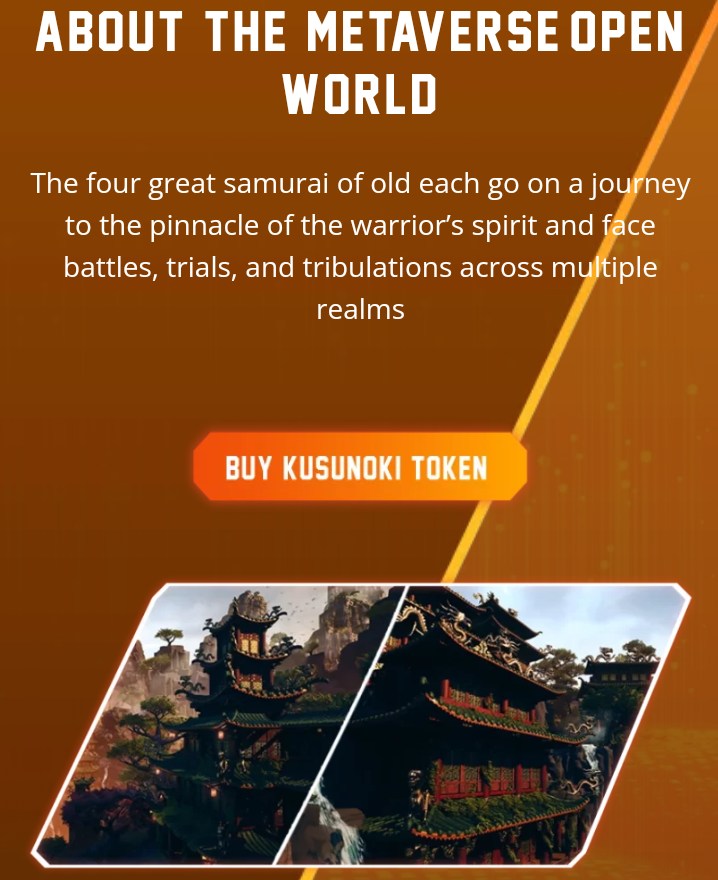 The game we're talking about is called Kusunoki Samurai and it's a future action-adventure game set in feudal Japan. The producers promise an exciting combination of action and role-playing elements, where each player will be able to explore the world of samurai and develop their own samurai character Yep, a virtual world full of mystery and adventure.
Just try watching the trailer of this game.
Through Blockchain technology, the game producers are going to offer an innovative ownership and trading system for the items and equipment that we can get during the game. We will simply be able to collect rare and valuable items, which we can sell or exchange with other players in a secure and transparent way. Thus, we will have the opportunity to customize the character with unique equipment and create our own strategy according to each game's preferences.
In addition to engaging gameplay elements, the game would also offer the opportunity to interact with a passionate community of players through the social functionalities built into the Blockchain platform. You will be able to collaborate or compete with other players, participate in special events and discover new challenges and adventures together with your virtual friends.
I conclude by emphasizing that this game is a fascinating combination of samurai passion and Blockchain technology, giving you a unique and rewarding experience in the world of video games. Whether you want to become an accomplished martial arts fighter or explore Japanese culture and history, this game is sure to satisfy your desires and passion.
Recently, the developers announced that they will release a demo of the game soon. If you are interested in learning more about the upcoming game, Kusunoki Samurai check out the link next to it. https://www.kusunokisamurai.com/
Thank😊 you for your precious time. All the best📖 to all the people present in the entire🌍 Hive Blockchain ecosystem. Cheers 🍺🙋🍻
---
---