Splinterlands Potions Get Ready For Chaos!
If it's not credits we are at least earning potions. I feel like I'd rather be getting potions over credits anyways! That means I'll earn a increase chance of getting a legendary card or gold card when opening up packs. While that might not really matter now it will here in a few days as Chaos packs are released!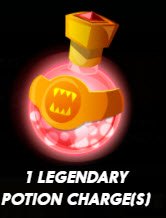 Now I only have a bit of SPS staked even though I've been staking EVERYTHING earned but it should at least get me a few vouchers by the end of the 30 days and I plan on using these to pick up some new $4 packs and putting these potions I've been earning to work.
Just how much do potions help?
A legendary potion increases the chances of pulling a legendary card from a pack opening from 0.8% to 1.6%
A Alchemy potion increase the chances of pulling a gold card from pack opening from 2% to 4%
The sweet spot is when you pull a legendary GOLD! As those cards are so rare and worth so much that they can either be rented out for a decent amount or count well towards the remain airdrop.
I also hear there is one new card that will only be dropped to those who buy Chaos packs from the presale. I'm curious what kind of level card this will be and how much burn value it will have.
---
---