Battle Mage Secrets: Rise of Commons - Call for Gladiator Reinforcements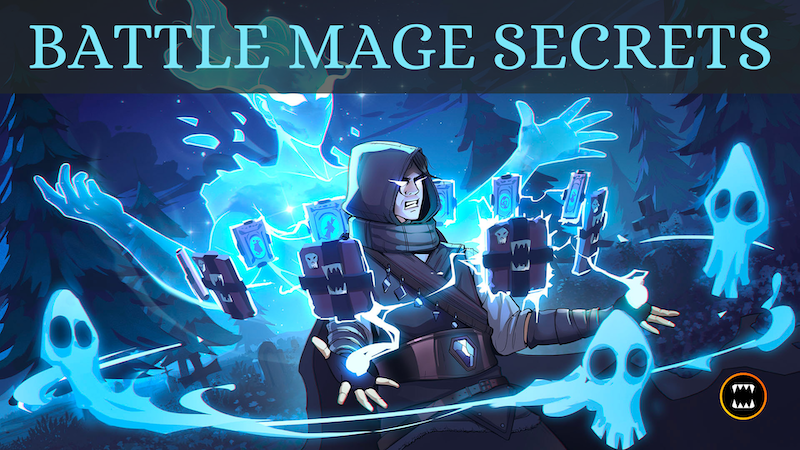 Prelude
Hello everybody, how is it going? It's time for more Battle Mage Secrets. Last week's sharing was a reverse on the norm of gameplay where we saw how slow cards take over. This week the ruleset is another arsenal restricting one where we will only have access to common and rare cards.
The ruleset of the challenge this week is: Rise of Commons
Ruleset Spotlight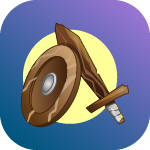 Rise of Commons
Only common and rare units may be used in battles.
Summoners are unaffected by this rule.
Abilities/Cards that get shutdown with this rule set
As with arsenal restriction rulesets, some part of the arsenal will not be abled to be used. For this case, we will not able access the epic and legendary cards. In my typical gameplay, I use quite a number of epic and legendary cards from the likes of Djinn Oshannus, Queen Mycelia, Lira, Axemaster, Grund, Nerissa Tridawn and of course the various Fiends of each splinter. Without them definitely will alter my gameplay severely. Legendary and Epic cards offer good abilities and also better stats for equivalent Common and Rare cards.
What thrives with this ruleset?
In terms of thriving, everything is essentially the same, just that "premium choices" in the likes of Legendary and Epic. Smaller pool to select but there are still amazing cards to select from. One good option will be to access the Gladius pool which contain good cards with abilities and also Blood Lust.
Pick up good stats in health, attack, speed and armour for additional advantage.

With these in mind, let's start to talk about the battle proper.
The Battle
Link: https://splinterlands.com?p=battle&id=sl_a1890dc43bb55ac2811b1c3a00228494&ref=vaynard86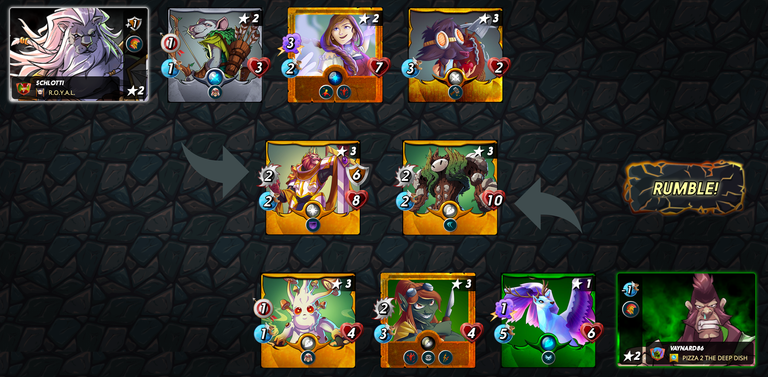 Rules
Rise of Commons
Mana Limit: 26
| Splinter | Mana Cost | Position | Reason |
| --- | --- | --- | --- |
| Lobb Lowland | 6 | Summoner | Needed to enable use of Gladius cards and reduce one speed from opponent |
| Terraceous Grunt | 6 | 1st | Front tank with dodge ability |
| Regal Peryton | 5 | 2nd | High speed magic attacker with flying |
| Katrelba Gobson | 6 | 3rd | Gladius double striker with blood lust and sneak |
| Fungus Flinger | 3 | 4th | Martyr giver to boost Katrelba |
| Total Mana: | 26 | | |
Opponent Lineup
Summoner - Franz Ruffmane
Position 1 - Imperial Knight
Position 2 - Venari Marksrat
Position 3 - Captain Katie
Position 4 - Scavo Hierling
Prediction before pressing rumble
Interestingly, my opponent also picked a conscript Summoner to enable Gladius card. Now it is a test of whose Gladius will come up on top.
Battle Synopsis
Round 1, Katrelba took out Scavo Hierling and grew with Blood Lust. No other casualties this round.
Round 2, Casualty swing to my side where Captain Katie sniped my Regal Pertyon and grew with Blood Lust. Now things are getting tricky.
Round 3, Captain Katie smashed my Fungus Flinger, while she grew, Katrelba grew as well due to Martyr so that speed of Katrelba is still faster than Katie.
Round 4, Key moment was Katrelba taking out Captain Katie and growing even bigger.
Round 5 and 6, It is Katrelba's show where pieces remained are being chewed upon by the double strike. Victory secured.
Post Battle Summary
Even with a smaller arsenal, I've managed to secure a win. Katrelba was the star of the match, fast, deadly and ever growing. Thankfully, Katrelba grew faster than Captain Katie else, the match will swing the other way.
Did my strategy work? With less cards at my disposal, I set off with a strategy to access Gladius cards to better my gameplay because they have great abilities alongside Blood Lust. It worked so well and I am so glad to see how Katrelba shone in the match. Strategy worked as planned and it brought me the victory I needed.
What's the Battle Mage Secret?
My Battle Mage Secret that I would like to share is to open up the secret arsenal of Gladius cards. You might not be able to use the Epic or Legendary Gladius cards, but the rare and commons themselves are already a formidable force. Take for example, Katrelba that I showcase today is a common card but look at how good it is. While there are many good common and rare cards, accessing Gladius is one good way to improve your chances of winning.
Wrap Up
I hope you guys enjoyed reading my sharing on the rule set Rise of Commons. I would really appreciate it if you liked and/or commented to let me know what are you thoughts.
I am currently part of PIZZA, an active gaming and creative arts crypto community on the HIVE blockchain and part of PIZZA guild. Popular cryto games such as SPLINTERLANDS, RISING STAR and HASHKINGS are actively discussed in this community.
Many events are being organized from time to time. Join the PIZZA DISCORD. This is a place filled with 💰🍕🎁GIVEAWAYS & AIRDROPS💰🍕🎁 and most definitely consisting of a friendly community to be in.
Till my next battle sharing, take care, stay safe and happy battling!
If you are keen on playing Splinterlands, feel free to join me via this link: https://splinterlands.com?ref=vaynard86

---
---