Share Your Battle: Grand Master Rathe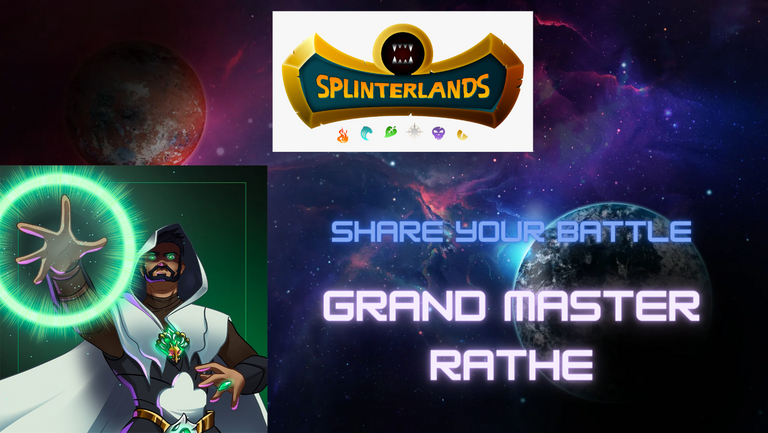 Prelude
Hello everybody, it's time again for Share Your Battle. I was looking through the battles I had this week but was unable to find something interesting till today when I had the opportunity to fight against the new Chaos Legion legendary summoner GrandMaster Rathe. There were loads of hype when Rathe was released but I have yet to witness for myself, so let me attempt against it to see how good he is.
Thoughts on Grand Master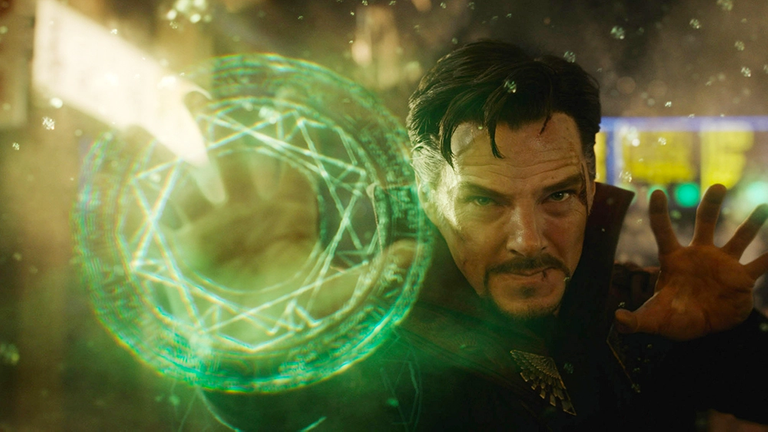 Rathe with the green sphere immediately links me to the image of Doctor Strange from Marvel Cinematic Universe. And this coloured sphere is how Doctor Strange and possibly Rathe to be able to twist and shape things according to what they want. With me going against it, will I succeed and prevent them from achieving what they want?
As with summoners, here is how it looks like for Grandmaster Rathe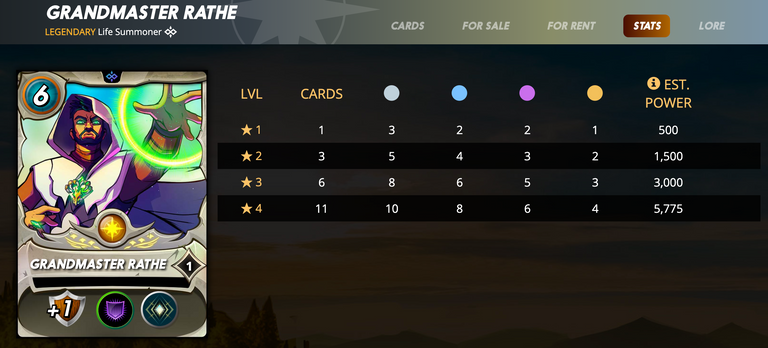 Bronze League - Lvl 1
Silver League - Lvl 2
Gold League - Lvl 3
Beyond Gold - Lvl 4
What does Grandmaster Rathe give to the lineup?
+1 Armour - Always good to add one more armour for additional 1 round of sustain for monsters without innate armour.
Void Armour - This effectively allow the +1 Armour from the first ability to cushion magic attacks
Amplify - Makes return fire, thorns and magic reflect damage + 1 which is more viable during high level battles when monsters gain more abilities.
Without further ado, let's test our strength against Rathe!
The Battle
Link: https://splinterlands.com?p=battle&id=sl_7e6a8d49c5553a3d996c07263c63da72&ref=vaynard86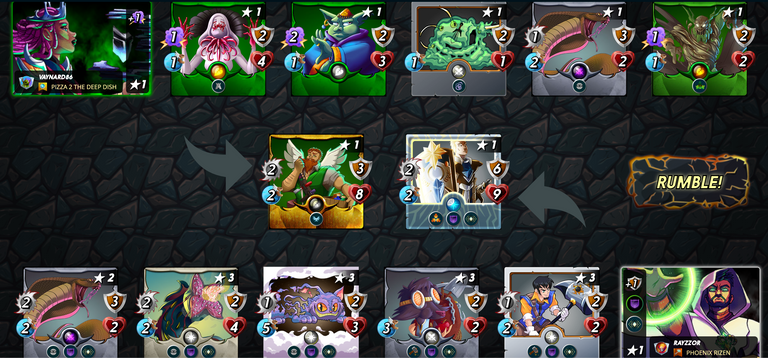 Rules
Armoured Up, Healed Out
Mana Limit: 28
Lineup
| Splinter | Mana Cost | Position | Reason |
| --- | --- | --- | --- |
| Obsidian | 4 | Summoner | Magic boosting summoner |
| Pelacor Mercenary | 7 | 1st | Using this as a tank with flying to reduce hit rate |
| Queen Mycelia | 4 | 2nd | Provided more armour to whole team |
| Goblin Psychic | 6 | 3rd | I needed something to fill 6 mana and hit hard, though no healing, but 3 magic damage with summoner boost is no laughing matter |
| Creeping Ooze | 1 | 4th | Some ooze is always good for slowing things down |
| Uraeus | 3 | 5th | Backline sniping |
| Djinn Biljka | 3 | 6th | Magic artillery squad |
| Total Mana: | 28 | | |
Opponent Lineup
Summoner - GrandMaster Rathe (Spotlight for this battle sharing)
Position 1 - Shieldbearer
Position 2 - ArmourSmith
Position 3 - Scavo Hierling
Position 4 - Feral Spirit
Position 5 - Stitch Leech
Position 6 - Uraeus
Prediction before pressing rumble
I was totally intimidated seeing GrandMaster Rathe. With a magic heavy team and seeing void armour given to my opponent full lineup without healing on my end is a nightmare to face. Not forgetting armour smith and scavo repairing capabilities. Will we overcome the odds? Let's find out.
Let's get ready to rumble
Round 1, Both team fully intact. Manage to bring armour of Shieldbearer down to 2 and my Uraeus armour is totally gone taking all the impact from opponent sneakers.
Round 2, My Uraeus taken out by opponent sneaker while we continue to bring down Shieldbearer.
Round 3, Hooray, Shieldbearer is down after loads of magic bombardment. Ooze also gets taken out by the pesky sneakers.
Round 4, With Shiedbearer out of the way, time to smash things up as we took out ArmourSmith as well this round.
Round 5, Scavo taken out, Goblin Psychic also fall victim to the scary sneakers.
Round 6-10, It was a volley of melee vs magic coming to and fro, with my lineup outlasting and coming victorious. Great win!
After Thoughts
This was totally unexpected. A full void armour squad given by Rathe by right would have effectively shut down a magic squad.
The ruleset which gave 2 more armour and me fielding Queen Mycelia actually saved us the match to allow us to take more punishment while retaliating the attacks from the opponent. Shieldbearer was overbearing with 2 tireless repairman doing their work to keep it alive.
On a normal day context if not for the extra 2 armour from the ruleset, it would have been a way in the park for my opponent with such a lineup.
My opponent put up a real good strategy of a strong frontline sustained by Shieldbearer and 3 sneakers to take out my backline. Very well balanced and thought of. Kudos to you and allowing me to learn about Rathe.
Looking at this strategy, it is definitely something I would also deploy after learning about it. Also Rathe really makes lineup get stronger with the additional armour and makes it tough for opponent's magic lineup with the void armour.
Seeing this, I do hope to try out Rathe soon and pray it appears when I open any Chaos Legion packs. GrandMaster Rathe is really good addition to anyone whom likes to play Life Splinter.
Wrap Up
I hope you guys enjoyed reading my sharing on GrandMaster Rathe. I would really appreciate it if you liked and/or commented to let me know what are you thoughts.
I am currently part of PIZZA, an active gaming and creative arts crypto community on the HIVE blockchain and part of PIZZA guild. Popular cryto games such as SPLINTERLANDS, RISING STAR and HASHKINGS are actively discussed in this community.
Many events are being organized from time to time. Join the PIZZA DISCORD. This is a place filled with 💰🍕🎁GIVEAWAYS & AIRDROPS💰🍕🎁 and most definitely consisting of a friendly community to be in.
Till my next battle sharing, take care, stay safe and happy battling!
If you are keen on playing Splinterlands, feel free to join me via this link: https://splinterlands.com?ref=vaynard86

---
---