Share Your Battle: Soul Strangler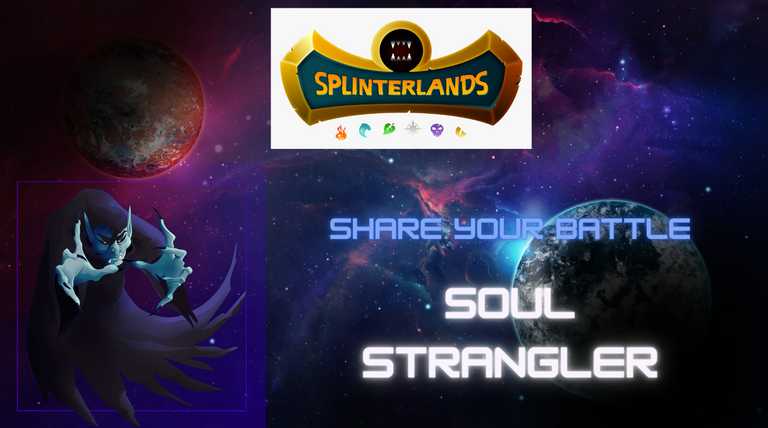 Prelude
Hello everybody, it's time again for Share Your Battle. This week will be sharing on Soul Strangler, a card that I tend to use whenever I get focus on Death Splinter and also a favourite for little league too!
Thoughts on Soul Strangler
Didn't had anything close coming to mind with regards to Soul Strangler. The name actually sound like a grim reaper but the picture of the card looks more like a vampire. Hence no special picture for this week.
Without further a do, let's get started with this week's sharing.
Let's look at the Level 1 base stats for Soul Stranger:
| Mana | Attack | Health | Speed | Armour | Ability |
| --- | --- | --- | --- | --- | --- |
| 3 | 2 (Melee) | 2 | 2 | NA | NA |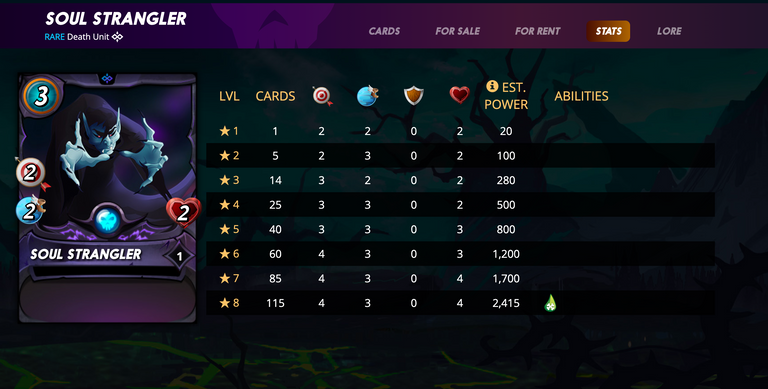 Bronze League - +1 Speed
Silver League - +1 Attack
Gold League - +1 Attack, +1 Health
Beyond Gold - Poison
What does Soul Strangler looking on growth?
Faster, stronger and heavier damage. Definitely a card worthy to gather and grow. While it doesn't give many other abilities, the low mana, high damage/speed is definitely a good consideration.
Alrightey, let's see what Soul Strangler can do and how it fit into my death splinter lineup.
The Battle
Link: https://splinterlands.com?p=battle&id=sl_bf74cf2731a7962017359d4419c29ec3&ref=vaynard86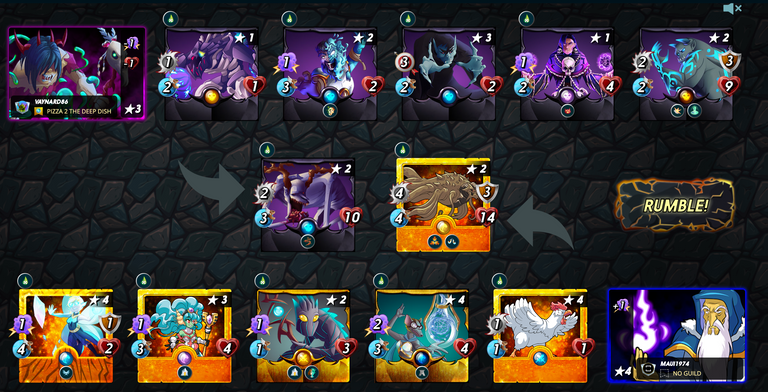 Rules
Noxious Fumes
Mana Limit: 28
Lineup
| Splinter | Mana Cost | Position | Reason |
| --- | --- | --- | --- |
| Thaddius Brood | 4 | Summoner | Trusted Death Summoner |
| Cursed Windeku | 6 | 1st | Front liner to take damage and punish opponent lineup with thorns |
| Corpse Fiend | 0 | 2nd | Padding for backline |
| Life Sapper | 3 | 3rd | Hope it can strike first and gain 1 health to sustain poison |
| Soul Strangler | 3 | 4th | Low mana high damage |
| Revealer | 4 | 5th | If stun hit, it disables opponent lineup |
| Harklaw | 8 | 6th | Immunity last monster to outlast everyone |
| Total Mana: | 28 | | |
Opponent Lineup
Summoner - Alric
Position 1 - The Kraken
Position 2 - Furious Chicken
Position 3 - Venari Wavesmith
Position 4 - Spirit Hoarder
Position 5 - Mermaid Healer
Position 6 - Ice Pixie
Prediction before pressing rumble
My goodness, what in the world am I facing. Level.4 Alric with a bombardment of magic lineup and in gold. I can only just pray, the lineup just look so intimidating.
Let's get ready to rumble
Round 1, My Windeku down to 1 health within 1 turn. Opponent lineup effectively untouched. But a combined effort from my backline especially Soul Strangler, shaved off the armour while the magic monsters bring down the health of The Kraken.
Round 2, This effectively a poison round, where we see all the low health monsters crash out. I am only left with Harklaw against The Kraken, Wavesmith and Mermaid.
Round 3, Another round of sweep. Everything falling prey to the noxious fumes. Harklaw stands strong against The Kraken and Venari Wavesmith.
Round 4, Poison wipeout Wavesmith. Harklaw takes out The Kraken and secure the victory.
After Thoughts
The sheer lineup that was upon me looked super scary. But thankfully, Noxious Fumes took most of theirs and mine out.
Small mana cards on death splinter are always a very scary bunch to deal with. For this battle, we can see that Life Sapper, Revealer and Soul Strangler doing damage early on to bring down The Kraken.
While I won this because of the rule set, but on a normal setting situation where I don't fake such intimidating opponents, Such artillery lineup is what I like to set up so that tanks can be brought down fast.
When we move to Little League rule set, Soul Strangler is another beast with 2 range damage at level 1 and even higher as it grows.
Will I continue using same strategy for Soul Strangler that I use here. Yes I will, just that Harklaw might be replaced by other monster if it wasn't Noxious Fumes. Another thing I like Soul Strangler is anti-thorns. Range is good when facing a front tank that has thorns.
Soul Strangler has served me well in many many matches and I hope it can do for you too. If you haven't gotten yourself a copy, do get one. It is not expensive and definitely a worthy investment.
Wrap Up
I hope you guys enjoyed reading my sharing on Soul Strangler. I would really appreciate it if you liked and/or commented to let me know what are you thoughts.
I am currently part of PIZZA, an active gaming and creative arts crypto community on the HIVE blockchain and part of PIZZA guild. Popular cryto games such as SPLINTERLANDS, RISING STAR and HASHKINGS are actively discussed in this community.
Many events are being organized from time to time. Join the PIZZA DISCORD. This is a place filled with 💰🍕🎁GIVEAWAYS & AIRDROPS💰🍕🎁 and most definitely consisting of a friendly community to be in.
Till my next battle sharing, take care, stay safe and happy battling!
If you are keen on playing Splinterlands, feel free to join me via this link: https://splinterlands.com?ref=vaynard86

---
---