BATTLE MAGE SECRETS Weekly Challenge! | RULESET: EQUAL OPPORTUNITY [EN / PT-BR]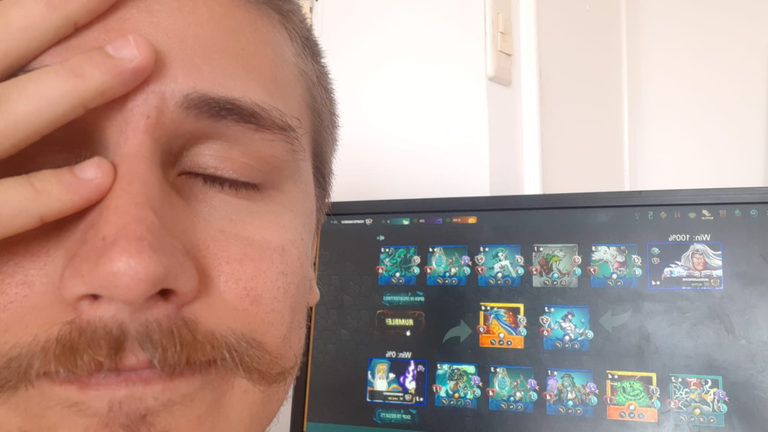 The weekly challenge has changed, and now the battles will no longer be with the card or the type of card chosen, but by the battle rule. You can check out the new rules by clicking here.
EQUAL OPPORTUNITY
All Monsters have the Opportunity ability.
BATTLE TIP:
- Speed and HP is the trick here: higher speed will allow you to hit the enemy's low HP monster first, paving the way for your slower monsters to deal damage to enemy monsters with higher HP.
- Keep monsters with less HP in front.
- Monsters that have two attack types should always be preferred.
Equal Opportunity is a battle rule that favors me at certain times, as I focus my battles on magic and blast attacks. Thus, always hitting monsters between position 2 and 5, causing adjacent ones to suffer damage as well.
When there is the possibility of using the Water Legendary, Ruler of the Seas, it favors me even more, because it has Blast and Swiftness that gives +1 speed to all allies, which is an important point in the tip that says to we focus on high speed letter.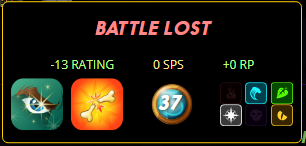 SUMMONERS

With all cards having the Opportunity ability, I didn't hesitate to choose the Water Summoner for this battle, since I have 2 cards with Blast, which could hit 3 cards per turn, thus eliminating the opponent faster. Allied with cards with high life power, it was the way I thought I could beat the opponent.
With that in mind, I set up my strategy with the following cards:
POSITION 1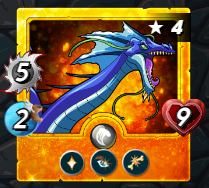 In position 1 a traditional tank, with a high attack power (5) and the healing ability, to try to stay alive 2 or 3 rounds, while the other cards attack the enemy with a massive direct magic damage on life.
POSITION 2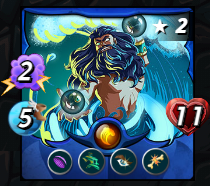 In position 2 I put the Djinn Oshannus, with high hitpoints, great speed and high damage with the Summoner bonus. Entering the battlefield to both attack and defend, a complete warrior.
POSITION 3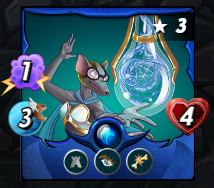 In position 3 I put the Venari that provides +2 armor for all monsters, thinking of a strategy for the enemy to attack with physical damage and I spend the entire first round without suffering damage, while I cause direct damage to his life with the attack Magic.
POSITION 4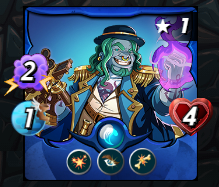 Riverboat Captain, even with low life and being one of the first targets, will play his role in a first round with the blast, even if he dies in the second round without attacking because he has 1 speed, he can already fulfill his role.
POSITION 5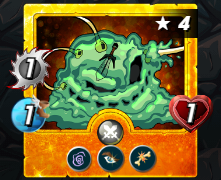 In position 5, Creeping Ooze just to survive the first round slowing enemies down so I can attack first, but in a bit risky position, since if an enemy with blast attacks, my 2 main assassins will take damage. It's a risk I chose to take.
POSITION 6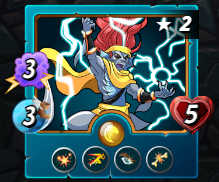 In the last position, as long as the enemy will use the battle rule and not monsters with Sneak, we have the Ruler of the Seas, which will be the card with the highest magic damage, combined with the Blast and Shiftness ability, which even served to leave the Djinn Oshannus with 6 speed and be the first to attack.
ENEMY STRATEGY

The enemy did his homework and annulled me in the best way. Using Noa The Just in position 1, nullified my support by eliminating every shield I had, and putting Venari Marksrat alongside a level 5 Deeplurker, with 4 attack and Coastal Sentry with 4 attack and Double Strike. That was the path to my undoing, fast and massive attacks that together add up to 15 damage. No letter from me could match this destruction.

WHAT COULD BE DIFFERENT?
Using the tool SplinterTools I saw that my chance of winning was 0%. So I made some changes to see if I could increase my chance.
I had to make a similar strategy with my opponent, using Venari Marksrat and Coastal Sentry, but in place of Deeplurker I put Ruler of the Seas to gain the magic bonus, after all, that way I would have the advantage of Blast that he doesn't would have, and with that I managed to increase my chance of winning to 61%.
Chance of victory for the team that entered the field: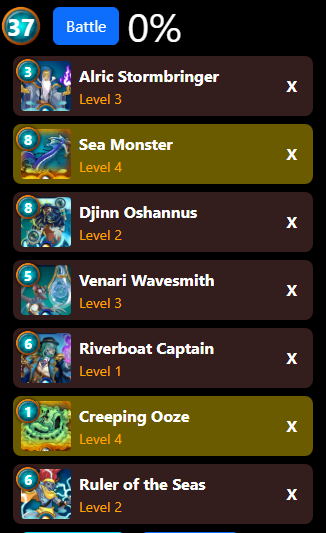 Team performing better: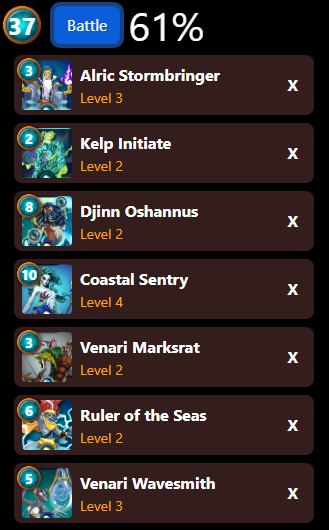 O desafio semanal mudou, e agora as batalhas não serão mais com a carta ou o tipo de carta escolhido e sim pela regra de batalha. Voce pode conferir as regras novas clicando aqui.
Esta semana a regra é:
EQUAL OPPORTUNITY
Todos os Monstros têm a habilidade Oportunidade.
DICA DE BATALHA:
- Velocidade e HP é o truque aqui: velocidade mais alta permitirá que você atinja primeiro o monstro de baixo HP do inimigo, abrindo caminho para que seus monstros mais lentos causem dano a monstros inimigos com HP mais alto.
- Mantenha os monstros com menos HP na frente.
- Monstros que possuem dois tipos de ataque sempre devem ser preferidos.
Equal Opportunity é uma regra de batalha que me privilegia em certos momentos, uma vez que foco minhas batalhas em ataque mágico e com blast. Assim sempre acertando monstro entre a posição 2 e 5, fazendo com que os adjacentes sofram dano também.
Quando há a possibilidade de eu usar o Lendário de Água, Ruler of the Seas, me favorece ainda mais, pois ele possui Blast e Swiftness que dá +1 de velocidade para todos os aliados, o que é um ponto importante na dica que diz para focarmos em carta com alta velocidade.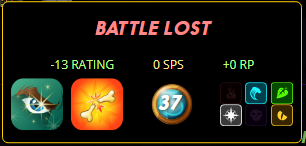 SUMMONERS

Com todas as cartas tem a habilidade Opportunity, não hesitei em escolher o Summoner de Água para essa batalha, uma vez que possuo 2 cartas com Blast, o que poderia atingir 3 cartas por turno, assim eliminando o adversário mais rapidamente. Aliado com cartas com alto poder de vida, foi a forma que eu pensei que poderia vencer o adversário.
Pensando nisso montei minha estrategia com as seguintes cartas:
POSIÇÃO 1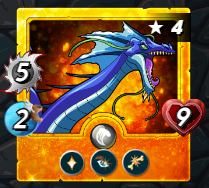 Na posição 1 um tank tradicional, com um alto poder de ataque (5) e a habilidade de cura, para tentar ficar vivo 2 ou 3 rounds, enquanto as outras cartas atacam o inimigo com um dano massivo mágico direto na vida.
POSIÇÃO 2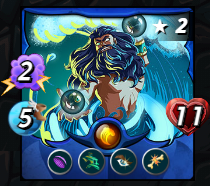 Na posição 2 coloquei o Djinn Oshannus, com alto pontos de vida, uma grande velocidade e alto dano com o bônus do Summoner. Entrando no campo de batalha tanto para atacar quanto para defender, um guerreiro completo.
POSIÇÃO 3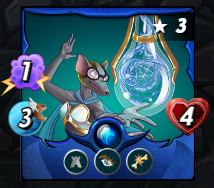 Na posição 3 coloquei o Venari que fornece +2 de armadura para todos os monstro, pensando em uma estratégia de o inimigo atacar com dano físico e eu passar o primeiro round inteiro sem sofrer dano, enquanto eu causo dano nele direto na vida com o ataque mágico.
POSIÇÃO 4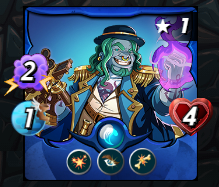 Riverboat Captain mesmo com pouca vida e sendo um dos primeiro alvos, vai execer seu papel em um primeiro round com o blast mesmo que morrendo no segundo round sem atacar por ter 1 de velocidade, já consegue cumprir seu papel.
POSIÇÃO 5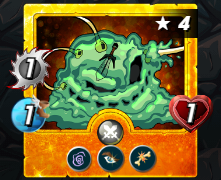 Na posição 5, o Creeping Ooze apenas para sobreviver ao primeiro round diminuindo a velocidade dos inimigos para que eu possa atacar primeiro, porém em uma posição um pouco arriscada, visto que se um inimigo com blast atacar, meus 2 principais assassinos irão sofrer dano. É um risco que eu escolhi arriscar.
POSIÇÃO 6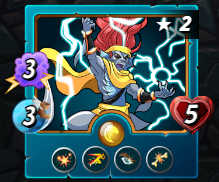 Na última posição contanto que o inimigo irá usar a regra de batalha e não mosntros com Sneak, temos o Ruler of the Seas, que será a carta com mais alto dano mágico, aliado a habilidade Blast e Shiftness, que inclusive serviu para deixar o Djinn Oshannus com 6 de velocidade e ser o primeiro a atacar.
ESTRATÉGIA INIMIGA

O inimigo fez o dever de casa e me anulou da melhor forma. Usando o Noa The Just na posição 1, anulou meu suporte eliminando todo escudo que eu viesse a ter, e colocando o Venari Marksrat do lado de um Deeplurker nível 5, com 4 de ataque e do Coastal Sentry com 4 de ataque e Double Strike. Esse foi o caminho para minha ruína, ataque rápidos e massivos que juntos somam 15 de dano. Nenhuma carta minha seria páreo para essa destruição.

O QUE PODERIA SER DIFERENTE?
Usando a ferramenta SplinterTools vi que minha chance de vitória era 0%. Então fiz algumas alterações, para ver se conseguia aumentar minha chance.
Tive que fazer uma estratégia parecida com o meu adversário, usando o Venari Marksrat e o Coastal Sentry, mas no lugar do Deeplurker eu coloquei o Ruler of the Seas para ganhar o bônus mágico, afinal, assim eu teria a vantagem de Blast que ele não teria, e com isso consegui aumentar para 61% minha chance de vitória.
Chance de vitória do time que entrou em campo: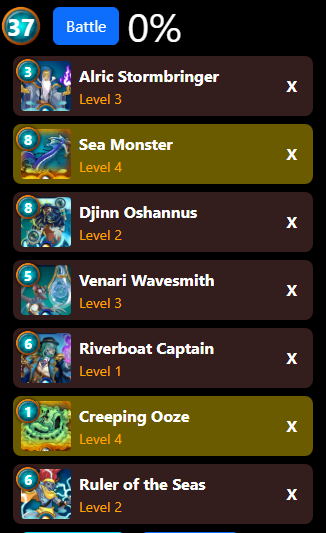 Time com um desempenho melhor: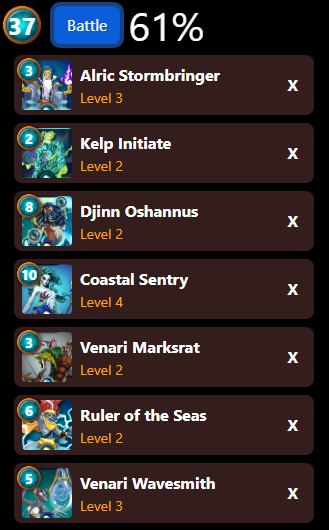 ---
---