Splinterlands Social Media Challenge! - UNDEAD REXX [EN / PT-BR]
THE CARD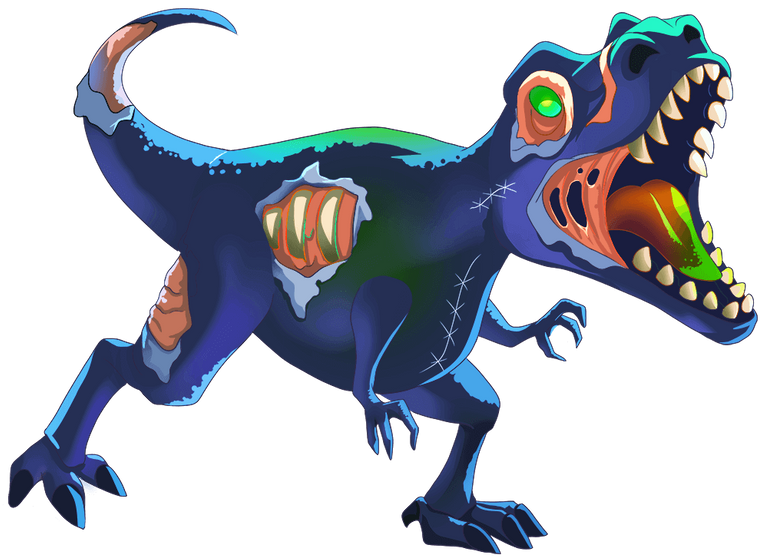 Lore:
Every once in an unholy while, a brave Dark Eternal missionary is able to raise a fallen Rexxie from the dead and escape the Grasslands without being killed by Minotaurs. In Mortis, the Undead Rexxies are put to use, pulling wagons that carry loads of Dark Matter up and down the Eternal Highway. In battle, the Dark Eternals use them mainly for fear. And crushing.
Undead Rexx is a Common card from the Untamed-Reward collection of the Death deck that has the ability Trample starting at level 5 and Stun starting at level 9, at the cost of 9 mana. It is card number 229 created with a total of 400,000 printed units, currently having 83,527 normal and 3,513 gold in circulation.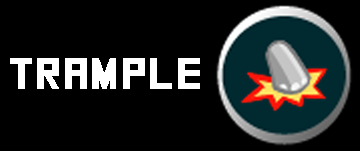 When a Monster with Trample hits and kills its target, it will perform another attack on the next Monster on the enemy Team.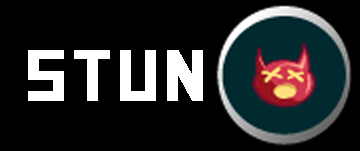 When a Monster with Stun hits a target, it has a chance to stun the target causing it to skip its next turn.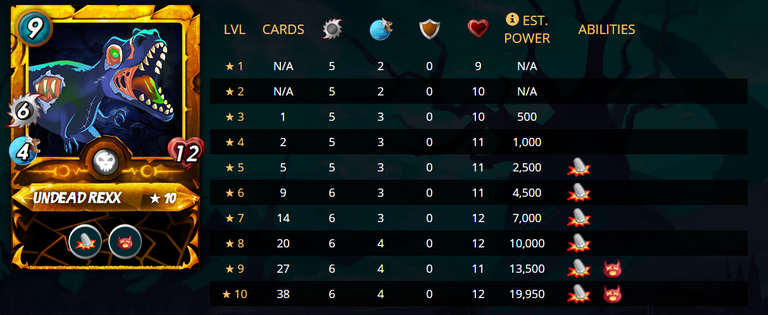 Undead Rexx even being an 'old' card still has a great impact on battles, mainly because since its level 1 it has great physical damage (5) with a large number of health (9). So if there is enough mana available to choose the cards, and it is in a rule for example melee monsters can attack from any position or when all cards have the Sneak ability, it becomes an excellent card to deal damage. high and resist some attack.
When these battle rules are available and there is still the possibility that only the Death deck can be used, it makes it still a crucial card to define the victory of a battle. With its ability Trample and Stun, it can define battles in a few rounds with a lot of damage.

THE PRICE
Very cheap benefit cost close to what this card can offer. For just under 5 cents on the dollar, you can get almost 10 units of the regular version of this card with 1 Hive at the current rate. An excellent deal for those who want to try to maximize this card, with little investment they will succeed.
Already its golden version with just over 5 Hive it is possible to acquire a unit, which already has 1 more speed than the regular version with also a unit, which can make the difference in a balanced round.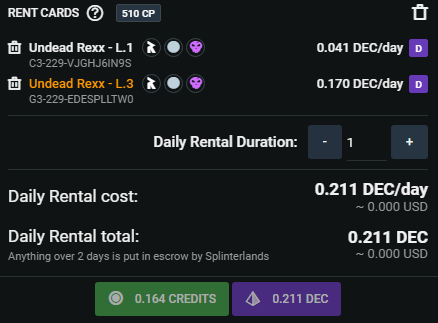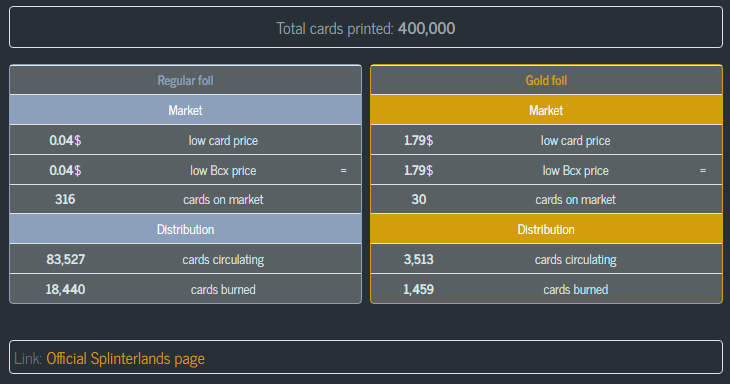 ARTIFICIAL INTELLIGENCE
Artificial intelligence received the command to draw 'an undead rex' and masterfully brought the proposal, very similar to the original but less colorful and more cadaverous. So I decided to increase the art to see what it would give me, so I asked to add some things and the order was 'an undead t-rex wearing a hat and smoking a cigarette', check out the result: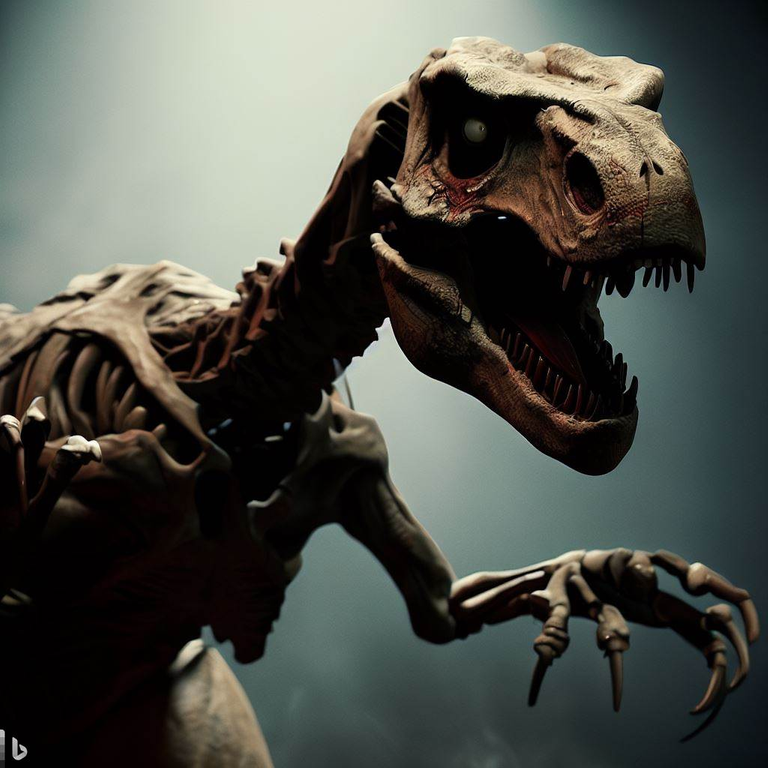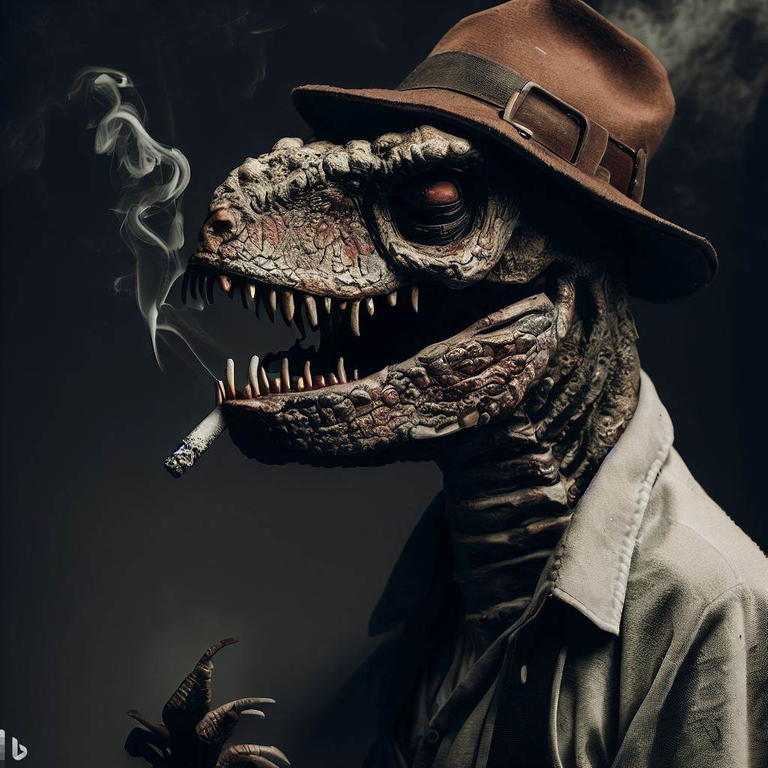 A CARTA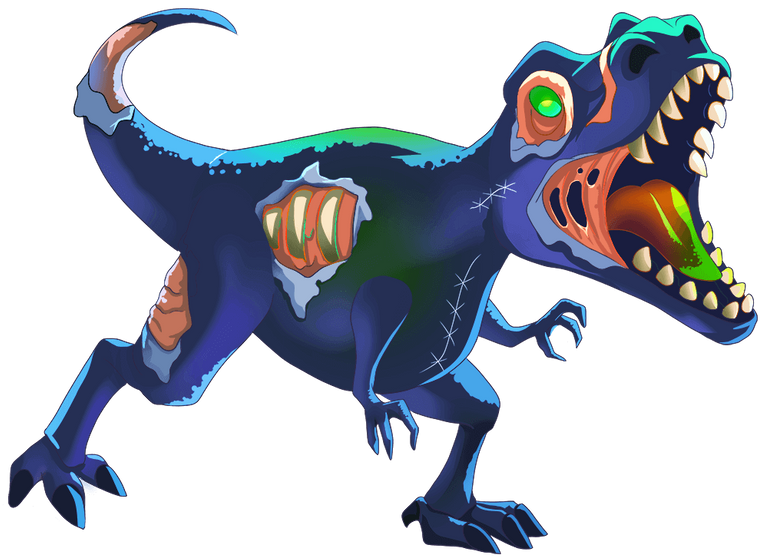 Lore:
De vez em quando, um bravo missionário do Dark Eternal é capaz de ressuscitar um Rexxie caído dos mortos e escapar das pastagens sem ser morto por Minotauros. Em Mortis, os Undead Rexxies são usados, puxando carroças que carregam cargas de Dark Matter para cima e para baixo na Eternal Highway. Na batalha, os Dark Eternals os usam principalmente por medo. E esmagador.
Undead Rexx é uma carta Comum da coleção Untamed-Reward do baralho Morte que possui a habilidade Trample a partir do nível 5 e Stun a partir do nível 9, ao custo de 9 de mana. É a carta número 229 criada com um total de 400.000 unidades impressas, tendo atualmente 83.527 normais e 3.513 douradas em circulação.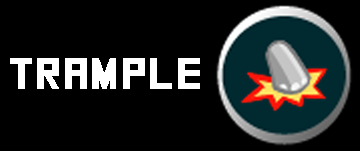 Quando um Monstro com Atropelar atingir e matar seu alvo, ele realizará outro ataque no próximo Monstro da Equipe inimiga.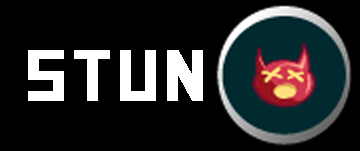 Quando um Monstro com Atordoamento atinge um alvo, ele tem a chance de atordoar o alvo fazendo com que ele pule seu próximo turno.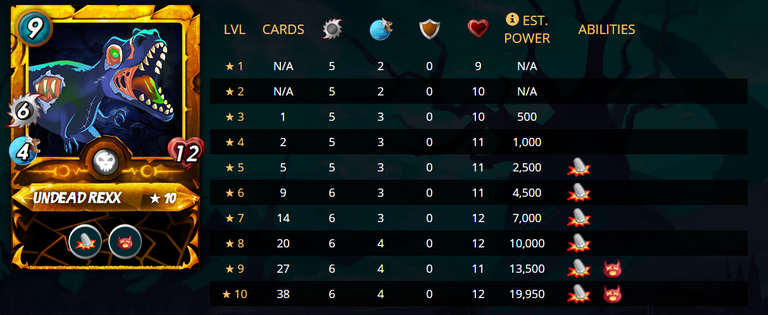 Undead Rexx mesmo sendo uma carta 'antiga' tem um grande impacto nas batalhas ainda, muito por conta de desde o seu nível 1 ter um grande dano físico (5) com um grande número de vida (9). Então se há bastante mana disponível para escolher as cartas, e estiver em uma regra por exemplo de monstro de ataque corpo a corpo poderem atacar de qualquer posição ou quando todas as cartas recebem a habilidade Sneak, ela se torna uma excelente carta para causar um dano alto e resistir a alguns ataque.
Quando essas regras de batalha estiverem disponíveis e ainda houver a possibilidade de apenas o baralho de Morte poder ser usado, transforma ela ainda em uma carta crucial para definir a vitória de uma batalha. Com sua habilidade Trample e Stun podem definir batalhas em poucos rounds com muito dano.

O PREÇO
Custo benefício baratíssimo perto do que essa carta pode oferecer. Com pouco menos de 5 centavos de dólar, você consegue quase 10 unidades da versão regular dessa carta com 1 Hive na cotação atual. Um excelente negócio para quem quer tentar maximizar essa carta, com pouco investimento conseguirá.
Já sua versão dourada com pouco mais de 5 Hive é possível adquirir uma unidade, que já possui 1 de velocidade a mais que a versão regular com também uma unidade, o que pode fazer a diferença em um round equilibrado.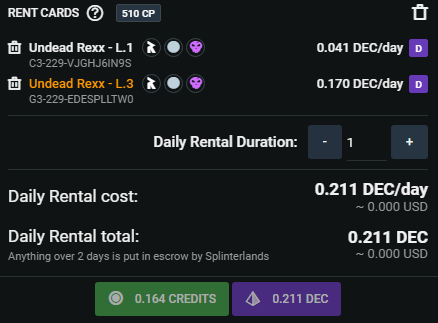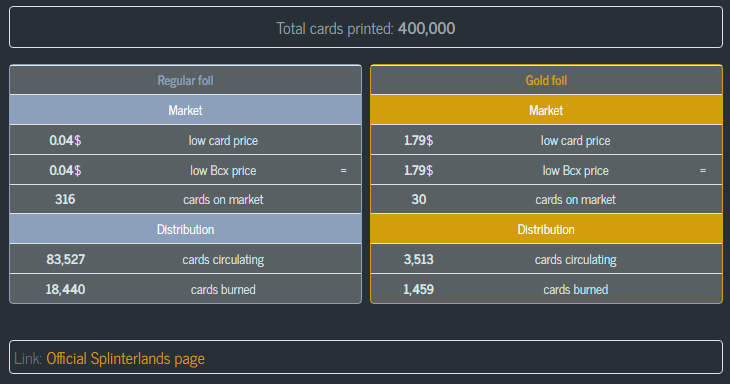 A INTELIGENCIA ARTIFICIAL
A inteligência artificial recebeu o comando para desenhar 'an undead rex' e trouxe com maestria a proposta, bem parecida com a original porém menos colorida e mais cadavérica. Então decidi incrementar a arte para ver o que ela me entregaria, então pedi para adicionar algumas coisas e a ordem ficou 'an undead t-rex wearing a hat and smoking a cigarette', confira o resultado: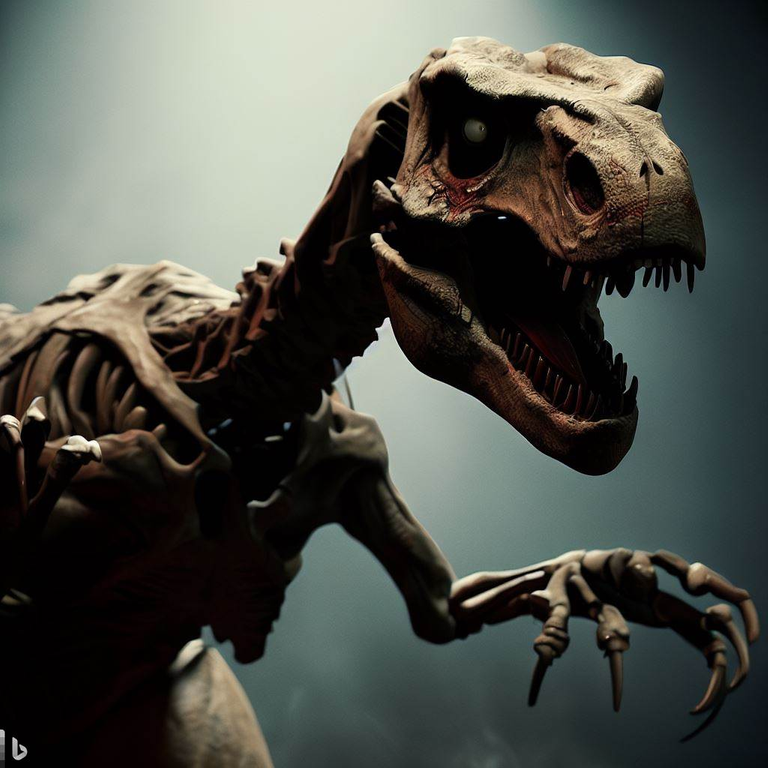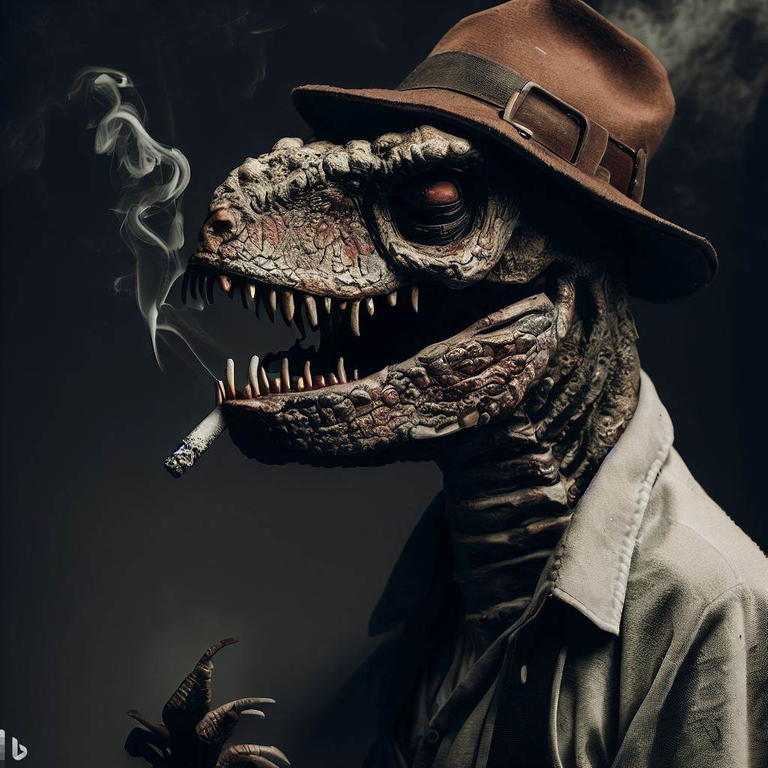 ---
---