TUTORIAL: 🐻GORRO CON OREJITAS A CROCHET / CROCHET HAT WITH EARS/ ESP-ENG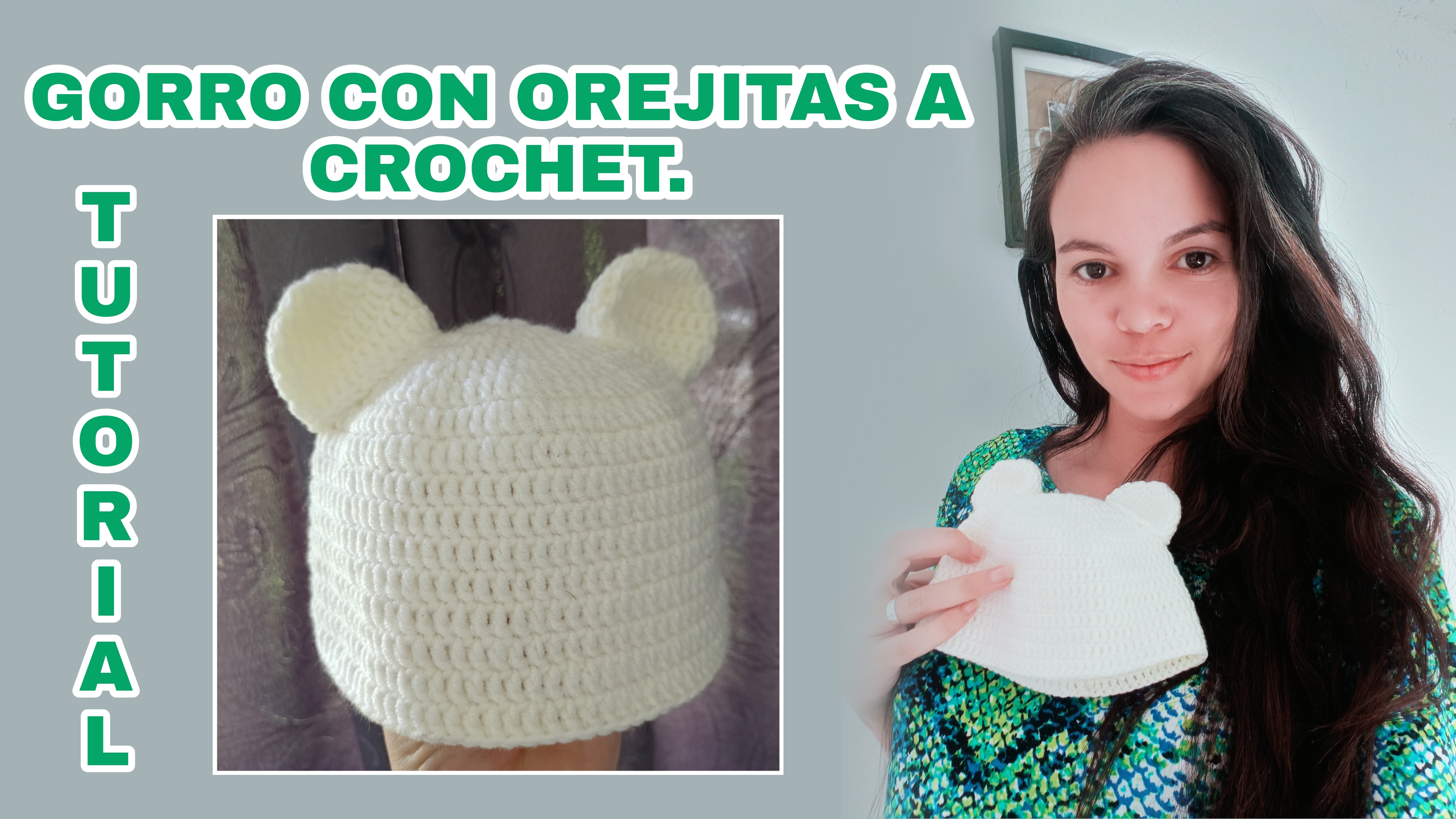 hola amigos creativos de
#hivediy
, estoy feliz de saludarles nuevamente y en esta ocasión compartiéndoles una de mis nuevas creaciones para mi bebé que viene en camino, en esta ocasión hice un gorrito pero le puse orejitas, sí aunque no lo crean es muy fácil.
hello creative friends of #hivediy, I am happy to greet you again and this time sharing one of my new creations for my baby who is on the way, this time I made a beanie little hat but I put little ears on it, yes, believe it or not, it is very easy.
Les cuento que fue mi primer intento, y que debo admitir que hay que tener mucha paciencia para que cuando te equivoques simplemente corrijas y continues, y no te rindas.
I tell you that it was my first attempt, and that I must admit that you have to be very patient so that when you make a mistake, you simply correct and continue, and don't give up.
La verdad pensé que sería más complicado pero acá les voy a mostrar un pequeño paso a paso por si se animan a intentarlo, es ideal para tu bebé o para darlo cómo regalo, Sin más preámbulos acá les dejo los pasos a seguir, En esta oportunidad usaremos los siguientes materiales:
The truth is that I thought it would be more complicated but here I am going to show you a small step by step in case you dare to try it, it is ideal for your baby or to give it as a gift. Without further ado here I leave the steps to follow, this time we will use the following materials:
MATERIALES / MATERIALS
lana de algodón blanca/ cotton wool White
tijera/ Scissors
aguja para crochet de 2. / 2 crochet needle.
cinta métrica/ Measuring tape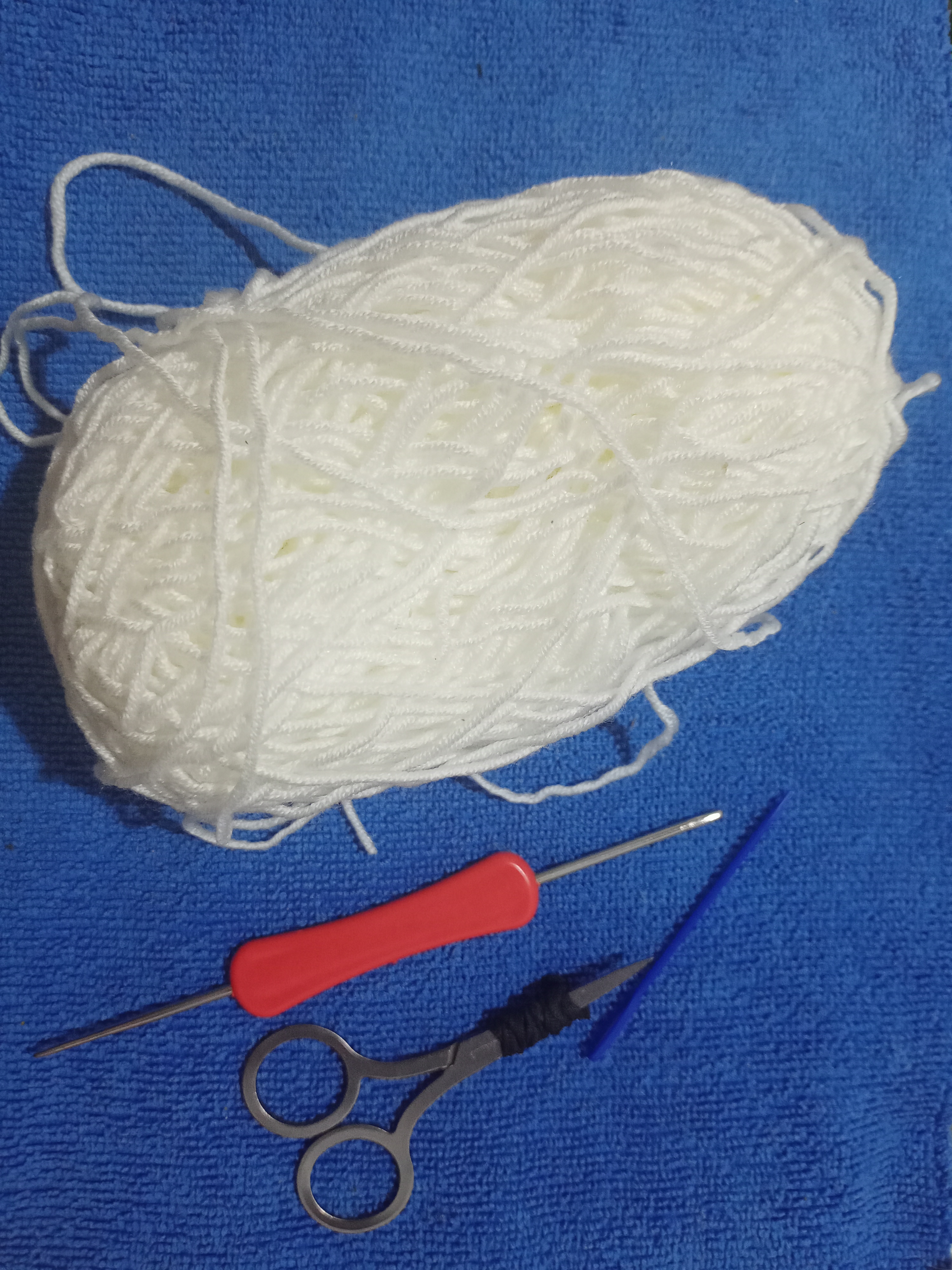 PASO A PASO
STEP BY STEP
1. Lo que debemos hacer es seleccionar el color del hilo con el cual realizaremos el gorro, en mi caso usaré blanco, tomamos la aguja de tejer y realizamos un anillo mágico, y realizaremos dos cadenetas.
1 . What we must do is select the color of the thread with which we will make the hat, in my case I will use white, we take the knitting needle and make a magic ring, and we will make two chains.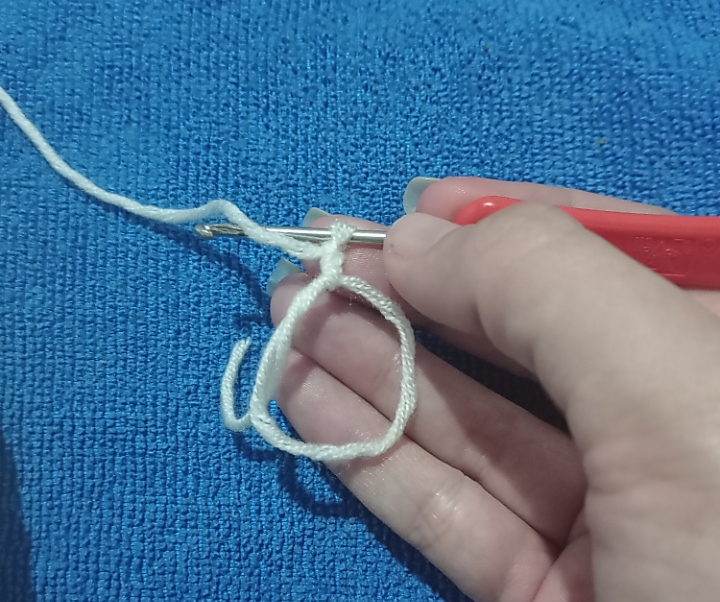 2. Luego realicé 11 puntos altos por el interior del círculo mágico, debemos halar la punta corta para cerrar este círculo, luego de que este esté bien cerrado vamos a terminar de sellar con un punto deslizado, esta será la vuelta número 1.
2 . Then I made 11 double crochets inside the magic circle, we must pull the short tip to close this circle, after it is well closed we are going to finish sealing with a stitch slipped, this will be lap number 1.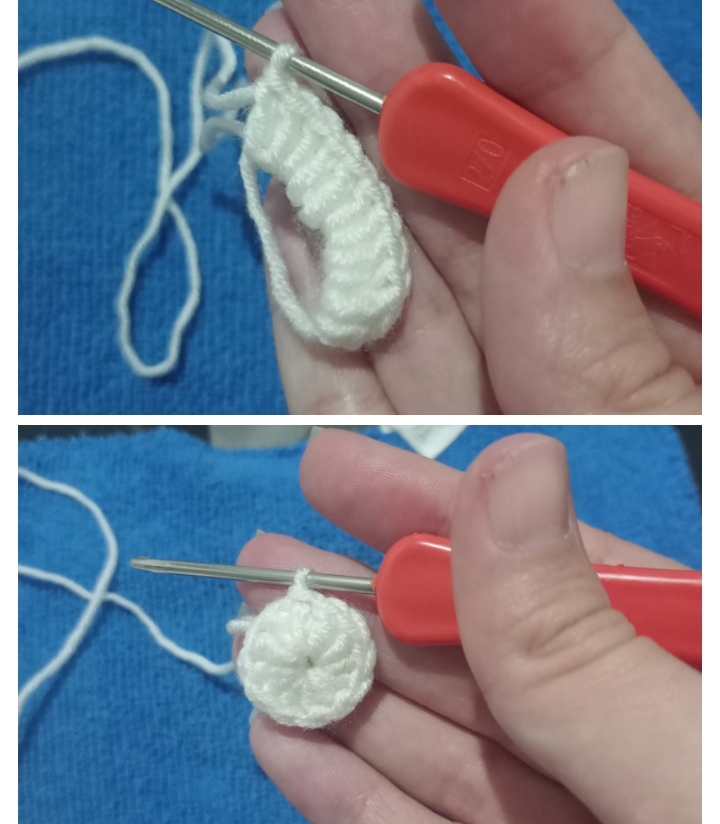 3. Para la vuelta número 2 haré dos cadenetas y realizaré aumentos en puntos altos por todo el alrededor. Al llegar al final cerramos con un punto deslizado.
3 . For round number 2 I will chain two and increase in high points all around. When we reach the end we close with a slip stitch.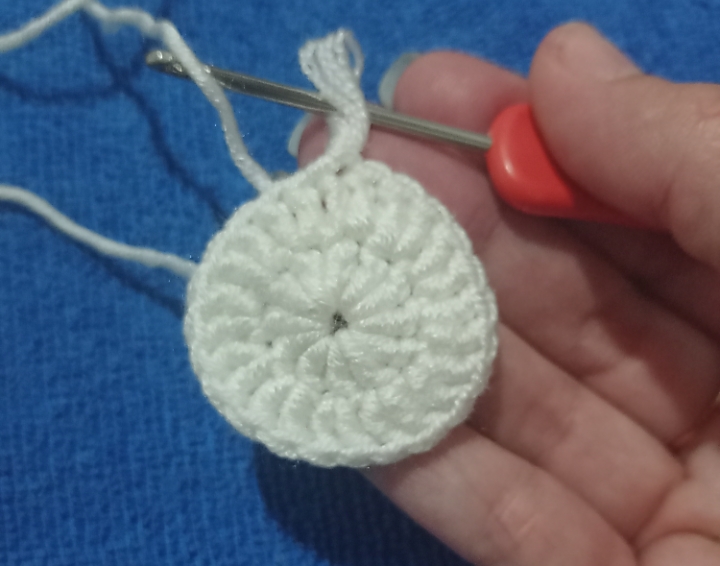 4. Para la vuelta número 3 haremos dos cadenas, seguidas de un aumento, luego un punto alto, seguimos con un aumento y así sucesivamente hasta cerrar con un punto deslizado.
4 . For round number 3 we will make two chains, followed by an increase, then a double crochet, we continue with an increase and so on until closing with a slip stitch.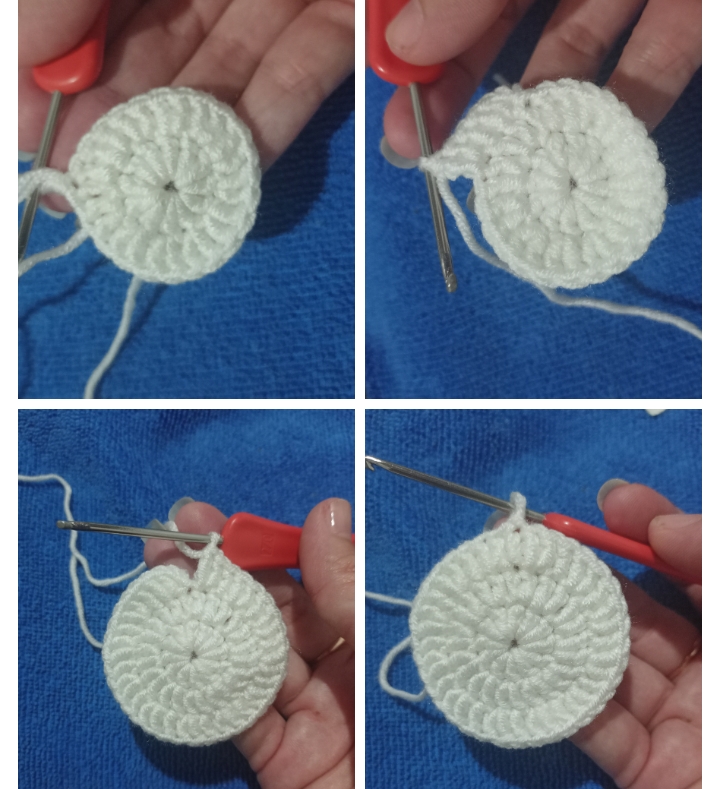 5. La vuelta 4 será muy parecida a la vuelta 3 a diferencia de qué haremos 2 altos en lugar de uno : dos cadenas- un aumento-2 puntos altos- 1 aumento...
5 . Round 4 will be very similar to round 3 except that we will do 2 double crochets instead of one: two chains- one increase-2 double crochets- 1 increase...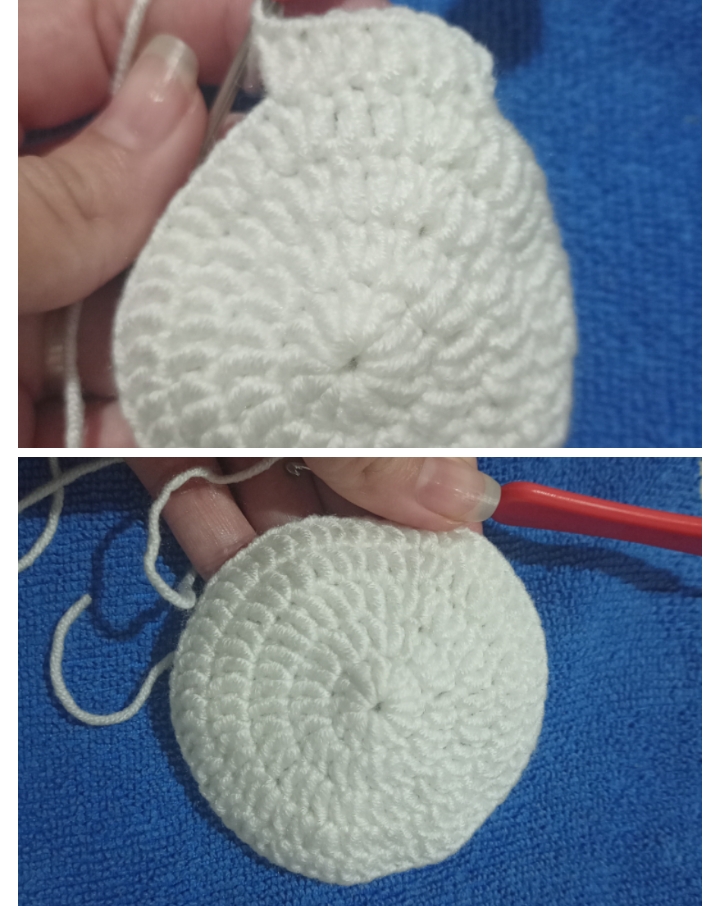 6. La vuelta 5 será igual pero haciendo tres puntos altos seguidos, continuaremos con la misma dinámica de las vueltas anteriores.
6 . Lap 5 will be the same but making three double crochets in a row, we will continue with the same dynamic as the previous laps.
7. De esta manera siguiendo la misma secuencia Solo que aumentando un punto más en cada vuelta realizaremos hasta llegar a la octava vuelta. Esta base que acabamos de realizar deberá medir unos 12 cm. Si deseas hacerlo para un niño mayor a 3 meses simplemente vas a aumentar las vueltas.
7 . In this way, following the same sequence, only by increasing one more stitch in each round, we will do it until we reach the eighth round. This base that we have just made should measure about 12 cm. If you want to do it for a child older than 3 months, you will simply increase the turns.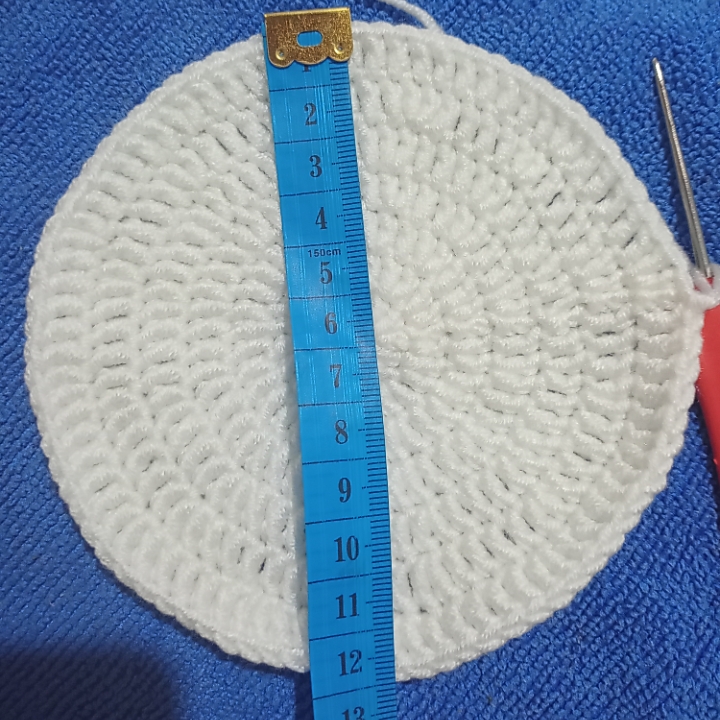 8. Ahora bien realizaremos 10 vueltas que estarán compuestas solo por puntos altos, es decir comenzamos con dos cadenas y de allí realizaremos puntos altos en todo el alrededor de nuestra base realizada.
8 . Now we will make 10 laps that will be made up only of double crochets, that is, we start with two chains and from there we will make double crochets all around our base.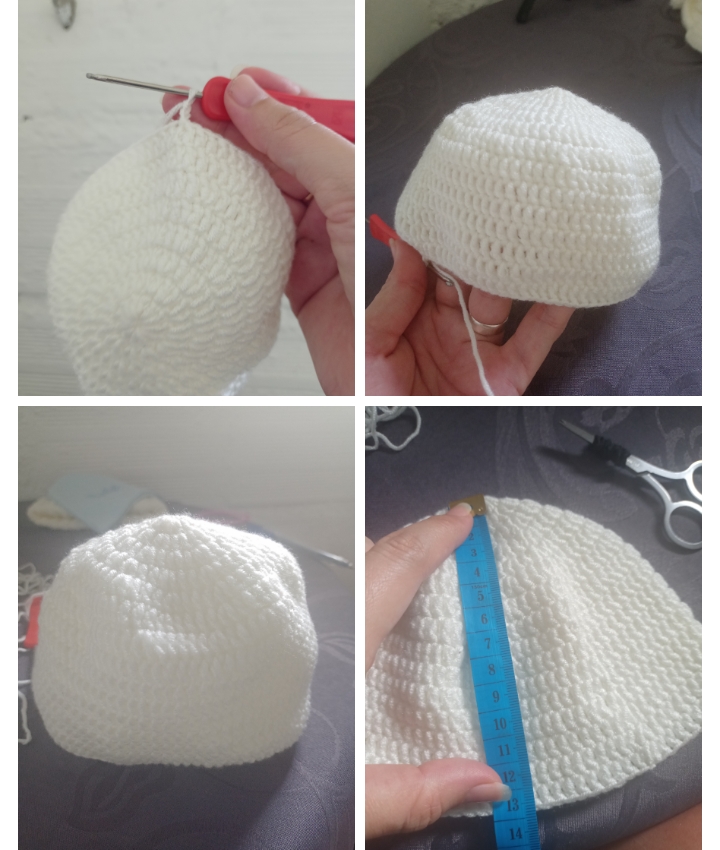 9. Para realizar las orejas comenzamos haciendo un nudo mágico, dos cadenas y 11 puntos altos, halamos el hilo corto unimos con un punto deslizado.
9 . To make the ears we begin by making a magic knot, two chains and 11 high points, we pull the short thread together with a slip stitch.
10. Continuamos haciendo dos cadenas y hacemos aumentos en cada punto, Cerrando con punto deslizado
10 . We continue making two chains and we make increases in each., Closing with slip stitch
11. Para la vuelta 3 hacemos dos cadenas, un aumento, siete puntos altos, un aumento así hasta llegar al último punto donde cerramos con punto deslizado.
11 . For round 3 we make two chains, an increase, seven double crochets, an increase like this until we reach the last stitch where we close with a slip stitch.
12. Para la vuelta 4 y 5 hacemos dos cadenas y puntos altos, así estarán listas nuestras orejas.
12 . For round 4 and 5 we make two chains and high points, so our ears will be ready.
13. Ahora simplemente hacemos un pequeño nudo y procedemos a pegar.
13 . Now we simply make a small knot and proceed to glue.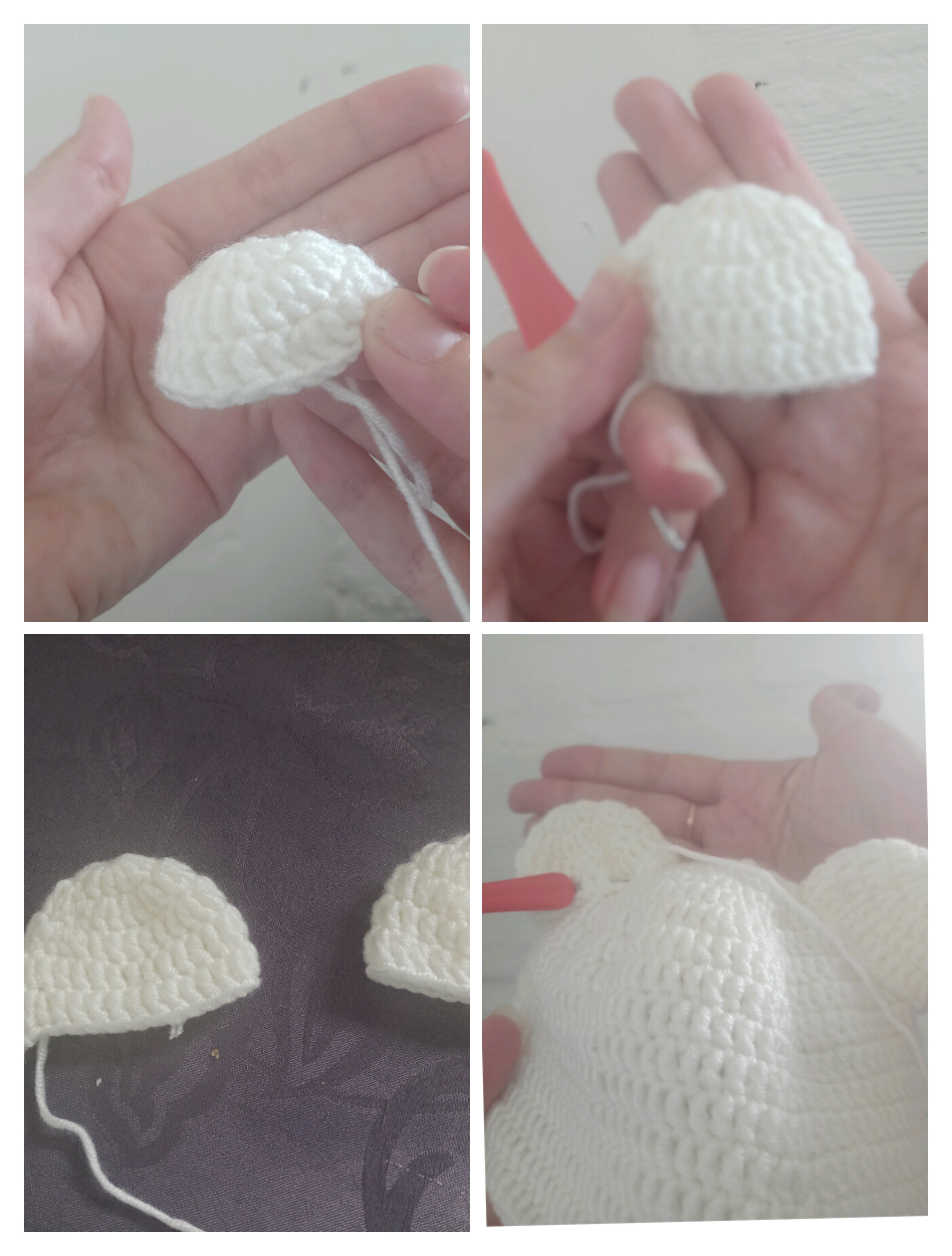 Listo, así el nuevo gorro estará listo, de verdad que me encantó, Y si quieren ver qué tan fácil es practiquen, inténtenlo, ya verán que les quedará hermoso.
Done, so the new hat will be ready, I really loved it, and if you want to see how easy it is to practice, try it, you'll see that it will look beautiful on you.
RESULTADO FINAL
FINAL SCORE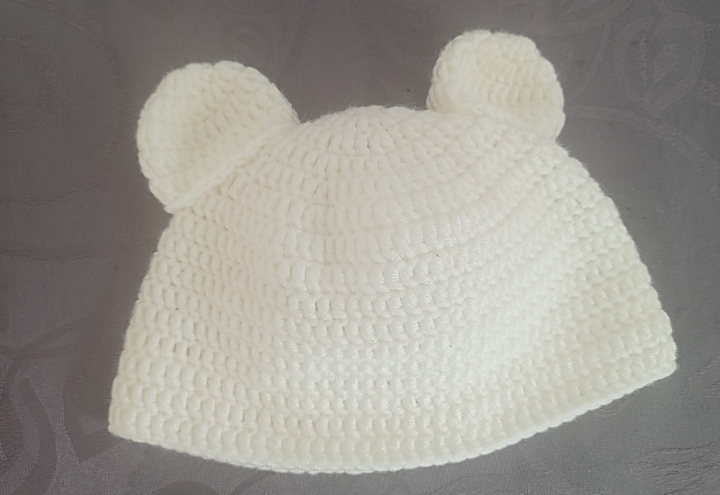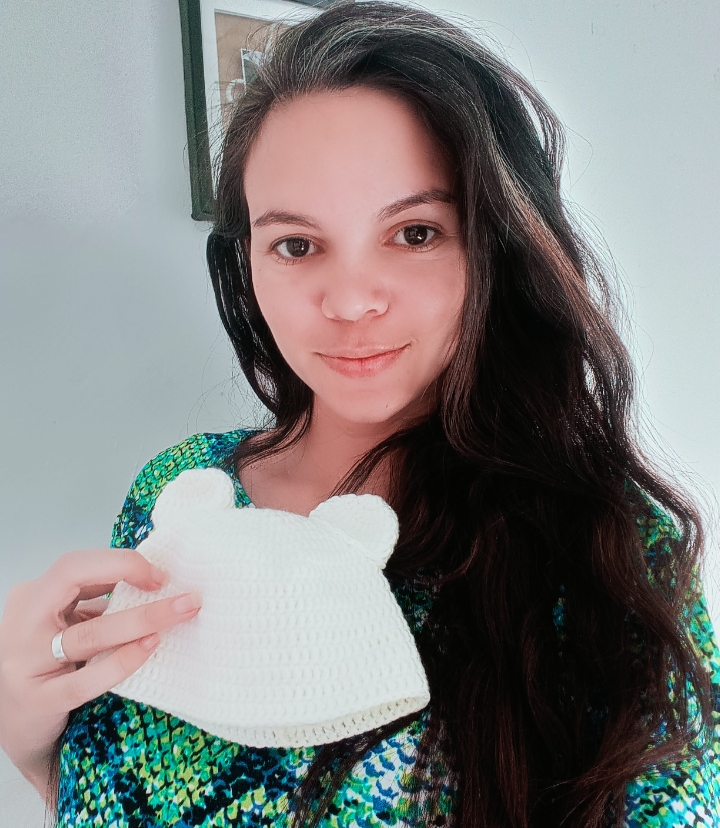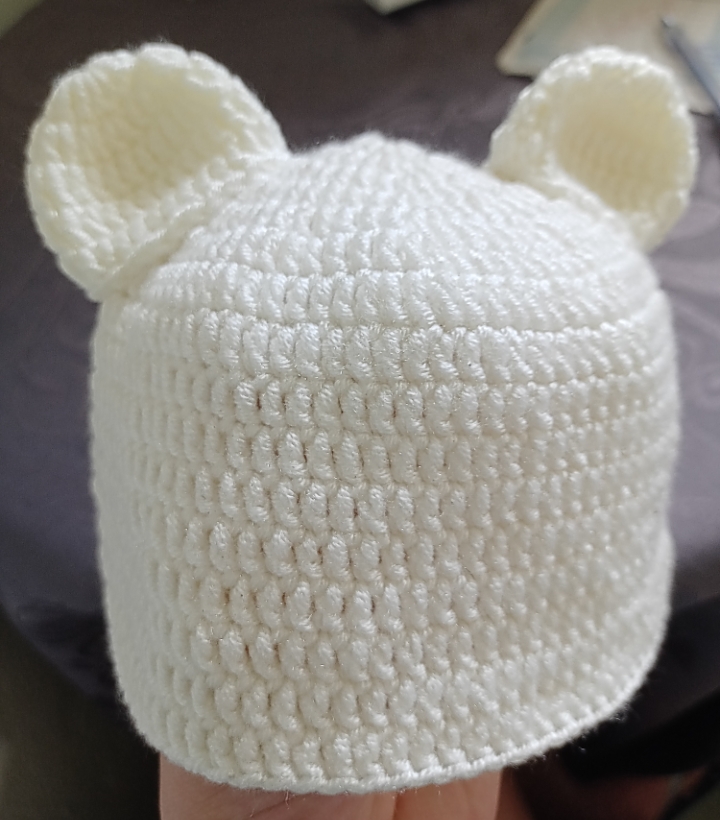 RECUERDA QUE PUEDES DARLE TU TOQUE PERSONAL!.
REMEMBER THAT YOU CAN GIVE IT YOUR PERSONAL TOUCH!
Feliz de compartir con ustedes amigos uno más de mis proyectos, espero haya sido de su agrado! Fue hecho con amor y dedicación😊 Creo que quedó muy bien para haber sido mi primer intento, muchas gracias por haber llegado hasta acá!
Happy to share with you friends, one more of my projects, I hope you liked it! It was made with love and dedication😊
I think it turned out very well for having been my first attempt, thank you very much for having come this far!
Fotografías propias tomadas con mi REALME 7i
Contenido 100% exclusivo
Own photos taken with my REALME 7i
100% exclusive content
---
---
---