[Week 130] 100 years old but in my 30 year old body, great

To live for 100 years, just writing it or thinking about it seems like a very long time, I would like to come and tell you how wonderful life is and the great meaning of it, but sometimes I am tempted by the desire to know what is after all this, if there is something much better than everything we see and everything we are or what we think we are.
It's not that I want to die or much less bring about my death but to think that I would live to 100 would be for me quite overwhelming, I don't like old age in me, I respect and admire the elderly but many times it terrifies me to be old, to not be able to carry my own body.
If I had to live to be 100 years old, and I had the option of keeping my 30 year old body or my 30 year old mind, without a doubt I would keep my body healthy and young, vigorous and energetic, without gray hair or wrinkles, I would fall more in love with myself every day when I look at myself in the mirror, time would pass and time would pass and my countenance would be static, although perhaps by pure whim I would wish for instants to know what it feels to have wrinkles and many gray hairs because many times it is enough not to have something to wish to be able to have it.
Time would continue to pass and always me in my 30 years old body, sure that my mind would be changing, I think it may be easier to keep a young mind and not a young body, because no matter how much you take care of yourself, metabolism changes, gravity does its work and the passage of time is noticeable in the body, not even with botox could disguise, on the contrary, it would disfigure my face as a plastic doll and rigidity of stone.
The passage of time would make many changes in my mind, in my way of seeing many issues and facing life, maybe I will begin to forget things or suffer from poor memory, perhaps, but with discipline, it will surely be possible to train my mind to concentrate on what is being done, to stay active, updated, reading, doing crossword puzzles, painting mandalas, memorizing lists of words.
To live for 100 years, I would start to take more care of my diet, organic fruits, vegetables, nuts to fortify the brain. I have the idea that it may be easier to fight aging of the mind than aging of the body, so I stay in my 30 year old body, full of energy to go for a run in the park in the morning and to ride my bike on the weekend. Plenty of vitality to climb the mountain and go do reflections with my old lady mind.
I would go to nursing homes to do social work some days, I would have the vigor to help and the mentality for a good conversation, or just to shut up and be more compassionate.
I would have a beautiful 40 year old girlfriend and she would think I am 30, with my lush countenance, I would not tell her the secret, I would be her spoiled bride and she would call me "my girl" but she would think I am what is called an "old soul" because of my reflections and my way of looking at life in comparison to hers. I have been good at keeping quiet all my life, at least talking would not reveal my age.
I would walk around feeling like Edward Cullen (character from the Twilight Saga) with the difference that I would be mortal and without super powers, I would still feel special and unique in my species, although perhaps it would be a new option among humans to be able to choose what @galenkp proposed in his question "If you could live to the age of 100 years and could retain either the mind or the body of your 30 year old self all the way through, which would you choose and why?". If it were an option we could all choose perhaps we would no longer condition so many things to our chronological age.
If I live to be 100 years old, I want to be as upright as the old friend I'm hugging in the photo.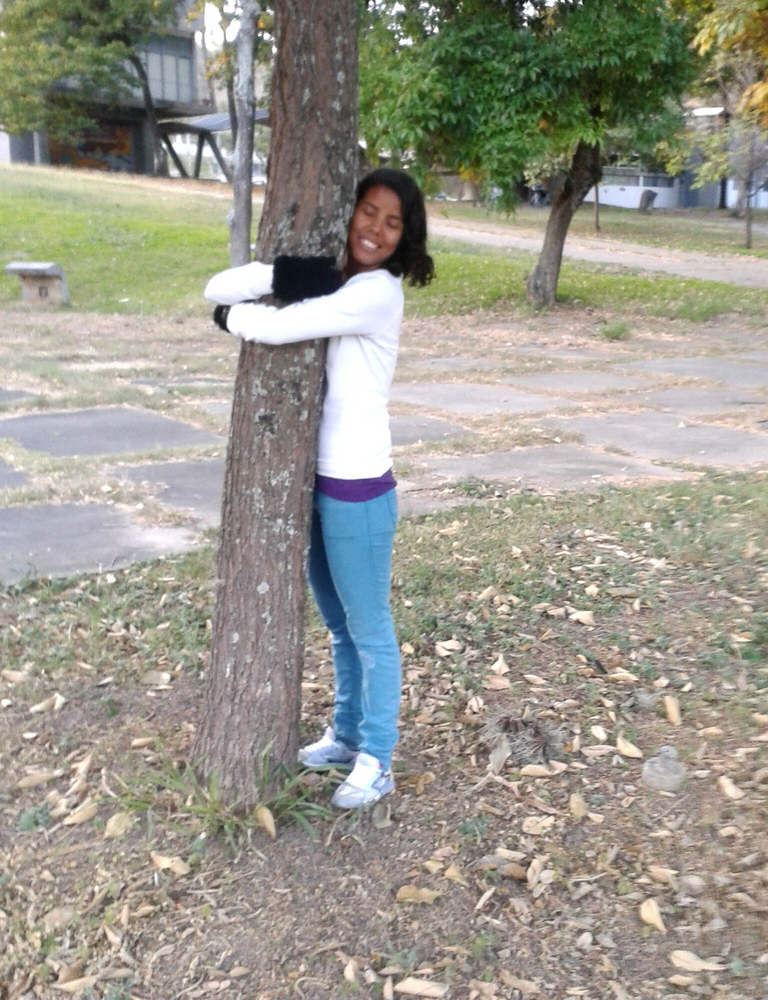 Photography taken by my friend Luis 2 years ago, as my Huawei Honor phone - Edited in canva
---
---
Thanks for reading my participation. If you want to know more details and have excellent options to publish during the weekend, here is the link.
---
See you next time 😉
---
---