Me encanta poder estar en Hive y quiero ser una canción/I love being in Hive and I want to be a song #110

This year 2022 that is about to end gave me the opportunity to live each of its days, and that for those who appreciate life we can say that it is a great achievement and a blessing, to have the opportunity to continue adding earthly experiences on this road we travel. In my particular case, I have been overcoming a health problem that brought me many bad times and discomforts but also many lessons, I have learned to appreciate more and more the opportunity to continue standing, to overcome obstacles and to see the light, even though, for this to exist there must also be darkness. I can not talk about how my 2022 has been without mentioning my entry to Hive, which I was postponing since 2021, when my beloved friend
@aguamiel
told me about this wonderful platform, many times I went to visit her and she was super dedicated working happily on her Blog. Everything called my attention, however, I was limited by the lack of Internet connection, where I lived at that time did not have the service and although I did the steps to hire it, in that area, everything was more complicated than normal. Due to life, the owner of the house raised the rent payment and that made me think about looking for a new place to live because without a job and without internet connection I could not stay in that place, because due to my health problems I was unable to work outside and, in addition, what I most wanted was to work remotely and online..
Este año 2022 que está próximo a finalizar me dio la oportunidad de vivir cada uno de sus días, ya eso para quienes apreciamos la vida podemos decir que es un gran logro y una bendición, tener la oportunidad de continuar sumando experiencias terrenales en este camino que transitamos. En mi caso particular, he ido superando un problema de salud que me trajo muchos malos ratos y malestares pero también muchas enseñanzas, justamente he aprendido a apreciar cada vez más la oportunidad de continuar de pie, de superar obstáculos y de ver la luz, aun cuando, para que esta exista debe haber también oscuridad. No puedo hablar de cómo ha sido mi 2022 sin mencionar mi ingreso a Hive, el cual estuve posponiendo desde el año 2021, cuando mi adorada amiga
@aguamiel
me habló de esta maravillosa plataforma, muchas veces iba a visitarla y ella estaba súper entregada trabajando con felicidad en su Blog. Todo me llamaba muchísimo la atención, sin embargo, me limitaba la falta de conexión a Internet, donde vivía en ese entonces no tenía el servicio y aunque hice las diligencias para contratarlo, en esa zona, todo era más complicado de lo normal. Por cosas del vida, la dueña de la casa me subió el pago de la renta y eso me hizo reflexionar en cuanto a buscar un nuevo lugar donde vivir pues sin un empleo y sin conexión a internet no podía mantenerme en ese lugar, pues debido al malestar de salud estaba impedida a trabajar fuera y, además, lo que más deseaba era dedicarme a trabajar vía remoto y online.
---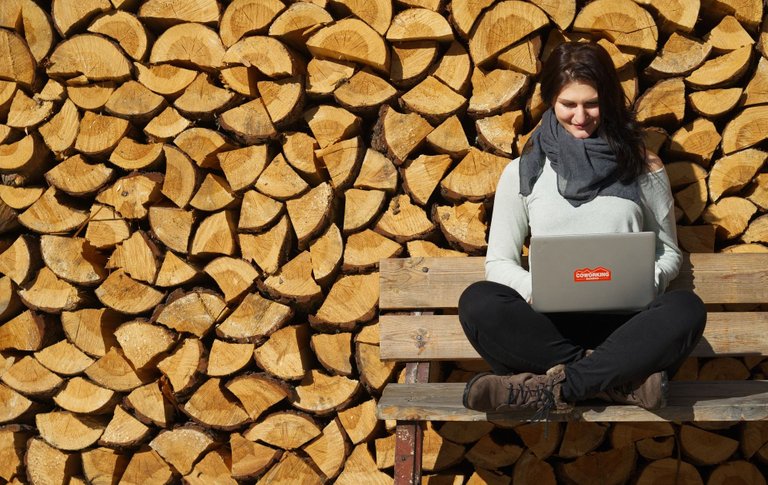 Link
---
I told another friend about my situation and it turns out that her husband's family had an unoccupied house and offered it to me for rent, they helped me with the move because they even have a truck and this is where I have been living for about 4 months now. As soon as I moved in I applied for internet service, since it is much easier in this area than where I lived before. Because the company took longer than promised, 1 month, and did not install the service, I decided to start looking for other options and by the pleasant things of life, I always had an option right next to my house. A very kind neighbor, to whom I introduced myself when I moved in, had a big cable to his house and I immediately detected that it was Internet, I proposed him to add me to his service and he said yes, and well, since then we shared the cost and enjoyed the service, they gave me back the money I had paid for the subscription, which I used to pay the first month to my neighbor and to pay one month of rent for the house. Immediately, I updated my data in a page in which I have worked before and a few days after I did it they sent me the invitation for a new project and although at the beginning it was hard for me to pass the courses, I persisted, I do not deny that I was about to give up and conclude that I was not good for that, however, in those moments I took a breath, I managed to pass the courses and I was faithfully connected for 2 months to continue receiving induction and generating income, I have done very well, I have achieved some stability in that platform and I have earned enough to cover my expenses. I plan to continue learning about jobs and opportunities to generate income via online, I really consider that for me it is one of the best alternatives that I have today.
Le comenté a otra amiga de mi situación y resulta que la familia de su esposo tenía una casita desocupada y me la ofrecieron en alquiler, me ayudaron con la mudanza pues hasta un camión tienen y acá es donde estoy viviendo hace ya unos 4 meses atrás. Apenas me mudé hice la solicitud del servicio de internet, pues para esta zona es mucho más sencillo que donde vivía anteriormente. Debido a que la compañía tardó más de lo prometido, 1 mes, y no me instaló el servicio, decidí comenzar a buscar otras opciones y por cosas gratas de la vida, siempre tuve una opción justo al lado de mi casa. Un vecino muy amable, a quien me le presenté cuando me mudé, tenía un gran cable hacia su casa y detecté de inmediato que era de Internet, le propuse sumarme a su servicio y complacido me dijo que sí, y bueno, desde ese entonces compartimos el gasto y disfrutamos del servicio, me devolvieron el dinero que había pagado de suscripción, el cual utilicé para pagarle el primer mes a mi vecino y para pagar un mes de renta del alquiler de la casa. De inmediato, actualicé mis datos en una página en la que he trabajado anteriormente y a los pocos días de haberlo hecho me enviaron la invitación para un nuevo proyecto y aunque al principio me costó bastante aprobar los cursos, persistí, no niego que estuve a punto de desertar y concluir que no era buena para eso, sin embargo, en esos momento tomaba un respiro, cerraba los ojos, escuchaba música de relajación y a las horas volvía a intentarlo, logré aprobar los cursos y estuve conectada fielmente durante 2 meses para seguir recibiendo inducción y generando ingresos, me ha ido muy bien, he logrado cierta estabilidad en esa plataforma y he ganado hasta el momento lo suficiente para cubrir mis gastos. Pienso seguir aprendiendo acerca de trabajos y oportunidades para generar ingresos vía online, realmente considero que para mí es una de las mejores alternativas con las que cuento en la actualidad.
---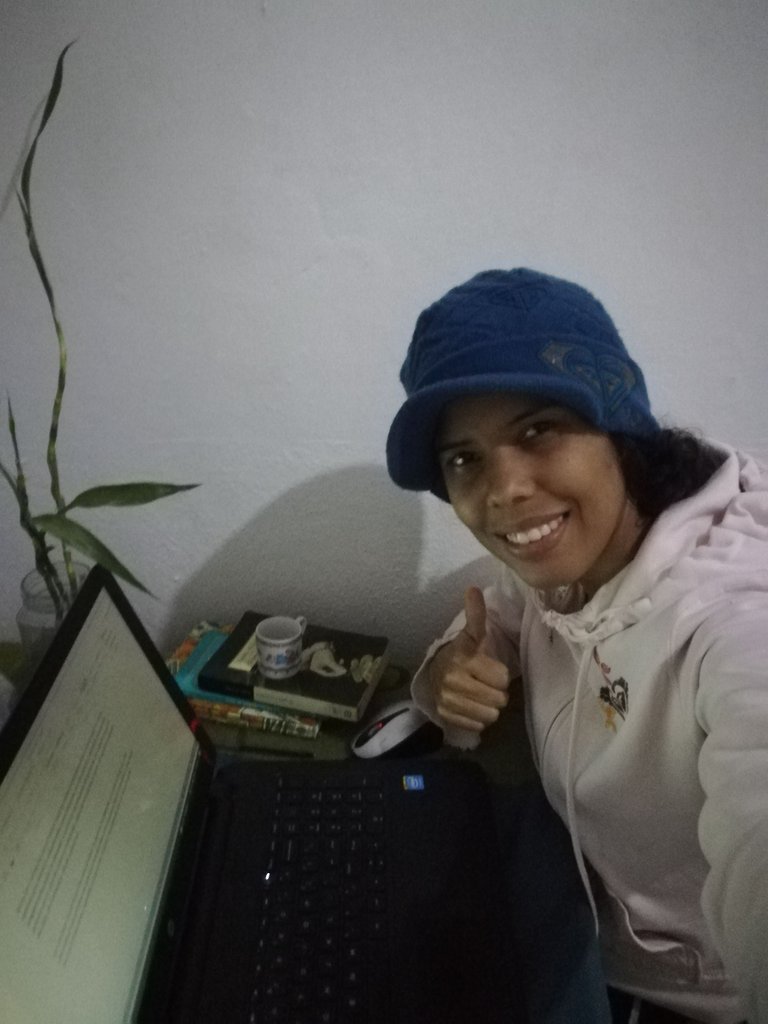 Tomada con mi Huawei Honor/Taken with my Huawei Honor
Writing this post, came to my mind when I joined Hive, my entry was through the classes "Hive from scratch", a week and a half of classes, which I heard via Telegram in a square, because as I mentioned, at that time I did not have Internet service and where I lived even the mobile data signal was almost zero, it was only present in the early hours of the morning which was the time that I often took advantage of to do some things. To make my first publication I went to Aguamiel's house, she not only helped me to layout the post but also put the key of her WiFi to my laptop to do everything with more comfort and well here I am with you sharing experiences, very grateful to everything that had to move in the Universe to make it possible. I remember that I spent a lot of time with my laptop from here to there, at Aguamiel's house, at a friend's work, at my sister's house, at my brother's house, it was really exhausting and a bit risky. Thanks to the Divinity, now I have my office at home and I can be much more comfortable and calm. I have been discovering myself and expanding my mind when I read the creations of those who make life in this great platform. Really, this has been an experience of much growth and the best of all is that it has just begun and there is still much to do and go through.
Escribiendo este post, vino a mi mente cuando ingresé a Hive, mi ingreso fue a través de las clases "Hive desde cero", una semana y media de clases, las cuales escuché vía Telegram en una plaza, pues como les mencioné, en ese momento no contaba con el servicio de Internet y donde vivía hasta la señal de datos móviles era casi nula, solo se hacía presente en horas de la madrugada que era el momento que aprovechaba muchas veces para hacer algunas cosas. Para hacer mi primera publicación me fui a casa de Aguamiel, ella no solo me ayudó a maquetar el post sino que además le colocó la clave de su WiFi a mi Laptop para poder hacer todo con mayor comodidad y bueno aquí estoy con ustedes compartiendo experiencias, muy agradecida con todo lo que se tuvo que mover en el Universo para hacerlo posible. Recuerdo que estuve mucho tiempo con mi Laptop de aquí para allá, en casa de Aguamiel, en el trabajo de un amigo, en casa de mi hermana, en caso de mi hermano, realmente era algo agotador además que un poco riesgoso. Gracias a la Divinidad ahora tengo mi oficina en casa y puedo estar mucho más cómoda y tranquila. Además son increíble las historias que he logrado crear para participar en concursos de distintas comunidades de Hive, me he estado descubriendo y ampliando mi mente cuando leo las creaciones de quienes hacemos vida en esta grandiosa plataforma. Realmente, esto ha sido una experiencia de mucho crecimiento y lo mejor de todo es que apenas comienza y queda mucho aún por hacer y recorrer.
---
✨✨✨✨✨✨
Ahora, les cuento que para trabajar muchas veces me gusta escuchar música suave o a veces también para dormir o simplemente para relajarme, en este sentido y atendido a la segunda pregunta propuesta, he pensado, si tuviera la oportunidad de rencarnar en cualquier cosa me gustaría ser un canción suave y melodiosa, capaz de transportar a quien me escuche a estados elevados de conciencia, de paz y plenitud.
Now, I tell you that for work I often like to listen to soft music or sometimes also to sleep or simply to relax, in this sense and in response to the second question proposed, I thought, if I had the opportunity to reincarnate in anything I would like to be a soft and melodious song, capable of transporting whoever listens to me to higher states of consciousness, peace and fullness.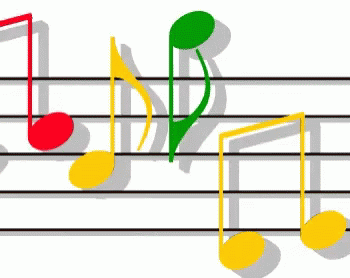 Gif de PeakD. Así pero más suave😉/PeakD Gif.Like this but softer😉
Así concluyo mi participación esta semana. Si quieres los detalles, te invito a hacer click aquí. Esta comunidad cada semana nos plantea diversas alternativas para compartir historias y creaciones. Muchas bendiciones y saludos a todas esas mujeres empoderadas que lo hacen posible.
This concludes my participation this week. If you want the details, I invite you to click here. This community every week brings us different alternatives to share stories and creations. Many blessings and greetings to all those empowered women who make it possible.
Hasta la próxima 😉| See you next time😉
---
---