GET TO KNOW MY FAVORITE AND LEAST FAVORITE TEACHER
Teachers are like one of the first sets of mentors a child looks up to, not just to emulate their traits but to also learn morals, academics, and much more from them. The impact of a teacher can never be overemphasized, and how well a teacher teaches is what determines how well the students will assimilate and, thereby, decide whether they like the teacher or not.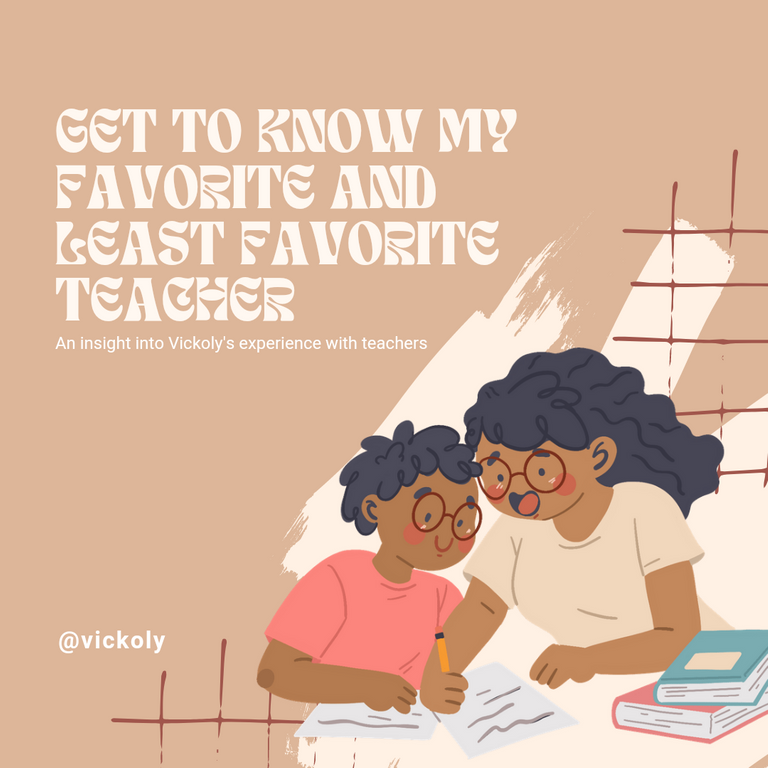 Image designed by me on canva.
Down the years, I've been privileged to go under the tutelage of various teachers and lecturers, right from my primary school to my university days, and each of them has left a significant part of themselves in me through their attributes, behaviors, and morals, which has led to me having some as my favorites and others that I don't admire for any reason whatsoever.

So without further ado, in this post today I'll be sharing an insight for you to know who is my favorite teacher and why I admire the teacher. I'll also talk about the teacher I don't fancy much and the traits that make me feel that way toward the teacher. I hope you'll enjoy the read.

MY FAVOURITE TEACHER
To start with, I'll be talking about my favorite teacher, and it's no other person than Mrs. Sanusi, my geography teacher during my days in secondary school. This is a teacher I really admire for almost all of her attributes, as regarding morals, dressing, style of teaching, and much more, to mention but a few, so I'll be grading her a 10/10.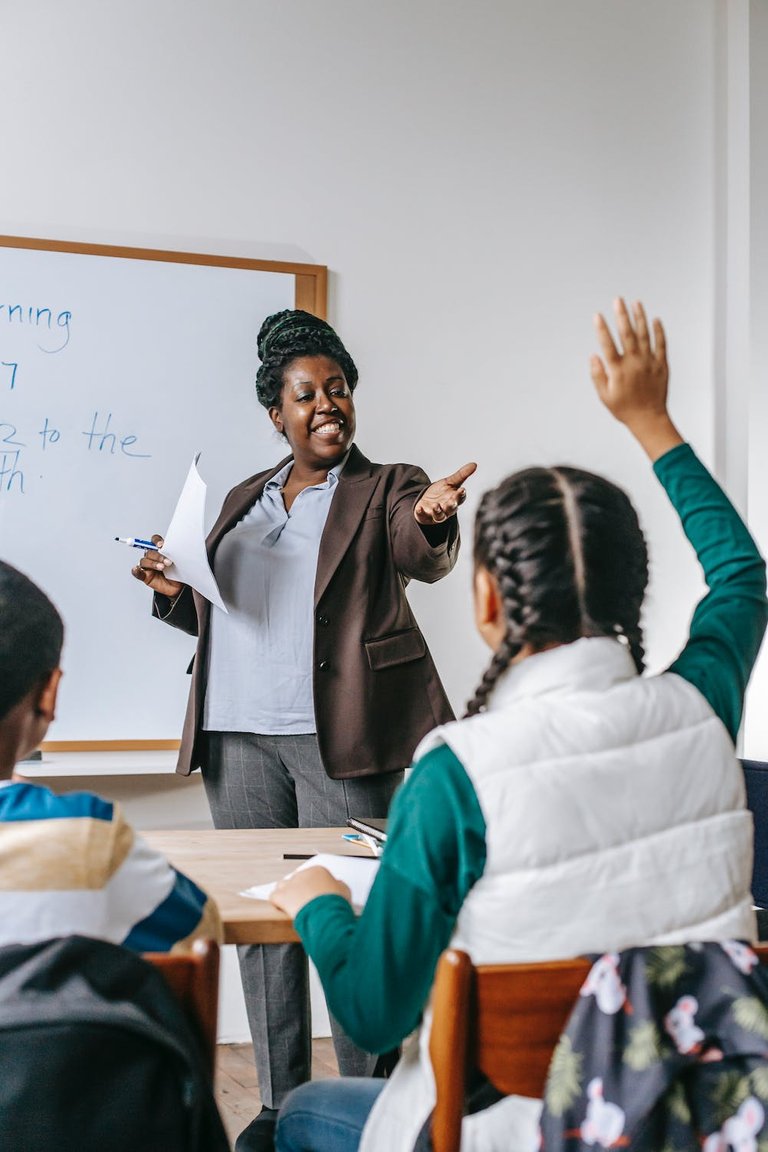 Image by Katerina Holmes on Pexels.
Mrs. Sanusi is the type of teacher who takes the job diligently and will try as many methods as possible until every member of the class understands her explanation. She never seems to get tired of seeing a student who doesn't understand what she has been teaching all day, nor does she abandon such students to focus on the intelligent ones only; she doesn't even mind creating extra time outside her period to gather those who don't understand together to make sure they understand everything later.
Her style of teaching was such a delight and conducive for me to the point where I literally fell in love with the subject geography and dedicated most of my time into reading it above other subjects, and that gave me an edge during examinations to the point where even if I don't read prior to entering the exam hall for a geography exam, that won't still stop me from getting anything less than distinction.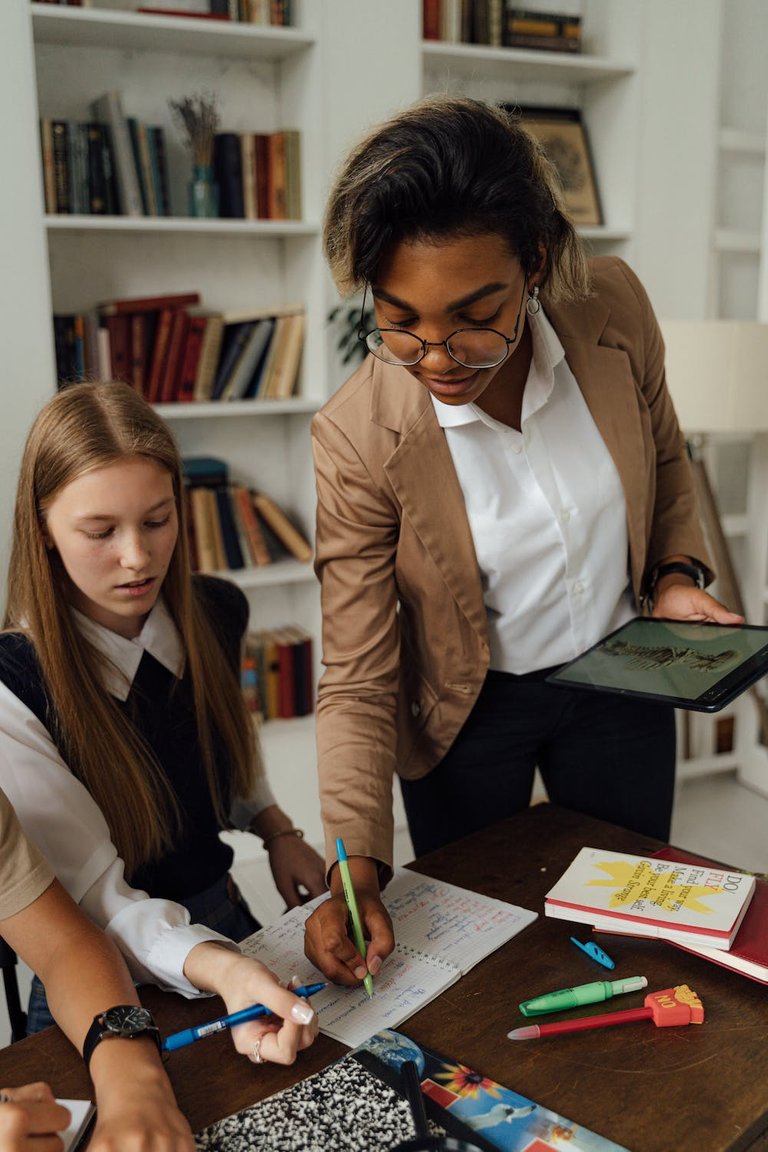 Image by Antoni Shkraba on Pexels.
Aside from being a good teacher, she's also a great counselor and adviser who is always determined to see you make the right choices at all times. She's also a disciplinarian who will let you know your fault and punish you rightly, and most times when you get punished by her, you yourself will know you truly deserve it because she isn't the type who punishes students always.

MY LEAST FAVOURITE TEACHER
My least favorite teacher goes by the name of Mr. Oyedimu; he also teaches geography. Unfortunately, when I was in my final year of secondary school, Mrs. Sanusi was transferred to another school, and Mr. Oyedimu was her replacement. He was like the total opposite of the geography teacher we know; he doesn't even sound competent or confident about what he's teaching us, I wish I can grade with a minus, but since that isn't among the option I'll give him 1/10.
He doesn't know how to explain to make students understand, but instead he'll walk into the class with a geography textbook and read everything written there word for word as his explanation without sharing more insight to expand on what he just read. To make matters worse, he never gives the best advice, and neither is his lifestyle as a smoker worthy of enumeration.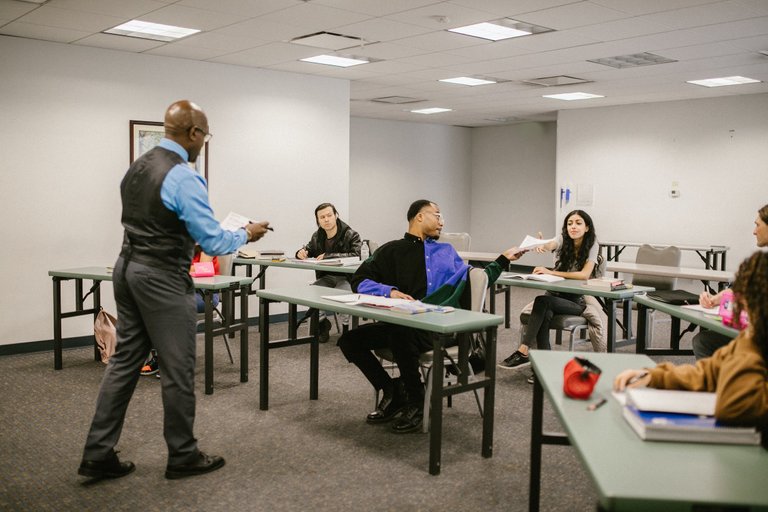 Image by RODNAE Productions on Pexels.
He flogs students after the slightest provocation, and he doesn't seem to appreciate any questions from students after his teaching; he's the type who'll come late into the class and still keep monitoring the watch to dash out of the class immediately his period is over. I don't like him for any reason, and the only time he smiles is when he wants to send students to help him work on his minifarm on the school premises.

That's about all on my favorite and least favorite teachers, and the write-up was inspired by a Kronias article that stated the HIVE learners community prompt; kindly read it to get more information.
---
NOTE: I make use of Quillbot grammar checker features to help correct some of my grammatical and punctuation errors after writing my content by myself.
---
THANKS FOR READING THROUGH, HAVE A WONDERFUL DAY AHEAD.
---
---