JUNGLE JUSTICE CRIME SCENE I WITNESSED AND REGRETTED MY INVOLVEMENT IN
Crime is one of the dirtiest acts people get involved in for various reasons, be it a lack of financial or material resources, greed, anger, or selfish interest; it always ends on a bad note for the victim and sometimes for those who instigated the crime itself. I once witnessed a crime scene during my childhood, which I reported almost immediately, but what followed after I reported the case is something that still hunts me to this very day.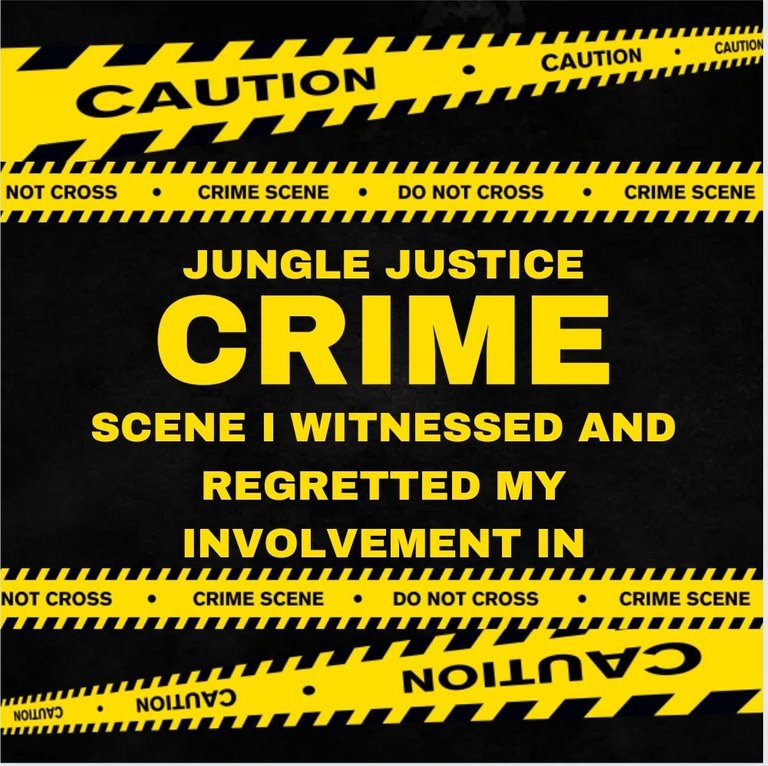 image design by me on canva
When I told you the scenario of that incident still haunts me to this very day, believe me, it really does haunt me, as I usually end up wishing I hadn't taken the action I did that very day. I'm sure you're longing to hear the full details of the incident, and I also can't wait to fill you in on all that took place that very day.

So without further ado, come along as I share my true life experience of a crime scene that happened when I was just about 10 years old. The outcome of the whole incident wasn't a pleasant one, and neither was I proud of the action I took when I saw what happened to the thief after I reported him. To get the full details, kindly read through the whole scenario below.

I was probably between the ages of 10 and 12 when these incidents took place. We lived in one of the most dangerous places in Lagos, known simply as Ajegunle. It was a calm evening, the time was probably a few minutes after 8 p.m., and NEPA (the National Electric Power Authority) just brought the light, so everyone rushed inside to watch TV or do a few basic things with the electricity. Just like everyone else, I rushed inside to watch a series being aired on AIT TV station.
Not long after we all rushed inside due to the electricity, I felt pressurized and decided to walk outside to take a pee. As soon as I stepped outside the door, I saw a young man bending down close to the tires of one of our neighbors' cars. He was clearly losing and trying to steal something from my neighbor's vehicle, so I quietly tiptoed inside to inform my uncle, who in turn informed our neighbors, who own the car, about what was going on.
Immediately he was confirmed to still be there, everyone went outside through different channels in order to curb his movements from running away, and immediately an elderly person set outside the main door. He tries to run away, but immediately realizes there are people around on both sides he could have run towards, so he decided to dive into the gutter, which is just beside where the car was packed.
He probably thought no one saw him because the cloud was already dark, but in order to make him come out, the owner of the car asked if anyone was there or not, but the thief failed to respond, so neighbor carried a Brock of size 9 and threw it exactly on the spot where the thief was hiding, but that didn't make him come out despite how painful the effect of such a very large brick had been on him.
However, when he realizes my neighbor still wants to throw another brick to where he's hiding, he quickly stands up and pleads for forgiveness. Everyone wasn't happy about the situation and was already ready to punish him before letting him go, but our neighbors whose car was about to be stolen wasn't having it. He stated that he'll teach the thief a lesson he'll never forget in his life, probably because his former car was stolen not too long ago and those who stole it weren't appreht till that day.
I believe he passed the aggregation of the first car that was stolen on the thief, because he insisted he'll burn the thief alive, and before we knew it, he had already brought out a spoilt tire and a petro to burn the thief, but after several pleadings, he then said he must do something terrible to the thief before he releases him to go, and that was when one of my worst nightmares played out.
My neighbor said it's either they allow him to burn the thief alive or they should let him mix a few amounts of cement with water and give it to the thief to drink, and immediately that was done, he'll let him go. Since he wasn't listening to our plea, they left him to it, and he gave the young thief a mixture of water and cement to drink, after which he asked him to run away from our street.
As we all know, cement, when mixed with water, will surely solidify, and aside from the fact that cement is a dangerous chemical that can eat up one's skin when it touches it for too long, imagine what will happen to that thief's intestine and organs after drinking the cement water. Although I don't later hear the outcome of what happened to the thief after that day, my instinct now that I'm grown up is that he'll most likely not survive that.
Although some people said if someone who drank cement water was lucky enough to see some palm oil to drink alongside lime water, such a person would vomit everything, I don't know how true that is, and yet I doubt anyone might give him those if they were truly an antidote because he'll be after him not breaking down in front of their houses.
I'm sure you'll be wondering why he wasn't handed over to the police instead of receiving such treatment. The thing is, people don't believe in the police and believe the thief will be released once he bribes them, and Ajegunle was known for being a place where most jungle justice happened to criminals in the country, so most people don't see it as something bad. But I condemn such an act and really wish I hadn't said anything when I saw the thief, because had I kept quiet, he'll probably still be alive by now.

That's all on my experience of a crime scene that happened right before my eyes. I still regret the actions I took every day and I wish I had kept quiet. The writing was inspired by Kronias's post in the Hive Learners community. Read his post to get the full details.
Thanks for reading, have a blessed and refreshing weekend ahead.
---
---