[Splinterlands] Iza the Fanged - Social Media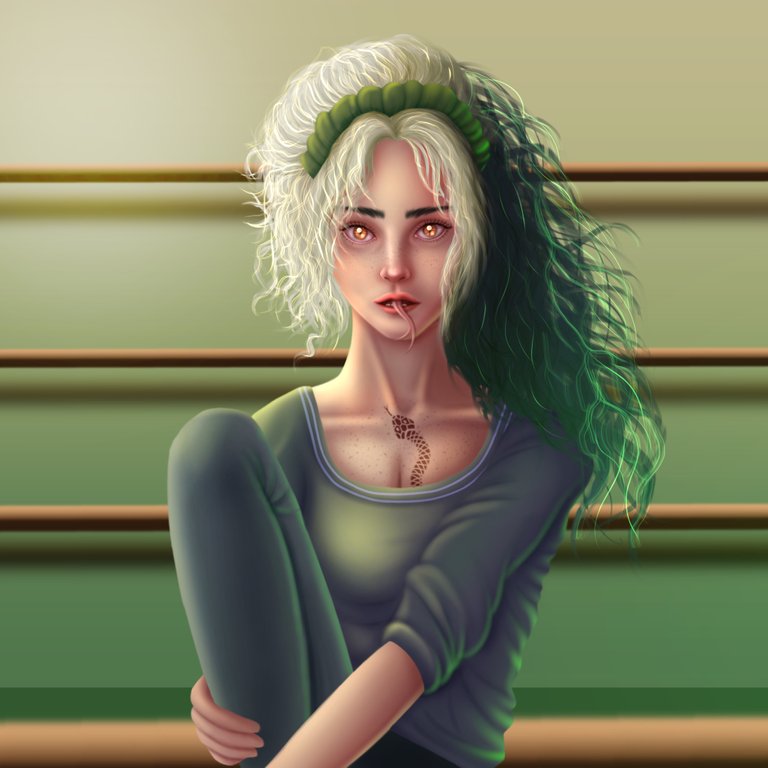 ---
Hello everyone and welcome to my art blog! Tonight I want to share with you my participation in the Splinterlands social media. In this installment, I decided to create a fanart of the character "Iza the Fanged", and I wanted to tell you about my creative process.
First of all, I chose Iza because I wanted to challenge myself to create two-tone curly hair. I knew it would be a feat, but I'm always looking to improve my digital drawing skills.
So, I got to work and started working on her hair. It was a long and complicated process, but finally, I achieved the effect I was looking for. I was so excited about what I had achieved that I wanted to move forward with my project. I also wanted to make Iza look like a ballet dancer, so I was inspired by them, I wanted to draw her on her break after a long dance routine.
I loved the challenge of recreating her in my art. Also, I have always been fascinated by ballet and its aesthetics, so I wanted to capture that in my creation. For the set, I decided to use a ballet studio. I wanted the scene to be as authentic as possible, so I researched ballet studios and what they look like inside. Then, I recreated it in my digital art and added some details of my own to give it more personality.
Overall, this project was a big challenge for me, but I'm very happy with the end result. I think the choice of Iza as a character was a wise one, as I was able to improve my digital drawing skills and create something I love.
Also, the ballet touch was an interesting addition that added elegance and grace to my creation. Thank you for reading my Splinterlands social media post.
I hope you liked my art as much as I liked creating it. If you have any questions or comments, feel free to leave them in the comments section. see you next time!
Next I show you the step by step of the development of the illustration.
¡Hola a todos y bienvenidos a mi blog de arte! Está noche les quiero compartir mi participación en el social media de Splinterlands. En esta entrega, decidí crear un fanart del personaje "Iza the Fanged", y quería hablarles sobre mi proceso creativo.
En primer lugar, elegí a Iza porque quería desafiarme a mí mismo a crear cabello rizado a dos tonos. Sabía que sería una proeza, pero estoy siempre buscando mejorar mis habilidades de dibujo digital.
Así que, me puse manos a la obra y empecé a trabajar en su cabello. Fue un proceso largo y complicado, pero finalmente, logré el efecto que estaba buscando. Estaba tan emocionado por lo que había logrado que quería seguir adelante con mi proyecto. También quería hacer que Iza se pareciera a una bailarina de ballet, así que me inspiré en ellas, quería dibujarla en su descanso después de una rutina larga de baile.
Me encantó el desafío de recrearla en mi arte. Además, siempre me ha fascinado el ballet y su estética, así que quería plasmarlo en mi creación. Para el escenario, decidí utilizar un estudio de ballet. Quería que la escena fuera lo más auténtica posible, por lo que investigué sobre los estudios de ballet y cómo se ven por dentro. Luego, lo recreé en mi arte digital y agregué algunos detalles propios para darle más personalidad.
En general, este proyecto fue un gran desafío para mí, pero estoy muy contento con el resultado final. Creo que la elección de Iza como personaje fue acertada, ya que pude mejorar mis habilidades de dibujo digital y crear algo que me encanta.
Además, el toque de ballet fue una adición interesante que agregó elegancia y gracia a mi creación. Gracias por leer mi post de social media de Splinterlands.
Espero que les haya gustado mi arte tanto como a mí me gustó crearlo. Si tienen alguna pregunta o comentario, no duden en dejarlo en la sección de comentarios. ¡Hasta la próxima!
A continuación les muestro el paso a paso del desarrollo de la ilustración.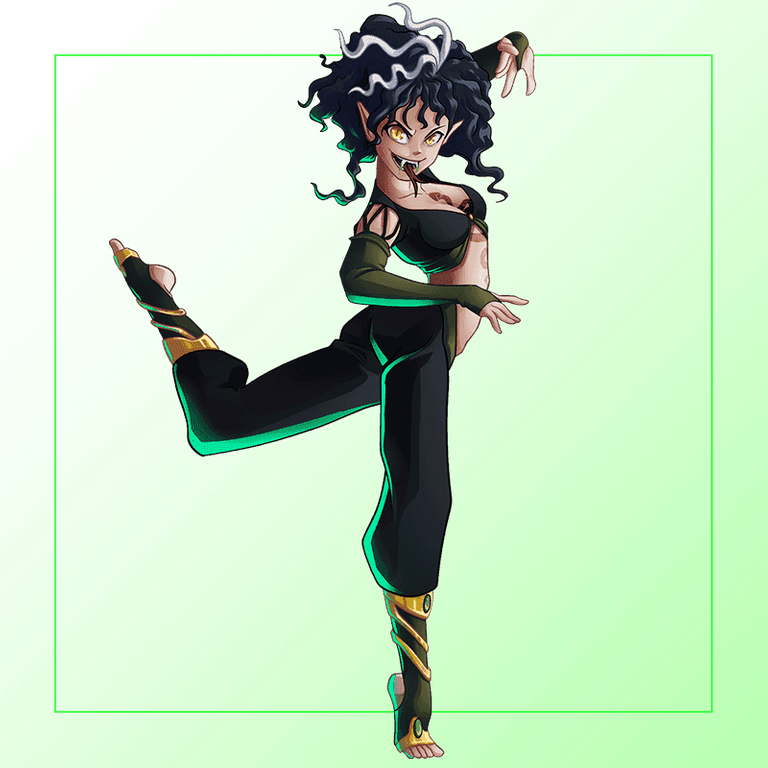 Drawing development / Desarrollo ✏️
---
Rumors spread in the villages that if you wander too far into the jungles of Azmare that you'll be snatched by Iza the Fanged. She does not use her fangs, or her teeth to grab you—but the very jungle itself. She'll drag you off to some deep cave and place you before her to serve as dinner or plaything, depending on her mood. It is a tale that parents use to keep their children close to home. It is laughed off by villagers and travelers as a spooky campfire story. But every year the disappearances continue, so the rumors persist.
Corre el rumor por los pueblos de que si te adentras demasiado en las junglas de Azmare, te atrapará Iza la Colmilluda. No utiliza sus colmillos ni sus dientes para atraparte, sino la propia jungla. Te arrastrará hasta alguna cueva profunda y te pondrá ante ella para que le sirvas de cena o de juguete, según su humor. Es un cuento que los padres utilizan para mantener a sus hijos cerca de casa. Los aldeanos y los viajeros se ríen de ella como si fuera una espeluznante historia de hoguera. Pero cada año continúan las desapariciones, así que los rumores persisten.
First, I started with a sketch of Iza, trying to capture her essence and unique characteristics. Once I was satisfied with the sketch, I started working with the colors, using a palette with soft tones at the beginning, marking each section of the drawing, such as the clothes, skin and hair, which was the most challenging part of this drawing. I wanted to create a two-tone curly hair effect, which means that I had to mix two different shades of color in each strand of hair. This technique requires a lot of precision and attention to detail, which made the process quite slow at first. To create the two-tone curly hair effect, I used several layers of brush strokes of different shades of color, overlapping and blending them until I achieved the desired effect. It was a long and painstaking process, but I finally achieved the effect I was looking for.
En primer lugar, comencé con un boceto de Iza, tratando de capturar su esencia y características únicas. Una vez que estuve satisfecho con el boceto, empecé a trabajar con los colores, use una paleta con tonos suaves al inicio, marcando cada seccion del dibujo, cómo la vestimenta, piel y cabello, la cual fue la parte más desafiante de este dibujo. Quería crear un efecto de cabello rizado a dos tonos, lo que significa que había que mezclar dos tonalidades diferentes de color en cada hebra de cabello. Esta técnica requiere mucha precisión y atención al detalle, lo que hizo que el proceso fuera bastante lento al principio. Para crear el efecto de cabello rizado a dos tonos, utilicé varias capas de pinceladas de diferentes tonalidades de color, superponiéndolas y mezclándolas hasta lograr el efecto deseado. Fue un proceso largo y meticuloso, pero finalmente logré el efecto que estaba buscando.
| | |
| --- | --- |
| | |
| --- | --- |
| | |
| --- | --- |
Next, I worked on the details of the clothes and the set. I wanted Iza to look like a ballet dancer after a long dance session, so I dressed her in light sportswear and placed her in a ballet studio with a lighted backdrop and ballet barres. I also added some soft lighting to highlight the shadows and details. Finally, I added some final details, such as reflections and additional shadows, to give the image more depth and realism. I am very happy with the final result and I think I managed to capture Iza's elegance and grace as a ballet dancer. In summary, the process of drawing Iza was challenging but rewarding. The most difficult part was the two-tone curly hair, but with patience and attention to detail, I managed to create the desired effect. I hope this description has been helpful and has given you an idea of my creative process.
Luego, trabajé en los detalles de la ropa y el escenario. Quería que Iza se viera como una bailarina de ballet, después de una larga seción de baile, así que la vestí con una ropa deportiva ligera y la coloqué en un estudio de ballet con un fondo iluminado y barras de ballet. También agregué algunas luces suaves para resaltar las sombras y detalles. Finalmente, agregué algunos detalles finales, como reflejos y sombras adicionales, para darle más profundidad y realismo a la imagen. Estoy muy contento con el resultado final y creo que logré capturar la elegancia y gracia de Iza como bailarina de ballet. En resumen, el proceso de elaboración del dibujo de Iza fue desafiante pero gratificante. La parte más difícil fue el cabello rizado a dos tonos, pero con paciencia y atención al detalle, logré crear el efecto deseado. Espero que esta descripción les haya sido útil y les haya dado una idea de mi proceso creativo.
| | |
| --- | --- |
| | |
| --- | --- |
| | |
| --- | --- |
Final design / Diseño final ‍🎨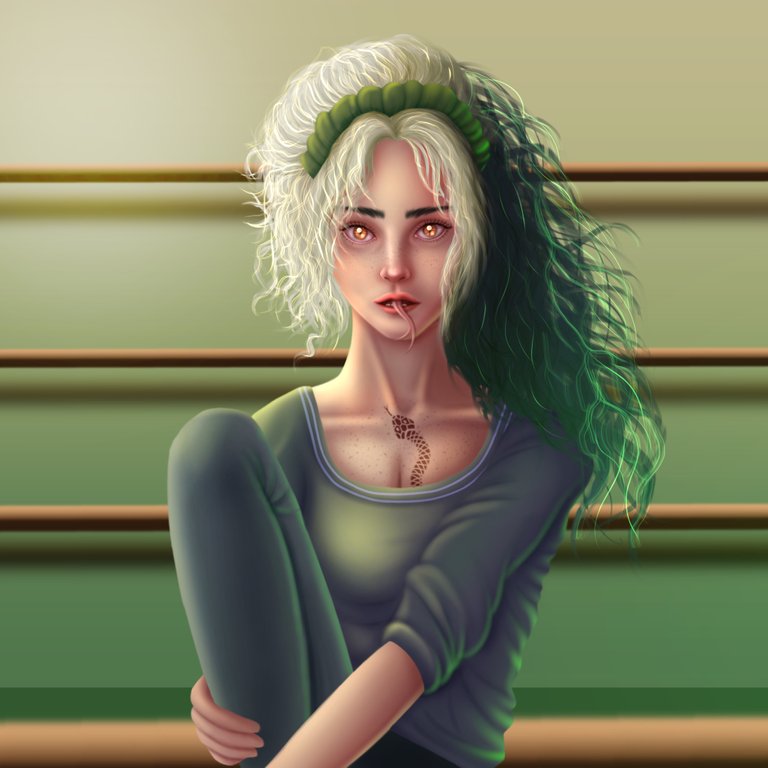 Used tools / Herramientas usadas📌
---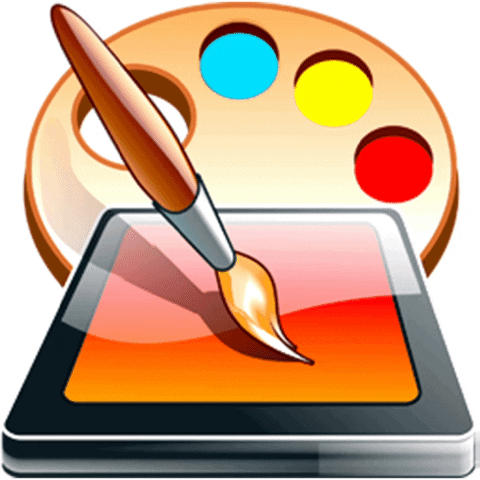 Programs: Imovie
Procreate
SketchBook
Tablet: Ipad Pro
Apple Pencil

Brushes: Airbrush
Pencil
Felt-tip pen
Skin brush

Time: 8 hours

Past drawings / Dibujos pasados 🔙
---
Thank you for your attention. We'll see you again in the next post, don't miss it.
Gracias por la atención prestada. Nos veremos de nuevo en el proximo post, no se lo pierdan.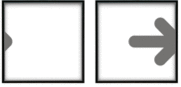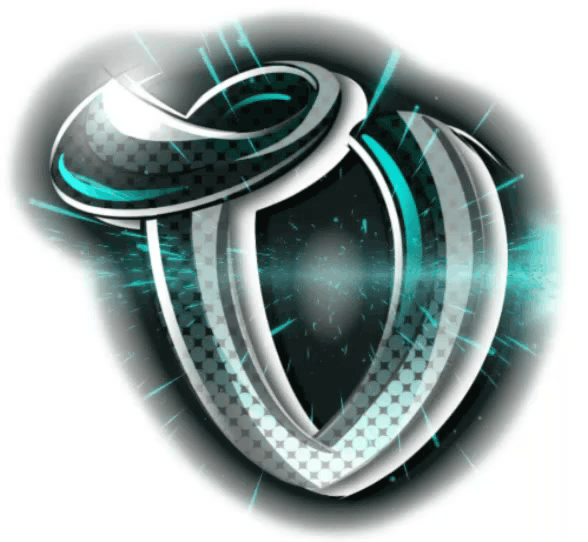 Copyright © @victartex - All Rights Reserved. Design and editing by own authorship.
El punto de partida de todo logro es el deseo.
Napoleon Hill

---
---