[Splinterlands] Twisted Jester - Social Media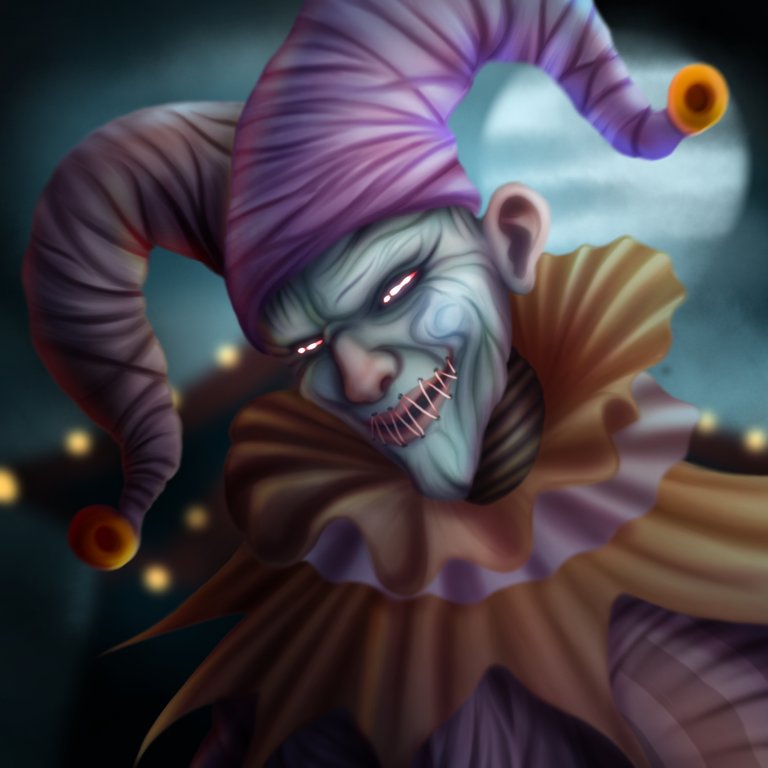 ---
Hey, digital art lovers!
Today I'm here to tell you about my latest artistic adventure in the world of Splinterlands! If you're not familiar with this collectible card game, let me tell you that you're missing out on a mind-blowing experience - it's like a journey through a universe full of fantastic creatures and epic strategies!
So, I decided to dive into the Splinterlands social media section and make my mark with an amazing fanart of the "Twisted Jester". This character, is none other than the captain of the personal guard of the lord of darkness himself! A sinister jester with a touch of mischief! From the moment I saw him, his twisted personality grabbed me and I knew I had to bring him to life with my own artistic style.
As I got deeper into the creative process, I felt a mixture of excitement and challenge. I wanted to capture all the evil and darkness surrounding the Twisted Jester, but also his playful spirit. I mixed a palette of somber and vibrant colors to bring out his dark side, but also added touches of bright colors to enhance his mischievous personality.
Each brushstroke, each detail I added, immersed me more and more in his enigmatic world. I played with light and shadow to give him that touch of mystery and magic that surrounds him. And I confess, each stroke made me feel more connected to this twisted and fascinating character.
What I love most about participating in the social media section of Splinterlands is the amazing community that surrounds it. It's awesome how players share their own creations and support each other in their love of art and fantasy. I am truly honored to be a part of this community and to be able to contribute my own artistic vision.
In conclusion, I want to thank Splinterlands for giving me this amazing opportunity to showcase my "Twisted Jester" fanart. It has been an exciting and rewarding challenge, and I hope that my interpretation has captured the twisted and playful essence of this very special character.
Don't forget to stop by the Splinterlands social media section and explore all the wonderful creations the community has shared - there is so much talent waiting to be discovered and admired! Until next time, my dear art followers, and may the dark magic of Splinterlands continue to inspire us in our creations!
Next I show you the step by step of the development of the illustration.
¡Ey, amantes del arte digital!
¡Hoy estoy aquí para contarles sobre mi última aventura artística en el mundo de Splinterlands! Si no conoces este juego de cartas coleccionables, déjame decirte que estás perdiendo una experiencia alucinante. ¡Es como un viaje a través de un universo lleno de criaturas fantásticas y estrategias épicas!
Así que, decidí sumergirme en la sección de redes sociales de Splinterlands y dejar mi marca con un increíble fanart del "Twisted Jester" (Bufón Retorcido). Este personaje, ¡es nada menos que el capitán de la guardia personal del mismísimo señor de las tinieblas! ¡Un bufón siniestro con un toque de picardía! Desde el momento en que lo vi, su personalidad retorcida me atrapó y supe que tenía que darle vida con mi propio estilo artístico.
A medida que me adentraba en el proceso creativo, sentía una mezcla de emoción y desafío. Quería capturar toda la maldad y la oscuridad que rodean al "Twisted Jester", pero también su espíritu juguetón. Mezclé una paleta de colores sombríos y vibrantes para resaltar su lado oscuro, pero también añadí toques de colores vivos para realzar su personalidad traviesa.
Cada pincelada, cada detalle que añadía, me iba sumergiendo más y más en su mundo enigmático. Jugué con las luces y las sombras para darle ese toque de misterio y magia que lo envuelve. Y te confieso, cada trazo me hacía sentir más conectado con este personaje retorcido y fascinante.
Lo que más me encanta de participar en la sección de redes sociales de Splinterlands es la comunidad increíble que la rodea. Es impresionante cómo los jugadores comparten sus propias creaciones y se apoyan mutuamente en su amor por el arte y la fantasía. Me siento verdaderamente honrado de formar parte de esta comunidad y poder contribuir con mi propia visión artística.
En conclusión, quiero agradecer a Splinterlands por brindarme esta increíble oportunidad de exhibir mi fanart del "Twisted Jester". Ha sido un desafío emocionante y gratificante, y espero que mi interpretación haya capturado la esencia retorcida y juguetona de este personaje tan especial.
No te olvides de pasarte por la sección de redes sociales de Splinterlands y explorar todas las maravillosas creaciones que la comunidad ha compartido. ¡Hay tanto talento esperando ser descubierto y admirado! Hasta la próxima, mis queridos seguidores del arte, ¡y que la magia oscura de Splinterlands continúe inspirándonos en nuestras creaciones!
A continuación les muestro el paso a paso del desarrollo de la ilustración.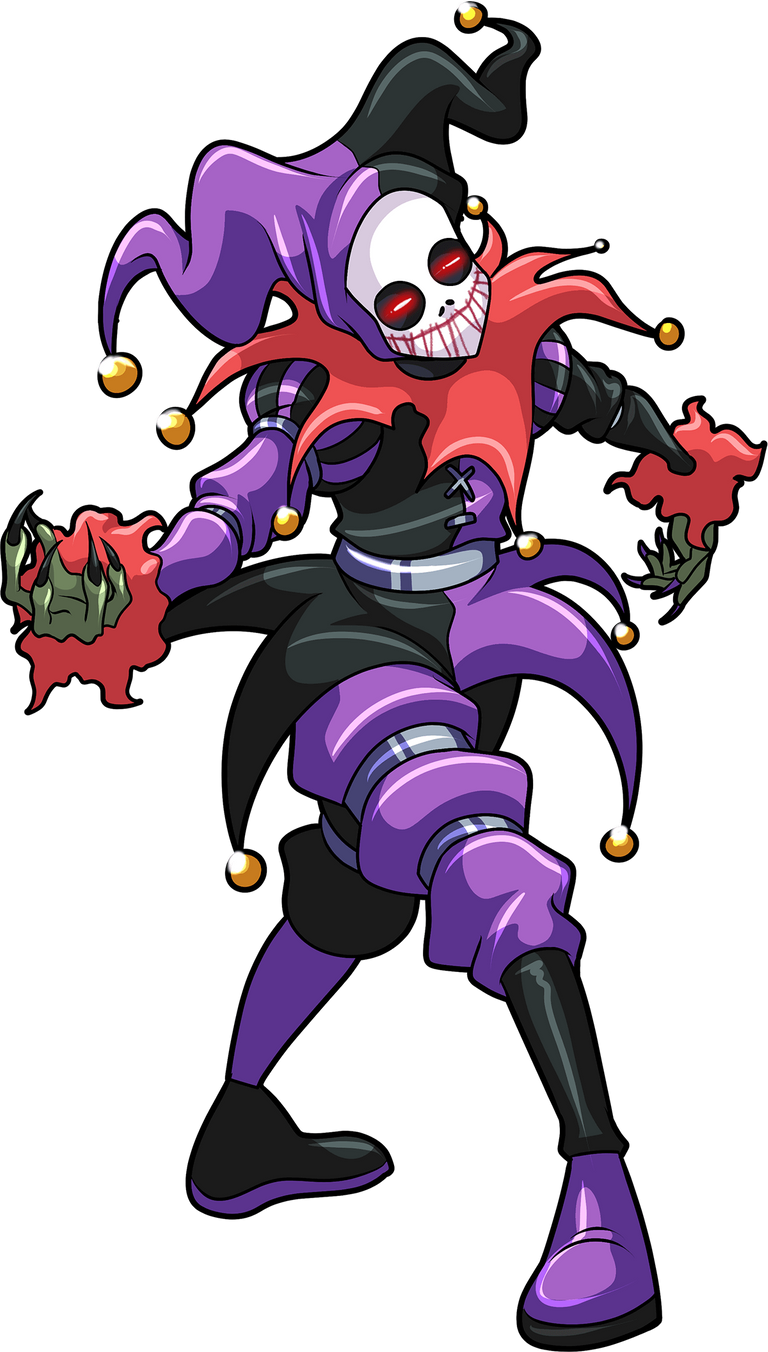 Drawing development / Desarrollo ✏️
---
He is not here for your amusement. The Twisted Jester is the Captain of the personal bodyguard for the Lord of Darkness himself. While most Dark Eternals completely forget everything from their living past, the memory of his family's slaughter continues to curse and plague him with rage every day.
No está aquí para divertirte. El Bufón Retorcido es el capitán de la guardia personal del mismísimo Señor de las Tinieblas. Mientras que la mayoría de los Eternos Oscuros lo olvidan todo de su pasado en vida, el recuerdo de la matanza de su familia sigue maldiciéndole y atormentándole con rabia cada día.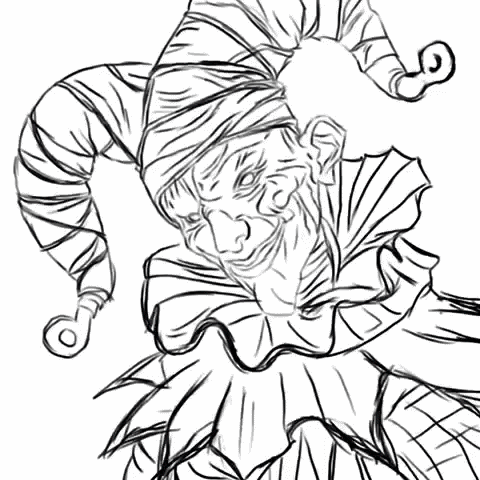 From the very beginning, I felt a surge of excitement and enthusiasm when deciding on this twisted and playful jester character. I love to challenge my artistic skills and this sinister jester definitely presented a challenge.
I started with a grayscale drawing technique to capture the essence of this dark character. I used my iPad pro and my procreate program to draw digitally. The feeling of sliding the virtual stylus over the digital surface and watching the lines and details form was exciting.
As I traced the lines, I could feel the "Twisted Jester" come to life on the screen. His twisted smile and piercing eyes stared at me from the screen, as if he was trying to escape the pixel world and enter my own.
The process of applying shadows and highlights in shades of gray was fascinating. I got lost in the details, looking for ways to bring out the jester's twisted features. Each shadow I added seemed to give more depth and mystery to the character. I felt his personality materialize little by little.
Desde el principio, sentí una oleada de emoción y entusiasmo al decidirme por este personaje retorcido y juguetón bufon. Me encanta desafiar mis habilidades artísticas y este bufón siniestro definitivamente representaba un desafío.
Comencé con una técnica de dibujo a escala de grises para capturar la esencia de este personaje oscuro. Usé mi iPad pro y mi programa procreate para dibujar digitalmente. La sensación de deslizar el lápiz virtual sobre la superficie digital y ver cómo se formaban las líneas y los detalles fue emocionante.
A medida que iba trazando las líneas, podía sentir cómo el "Twisted Jester" cobraba vida en la pantalla. Su sonrisa retorcida y sus ojos penetrantes me miraban desde la pantalla, como si estuviera tratando de escapar del mundo de los pixeles para adentrarse en el mío.
El proceso de aplicar sombras y luces en tonos de grises fue fascinante. Me perdí en los detalles, buscando la forma de resaltar los rasgos retorcidos del bufón. Cada sombra que agregaba parecía darle más profundidad y misterio al personaje. Sentía cómo su personalidad se materializaba poco a poco.
Once I finished the grayscale drawing, it was time to add color. It was exciting to select the right color palette to highlight her playful yet dark personality. I chose vibrant yet somber tones, such as a deep purple red and blacks, to liven up her outfit and highlight her shadowy nature.
As the colors blended on the screen, I felt as if I was breathing life into the Twisted Jester. Each stroke of color added another layer of emotion and expression to his face. The combination of grays and colors allowed me to play with contrasts and create a striking visual effect.
As I progressed through the process, the sense of satisfaction and accomplishment grew within me. Watching the drawing take shape and move closer and closer to my original vision was truly gratifying. I felt that I was capturing the very essence of this twisted character and bringing him to life in a unique way.
Upon completion, I felt proud of my work. I had managed to convey the playful and malevolent personality of the "Twisted Jester" through my own artistic style. I felt connected to the character, as if I had gotten to know him intimately through the creative process.
Creating this digital drawing of "Twisted Jester" was an exhilarating and exciting experience. Every stroke, every shadow, every brushstroke of color was a step towards the manifestation of my artistic vision. It was a journey full of excitement and satisfaction that left me with the feeling of having accomplished something special.
I hope that when you see my work, you can feel the same connection and excitement that I felt when I created it. May it lead you to immerse yourself in the intriguing world of Splinterlands and make you appreciate the beauty of the twisted darkness of this mysterious jester.
Until the next artistic adventure!
Una vez que terminé el dibujo en escala de grises, llegó el momento de añadir color. Fue emocionante seleccionar la paleta de colores adecuada para resaltar su personalidad juguetona y oscura al mismo tiempo. Elegí tonos vibrantes pero sombríos, como un rojo profundo morado y negros, para darle vida a su atuendo y resaltar su naturaleza tenebrosa.
A medida que los colores se mezclaban en la pantalla, me sentía como si estuviera infundiendo vida en el "Twisted Jester". Cada trazo de color agregaba una capa más de emoción y expresión a su rostro. La combinación de grises y colores me permitió jugar con los contrastes y crear un efecto visual impactante.
A medida que avanzaba en el proceso, la sensación de satisfacción y logro crecía dentro de mí. Ver cómo el dibujo tomaba forma y se acercaba cada vez más a mi visión original era verdaderamente gratificante. Sentía que estaba capturando la esencia misma de este personaje retorcido y llevándolo a la vida de una manera única.
Al finalizar, me sentí orgulloso de mi obra. Había logrado transmitir la personalidad juguetona y malévola del "Twisted Jester" a través de mi propio estilo artístico. Me sentía conectado con el personaje, como si lo hubiera conocido íntimamente a través del proceso creativo.
Crear este dibujo digital del "Twisted Jester" fue una experiencia estimulante y apasionante. Cada trazo, cada sombra, cada pincelada de color fue un paso hacia la manifestación de mi visión artística. Fue un viaje lleno de emoción y satisfacción que me dejó con la sensación de haber logrado algo especial.
Espero que al ver mi obra, puedas sentir la misma conexión y emoción que yo experimenté al crearla. Que te lleve a sumergirte en el mundo intrigante de Splinterlands y te haga apreciar la belleza de la oscuridad retorcida de este bufón misterioso.
¡Hasta la próxima aventura artística!
Final design / Diseño final ‍🎨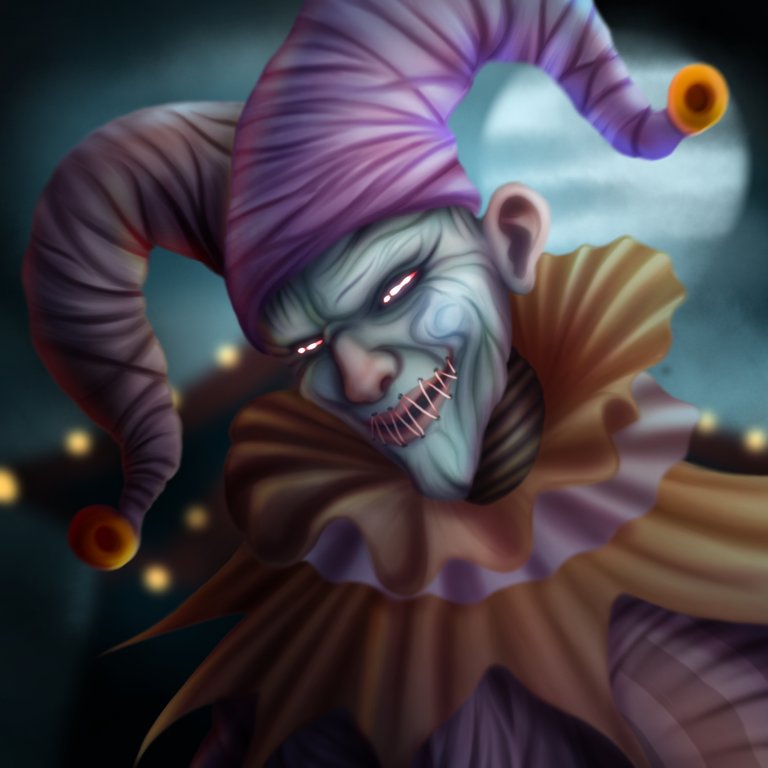 Used tools / Herramientas usadas📌
---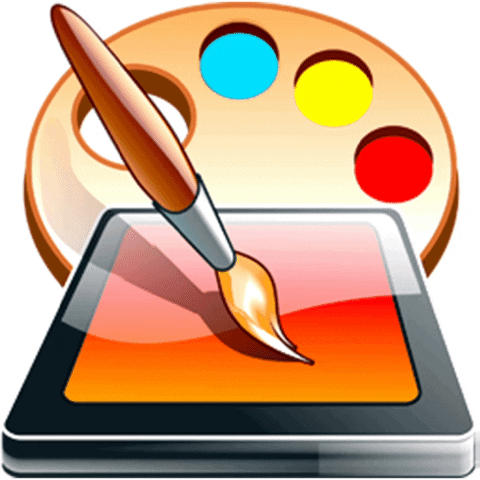 Programs: Imovie
Procreate
SketchBook
Tablet: Ipad Pro
Apple Pencil

Brushes: Airbrush
Pencil
Felt-tip pen
Skin brush

Time: 8 hours

Past drawings / Dibujos pasados 🔙
---
Thank you for your attention. We'll see you again in the next post, don't miss it.
Gracias por la atención prestada. Nos veremos de nuevo en el proximo post, no se lo pierdan.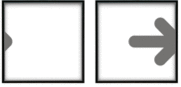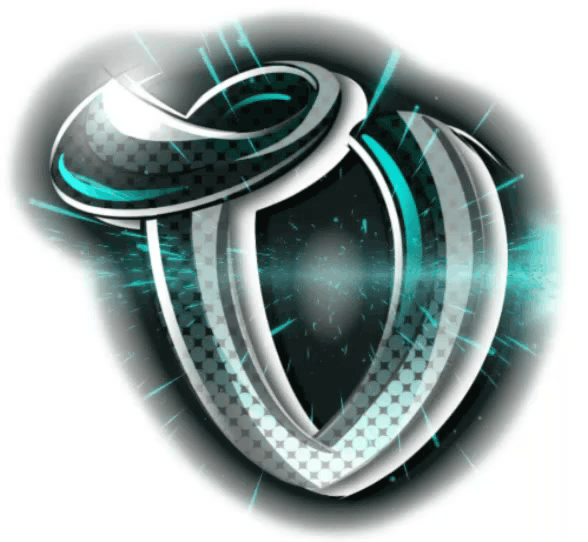 Copyright © @victartex - All Rights Reserved. Design and editing by own authorship.
El punto de partida de todo logro es el deseo.
Napoleon Hill

---
---