[eng/esp]Bus ride home/ Viaje en autobús a casa.
It was a long day at work, and I couldn't wait to get home. My commute had been just as exhausting as my day, and all I wanted was to be in my own space, where I could unwind and relax. I got on the bus and sank into the nearest seat, my mind wandering as I stared out of the window.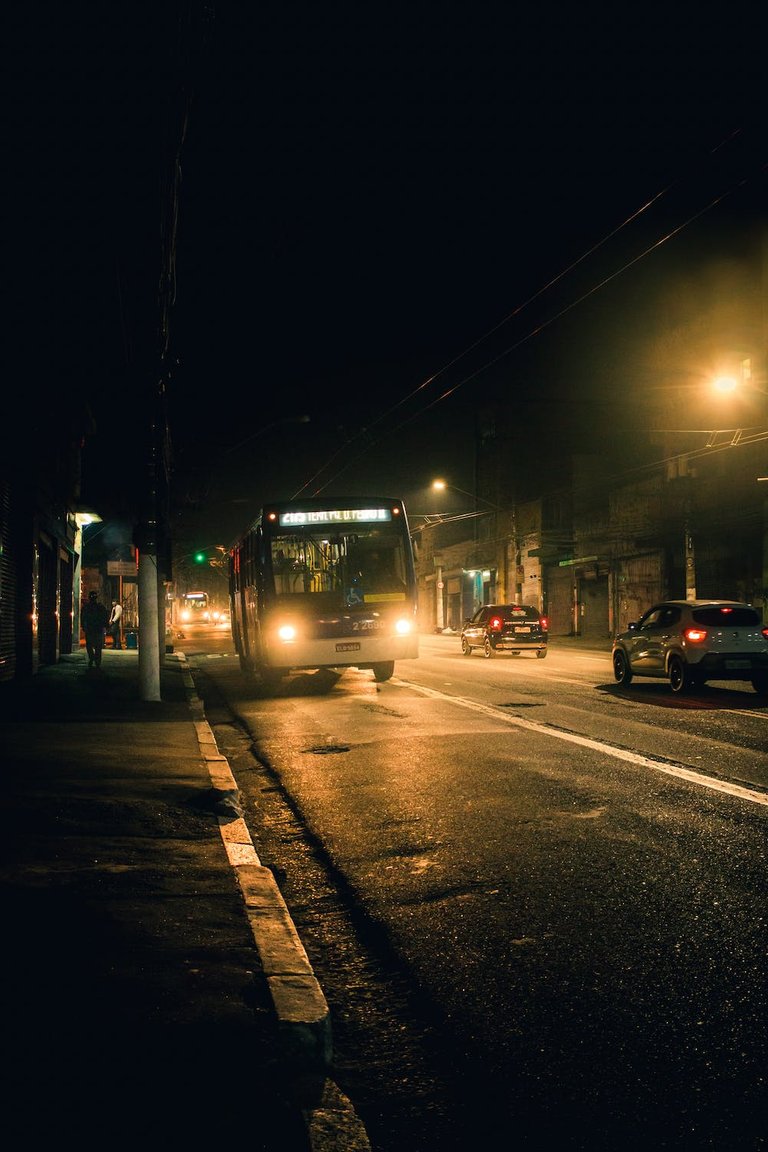 The bus made its way through the busy city streets, the sound of honking cars and the chatter of people filling the air. But even amidst the chaos, I felt a sense of peace. Maybe it was the end of the day, or maybe it was the promise of home.
As we made our way out of the city, the noise began to fade away, replaced by the gentle hum of the engine. I closed my eyes, letting myself sink deeper into my thoughts. I thought about my day, my coworkers, my plans for the weekend. But mostly, I thought about home.
Home was where I felt safe, where I could be myself without judgment. It was where I could be comfortable and free. It was where my family was, and where I could find peace.
The bus made a stop, and I opened my eyes, looking out the window to see where we were. It was a small town, with quaint little houses and lush green trees. The sun was setting, casting a warm glow over everything around us. The town looked so peaceful, so serene, that I almost wanted to stay there forever.
But I knew I had to keep moving. I got off the bus and started walking down the road, the sound of my footsteps the only thing breaking the silence. The road was long, winding, and seemed to stretch on forever. But I knew I had to keep going.
As I walked, I took in my surroundings. The sky was painted in shades of orange and pink, the clouds scattered across it like brush strokes on a canvas. The air was crisp and cool, and the scent of fresh grass filled my nostrils.
I walked past a small pond, its surface reflecting the colors of the sky. The water was so still, it looked like a mirror, and for a moment, I wondered if I was walking on a dream.
But then, reality hit me, and I remembered that I still had a long way to go. The sun had set, and the sky was turning dark. The road was getting harder to see, and the trees around me were casting long shadows.
I felt a sense of fear creeping up on me, and I started to walk faster, my heart beating faster with each step. But then, I heard a sound, a faint but distinct sound. It was the sound of music, and it was coming from somewhere ahead of me.
I followed the sound, my footsteps quickening with each beat of the music. As I got closer, I saw a small house, with a light on inside. The music was coming from the house, and it was so beautiful, so haunting, that it brought tears to my eyes.
I walked up to the house, and I saw a woman sitting on the porch, playing a guitar. She was so engrossed in her music that she didn't even notice me. I stood there, listening to her play, feeling a sense of calm wash over me.
After a while, the woman finished playing, and she looked up at me, smiling. "Hello there," she said. "What brings you here?"
"I'm just trying to get home," I said.
"Well, you're almost there," she replied. "Just keep going down this road, and you'll reach your destination."
I thanked her and started walking again, feeling a sense of gratitude for the woman's kindness. The road seemed less scary now, and I walked with renewed.
           Espanol

Había sido un largo día de trabajo y me moría de ganas de llegar a casa. El viaje al trabajo había sido tan agotador como la jornada, y lo único que quería era estar en mi propio espacio, donde pudiera relajarme y descansar. Subí al autobús y me senté en el asiento más cercano, con la mente en blanco mientras miraba por la ventanilla.
El autobús avanzaba por las concurridas calles de la ciudad, con el sonido del claxon de los coches y el parloteo de la gente llenando el ambiente. Pero incluso en medio del caos, sentí una sensación de paz. Quizá fuera el final del día, o quizá la promesa del hogar.
A medida que nos alejábamos de la ciudad, el ruido empezó a desaparecer, sustituido por el suave zumbido del motor. Cerré los ojos y me sumergí en mis pensamientos. Pensé en mi día, en mis compañeros de trabajo, en mis planes para el fin de semana. Pero, sobre todo, pensé en casa.
En casa era donde me sentía segura, donde podía ser yo misma sin ser juzgada. Era donde podía sentirme cómoda y libre. Era donde estaba mi familia y donde podía encontrar la paz.
El autobús hizo una parada y abrí los ojos, mirando por la ventanilla para ver dónde estábamos. Era un pueblo pequeño, con casitas pintorescas y frondosos árboles verdes. El sol se ponía, proyectando un cálido resplandor sobre todo lo que nos rodeaba. El pueblo parecía tan tranquilo, tan sereno, que casi quería quedarme allí para siempre.
Pero sabía que tenía que seguir caminando. Bajé del autobús y empecé a caminar por la carretera, el sonido de mis pasos era lo único que rompía el silencio. El camino era largo, sinuoso y parecía no tener fin. Pero sabía que tenía que seguir.
Mientras caminaba, me fijé en lo que me rodeaba. El cielo estaba pintado en tonos naranjas y rosas, y las nubes se esparcían por él como pinceladas en un lienzo. El aire era fresco y el aroma de la hierba fresca llenaba mis fosas nasales.
Pasé junto a un pequeño estanque cuya superficie reflejaba los colores del cielo. El agua estaba tan quieta que parecía un espejo y, por un momento, me pregunté si estaría caminando sobre un sueño.
Pero entonces, la realidad me golpeó y recordé que aún me quedaba un largo camino por recorrer. El sol se había puesto y el cielo se estaba oscureciendo. Cada vez era más difícil ver el camino y los árboles que me rodeaban proyectaban largas sombras.
Sentí que el miedo se apoderaba de mí y empecé a caminar más deprisa, con el corazón latiéndome más deprisa a cada paso. Pero entonces oí un sonido, un sonido débil pero claro. Era el sonido de la música, y venía de algún lugar delante de mí.
Seguí el sonido, mis pasos se aceleraban con cada compás de la música. A medida que me acercaba, vi una pequeña casa, con una luz encendida en su interior. La música provenía de la casa, y era tan hermosa, tan evocadora, que me hizo llorar.
Me acerqué a la casa y vi a una mujer sentada en el porche tocando la guitarra. Estaba tan absorta en su música que ni siquiera se fijó en mí. Me quedé allí, escuchándola tocar, sintiendo que me invadía una sensación de calma.
Al cabo de un rato, la mujer terminó de tocar y me miró sonriendo. "Hola", me dijo. "¿Qué te trae por aquí?
"Intento llegar a casa", le digo.
"Bueno, ya casi has llegado", contestó. "Sigue por este camino y llegarás a tu destino".
Le di las gracias y reanudé la marcha, sintiendo gratitud por su amabilidad. El camino parecía ahora menos aterrador, y caminé con paso renovado.
---
---