(Esp/eng)Las mujeres no tienen precio/ Women are Priceless.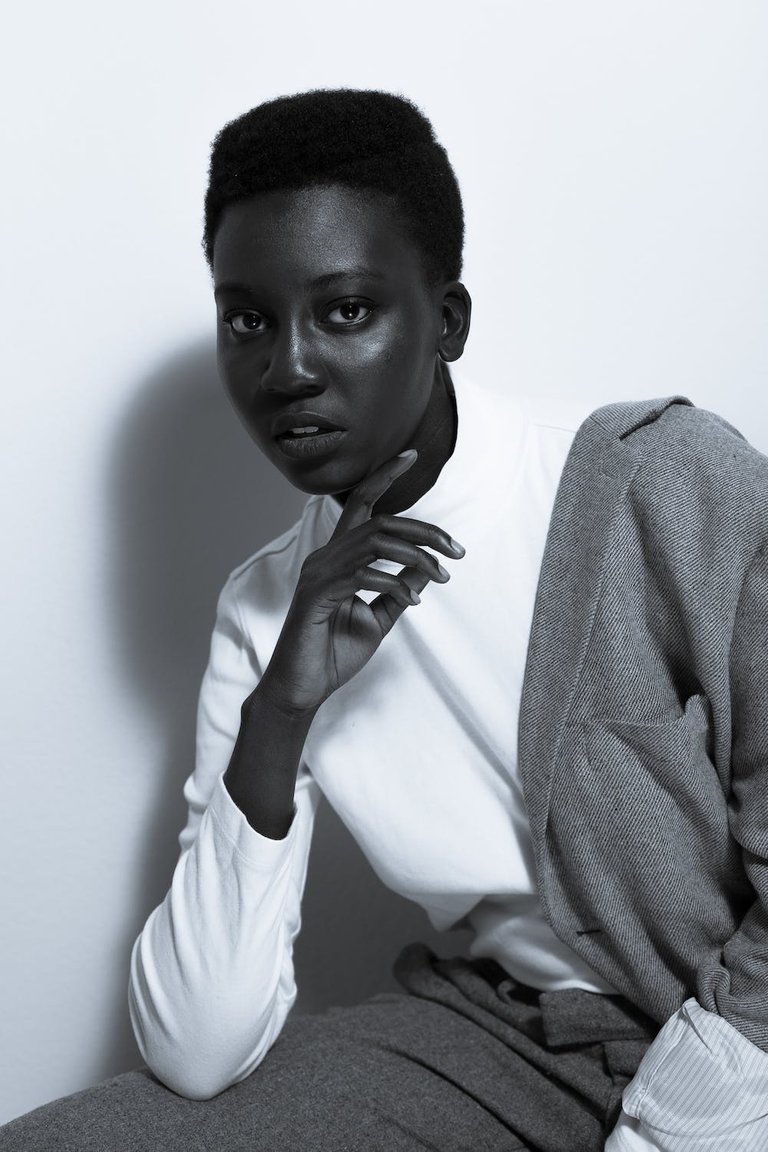 In a faraway land, there was a kingdom ruled by a wise and just queen. She was known for her kindness, wisdom, and strength. The queen had many advisors, but she relied heavily on her trusted council of women who were known for their intelligence and resourcefulness.
One day, the queen received a message from a neighboring kingdom that they wanted to arrange a marriage between their prince and the queen's daughter. The queen was hesitant to agree, but she decided to hear the proposal out of respect for her neighboring kingdom.
When the delegation arrived at the palace, the queen was surprised to see that it was entirely composed of men. She politely asked where the women were, and the delegation leader explained that women were not allowed to participate in diplomatic affairs.
The queen was taken aback by this news. She knew firsthand the value that women brought to the table, and she couldn't imagine conducting any important business without her council of women. She politely declined the proposal, citing her commitment to gender equality and the importance of women's voices in decision-making processes.
The delegation was taken aback by the queen's response. They had never encountered a ruler who valued women's contributions so highly. They left the palace, but not before warning the queen that she would regret her decision.
The queen didn't give the warning much thought. She knew the value of her council of women and trusted her instincts. However, she soon discovered that the neighboring kingdom had taken her refusal as a sign of weakness and began to plot against her.
The queen's council of women immediately went to work, devising a plan to protect their kingdom. They knew that they had to act quickly and discreetly to prevent any harm from coming to the queen and her people.
Their first order of business was to gather intelligence on the neighboring kingdom's plans. They sent out spies and infiltrated the enemy's camp, gathering crucial information that allowed them to plan their next move.
Meanwhile, the queen's army was preparing for battle. The council of women used their expertise to train the soldiers and devise tactics that would give them an advantage in the upcoming conflict.
As the day of the battle drew near, the queen was filled with anxiety. She knew that the outcome would determine the fate of her kingdom, and she couldn't bear the thought of losing everything she had worked so hard to build.
But when the day of the battle arrived, the queen was surprised to find that her council of women had planned everything down to the last detail. The soldiers were confident and well-trained, and the tactics were sound. The council of women had even arranged for backup plans in case the first strategy failed.
The battle was long and grueling, but in the end, the queen's army emerged victorious. The neighboring kingdom was defeated, and the queen's kingdom was safe once again.
The queen was overjoyed, but she knew that she couldn't have done it without her council of women. She called them all to her throne room and thanked them for their unwavering dedication and invaluable contributions. She recognized that it was their expertise and resourcefulness that had saved her kingdom, and she vowed to continue to value and elevate women's voices in all aspects of governance.
The neighboring kingdom never again dared to threaten the queen's kingdom, and the queen's council of women became renowned throughout the land for their wisdom and bravery.
Years went by, and the queen's kingdom prospered. It became a beacon of hope and equality, and women from all over the land flocked to the queen's court to seek guidance and inspiration.
The queen realized that women truly were priceless, and she made sure that their contributions were valued and celebrated in all aspects of her kingdom's governance. Her legacy lived on long after she was gone, and her commitment to.....
      Espanol

En una tierra lejana, había un reino gobernado por una reina sabia y justa. Era conocida por su bondad, sabiduría y fortaleza. La reina tenía muchos consejeros, pero dependía en gran medida de su consejo de mujeres de confianza, conocidas por su inteligencia e ingenio.
Un día, la reina recibió un mensaje de un reino vecino que quería concertar un matrimonio entre su príncipe y la hija de la reina. La reina dudó en aceptar, pero decidió escuchar la propuesta por respeto al reino vecino.
Cuando la delegación llegó a palacio, la reina se sorprendió al ver que estaba compuesta exclusivamente por hombres. Preguntó amablemente dónde estaban las mujeres, y el jefe de la delegación le explicó que las mujeres no podían participar en asuntos diplomáticos.
La noticia sorprendió a la reina. Sabía de primera mano el valor que aportaban las mujeres y no podía imaginarse llevar a cabo ningún asunto importante sin su consejo de mujeres. Declinó cortésmente la propuesta, alegando su compromiso con la igualdad de género y la importancia de la voz de las mujeres en los procesos de toma de decisiones.
La respuesta de la reina sorprendió a la delegación. Nunca se habían encontrado con una gobernante que valorara tanto la contribución de las mujeres. Abandonaron el palacio, no sin antes advertir a la reina de que lamentaría su decisión.
La reina no pensó mucho en la advertencia. Conocía el valor de su consejo de mujeres y confiaba en sus instintos. Sin embargo, pronto descubrió que el reino vecino había interpretado su negativa como un signo de debilidad y comenzó a conspirar contra ella.
El consejo de mujeres de la reina se puso inmediatamente manos a la obra, ideando un plan para proteger su reino. Sabían que debían actuar con rapidez y discreción para evitar que la reina y su pueblo sufrieran algún daño.
Lo primero que hicieron fue reunir información sobre los planes del reino vecino. Enviaron espías y se infiltraron en el campamento enemigo, recopilando información crucial que les permitió planear su siguiente movimiento.
Mientras tanto, el ejército de la reina se preparaba para la batalla. El consejo de mujeres utilizó sus conocimientos para entrenar a los soldados e idear tácticas que les dieran ventaja en el conflicto que se avecinaba.
A medida que se acercaba el día de la batalla, la reina se llenaba de ansiedad. Sabía que el resultado determinaría el destino de su reino, y no podía soportar la idea de perder todo lo que tanto le había costado construir.
Pero cuando llegó el día de la batalla, la reina se sorprendió al ver que su consejo de mujeres lo había planeado todo hasta el último detalle. Los soldados tenían confianza y estaban bien entrenados, y las tácticas eran sólidas. El consejo de mujeres había previsto incluso planes alternativos por si fallaba la primera estrategia.
La batalla fue larga y agotadora, pero al final, el ejército de la reina salió victorioso. El reino vecino fue derrotado y el reino de la reina volvió a estar a salvo.
La reina estaba exultante, pero sabía que no lo habría logrado sin su consejo de mujeres. Las convocó a todas en su salón del trono y les agradeció su inquebrantable dedicación y su inestimable contribución. Reconoció que su pericia e ingenio habían salvado a su reino y prometió seguir valorando y elevando la voz de las mujeres en todos los aspectos de la gobernanza.
El reino vecino nunca más se atrevió a amenazar el reino de la reina, y el consejo de mujeres de la reina se hizo famoso en todo el país por su sabiduría y valentía.
Pasaron los años y el reino de la reina prosperó. Se convirtió en un faro de esperanza e igualdad, y mujeres de todo el país acudían a la corte de la reina en busca de guía e inspiración.
La reina se dio cuenta de que las mujeres no tenían precio, y se aseguró de que sus contribuciones fueran valoradas y celebradas en todos los aspectos del gobierno de su reino. Su legado perduró mucho después de su muerte, y su compromiso con.....
---
---