What will be on the other side - Darkwood - [Es - En]
Hola amigos de #hive, ¿Cómo están?. Espero que bien.
El día de hoy estamos de vuelta con un nuevo capítulo más de Darkwood, en el anterior capítulo, habíamos sobrevivido de una noche preocupante, luego de haber revisado el túnel subterráneo que había debajo la casa cerca de nuestro refugio.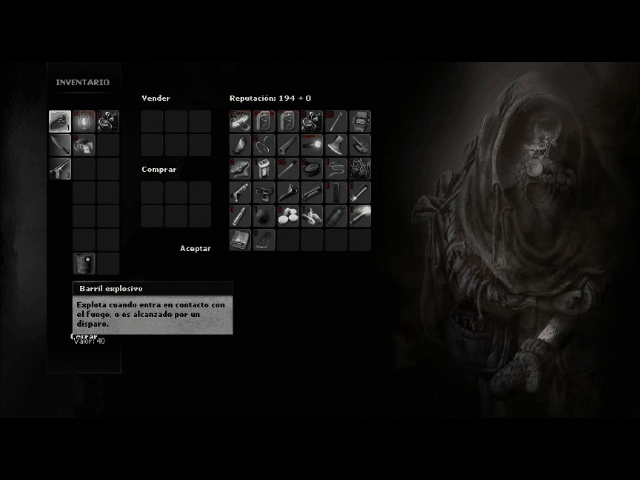 Mi objetivo para este día fue tratar de comprobar lo que más me alcanzase durante el día antes de buscar la forma de ir al bosque silencioso, pero tenía un obstáculo y era matar a todos lo perros que estaban un poco más abajo de la casa destruida.
En parte fue una perdida de tiempo y a la vez no, porque encuentre solamente un neumático, un vestido, algunos clavos y tablas, pero más nada relevante.
Luego de haber regreso a mi casa y reparar tabla con clavos, me fui más al sur de la casa de los perros, cerca de los límites del bosque. Y resulta que había una casa pasando un campo de cultivos y esa casa transmite un aura agóbiate, pero no pude acceder a ella porque tiene un candado con código y como no me lo sé, no pude hacer nada 😅, así que me fui del lugar.
Entonces, para aprovechar el tiempo de luz solar que todavía, fui en dirección a lo que parece ser la entrada al bosque silencioso, pero de camino allá me desvíe un poco y me encontré con el hombre lobo que me ayudo en un comienzo y que me podía vender algunas cosas como también darme algo de información.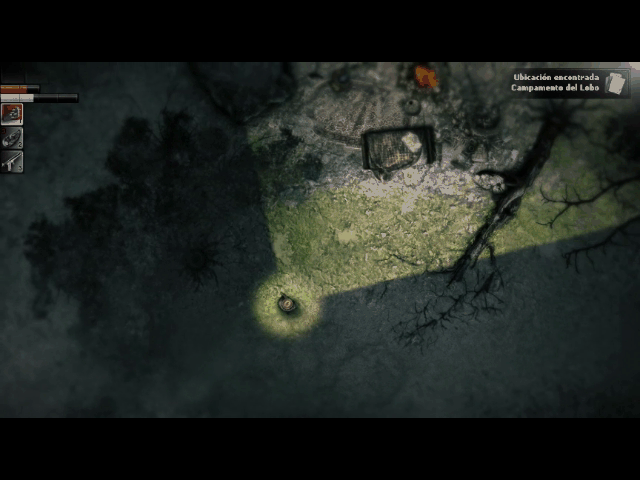 Cuando por fin llego al sitio, me encuentro con que la casa está rodeada de muchos árboles hasta el punto que no llega luz y que dentro de la casa hay como una especie de infección que cuando la toco me hace daño y tengo que buscar la forma de pasar al otro lado.
Pero me había distraído mucho en el sitio y ya había perdido la noción del tiempo y no sabía si era muy tarde para regresar a la casa, para mi suerte, apenas estaba empezando a atardecer y tenía el tiempo suficiente para llegar a mi casa.
Cuando llegue, me empecé a preparar para la noche montando una puerta y poniendo más trampas para que a lo que anochezca encender el generador.
La noche fue tranquila (si ignoramos los ladridos y pasos que hay por afuera 😂), pero a mitad de la noche, mientras estaba pendiente atreves de unos agujeros en la pared, apareció un tipo sentado en mi cama, hablándome y que al parecer se estaba lamentando y quería regresar a su casa.
Pero como no sabía qué hacer, pensé en darle un golpe a ver que pasaba, pero me arrepentí.
Cuando le di el golpe, el tipo desapareció, pero me regreso el golpe que le di 😅.
Luego de eso la noche paso más tranquila hasta que amaneció y por fin me pude tranquilizar.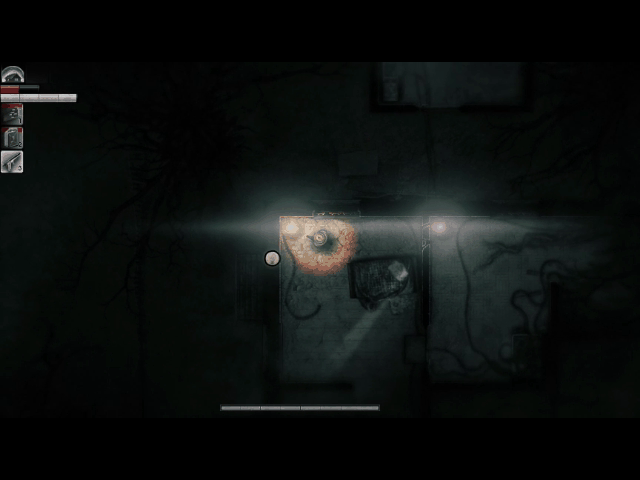 Bueno amigos, hasta aquí dejo el post del día de hoy, espero que les haya gustado, les invito a comentar que les pareció, les mando un abrazo a todos a la distancia y nos vemos hasta la próxima.
---

---
Hello #hive friends, how are you doing. I hope you're well.
Today we are back with a new chapter of Darkwood, in the previous chapter, we had survived a worrying night, after having checked the subway tunnel that was under the house near our shelter.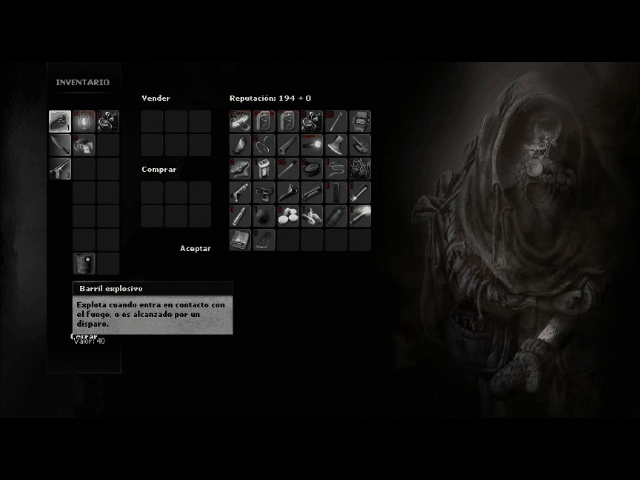 My goal for the day was to try to check as much as I could during the day before looking for a way to go to the silent forest, but I had an obstacle and that was to kill all the dogs that were a little further down from the destroyed house.
It was partly a waste of time and partly not, because I only found a tire, a dress, some nails and boards, but nothing else relevant.
After I went back to my house and repaired the board with nails, I went further south of the dog house, near the edge of the forest. And it turns out that there was a house past a crop field and that house transmits an agobic aura, but I couldn't access it because it has a code lock and since I don't know it, I couldn't do anything 😅, so I left the place.
Then, to take advantage of the remaining sunlight, I went in the direction of what seems to be the entrance to the silent forest, but on my way there I detoured a bit and met the werewolf who helped me at the beginning and who could sell me some things as well as give me some information.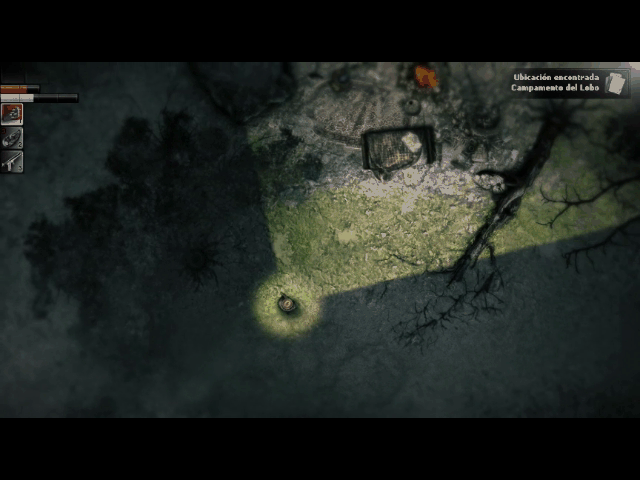 When I finally get to the place, I find that the house is surrounded by many trees to the point that there is no light and that inside the house there is some kind of infection that when I touch it hurts me and I have to look for a way to get to the other side.
But I had become very distracted on the site and had already lost track of time and didn't know if it was too late to get back to the house, to my luck, it was just starting to get dark and I had enough time to get home.
When I arrived, I began to prepare for the night by setting up a door and setting more traps so that as soon as it got dark I could turn on the generator.
The night was quiet (if we ignore the barking and footsteps outside 😂), but in the middle of the night, while I was looking through some holes in the wall, a guy appeared sitting on my bed, talking to me and apparently he was lamenting and wanted to go home.
But since I didn't know what to do, I thought about hitting him to see what would happen, but I regretted it.
When I hit him, the guy disappeared, but he hit me back 😅.
After that the night passed more quietly until dawn broke and I was finally able to calm down.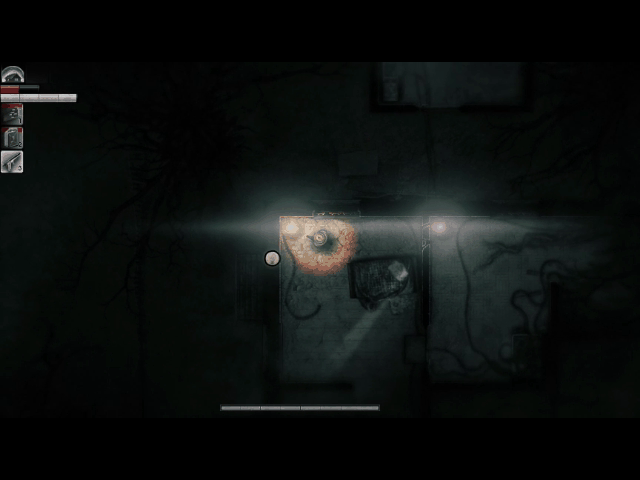 Well friends, this is the end of today's post, I hope you liked it, I invite you to comment what you thought, I send you all a hug from a distance and I'll see you next time.
Translated with www.DeepL.com/Translator (free version)
Translated
Todas las imágenes y GIf usados son de mi propiedad y tomadas de mi partida personal.
Gif editados utilizando Filmora.
---
---