Ballıkayalar Valley, Gebze, Kocaeli [ENG-TUR]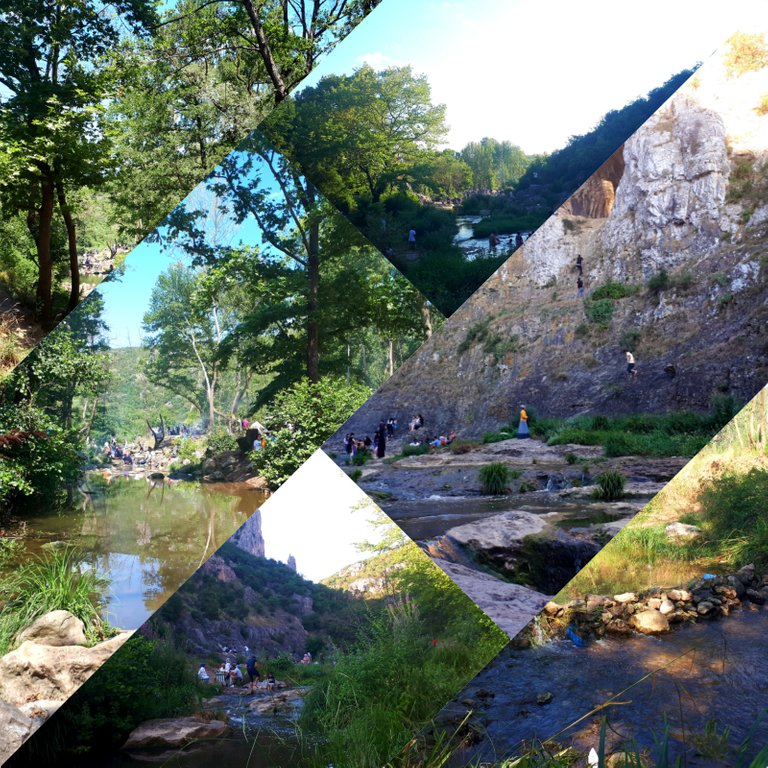 Hi Friends
First in Istanbul and then throughout Turkiye, entrance to the forest lands was banned until the end of August in July. Many people like me had to change their weekend activities for this reason. I couldn't discover new places due to the ban, thus I thought to make a nostalgia. Within this period, I prepared two posts about the places I went to in previous years. One of them is the Ballıkayalar Valley, which is located in Tavşanlı Village, Gebze district of Kocaeli province, and which I visited in July of 2021.
Merhaba Arkadaşlar
Temmuz ayı içinde önce İstanbul'da daha sonra tüm Türkiye'de ormanlık alanlara girişler Ağustos ayı sonuna kadar yasaklandı. Bu nedenle benim gibi birçok kişi haftasonu faaliyetlerini değiştirmek zorunda kaldı. Yasak nedeniyle yeni yerler keşfedemeyince, ben de nostalji yapayım dedim. Bu süreçte önceki yıllarda gittiğim yerlerle ilgili iki tane yazı hazırladım. Bunlardan biri, 2021 yılının Temmuz ayında gittiğim, Kocaeli ilinin Gebze ilçesi, Tavşanlı Köyü'nde bulunan Ballıkayalar Vadisi'dir.
It was the second summer of the pandemic. We had been well used to the pandemic and we had our vaccinations. Although the mask ban continued, many restrictions were removed. Towards the end of July, on a relatively cool Saturday, we decided to go to Ballıkayalar Valley on the recommendation of a friend. He had been here before and was praising this place to us. It is also called Ballıkayalar Natural Park.
Pandeminin ikinci yaz mevsimiydi. Pandemiye artık iyice alışmıştık ve aşılarımızı da olmuştuk. Maske yasağı devam etmesine karşın birçok kısıtlama kaldırılmıştı. Temmuz ayının sonuna doğru, nispeten serin bir Cumartesi günü, bir arkadaşımızın tavsiyesi üzerine Ballıkayalar Vadisi'ne gitmeye karar verdik. Kendisi buraya önceden gitmiş ve burayı bize çok övüyordu. Buraya Ballıkayalar Tabiat Parkı da deniliyor.
Since Ballıkayalar Valley is located in Gebze, it is a bit far from us, but it takes about 1.5 hours through the highway road. We set off early in the morning. We continued on our way by buying the necessary materials for picnic and barbecue from the roadside markets. There are two different ways to go to Ballıkayalar Valley from Istanbul. One of them is the E80, which we call the highway, and the other is the D100, which we call E5 highway. Those who do not want to pay a toll can use the D100 highway, but they would arrive a little later. We used the highway until Gebze. Afterwards, we continued on the Istanbul-Izmit E5 highway and reached Tavsanli Village.
Ballıkayalar Vadisi Gebze'de bulunduğu için bize biraz uzak ama otoban yolundan yaklaşık 1.5 saate gidilebiliyor. Sabah erkenden yola çıktık. Piknik ve mangal için gerekli olan malzemeleri yol kenarındaki marketlerden alarak yolumuza devam ettik. İstanbul'dan Ballıkayalar Vadisi'ne iki farklı yoldan gidilebiliyor. Bunlardan biri bizim otoban olarak adlandırdığımız E80, diğeri ise E5 yolu olarak adlandırdığımız D100. Geçiş ücreti vermek istemeyenler D100 karayolunu kullanabilirler ama biraz daha geç varırlar. Biz Gebze'ye kadar otoban yolunu kullandık. Daha sonra İstanbul-İzmit yolu E5'ten devam ederek Tavşanlı Köyü'ne ulaştık.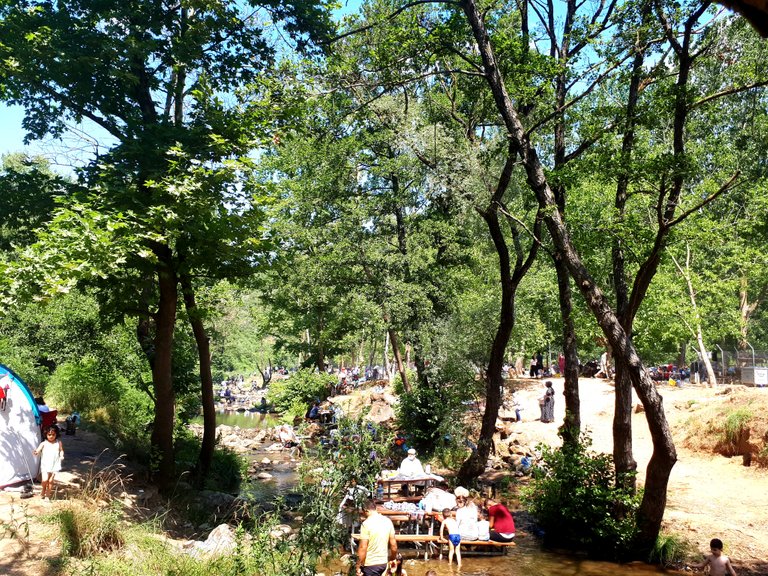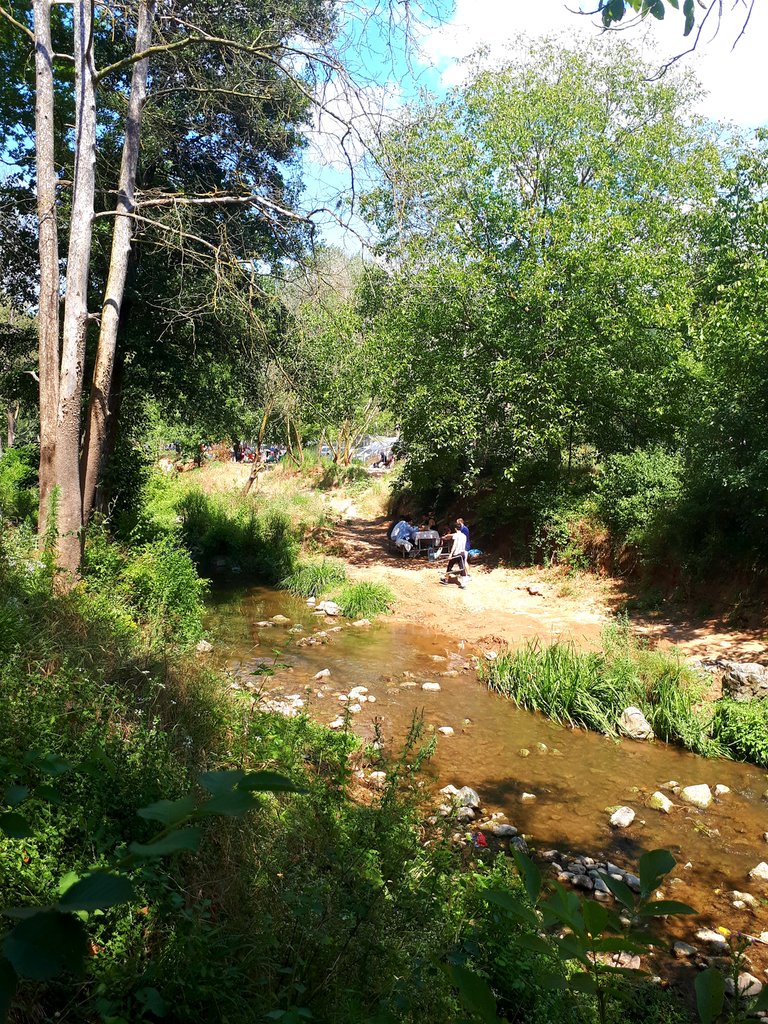 We arrived around 9 o'clock. Since we arrived early, it wasn't too crowded. You can go down to the side of the valley by car and park it. Ballıkayalar Valley is a natural wonder place preferred by campers as well as those who love picnics and barbecues. After parking the car, we went down to the valley for exploration as usual. From where we are, the right of the valley goes between the two mountains, and the left goes to the place where the stream flows. Since the left side of the valley is more green, we found a place on the left and carried the materials there. We had some difficulty as the materials were plentiful and the passage from the stream was made over the stones, even our feet got into the water from time to time.
Saat 9 gibi varmıştık. Erken vardığımız için çok kalabalığa denk gelmedik. Arabayla vadinin yanına kadar inip park edebiliyorsunuz. Ballıkayalar Vadisi, piknik ve mangal yapmayı sevenlerin yanısıra kampçıların da tercih ettiği doğa harikası bir yer. Arabayı park ettikten sonra her zamanki gibi keşif için vadiye indik. Bulunduğumuz yerden vadinin sağı iki dağın arasına doğru, solu ise derenin aktığı yere gidiyor. Vadinin sol tarafı daha yeşillik olduğu için sol tarafta bir yer bulduk ve malzemeleri oraya taşıdık. Malzemeler çok olduğu ve dereden geçiş taşların üstünden yapıldığı için biraz zorlandık, hatta zaman zaman ayaklarımız suya girdi.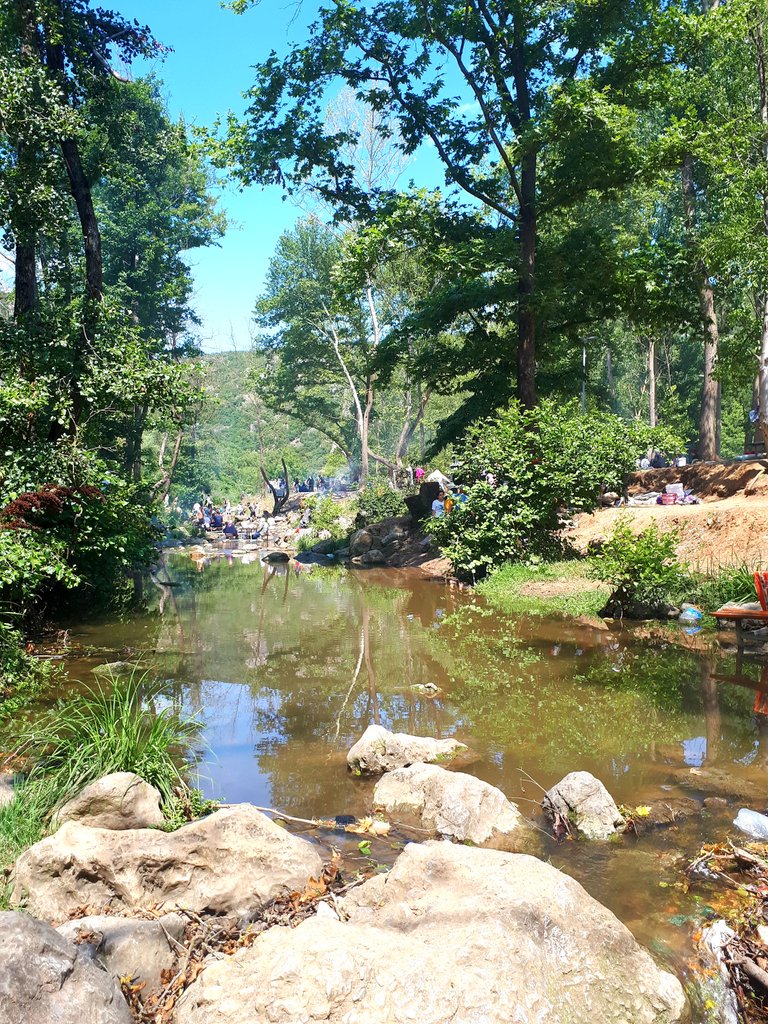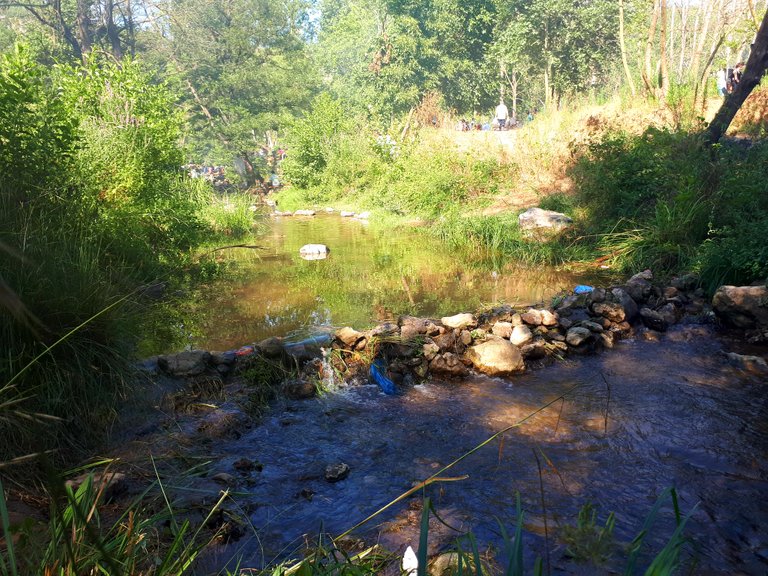 We settled in a shady place by the stream, where the water flows. There were people settled on the right, left and even in the middle of the stream. A little higher up, there were families and young people camping. Since we didn't eat anything in the morning, we immediately lit the samovar and prepared the breakfast. It past 12 o'clock after trying to settle and breakfast. We explored the valley a little. The valley covers an area of approximately 2-3 kms. As far as I could see, here is a picnic spot for the public. A place that rather attracts the low class. There were even foreign nationals.
Dere kenarında, suyun aktığı gölgelik bir yere kurulduk. Derenin sağında solunda, hatta ortasında kurulmuş insanlar vardı. Biraz yukarlarda ise kamp yapan aileler ve gençler bulunuyordu. Biz sabah birşey yemediğimiz için hemen semaveri yakarak kahvaltılıkları hazırladık. Yerleşmeydi kahvaltıydı derken saat 12'yi geçmişti. Vadiyi biraz keşfe çıktık. Vadi yaklaşık 2-3 km'lik bir alanı kapsıyor. Gördüğümü kadarıyla burası halk için tam bir piknik yeri. Daha çok alt sınıfa hitap eden bir yer. Hatta yabancı uyruklular da vardı.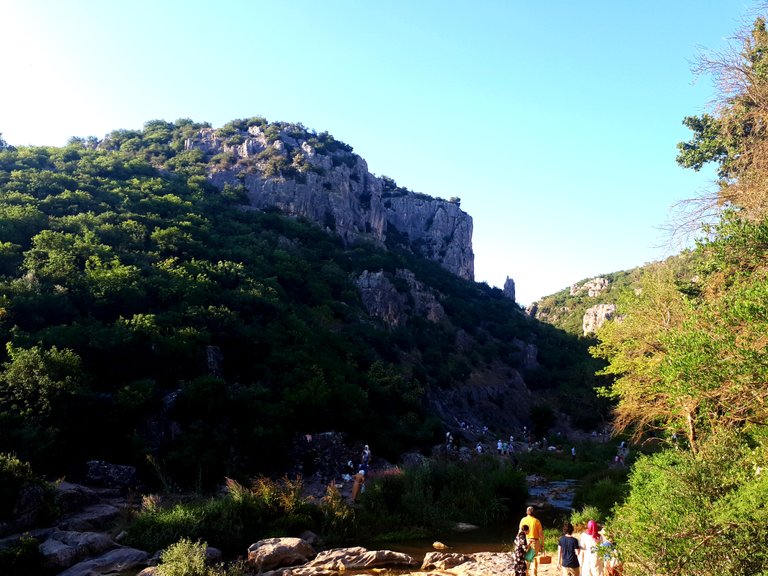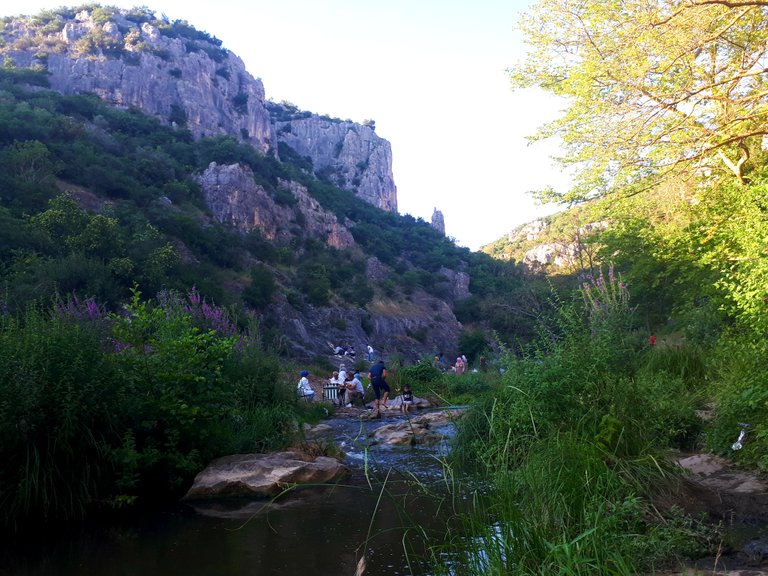 We made the barbecue around 4 o'clock, then ate and drank. Towards evening, we went to the right of the valley, that is, upstream. Walking up the valley becomes difficult after a point due to the flowing water and rocks. It would make more sense to camp here instead of having a picnic. I saw a few people climbing up to the caves above. There was a risk of falling. The valley was going further, but we turned back as it had started to get dark and we were tired. Gathering our materials, we set off at 7 o'clock.
Saat 4 gibi mangalımızı yaktık, yedik içtik. Akşama doğru vadinin sağına yani yukarısına, suyun geldiği yöne doğru gittik. Vadinin yukarısına doğru yürümek bir yerden sonra akan su ve kayalar nedeniyle zorlaşıyor. Buralarda piknik yerine kamp yapmak daha mantıklı olurdu. Birkaç kişinin yukardaki mağaralara kadar tırmandığını gördüm. Düşme riskleri vardı. Vadi daha da ileriye gidiyordu amah hava kararmaya başladığı ve yorulduğumuz için geri döndük. Malzemelerimizi toparlayarak saat 7 gibi hareket ettik.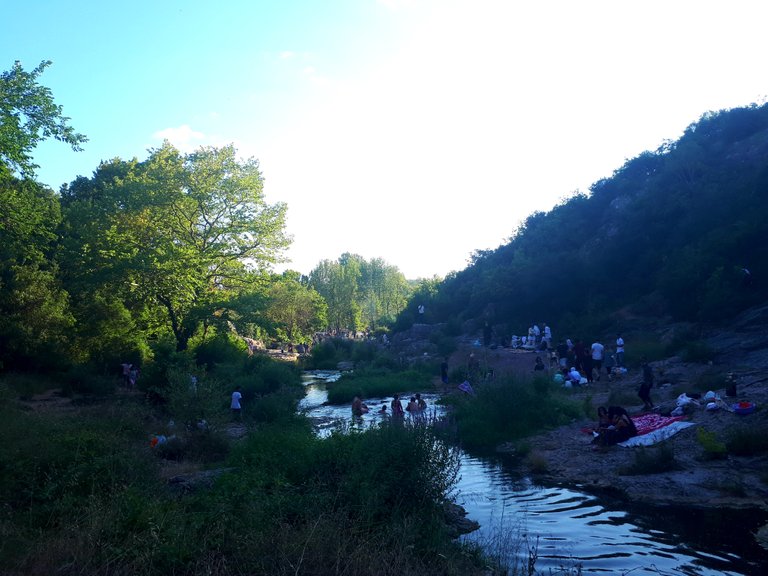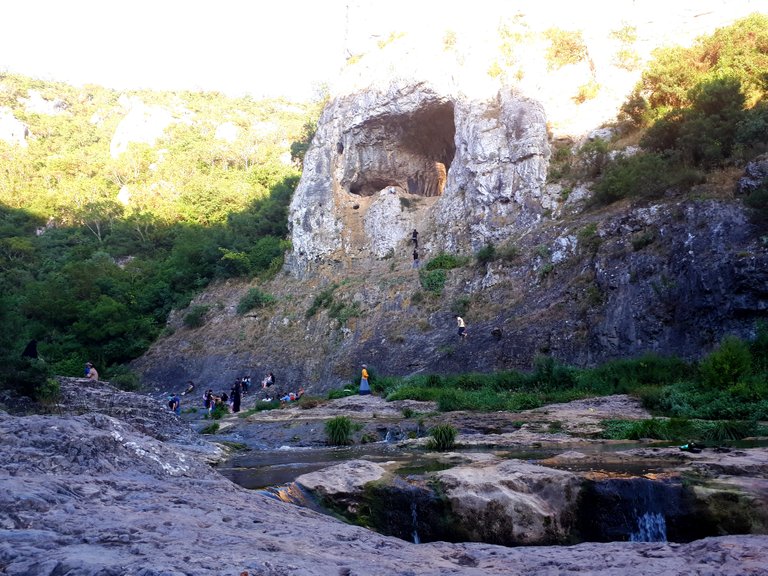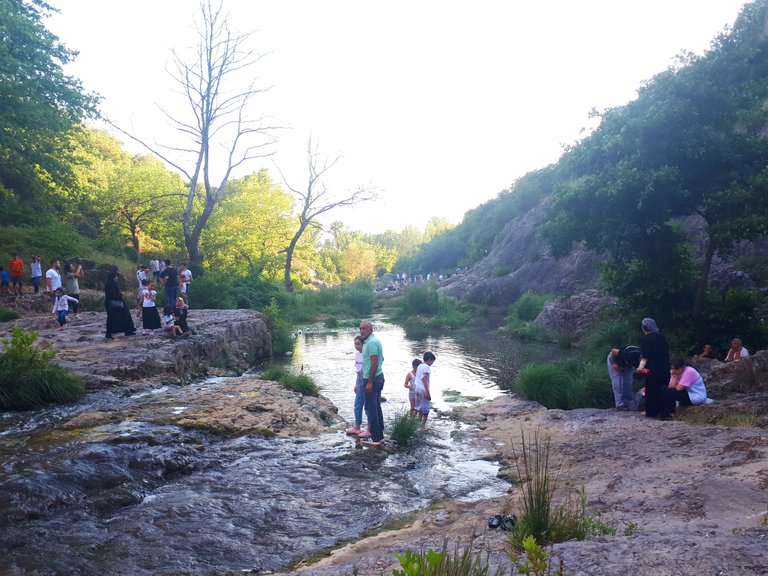 If I go to Ballıkayalar Valley again, I will go to see the upper side of the valley. At that time the entrance fee was 20 TL, very reasonable. Because this place belongs to Gebze Municipality, there are also facilities inside. Apart from that, a fee is charged for the tent and the table where you have a picnic. Since low class people prefer Ballıkayalar Valley with their families, it may be difficult to act freely.
All photos in this post belong to me. Thank you for reading.
Ballıkayalar Vadisi'ne tekrar gidersem vadinin yukarı tarafını görmek için giderim. Giriş ücreti o zamanlar 20 TL gibi makul bir ücretti. Burası Gebze Belediyesi'ne ait olduğu için içerde tesisler de bulunuyor. Bunun dışında çadır için ve piknik yaptığınız masa için ücret alınıyor. Ballıkayalar Vadisi'ne alt sınıftan insanlar aileleri ile birlikte yoğun şekilde geldiği için rahat hareket edememe durumu olabilir.
Bu yazıdaki tüm fotoğraflar bana aittir. Okuduğunuz için teşekkür ederim.
---
---