Earn Rewards from Your Liquid POB, Don't sell so Cheap!

To all desperate and needy POB sellers who keep pushing POB Prices to all time low, What if I told you there is better way to utilise your POB tokens other than selling it so cheap. Staking Rewards are best on POB but seriously, selling at a price below 0.1$ is not worth it, you are not making any profits at this price, stop fooling yourself, there are better ways to overcome your financial needs or utilise Liquid POB token, here is HOW?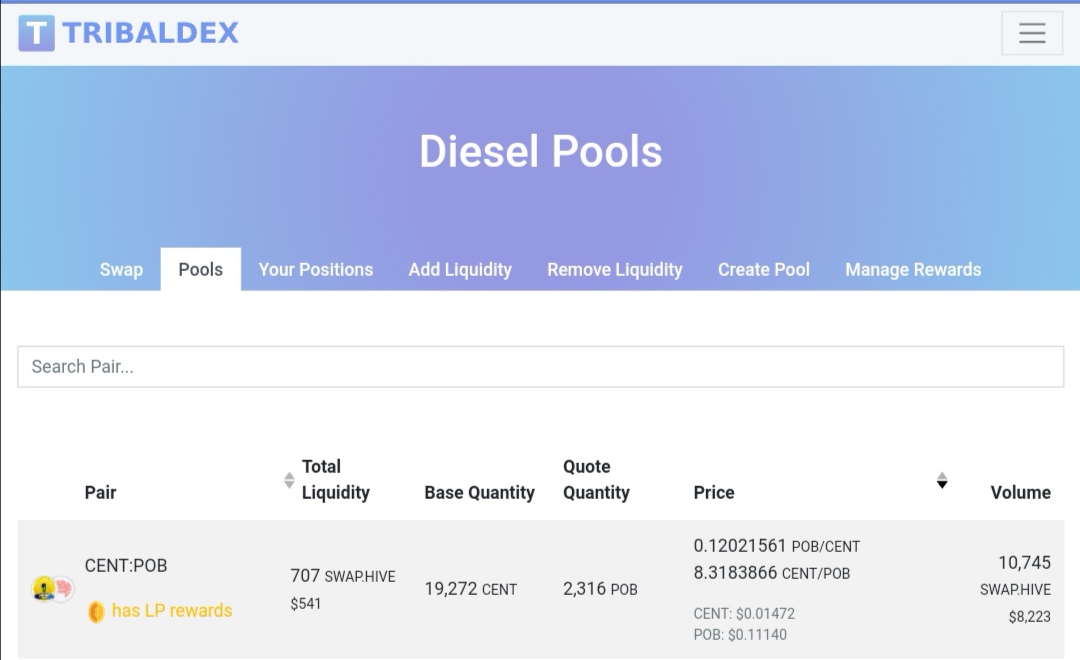 The best way is to add your POBs into Diesel Pools at Tribaldex. And trust me the rewards will blow your mind. If you want to know how to add Liquidity on Tribaldex, see My Previous Post here , a step by step guide to do it.
Today I will tell you about CENT:POB Pool where you can add your POB tokens and earn other Tokens as rewards.
Go to https://tribaldex.com/ and login via Hive Keychain.
Click on Pools, then Add Liquidity.
Then Select Select CENT:POB Pool.
Then you can add token amount according to your choice. Then click on, Add Liquidity and you are done.
You can see your active Liquidity by clicking on, Your Positions there you can see your rewards too.
But most important thing is you need Both the Token to add Liquidity. That is CENT and POB both, you can't add POB without having CENT in your wallet. At current price, You will need 831 CENT to add 100 POB into this Pool. CENT is one of the promising tokens and I advice you to purchase it, it very affordable right now.
Also you can remove your Liquidity anytime you want, no waiting period, you will get your tokens instantly back into your wallet.
Now lets talk about the Rewards 😊🤑🤩
A Big Kudos to CENT team to bringing best reward Pools. All CENT Pair have LP rewards and these are one of the most lucrative.
Here it is: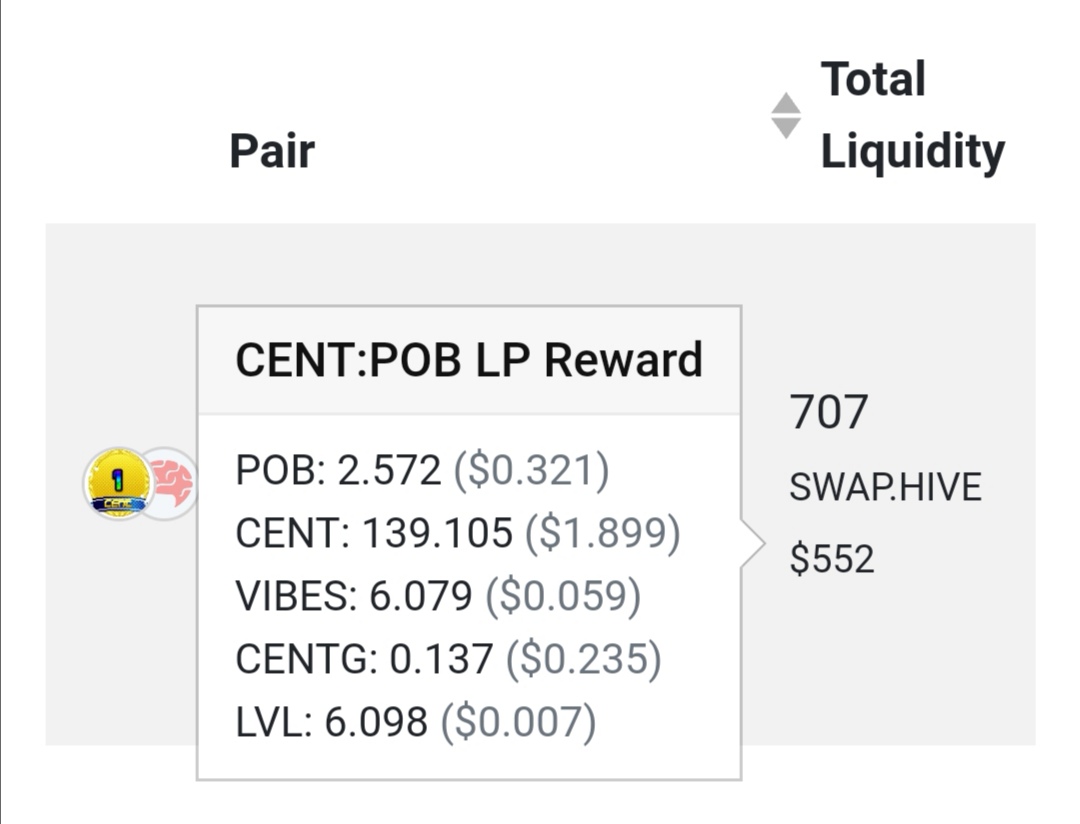 So you can see the available rewards of this pool, you will be receiving: POB, CENT, VIBES, CENTG and LVL tokens everyday in respect to your percent share of reward pool, the higher your stake in pool, the higher are your rewards. But Remember again, you need Both pairs that is CENT and POB to add Liquidity.
Both CENT and PIZZA pools are giving lucrative rewards that I highly recommend to utilise your liquid tokens.
Now its your Call. Just Try this Pool for a month and see your rewards and who knows it POB Price rebound back after few months, you can do as you wish. Sometimes it's better to hold but luckily We have better options in form of Diesel Pools. Only Selling of Tokens is not the best Option always.
Note: It is strongly advised to start with low investments. Because just like any other investment there is a loss factor here too. Because whenever the Price of tokens fluctuate you will be getting different amount of coins in balance which is called imparmanent loss. But good and compensating thing is you will also be getting other Tokens too as a reward so little fluctuations will be noticeable.
Thank you so much for your time. If you have any doubt regarding the above topic, please feel free to ask in comments section. Have a Good day. 😊🙏
---
Posted via proofofbrain.io
---
---