November Marketwatch, HIVE Rules them All👍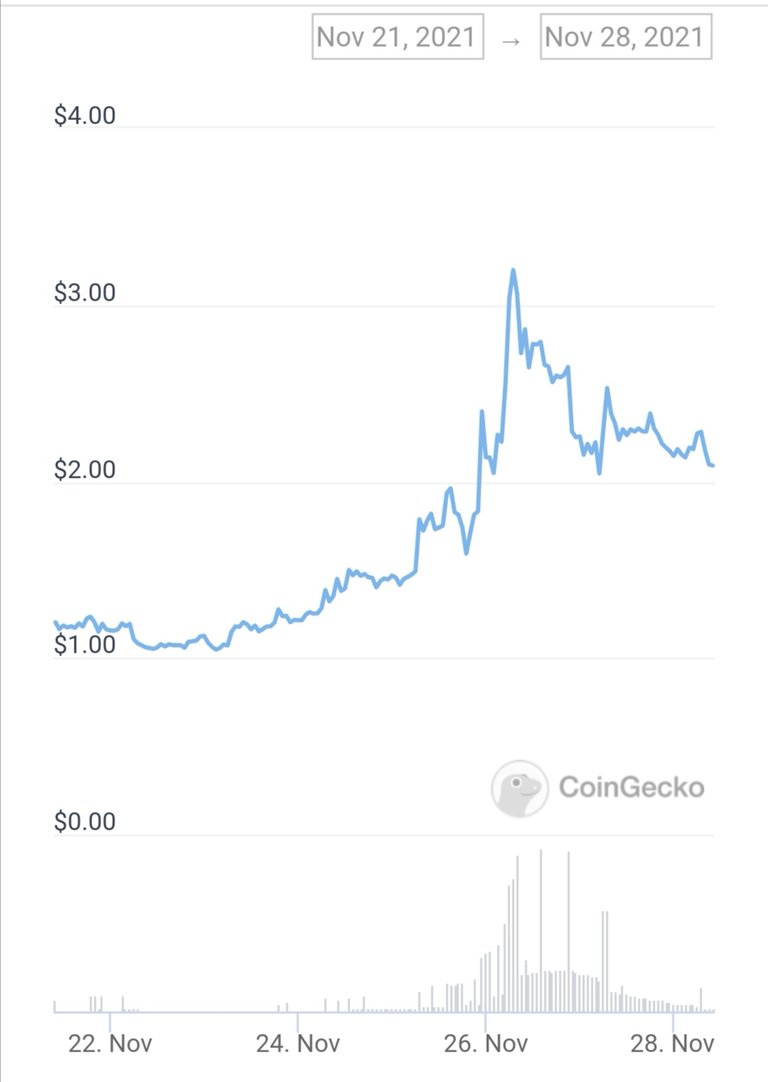 source HIVE chart past 7 days
HIVE roared up to its All-Time High on November 26 going up to $3.41. It nearly gained 170% in past 30 days. More interesting is that what all started with Hive first Pumping up again at $1, raised to sudden prominence going up and up everyday in past week. Well $3 was unexpected for many for a huge pump, we might have expected it to fall sharply afterwards. But that's where Hive is surprising us all. Hive now showing a strong resistance around $2 from yesterday and its looks like the bull run is not over yet. This is the first time I think we have witnessed such behaviour in Hive Market.
Hivers are now going crazy with such market rise and seeing their Hive Wallet worth skyrocketing such quickly. While many who missed taking the profit of this pump, there are many who still holding and even buying it even stronger. Because lately Hive is showing good stability in Price resistance and we all can predict that this $3 market value migh be a stable price for Hive One day when the pumps and new ATH will take it even more than 10$. As now Hive already tested the waters of Billion dollar Market Cap, there is no turning now. Because when the whole cryptocurrency market was seeing the downwards trend, Hive battled against the odds and gained its prominence. So, Hivers enjoy new Stable market prices and keep Powering up and buying Hive. Remember there is always good time it buy and hold Hive, so don't regret missing out buying Hive below $1 because the Pump and ATH prices of today will definitely gonna be stable prices of Hive.
The overall crypto market, including Bitcoin, is in decline. The Dominance of the bitcoin is around 40%. In a month's Time Frame, the bitcoin fell by more than 10%, while Solana and Binance showed a significant rise in this month.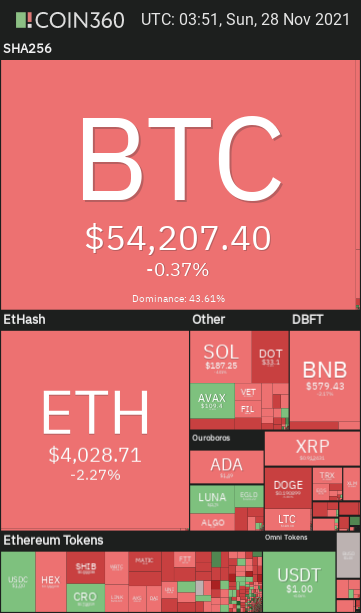 source
ADA, DOGE, Shib continues to decline. It is important to see what the future market trend is rather than a month before. There is also an assessment that the rising trend has a single-flight.
I think that the coins will change in the TOP10 on the next year on the Market Cap standard. The current TOP10 is not to have a coincidental coin and ecosystem, as in 2017. We have been striving to expand and use their respective ecosystems of these coins.
However, if the directionality of leaders leading the coin ecosystem is wrong, it is enough to place 10 to 20 coins in an instant.
DEFI, Web3.0, and games are quickly mounted on Layer1, such as Solar, DOT, Luna, and are wondering if it is possible to attract real economy, which should be realized to any level. Government regulations can be a great support for considerable variables. As a result of the capital of a significant institution has already been invested, we hope that the specific realistic future is based on this. The probability of success is a meaningful success within 5% of the entire attempt.
I think competition will now be now between the transaction between the transaction, Layer1 coin / ecosystem. It should evolve through mutual coexistence than competition. I also think of a bloody competition to bring the initiative. The current trend is already a virtualization incorporation, because it is a time issue, the extent of the transition is not to be able to do not cover the means and methods. The best weapon is in a hand, so it is not difficult to wield as much as you want.
Posted Using LeoFinance Beta
---
---