¡Comenzando la nueva temporada de la mejor manera! | Call of Duty Mobile [ES/EN]

---
Ha comenzado una nueva temporada y como era de esperarse nos han bajado el rango del clan. Ahora somos Maestro I, pero eso no nos detiene en seguir progresando para volvernos aún más fuertes de lo que somos. Esta temporada ha traído consigo muchas novedades, las cuales incluyen elementos característicos del mundial de futbol, siendo estas algunas recompensas que podremos obtener en este interesante evento.
Posiblemente los ponga al tanto en la próxima publicación ya que aún no he tenido el tiempo de probar esta modalidad de juego que supuestamente es de Battle Royale.
Lo que sí he hecho es sumar puntos al clan con la intención de escalar posiciones y hacernos de varios nodos. He jugado un modo de juego que me gustó mucho y era el de romper las cajas con dinero. Han pasado muchos momentos curiosos, que por suerte, quedaron registrados en video. Por ejemplo al enemigo que por despistado le cae una de estas cajas en la cabeza y lo mata al instante.
Lo interesante fue que al avanzar en la partida podíamos ganar dinero para comprar nuevas armas y es aquí donde encontré mi nuevo amor. Sí, me he enamorado de un arma y es la M13, aunque algo "tuneada" aseguraba una precisión y eficacia inigualable, por lo que pude sacar algo de ventaja en el campo de batalla. Desde que comencé en el juego he usado el subfusil RUS-79U el cuál lo tengo en nivel Maestro y al que también he apodado como "Fuerza-Letal". Claramente estas son dos de mis mejores armas.
A new season has started and as expected we have been downgraded in clan rank. We are now Master I, but that does not stop us from progressing to become even stronger than we are. This season has brought with it many new features, which include elements characteristic of the World Cup, these being some of the rewards that we will be able to obtain in this interesting event.

Possibly I will update you in the next publication since I have not yet had the time to try this game mode that is supposed to be Battle Royale.

What I have done is to add points to the clan with the intention of climbing positions and getting several nodes. I have played a game mode that I really liked and it was to break the boxes with money. There have been many funny moments, which fortunately were recorded on video. For example, the enemy that by absent-mindedness falls one of these boxes on his head and kills him instantly.

The interesting thing was that by advancing in the game we could earn money to buy new weapons and this is where I found my new love. Yes, I have fallen in love with a weapon and it is the M13, although somewhat "tuned" it ensured unmatched accuracy and efficiency, so I was able to get some advantage on the battlefield. Since I started in the game I have used the RUS-79U submachine gun which I have at Master level and which I have also nicknamed as "Lethal-Force". Clearly these are two of my best weapons.
---
---
Algo que he notado es que hay modos de juego que te permiten sumar más puntos o hacerlo de una forma más sencilla que en otros. Por lo cual, obtienes cierta ventaja en la tabla de posiciones del clan ya que luego se determinará por la cantidad de puntos obtenidos.
Bajo esta observación yo creo que es mucho mejor ir sumando muchos puntos y luego concentrarse en los nodos que cuesten un poquito más, pues ya nos habremos adelantado en los otros, por lo que no estaremos preocupados por pensar en que nos ganarán el nodo.
Ya hemos dejado en claro que trabajar en equipo es fundamental para sumar puntos al clan. Por ejemplo jugando todos en un mismo nodo. Obviamente hacerlo en una misma partida, sumará más, pues si no estoy mal se gana 5% más de experiencia como también se cumplen alguna tarea diaria del juego. Aunque para esto hay que tener tiempo para no salirse en la primer partida, por lo cual es mejor acordar un horario en que se esté libre.
Something I've noticed is that there are game modes that allow you to score more points or do it in a simpler way than in others. Therefore, you get a certain advantage in the clan's leaderboard since it will be determined by the amount of points obtained.

Under this observation I believe that it is much better to add up a lot of points and then concentrate on the nodes that cost a little more, because we will already be ahead in the others, so we will not be worried about thinking that we will win the node.

We have already made it clear that working as a team is fundamental to add points to the clan. For example, playing all of us in the same node. Obviously doing it in the same game will add more, because if I'm not wrong, you will gain 5% more experience as well as accomplish some daily task of the game. Although for this you have to have time not to leave in the first game, so it is better to agree on a time when you are free.
---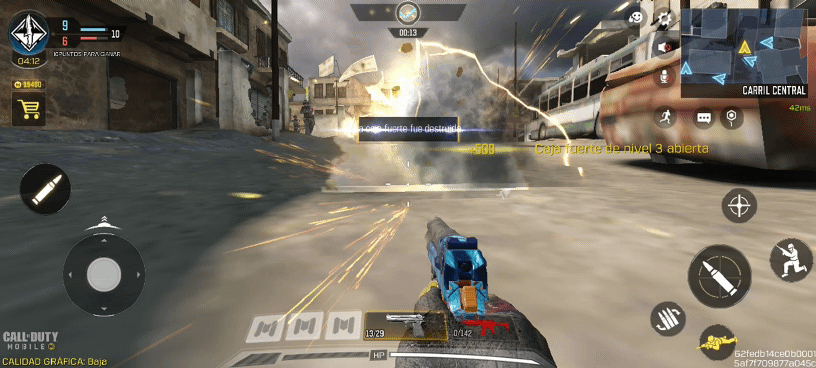 ---
Estas partidas las he disfrutado mucho, pues han sido muy emocionantes y graciosas. Sobre todo demasiado intensas.
Otra de las situaciones que me sucedieron fue la última caja que teníamos que romper. Me tiré al suelo intentando abrirla con el dispositivo tecnológico y no supe hasta que terminó la partida que en la repetición se veía al enemigo haciendo exactamente lo mismo que yo, pero uno de mi equipo lo abatió brutalmente.
En algunos casos estas repeticiones suelen ser muy graciosas y por alguna razón me recuerdan al juego Tekken, en caso de que usen un arma de puños.
En cuanto a los nodos, nos hemos apoderado de dos, perdiendo uno que era el de BR. Comúnmente nos suele pasar lo mismo, pues lleva más tiempo y se necesita de más cantidad de personas jugando esta modalidad para sumar varios puntos. Posiblemente esta sea nuestra flaqueza, aún así podemos mejorar en algún momento.
En menos de 5 horas si todo marcha bien conseguiremos otros dos nodos más. Y lo mejor es que nos estamos manteniendo en primer puesto en el ranking de clanes. Esta es la primer semana de la temporada 5, por lo que esto representa mucho de ahora en adelante.
I have enjoyed these games very much, as they have been very exciting and funny. Above all too intense.

Another situation that happened to me was the last box we had to break. I threw myself on the floor trying to open it with the technological device and I didn't know until the game was over that in the replay you could see the enemy doing exactly the same as me, but one of my team brutally shot him down.

In some cases these replays are usually very funny and for some reason they remind me of the game Tekken, in case you use a fist weapon.

As for the nodes, we took over two, losing one which was BR's. The same thing usually happens to us, because it takes more time and it takes more people playing this mode to score several points. Possibly this is our weakness, but we can still improve at some point.

In less than 5 hours if everything goes well we will get two more nodes. And the best thing is that we are keeping the first place in the clan ranking. This is the first week of season 5, so this represents a lot from now on.
---

Vivir en un mundo de posibilidades... ¡Es emocionante!
---
▶️ 3Speak
---
---