This is my strategy to boost my HP!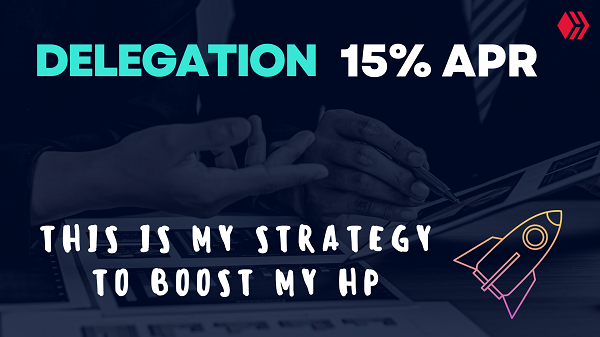 Image obtained and edited in Canva
---
I spent a long time thinking about how I could increase my HP in a significant way. I had different options, such as creating content here on Hive. But I also wanted to find a way to earn passive income to help me accomplish this goal.
It was for this reason that I set out to see what options I had to delegate my voting power and it was somewhat difficult, as one would gladly start delegating to the many communities that make a difference, but unfortunately one has limited resources.
A few days before the end of the previous year I decided to delegate 500 HP to the "Stick Up Boys" project (@stickupcurator) which promised to reward dividends on the LGN token with an APR of 15% or more. I noticed right then and there that the rewards were very good, and that if I sold the tokens I managed to collect over time, I would receive Hive, which I could then convert into HP to boost my account.
Estuve un buen tiempo pensando en cómo podría lograr incrementar mi HP de una manera significativa. Tenía diferentes opciones, como por ejemplo creando contenido aquí en Hive. Pero también quería encontrar la forma de obtener ganancias pasivas que me ayuden a cumplir esta meta.

Es por esta razón que me dispuse a ver que opciones tenía para delegar mi poder de voto y fue algo difícil, pues uno con mucho gusto comenzaría a delegar a las tantas comunidades que logran marcan la diferencia, pero lamentablemente se cuenta con recursos limitados.

A pocos días de que finalice el año anterior me decidí por delegar 500 HP al proyecto "Stick Up Boys" (@stickupcurator) que prometía recompensar con dividendos en el token LGN con un APR del 15% o más. Noté en ese preciso instante que las recompensas eran muy buenas, y que si vendía los tokens que lograra juntar a través del tiempo, recibiría Hive, el cual luego podría convertir en HP para así potenciar mi cuenta.
---

---
I am receiving the rewards every day at almost the same time. As my only goal was to get HP, I sold what I collected on day 7 in order to secure that liquid Hive. I think if everything stays as it is, I could be getting between 16 and 18 HIVE in three months, which by using them to increase HP and upgrade delegation, the dividend return would be higher.
Quite possibly my goal is to maintain the delegation for a stipulated time and then evaluate whether or not to continue delegating. But the truth is that I also want to be able to contribute something to other communities, so I have a few of them in mind. Maybe it is a way of thanking them for the unconditional support they give us. I will try to make that another of my goals.
Las recompensas las estoy recibiendo todos los días casi a la misma hora. Como mi único objetivo era conseguir HP, vendí lo recolectado en el día 7 para así asegurarme ese Hive en líquido. Creo que si todo se mantiene tal como está, podría estar obteniendo entre 16 y 18 HIVE en tres meses, los cuales al usarlos para aumentar el HP y actualizar la delegación, el retorno de los dividendos sería mayor.

Muy posiblemente mi objetivo sea mantener la delegación un tiempo estipulado y luego evaluar si seguir o no delegando. Pero lo cierto es que también quiero poder aportar algo a otras comunidades, por lo que tengo en mente algunas de ellas. Quizás sea una manera de agradecer el apoyo incondicional que se nos da. Trataré que esa sea otra de mis metas.
---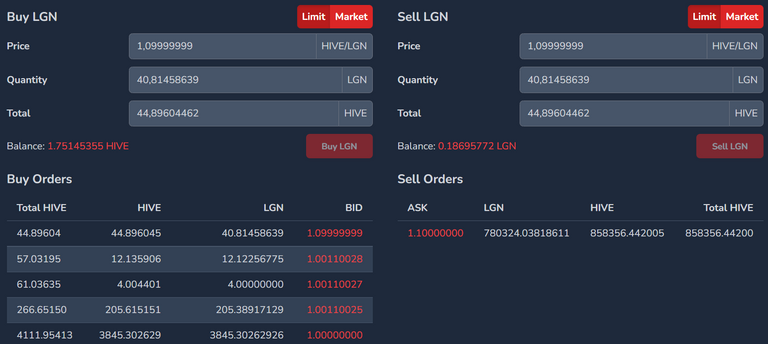 ---
I was very struck by the buy/sell orders. In the left column we see the buy ones, which are several and for a good amount of tokens, while the sell ones I assume we see at the price the project is selling. Which hints, at least to me, that there is no one giving away their NGLs at ridiculous prices causing their value to plummet. This translates to a stable price over time.
This is why I have full confidence that it will continue to do so. The sales volume is too low to decrease the price considerably and seriously affect us. Although I admit that I sold when there was no buy order at 1.09, to be sure that I was going to sell in relation to 1 (1 LGN = 1 HIVE).
Finally, when the time comes I will be talking about the communities to which you can delegate. For they also give a good return, and by delegating we would be giving our power to be used in good cause, as it is to value quality publications on our Hive blockchain.
Me llamó mucho la atención las órdenes de compra/venta. En la columna izquierda vemos las de compra, que son varias y por una buena cantidad de tokens, mientras que las de venta asumo que vemos al precio que el proyecto está vendiendo. Lo que da a entender, al menos para mí, que no hay nadie que esté regalando sus LGN a precios ridículos haciendo desplomar su valor. Esto se traduce a un precio estable a través del tiempo.

Por este motivo es que tengo plena confianza en que seguirá así. El volumen de ventas es muy bajo como para decrementar el precio considerablemente y afectarnos seriamente. Aunque admito que vendí cuando no estaba la orden de compra de 1.09, para tener por seguro que iba a vender en relación a 1 (1 LGN = 1 HIVE).

Para finalizar, cuando llegue el momento estaré hablando sobre las comunidades a las que se puede delegar. Pues también dan una buena rentabilidad, y al delegar estaríamos dando nuestro poder para que sea usado en buena causa, como lo es valorar publicaciones de calidad sobre nuestra blockchain de Hive.
---

---
---