FTB6 The Risen and STARBITS Millionaire Are The Two Best Decisions I Made in @risingstargame
Previous time I wrote about my experience grabbing one of the 17 Backstage Pass Cards available on the market and Blending in order to get a FTB6 The Risen Card which was more than a 10X Stat upgrade for the FTB5 The Risers Card I have already acquired through the Festival World Tour Missions.
Immediately Noticeable Experience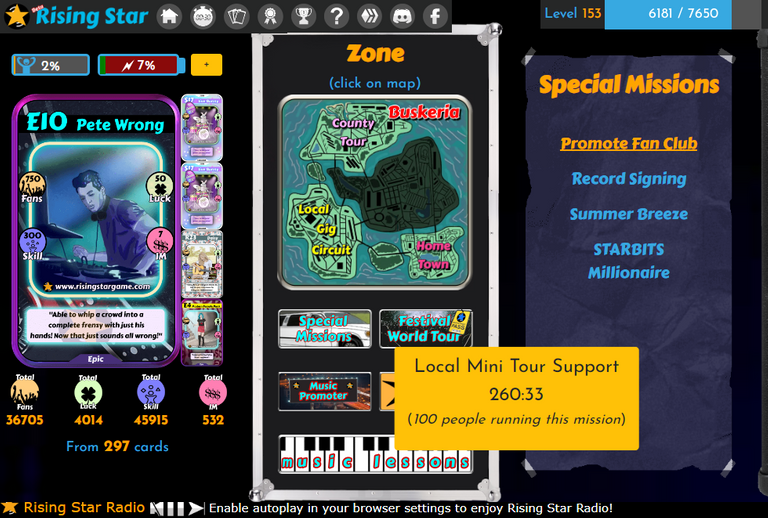 These Stats are ~3 times better than what I used to have with my account. The following Stats are coming from only one Card:
25,000Fans
25,000 Skill
600 Luck
350 IM
All of this makes sure I have access to more Missions and Areas of the game (not that I had much problem with that previously) and above all it brings in better earnings. This is not an exponential rise in earnings. More Fans push the upper limit of what I can earn as STARBITS from a Mission. This is certainly a welcome addition.
All of this came from a small decision to spend 1 STARPRO (currently worth ~5 HIVE)
Only 4 More Left on Market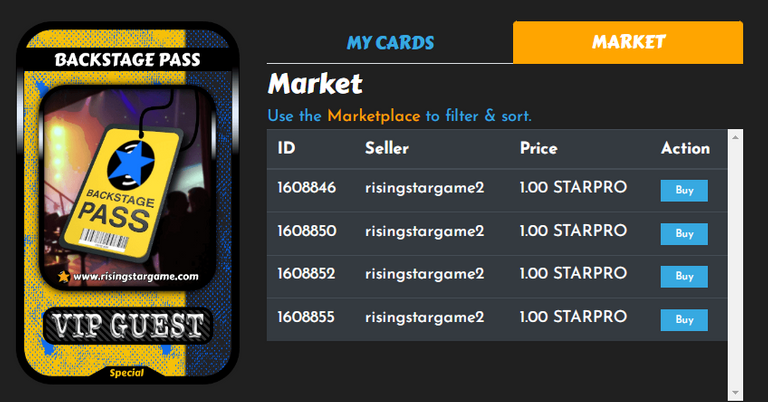 I have another Backstage Pass with me just in case for some future use case. I have no intention of making it available on the market for a long time. In fact I don't like the idea of selling @risingstargame Cards.
STARBITS Millionaire; A Game Changer
As someone who want to HODL these NFTs, STARBITs is what I use to gain liquidity in a hurry. I HODL my @risingstargame Cards even in the tough times. I have completed 113 STARBITS Millionaire Missions and for the last few, I have earned 11,000 STARBITS per Mission instead of 10,000 because I had invested into STARPRO. These are the details about the Mission and Card:

Part of these earnings were reinvested into @risingstargame and the some were sold for HIVE. As it seems that another HIVE pump is one the way I consider it a prudent choice to go ahead and acquire more HIVE. Later you could use those HIVE to get more Cards or simply upgrade your life IRL. I know that there are many investors who are living extra frugal while betting everything they own on cryptocurrency. I'm one of such forward thinking individuals myself.
Few Links to Mention
Happy Gaming! Happy Investing!
Posted Using LeoFinance Beta
---
---