Caminar y servir // Walk and serve (Poetry)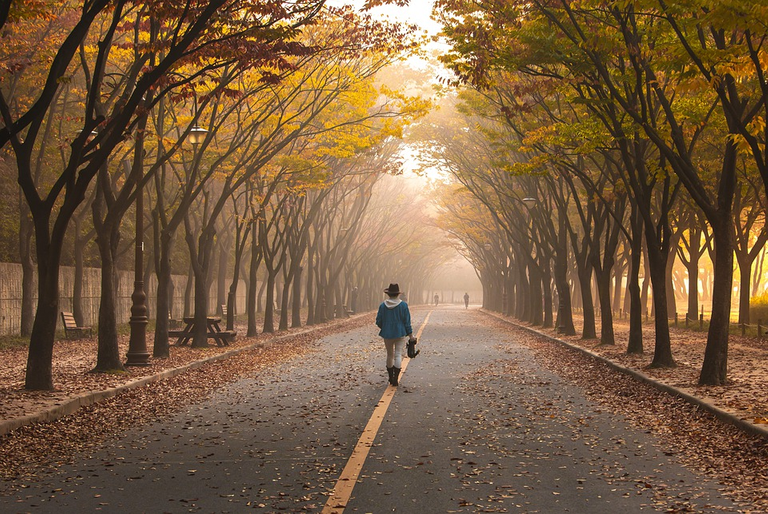 Fuente
---
---
CAMINAR Y SERVIR

Servir para que el prójimo tenga un próximo escalón.
Caminar para encontrarnos con el prójimo.
Caminar aunque estemos sentados y servir aunque estemos ausentes.
Cuando sirves, no puedes callar si no es para hablar,
no puedes parar si no es para avanzar.
Hay tanto de servicio en el mal, en el bien
y cada cual sirve hacia donde camine.

Caminar y servir
como la hoja cuando cae a tierra,
como el rumor del agua cuando el río se seca y
como el niño pobre cuando llora.

Servir y caminar porque
si no fuera porque el sol presta sus servicios
el horizonte no serviría para caminarlo,
porque todo presta algo a alguien
así sea a la resequedad, a lo inexorable;
me presto yo para que las palabras puedan existir,
te prestas tú para que la existencia tenga palabras;
porque lo que no sirve no existe.
---

English version
---
WALK AND SERVE
To serve so that our neighbor can take the next step.
To walk in order to meet our neighbor.
To walk even when we are seated and to serve even when we are absent.
In serving, one cannot be silent if not to speak,
one cannot stop if it is not to move forward.
There is much of service in the bad, in the good
and each one serves where he walks.
To walk and to serve
like the leaf when it falls to the earth
like the murmur of the water when the river dries up
and like the poor child when it cries.
To serve and to walk because
if it were not for the service of the sun
the horizon would not serve to walk it
because everything lends something to someone
even if it is to dryness, to the inexorable;
I lend myself so that the words can exist
you lend yourself so that existence may have words
because what does not serve does not exist.
---
---
Participo por primera vez en este Club de Poesía de la @freewritehouse.
Espero que hayan muchas más oportunidades como esta.


---
---